3 Improvements Pittsburgh Steelers Should Have Worked on During Bye Week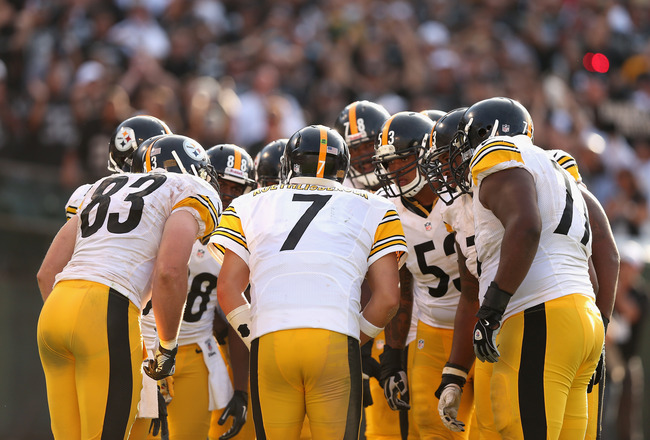 Huddle up: Steelers had some serious work to do over their bye week.
Ezra Shaw/Getty Images
After the Pittsburgh Steelers' disappointing loss to the defensively-challenged Oakland Raiders in Week 3, the team had a bevy of issues to address during its bye week.
Losing to previously winless teams does happen every year, but common NFL realities still don't excuse blowing a 10-point lead in the fourth quarter, especially with the purportedly lauded Steelers defense.
Head coach Mike Tomlin and defensive coordinator Dick LeBeau surely got together during the bye to discuss whatever issues currently plague this corps.
On the other side of the ball, even with the Week 1 sideline spat between quarterback Ben Roethlisberger and offensive coordinator Todd Haley, the offense is doing just fine. It has averaged just under 350 yards and 26 points per game.
Conflicting hand signals or any such run-first versus pass-first offensive preferences have not undercut the success of this unit.
The same cannot be said about the defense.
With that in mind, let's review the three improvements the Steelers should have worked on during their bye week.
Fourth-Quarter Leads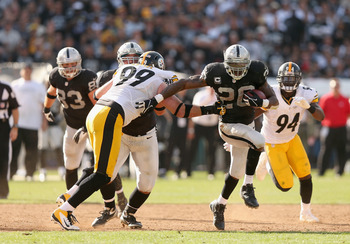 The Raiders McFadden helped fuel a fourth-quarter comeback.
Ezra Shaw/Getty Images
Ranking fifth in the NFL in total yards allowed is really a moot point if a team can't hold fourth-quarter leads.
In their two losses through the first quarter of the season, the Steelers have blown a five-point lead against the Broncos, in addition to the egregious 10 points surrendered to the Raiders. The defense has allowed 24 points in the final frame this year.
That isn't acceptable to any defensive coordinator, most especially to the legendary Dick LeBeau.
In Week 1, Peyton Manning's Broncos did not face a single third down on their go-ahead drive. They marched unobstructed for 80 yards in just over four minutes, capped off by a one-yard touchdown pass to Jacob Tamme and subsequent two-point conversion to Willis McGahee.
On its second drive, Denver moved down the field with little interference again until Pittsburgh finally stopped them on 3rd-and-short. Nevertheless, the Broncos extended their lead to 25-19 via Matt Prater's 26-yard field goal.
Falling to one of the best of all time in Peyton Manning is one thing; losing to a Carson Palmer-led Raiders squad is something else entirely.
LeBeau's defense allowed an 80-yard and two 50-yard drives when it mattered most, in the fourth quarter. These drives led to 13 points and a last-second Oakland win.
Palmer going 4-for-6 on the final push—including a 3rd-and-10 conversion on his own 28—is simply not Steelers football.
LeBeau must devise a game plan that better facilitates shutdown efforts at the most crucial points of the game.
Opponents' 3rd-Down Conversion Rates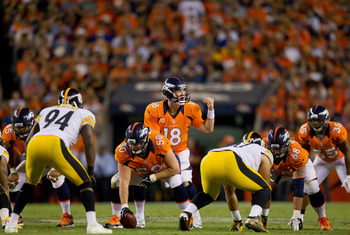 Manning picked apart the Steelers in Week 1.
Justin Edmonds/Getty Images
Fourth quarters are the most important segments of any NFL matchup. Third downs are the most significant moments within these time frames.
The Steelers have allowed the third-highest third-down conversion rate at 48 percent. That includes 56 percent against the Broncos and 58 percent to the Raiders. Holding the unfortunate Jets to 4-for-12 isn't anything to write home about.
Things get a little uglier during the fourth quarter.
While Denver faced just two third downs (going one-for-two), the Raiders converted on four-of-five during their final drives. Palmer moved the chains with deficits of nine, eight, three and 10 yards.
Pittsburgh's passing defense failed miserably in those situations—that much is for certain.
What's encouraging, at least, is that defensive leaders Troy Polamalu and James Harrison will return against the Eagles (h/t NYDailyNews.com). Polamalu—the safety who recorded two interceptions and 14 deflected passes in 2011—has missed the past two games. Harrison will play for this first time this season against Philly.
These two stalwarts greatly impact the Steelers defense in the passing game.
Polamalu matches up extremely well with both running backs and tight ends in coverage, using his speed and ferocious style of play to cause interference on these plays. The same applies to any pass-catcher roaming the middle of the field.
Harrison, for his part, utilizes his menacing attitude in providing pressure on quarterbacks and disrupting the passing game. He totaled nine sacks in just 11 games last year.
It will be the Steelers' sincere hope that these two players and an extra week of game planning will shore up their defensive issues on third downs and in the fourth quarter.
Need for a Running Game?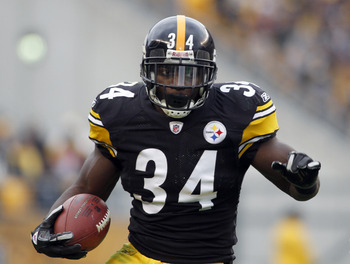 Will the return of Mendenhall prove impactful for the Steelers moving forward?
Justin K. Aller/Getty Images
An obvious component in maintaining fourth-quarter leads is a strong rushing attack. It helps burn time off the clock and keeps opposing offenses off the field.
It was mentioned earlier that Pittsburgh's offense has few issues, if any. A complete lack of a running game, however, directly hurts the effectiveness of the defense.
The Steelers rank 31st in rushing yards per game and in total rushing touchdowns. Sixty yards per game and just one score on the ground are paltry statistics.
It's difficult to point to the Broncos game as the fault of a deficient Steelers' rushing attack. The responsibility resided more with the defense and Roethlisberger's lone interception on the season.
On the other hand, the Haley-led offense abandoned the run during the very moments when it had success against the Raiders.
In the fourth quarter, with 11-plus minutes remaining, Isaac Redman had just rushed for a solid seven yards on 2nd-and-3. Haley then called for a pass that receiver Antonio Brown subsequently fumbled in Oakland territory, costing the Steelers severely.
Continuing with a steady run game would have proven effective against a questionable Raiders' rushing defense.
On the Steelers' last offensive drive, one of their receivers nearly cost them again with a fumble. Mike Wallace fortunately recovered deep in Pittsburgh territory.
Redman then converted on an absolutely huge 4th-and-1 with a six-yard run up the middle. Just as the team found success in the run game once again, it reverted back to the pass, which yielded a sack and failed third-down conversion.
Of course, detractors to the ideas presented in this slide will quickly underscore Big Ben's impressive numbers this season. He ranks second in quarterback rating (109.2), total QBR (80.0) and interceptions thrown, with only one thus far.
It would be downright foolish to disregard Roethlisberger's early-season accomplishments and adopt a run-intensive offense.
That said, using a fully one-dimensional offense isn't a wise game plan, even in this pass-first era in the NFL.
For example, Green Bay and New England—two prolific passing offenses—have each secured their two victories with their highest rushing outputs of the season. The Packers totaled 106 yards on 28 carries (compared to 33 passes) against the Bears, and went 25-for-102 in their win over the Saints.
The Patriots, meanwhile, racked up 162 yards and a touchdown on 35 rushes in their win over the Titans. Brady had four fewer passing attempts. Patriots backs then went for a lofty 247 yards and three scores in Week 4 against the Bills. Again, Brady attempted four fewer throws than team rushes.
The point here is that both Rodgers and Brady experienced their greatest success when they operated within a balanced offense. Roethlisberger—gaudy statistics or not—would similarly benefit with a reliable rushing game behind him.
With Rashard Mendenhall returning in Week 5, it'll be interesting to see if Haley and Roethlisberger construct a plan that utilizes the running back's services.
Running the ball and stopping the run—not quite what the Steelers do best compared to what they had done in seasons' past.
Will that change against the Eagles on Sunday?
Follow me on Twitter @jlevitt16
Keep Reading

Pittsburgh Steelers: Like this team?