Who is the next Mike Trout?
No doubt, this question is pestering MLB executives, coaches, scouts, fans and many others across professional baseball. After witnessing the 20-year-old superstar destroy Major League competition with a legendary performance last season, the baseball world is eager to find another player that can match--or even outperform--Trout's incredible play.
Realistically, very few prospects come equipped with even half of the skills that Iron Mike has.
To develop into a player as incredible as the Angels' star, a prospect will need the prerequisites of premium hitting prowess, a Moneyball batting eye, Ferrari running speed and phenomenal make-up and intangibles.
Out of the thousands of players in the minors, there's an elite group of three outfielders that have the ingredients for the job--Brian Goodwin, David Dahl and Byron Buxton.
Trout's 2012 season is one of the best in baseball history. Not just for a rookie, for anybody. In all likelihood, it will be a long time before another player this incredible, this early sets foot on a baseball diamond.
Trout is the flashiest product hailing from a decade marked by an unprecedented crop of amateur baseball talent. In the last few years, Major League Baseball drafts have produced some of the most athletically gifted players Major League Baseball, and professional sports has ever seen. Players as naturally gifted as Stephen Strasburg, Bryce Harper, Jason Heyward, Justin Upton and Justin Verlander come around very rarely.
Maybe one or two of these players-- like Chipper Jones and A-Rod in the '90's-- every ten years or so. Never five or six at once. And Mike Trout, a former 25th overall pick from South Jersey, may just be better than any of his supremely gifted peers. He's certainly making his case as the best player in a period full of superstars.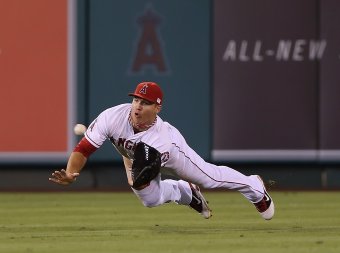 Jeff Gross/Getty Images
Virtually every performance statistic, whether old-school (runs scored, batting average, etc...) or sabermetric (on-base percentage, WAR, etc...), says Mike Trout is the best player in the MLB. And, compared to past and future players, Trout's stats suggest he had one of the greatest seasons in the game's long history. With just one big league season under his belt, he's already drawing numerous comparisons to Hall of Fame legends Rickey Henderson and Mickey Mantle.
Through 139 games this season, Trout hit a spectacular .326/.399/.564. He led the Major Leagues with 129 runs scored and 49 stolen bases (in 54 attempts). He ends the season ranking among league leaders in virtually all areas of the game, including batting average (second), on-base percentage (third) and slugging percentage (third).
But, unlike fellow AL MVP candidate Miguel Cabrera, Trout's more than just a thunderous bat. His defense and baserunning are also top-shelf. Trout's 10.7 rWAR leads both leagues, and it tops Robinson Cano's second-place figure of 8.2 by a third (31 percent). In fact, his rWAR is tied for 20th best all-time (with Willie Mays' 1964 season), and outside of Barry Bonds, no player has posted a number that high in almost four decades.
Even if he doesn't take home the American League Most Valuable Player award, his stats say he was the most valuable player anyway. He set a number of records, and he's the first Major Leaguer to hit at least .320, with at least 30 home runs and steal more than 45 bases.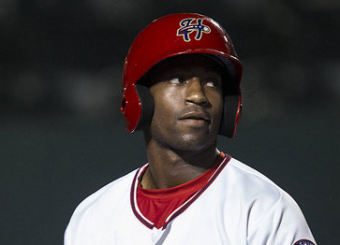 Few prospects in the minor leagues--if any--have what it takes to be the next Mike Trout. They may be able to hit like Trout, or perhaps run like Trout, or maybe even field like Trout, but they can't do it all like he can. The near impossible task of replicating Trout's 2012 performance, or just coming close, requires elite-level tools and a bevy of intangibles. Of the thousands of players in the minors, there's three prospects equipped with the gifts for Trout-level superstardom:
Among minor league outfielders, the guy most prepared for Trout-ian production is Nationals prospect Brian Goodwin.
No, the best man for the job isn't blue-chip Cuban defector Jorge Soler; it's not Byron Buxton, the center fielder widely rated as the top hitter in the 2012 Draft (though he is on the list), and it's not Bubba Starling--the freak two-sport athlete that inked a monster contract with the Royals two summers ago.
It's Brian Goodwin. Drafted by the Nationals out of the 34th slot in 2011, Goodwin may not have the same name value yet as the three aforementioned stars, but he's the more polished product. He's a burner, and he' blessed with Byron Buxton athleticism, but he's also remarkably advanced for a first-year pro. Goodwin is a very disciplined hitter, with the veteran approach and feel for the strikezone to maintain high on-base percentages in the MLB. A prodigious hitter, he's gifted with a sweet left-handed swing that sprays hard line-drives to all fields, and he has (at least) 20 home run potential.
Like Trout, Goodwin brings top-shelf running speed to the diamond, as well as a surplus of agility and body control. He's not the aggressive baserunner that Trout is, and he's not quite as fast (Trout has clocked ridiculous sub 6.3-second sixty yard dash times), but he's more than up to the task athletically.
The Nationals' center field prospect covers prime real estate in center field, and he has the kind of wide receiver body control to make full-sprint, over-the-shoulder catches. His long, graceful stride affords him great range, and his leaping ability gives him Spider Man potential. Last season, he stole just 18 bases in 25 attempts, but considering it was his debut, he was slowed by injuries and he only played in 100 games anyway, that's not half bad. Once he matures and gets more comfortable playing professionally, his wheels should produce plenty of stolen bases, possibly 30-40 a year during his prime.
Trout ranked third in the AL this season with a .399 on-base percentage, and a large portion of his offensive value is tied to his ability to hit for average and reach base. Goodwin separates himself from other top outfield prospects in the minors with a picturesque swing.
He's a lefty (Trout bats right-handed), but Goodwin has the tools to post the kind of batting lines that Trout posted this year. In his first 216 professional at bats this season, Goodwin hit .324 with an incredible .438 on-base percentage against South Atlantic League competition. Even after slumping in the Eastern League (Double-A) following a mid-summer promotion, he still finished 2012 with a .384 on-base percentage and 61 walks through 100 games.
Does Mike Trout deserve the 2012 American League Most Valuable Player Award?
Heading into 2012, Trout had already earned top prospect status with a historic minor league career (.342/.425/.516 career line). He had already set the bar high. But, he still managed to surprise a little, when he showed 30-home run power.
Most scouting reports capped his home run potential at 20, maybe 25, but he hit 30 bombs with 65 extra-base hits in just 139 games.
Goodwin has the bat to match Trouts production in that area too. Playing for the Hagerstown Suns for most of the season, he posted a .469 slugging percentage and a .209 ISO. Goodwin out-slugged the South Atlantic League average by 85 points, and his ISO was 83 points higher than the league mean figure (.126 ISO). His success at the dish is clearly determined by phenomenal coordination. He's fluid in everything that he does, and his swing is no different. It's sweet.
Goodwin's top notch balance and coordination generate plus bat speed with minimal energy, and he takes a mechanically near-ideal swing. He squares-up the baseball with machine-like consistency, and with more experience under his belt, he could hit 30-plus bombs in the MLB one day.
When they drafted him, the Nationals were dazzled not only by Goodwin's tools, but also by his amateur resume. He has out-played the competition at every level throughout his baseball career. During his senior season of high school, he hit .473 and was North Carolina's 2008 Player of the Year. Among his many other accomplishments, he was named MVP of the the Aflac All-American Game. Then, in college, he took honors as a Louisville Slugger Freshman All-American at UNC, before transferring to Miami Dade South Junior College for one season. At MDSJC, he topped his club in numerous categories, posting a .367 batting average with eight home runs and 40 runs scored.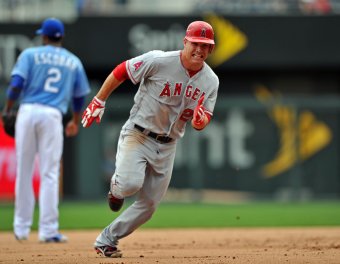 Peter G. Aiken-US PRESSWIRE
There's louder, flashier athletes in the minors, but Goodwin's baseball skills are nearly unrivaled. Of course, he's a pretty nasty athlete too. Like Mike Trout, he's just unbelievably well-rounded. His speed plays on the basepaths and in center field, and he's already an above average defensive player. At the plate, he offers a mix of power, discipline and contact skills that few players besides Mike Trout show. He's made for the lead-off spot, and talent for getting on-base will allow him to succeed in the big leagues immediately.
For now, David Dahl is still a pretty obscure name. He was drafted 10th overall by the Rockies last June, but he wasn't rated as one of the big five names heading into the summer (Buxton, Appel, Giolito, Correa, Zunino). He may not be a household name, but that's going to change very soon. Flat-out, he's nasty. Athletically speaking, the 2012 Pioneer League MVP may just be the closest thing to Mike Trout in professional baseball.
Dahl is a freak athlete, gifted with an electric set of tools. His coaches rave about his baseball acumen, and he's a game-changer in all facets of the game. This year, Grand Junction Rockies Manager Tony Diaz called Dahl a "special player," and told reporters that he'd never before seen the mix of intangibles and skills that the phenom brings to field.
Coaches on opposing teams gave similar appraisals throughout the summer, with Billings Mustangs skipper Pat Kelly praising Dahl's intelligent approach to the game and saying that David has "all of the tools" for success.
Standing at a long 'n lean 6'2", Dahl has that Billy Beane look-- like he was born to play baseball. He has blazing speed, posting sub-6.5 60-yard dash times on multiple occasions as a high school senior, and he has a cannon arm, with the juice to throw mid 90's heat off of a mound.
He plays hard too, and hustles 4.0 second times from home-plate to first base in games.
His all-out defensive play in centerfield, where he often makes leaping catches and guns down baserunners with laser throws draws Steve Finley comparisons from scouts. His lightning-quick left-handed stroke closely resembles Finley's hitting style as well, and he lines pitches to all fields with great bat control and a contact-oriented swing. For the record, before he started hitting bombs like a middle-of-the-order slugger this year, Trout's swing also seemed reminiscent of Finley's quick-handed hack, albeit from the other side of the plate.
In that batter's box, many expected Dahl, a kid just drafted out of high school, to be a bit more raw than Trout was at the same developmental stage (in the rookie leagues). He had always hit well at Oakwood High School—batting .417 in his senior season—but never dominated. And, he hit just .316/.391/.386 for Team USA's 18U National Team, which averaged .337/.437/.463 as a team.
On the other hand, Trout set the world on fire in high school, breaking multiple New Jersey state records. However, Dahl turned a corner in 2012. He mashed like a middle-of-the-order slugger. In his first season in professional baseball, he hit a monster .379/.423/.625, belted nine home runs and racked-up 41 extra-base hits through 67 games with the Grand Junction Rockies. He topped the Pioneer League in batting average, hits (106), slugging percentage and OPS (1.061). He also flashed a premium glove in center field.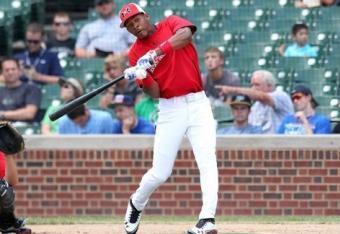 Outside of batting left-handed (Trout is right-handed), the rest of Dahl's game is highly similar to Trout's. He boasts Trout's rare mix of present skill and five-tool ability, and according to his coaches, he's blessed with impact-level intangibles. He's already outperforming his fellow top prospects as an 18-year-old and even took home his league's MVP award in his first taste of pro ball. At the same age, Trout was actually producing very similar numbers. In his own age-18 season, Trout put together a break-out performance and won the Midwest League MVP.
Mike Trout is an outstanding athlete, and his style of play draws comparisons to Hall of Famer Rickey Henderson. That says a lot about his ability—earning comps to one of the legends of American professional sports. He's equipped with a great batting eye, the skills to hit for a high batting average, plus power and game-changing speed. Right now, there's really only one prospect that matches Trout's profile and has an opportunity to boast those legendary skills in the majors one day.
In terms of right-handed hitting center fielders, the prospect that comes closest to that profile is Byron Buxton. Almost universally tabbed as the top hitter in the 2012 Draft Class, the Twins selected him with the second overall pick and handed him a $6 million bonus to pass on college and start his professional career. An acrobat, and one of the fastest players in the minors, Buxton has the star-power to develop into a superb lead-off man and big league All-Star.
A remarkable athlete, Buxton's game starts with his trademark top-of-the-scale speed. He's a flashy, exciting player, with the MLB-grade baserunning instincts and the wheels to wreak havoc on game day.
During his senior season at Appling County high school (Georgia), he stole 34 bases in 35 attempts, and even stole home plate on a couple of occasions. He's posted 6.55 60-yard dash times and he can fly from homeplate to first base in 3.8 seconds. His power-bat mixes well with his legs too, and he's adept at stretching hits for extra-bases already. On the football field, his blazing wheels translated in to NFL-caliber 4.4 40-yard dash times, and he racked up 15 receiving touchdowns during his senior campaign.
In terms of straight line speed, Buxton's not quite as swift as Trout (who is?), but he's a smart and aggressive baserunner, with the ingredients for Trout-level game speed. Though he only played 48 professional games last year, he still managed to swipe 11 bags in 14 attempts, and he legged out four triples.
In the outfield, he's one of the few players that has a chance to develop into the defensive asset that Trout has become. Gifted with long, powerful legs and premium balance and body control, he glides to fly balls effortlessly, a lot like a young Carl Crawford. Unlike Crawford though, he has the strong, accurate arm to rack-up outfield assists. He's lit up 95 mph on the radar gun before, and his arm is so strong that he also put together a formidable pitching career in high school. A spectacular wide receiver during his high school football career, he's adept at tracking fly balls and making difficult, acrobatic catches.
Buxton is young and raw, and in all likelihood, he's further from the MLB than Trout was at 18-years-old. In the batter's box, he's not the kind of Moneyball, high on-base percentage hitter that Mike Trout is—yet-—but he has phenomenal potential nonetheless.
To go with his speed, Buxton has the other money tools—power and hitting prowess. He hit a monster .549/.649/.852 as a high school senior, and lit-up the national stage when he put on a show in 2011's Under Armour All-American Game Home Run Derby. A former star football player, he's big and strong, showing the kind of hand-eye coordination that defines Trout's success at the plate. He squares-up pitches in all four quadrants of the strike zone, and already knows how to hit off-speed stuff. Buxton might also have even more power potential than Trout does, showing ferocious bat-speed and a swing that lofts the ball with quality power and consistently. If he can add some plate discipline to his game, he could develop in to a 30-homerun, forty stolen base threat.
Buxton only got his feet wet in pro ball last season, but still managed to put up very solid numbers. Through forty-eight games in the Gulf Coast and Appalachian Leagues, he hit .248/.344/.448 and totalled nineteen extra-base hits through just 165 at bats. He's certainly a player development project for the Twins, but offers value beyond his incredible tool set. He's lauded by his coaches—pro and high school—for his work ethic, and humble, just go out and play hard attitude. Simply put, he has the mental and physical ingredients to develop in to a big league superstar.