Manchester City 1-1 Borussia Dortmund: 8 Things We Learned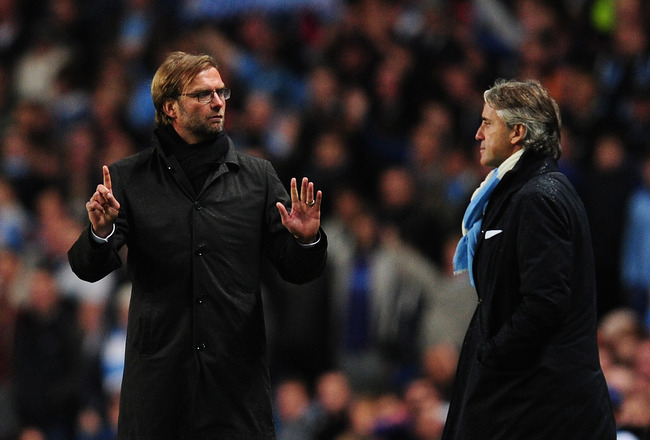 Stu Forster/Getty Images
The Etihad stadium played host to a stunning 1-1 draw between Manchester City and Borussia Dortmund on Wednesday evening, creating an even more tense Group D.
The Germans outplayed the English champions for large periods of the game but simply could not find the back of the net often enough. Roberto Mancini's men will be counting their blessings and thanking the woodwork tonight.
What did we learn from tonight's encounter?
Where Is the Vincent Kompany of the Last Season?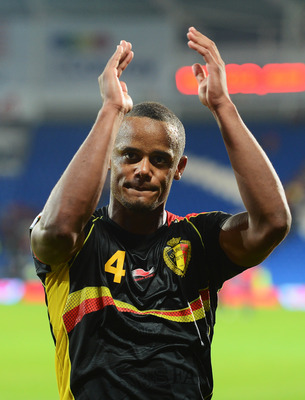 Mike Hewitt/Getty Images
This game only furthered the evidence to suggest Vincent Kompany is not his usual self.
He's suffered all season and remains a direct contribution to Manchester City's poor defensive record so far.
Borussia Dortmund's intricate play outside the penalty box was impressive, but their cheeky attempts and dinked through-balls would have been eaten up by the Belgian of old.
City need their hero back.
Dortmund's Fragility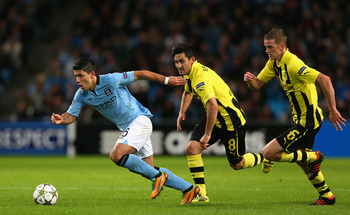 Alex Livesey/Getty Images
Although Manchester City were unable to expose this with enough regularity to take advantage, Borussia Dortmund displayed an alarming weakness when facing a long pass through the midfield.
With Lukasz Piszczek and Marcel Schmeltzer pushing forward, Ilkay Gundogan and Sven Bender were left incredibly exposed on the outside channel.
Die Borussen had difficulty defending direct, vertical balls played outside of the two-man holding pivot and were frequently bypassed with 25-yard passes.
4-4-2 Still Doesn't Work in Europe
Alex Livesey/Getty Images
Roberto Mancini is tactically superb, so it was simply shocking to see him opt for a 4-4-2 formation against a three-man midfield.
If it had been West Ham at home, perhaps we'd have understood, but there was no way Manchester City were going to overpower Borussia Dortmund with a two-man central partnership.
City were outnumbered and out of options right from the start, so it was surprising to see the Italian change formation so late in the game when it was necessary from around the 15-minute mark.
Yaya Toure and Jack Rodwell constantly struggled due to a total lack of passing outlets, and it was only through Dortmund's wastefulness that the Citizens got away with it for as long as they did.
Space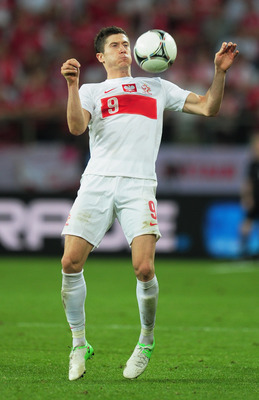 Jamie McDonald/Getty Images
Another issue with the 4-4-2 Manchester City deployed was the space available between the defensive and midfield lines.
Robert Lewandowski, and later Marco Reus, found room between the two banks of four on multiple occasions, creating several clear-cut chances for the German side.
Roberto Mancini was seemingly happy for them to pick the ball up in that area as he did not adjust his tactics to combat this attacking outlet, but it's something he should have fixed immediately.
When a Dortmund player got the ball in this area, he made things happen quickly. The entire City team would, at times, be running backwards—the last thing you need when chasing a deficit.
Perfecting the Art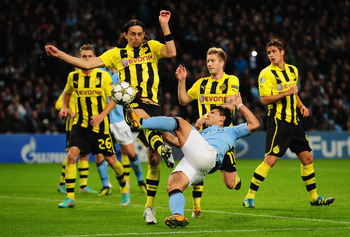 Stu Forster/Getty Images
Not only did Borussia Dortmund deliver a scintillating attacking display at the Eithad stadium, they also provided the world with a lesson on how to defend.
Jurgen Klopp's men were perfectly drilled in their defensive duties, responding to certain things whilst ignoring others.
Whether Manchester City had the ball on the half-way line or in their own half, Die Schwarzgelben would drop into a 4-4-1-1, cede possession and wait patiently.
When City ventured forward, the reigning Bundesliga champions would swarm the man with the ball quickly and exercise pressure using two or three players.
Even the unflappable David Silva suffered due to this, sparking further questions as to why City's men can't replicate league form in Europe.
There's Only One Joe Hart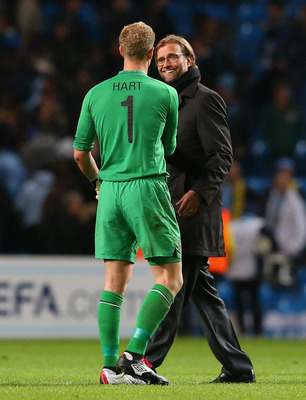 Alex Livesey/Getty Images
English goalkeeper Joe Hart proved again why he's fast becoming one of the best in the world.
Save after save after save kept Manchester City in this game and Borussia Dortmund could have easily scored four in this contest had it not been for his elite performance.
Encouraging signs for England and the Citizens as Hart pulled off yet another phenomenal showing on the biggest of stages.
Rodwell Not Coping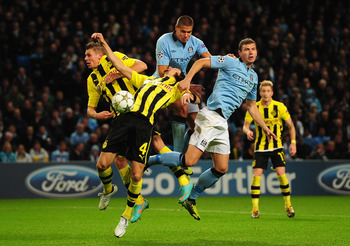 Stu Forster/Getty Images
Another blunder by Jack Rodwell proves he's not comfortable in Manchester just yet.
He is a bit-part player, at best, and falls behind Javi Garcia, Gareth Barry and Yaya Toure in the pecking order. Where can he find confidence?
Rodwell needs a boost, appearing every two-and-a-half games isn't doing his game any good. The misplaced pass against Southampton didn't cost his team in the end, but this one certainly did.
The 4-2-3-1 Is King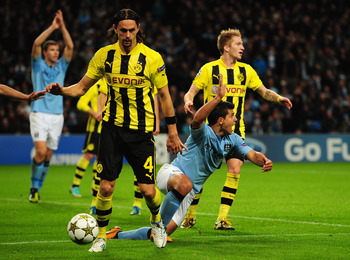 Stu Forster/Getty Images
Perhaps not learned, but reinforced, is the fact the 4-2-3-1 formation is king—especially in European competitions.
The 4-4-2 Roberto Mancini sent out was simply overrun and Jurgen Klopp's decision to continue with his tried and trusted template paid dividends.
The German side controlled the midfield, created several clear-cut chances and looked solid defensively. All this without their best defensive midfielder Sebastien Kehl, points to the fact that the battle of formations decided the contest between two evenly-matched teams.
Keep Reading

Manchester City: Like this team?