Grading the Minnesota Vikings Positional Units at the First Quarter Mark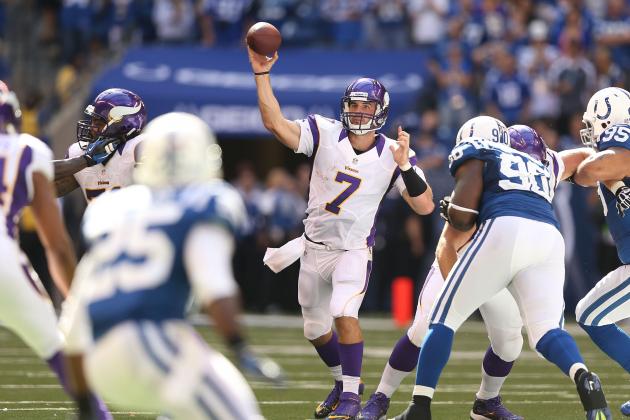 Andy Lyons/Getty Images

The Minnesota Vikings have exceeded the expectations of almost every preseason prognostication after only four games in 2012 season. Currently 3-1 and atop the NFC North, along with the Chicago Bears, the Vikings have matched their win total from last season. Second-year quarterback Christian Ponder and an improved defense are leading the way that has some people actually using the "p-word."
Perhaps not wanting to be blamed for jinxing the team, an unaccredited story on the Pioneer Press website claims there is a 75 percent chance of the Vikings making the postseason after opening with a 3-1 record. Caution needs to be preached to those who have imbibed too much of the purple Kool-Aid and remind them that it's still early and this is a very young team.
For every statement win, like the one against the 49ers, there's bound to be a head-scratching loss like the one against the Colts. The best strategy is to hold all expectations in check, go with the flow and enjoy the up-and-down ride that is the NFL.
In the following slides are the grades by position. Note that there is no grading on a curve, and the turnaround from a 3-13 record holds little sway when grading this team against the entire 32-team field of the NFL.
Begin Slideshow

»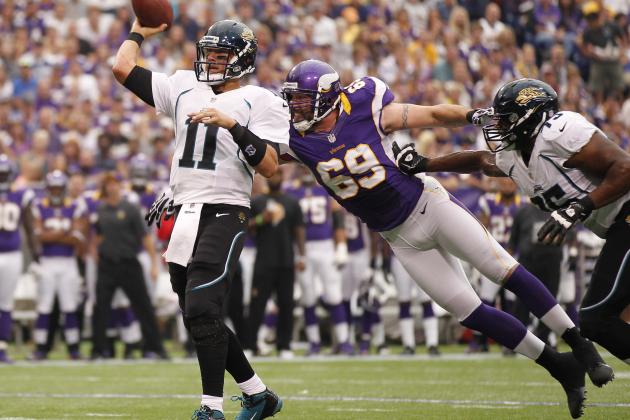 Andy King/Getty Images

The Minnesota Vikings defensive line starts with Jared Allen.
Allen set the Vikings' single-season mark with 22 sacks last year. Along with fellow defensive ends Brian Robison and Everson Griffin, they accounted for 34 of the team's league-leading 50 sacks in 2011.
The defensive line accounted for 82.6 percent of the Vikings' sacks last season.
So far after four games this season the defensive line has not been as effective. The Vikings are tied for seventh in the NFL with 12 sacks. While backup defensive end Griffen leads the team with three sacks, Allen only has two through four games.
In total, the defensive line is accounting for only 58.3 percent of the sacks this season.
Sure, defense is more than sacks. So far this season against the run, usually effected by the defensive line, is averaging 85 yards per game on the ground—an improvement of 22 yards per game over last season.
Grade: C+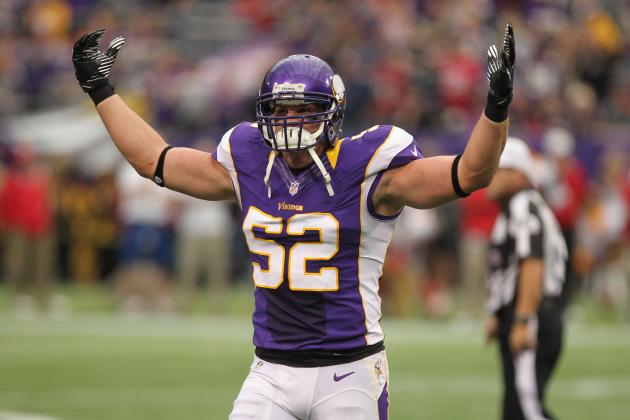 Brace Hemmelgarn-US PRESSWIRE

The anchor of the linebacker corps is without a doubt strong side linebacker Chad Greenway. Since starting at linebacker in 2007, he has been the Vikings' leading tackler. Currently leading the team with 44 tackles, he is third in the NFL so far this season.
Because Vikings defensive coordinator Alan Williams is using the blitz a little more frequently this season, Greenway and Erin Henderson each have two sacks after four games.Their combined four sacks exceeds their season total of 3.5 from 2011 despite Henderson missing the last two games.
I had concerns with the Vikings' depth at linebacker. While Greenway is in his sixth season starting at linebacker, it is only Henderson's second and Jasper Brinkley's first.
Veteran Marvin Mitchell, who's started in Henderson's place, came to the Vikings with five years experience, but only one start on defense. The remaining backups include undrafted second-year player Larry Dean and rookie seventh-round draft pick Audie Cole.
So far, the linebackers have played well and Greenway has made some very good plays, but Mitchell is the only player who has come up with a turnover.
Grade: B-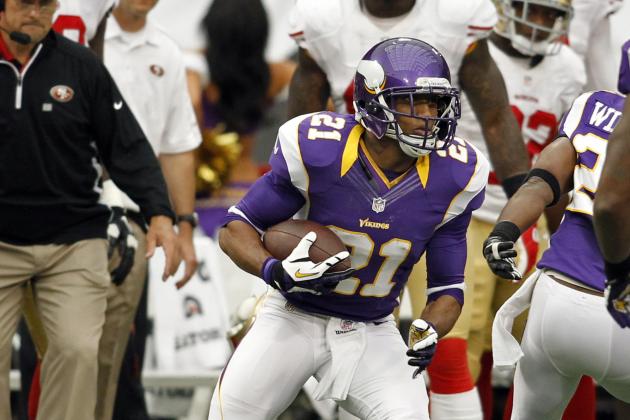 Bruce Kluckhohn-US PRESSWIRE

The main difference for the Vikings cornerbacks are the quality of their backups. Gone are Cedric Griffin, Asher Allen and Benny Sapp. In their places are A.J. Jefferson, rookie Josh Robinson and second-year player Brandon Burton.
Last year, the Vikings tied for last in the league with only eight interceptions. So far this season, they are on pace for only four, with Robinson owning the team's only interception.
Still, against the Lions on Sunday, they limited the league's best receiver, Calvin Johnson, to only five catches for 54 yards. On the season, they have allowed only five passing touchdowns after leading the NFL with 34 in 2011.
So far this season, no opposing quarterback has passed for more than 300 yards, yielding an average of only 228 yards per game.
Grade: C+. There's a definite improvement, but there needs to be more turnovers.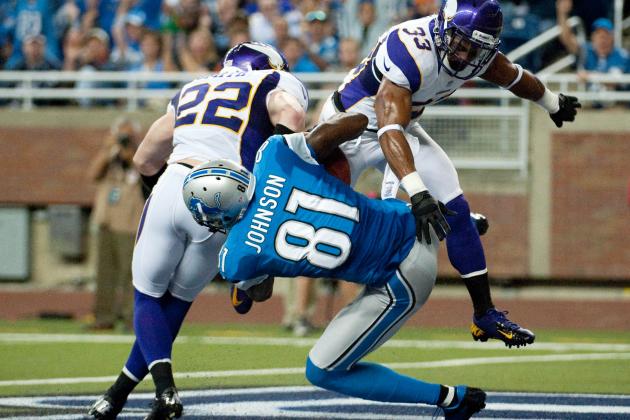 Tim Fuller-US PRESSWIRE

It should not be surprising that the Vikings safeties are playing better—after all, they could not have played much worse than last season.
What might be a surprise is the improved play of Jamarca Sanford. After losing out to second-year player Mistral Raymond, Sanford has taken advantage of an ankle injury to Raymond that has him back in the starting lineup.
First-round draft pick Harrison Smith has started all four games and is currently third on the team with 22 tackles. He's shown a penchant for hitting. A great example of this was in the Lions' game when Smith, along with Sanford, put a hit on Calvin Johnson and separated him from the ball in the end zone.
Grade: B-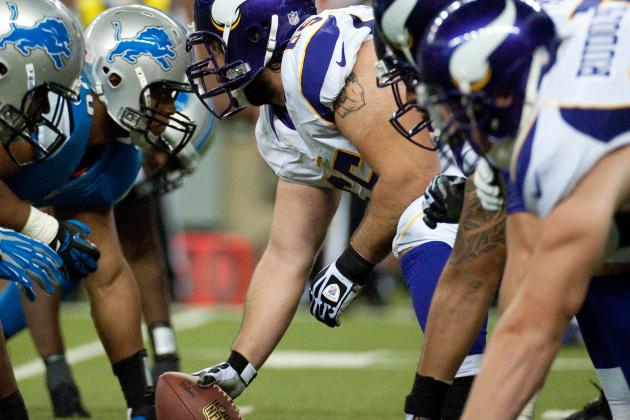 Tim Fuller-US PRESSWIRE

With three new starters on the offensive line, it was supposed to take time for the unit to come together. Surprisingly, they have come together rather quickly. The biggest addition to the line was fist-round draft pick Matt Kalil.
As soon as he was drafted, he was given the left tackle spot. That moved Charlie Johnson from tackle to guard. On the other side of the line, second-year player Brandon Fusco took over at right guard between the only returning starters, center John Sullivan and right tackle Phil Loadholt.
Last season, the Vikings were called for 20 false starts and 18 offensive holding calls, led by Loadholt with four of each.
So far in 2012, they have only one false-start penalty and four offensive holding calls—with none of them against rookie left tackle Kalil.
Last season, Vikings quarterbacks were sacked an average of three times per game. So far this season, it has dropped to two sacks per game. While some that can be attributed to improved play by Christian Ponder, the line is doing a better job of protecting their quarterback.
Grade: B+
Brace Hemmelgarn-US PRESSWIRE

If this grade reflected the play of Kyle Rudolph alone, it would be higher. Rudolph currently leads the Vikings with three touchdown receptions and is second to Percy Harvin with 15 catches total.
The most expensive free-agent signing of the offseason was for tight end John Carlson, who signed a five-year contract worth $25 million. So far, he has only one catch for a negative yard.
Fourth-round draft pick Rhett Ellison, a teammate of Matt Kalil's at USC, has yet to make the stat sheets.
While there's more to being a tight end than catching passes, the Vikings tight ends have been mostly invisible this season.
Grade: C+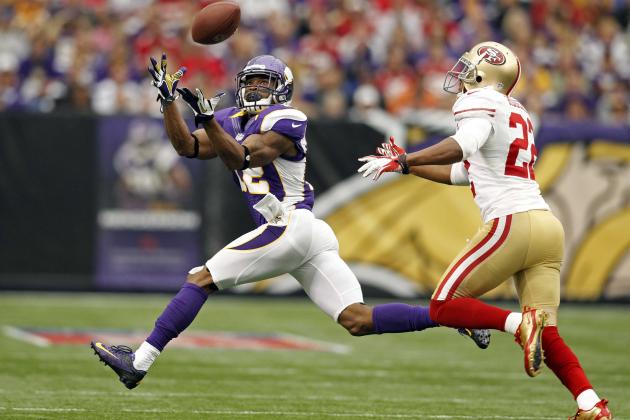 Bruce Kluckhohn-US PRESSWIRE

Outside of Percy Harvin, there isn't a whole lot to grade so far this season. Jerome Simpson, the Vikings' new down-field threat, has only one game under his belt after serving a three-game suspension.
Harvin continues to be the Vikings' most explosive player. Anywhere he lines up on the field creates problems for the opposing defense. He leads the Vikings with 30 catches for 299 yards and is third in the NFL only two catches behind Victor Cruz of the Giants.
In his 2012 debut with the Vikings, Simpson had four catches for 50 yards. That puts him only two catches behind Devin Aromashodu and six behind Michael Jenkins.
Rookie Jarius Wright has yet to make his debut this season. In the mold of Harvin, he led Arkansas with 66 receptions for 1,117 yards and 12 touchdowns. An ankle injury has landed him on the inactive list every game so far this season.
The Vikings attempted two deep routes to Simpson against the Lions; both resulted in defensive pass interference calls against Bill Bentley for 31 and 26 yards. With less than three minutes left in the game, Christian Ponder connected with Simpson on a 27-yard catch that moved the Vikings out from the shadow of their own end zone.
Grade: C+. Someone needs to step up and make an explosive play besides Harvin.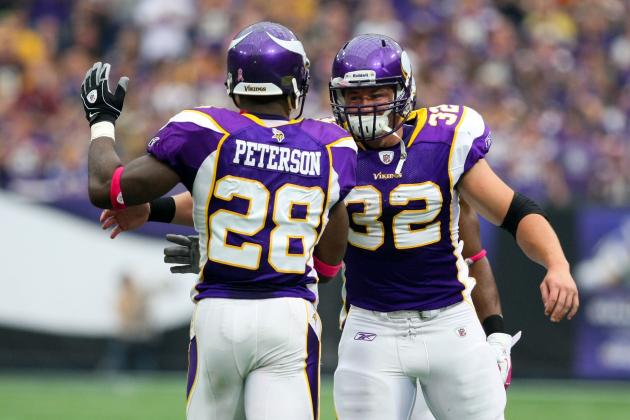 Brace Hemmelgarn-US PRESSWIRE

There have been several surprises to the Vikings' running back stable so far this season. How quickly Adrian Peterson was able to rehabilitate his surgically-repaired left knee, how little action Toby Gerhart has seen and the fact that besides these two, only Percy Harvin has carried the ball.
Peterson is still not 100 percent. While he is on pace to exceed 1,300 yards, his average is only 4.2 yards per carry—the lowest in his career. Also, with only two touchdowns so far this season, he is on the lowest pace in his six-year career.
According to head coach Leslie Frazier, Gerhart was going to have a bigger role in the Vikings offense. So far, he is on pace to have fewer carries than last season. The problem is, he is averaging only 2.7 yards per carry and has more fumbles (three) than touchdowns (zero).
Harvin leads the team with 4.9 yards per carry with 11 attempts. These are not all coming on end-arounds, as offensive coordinator Bill Musgrave will line him up in the backfield as a running back.
Grade: B-
Even though Peterson is a freak, having returned to the starting lineup after less than nine months from having major knee surgery.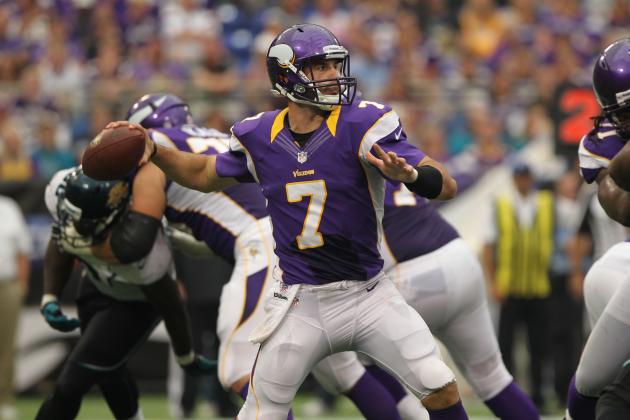 Brace Hemmelgarn-US PRESSWIRE

Perhaps one of the biggest surprises of the season so far has been the play of quarterback Christian Ponder. Currently eighth in the NFL with a 97.7 passer rating, Ponder has yet to throw an interception with four touchdown passes.
Against the 49ers, he led the Vikings to three touchdown drives, each covering at least 80 yards. He had two touchdowns to tight end Kyle Rudolph and ran for a third on a 23-yard scramble.
Even though he failed to lead the offense to a touchdown against the Lions, he did just enough to win the game, extending drives with key completions. Averaging only 206 passing yards per game, he has not been nearly as flashy as he has been effective.
Perhaps the addition of Jerome Simpson will help improve that number.
Grade: B+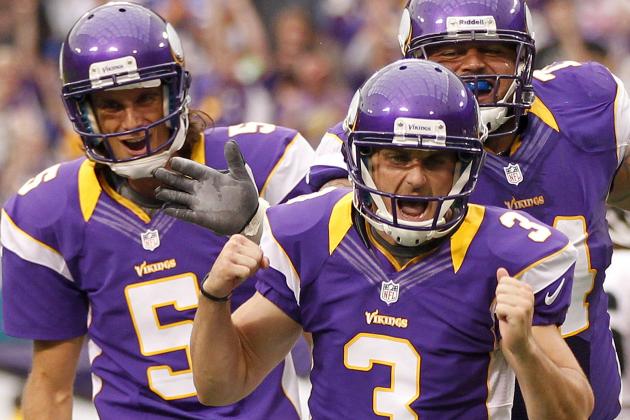 Andy King/Getty Images

Blair Walsh is human, after all.
After opening the season with nine straight field goals, he finally missed one. Granted, it was from 49 yards, but after converting all three of his attempts from greater than 50 yards, including a game-tying 55-yarder at the end of regulation in Week 1, the expectations were getting pretty high.
He has put 12 of 20 kickoffs in the end zone for touchbacks and is currently 10th in the NFL in scoring with 36 points.
Punter Chris Kluwe continues to perform as steady as ever. He has a 40.2 average on 19 punts. He has placed six of them inside the 20-yard line, with only one touchback.
Grade: A
When Percy Harvin opened the Detroit game with a 105-yard kickoff return for a touchdown, it was no surprise. After all, in only 49 games, he owns the franchise mark with five kickoff returns for a touchdown.No other Viking has done it more than once.
Harvin is ranked third in the NFL with a 38.3-yard average on nine kickoff returns.
When former undrafted cornerback Marcus Sherels returned a punt for a touchdown against the Lions, he became only one of 11 Vikings players to ever reach the end zone after fielding a punt. He is currently third in the NFL among players with more than one punt return with a 18.8-yard average.
Grade: A. Harvin and Sherels won the game for the Vikings against the Lions with their returns for touchdowns.