Grading the Oakland Raiders' Positional Units at the First Quarter Mark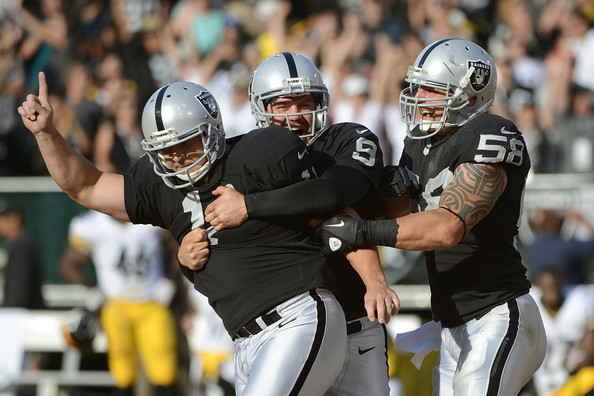 Getty Images
Four games into the season, the Oakland Raiders clearly aren't where they had hoped to be, having won just one game thus far.
After losing in Weeks 1 and 2, fans could write off the two losses for a myriad of reasons.
Against the Chargers, the Raiders' long-snapping woes cost them the field position battle and set San Diego up for easy scores.
Against Miami, Oakland faced a short week, a trip back east, exhausting heat and an early start. In fact, despite starting 0-2, there was still some hope in the black hole.
In Week 3, the Raiders lived up to the expectations many had set for them, defeating the Steelers at home despite trailing by double-digits late in the second half.
With expectations rising and hope increasing, however, the Raiders landed with a thud in Week 4, getting smoked by the rival Broncos without even putting up much of a fight.
With the bipolar performances exhibited thus far, it all begs the question of who these Raiders really are and whose to blame.
That said, we broke down each position group's performance thus far this season to get to the bottom of the 2012 Raiders.
Begin Slideshow

»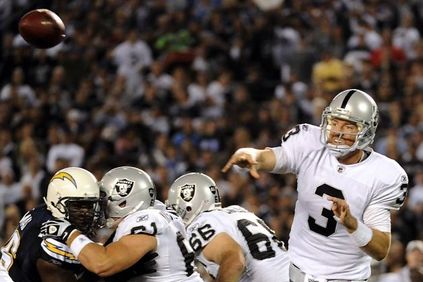 Getty Images
A lighting rod for criticism thus far this season, Carson Palmer is one of the last people to blame for the Raiders' success (or lack thereof) thus far.
In the first two weeks of the season, Palmer threw for 673 yards with two touchdowns and one interception, but has since regressed with just 411 yards since.
So what's the reason for the big difference?
For starters, Oakland's inability to run the ball has been a major obstacle for the Raider passing attack. Teams came into the season knowing they needed to deal with Darren McFadden, and so, passing lanes were probably a bit more wide open.
The only problem? Teams realized quickly that the Oakland rushing attack wasn't nearly as fearsome as expected. In fact, McFadden has been held to less than 34 yards in three of the Raiders' four games this season.
With no help running the ball, teams can drop more and more guys into coverage as long as they can still limit the run.
So ultimately, Palmer gets a B, because while he has played well in spurts and the 1-3 record isn't entirely his fault, he's still the QB, and that comes back on him.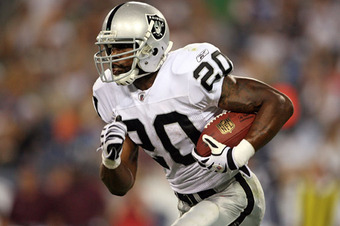 Getty Images
I can already see the "ZONE-BLOCKING SCHEME?!!?" comments coming now.
These folks are going to say it isn't McFadden's fault that the Raiders can't run the ball, but it's his offensive line's.
In a way, those people are right.
In another way, however, there's no other option for how to grade this unit.
Sure, maybe it is the line's fault that Oakland can't run the ball, but a group that's averaging less than 61 yards per game and just 3.4 yards per carry simply isn't worthy of better than a D.
In fact, they're lucky this wasn't an F.
Consider this: If you eliminate McFadden's one big run this season, a 64-yard touchdown against Pittsburgh, the Raiders running game is averaging just 45 yards per game.
As an entire unit.
If there's one area to look at offensively as the reason for Oakland's struggles, it's the run game, and unless Run DMC and Co. can pick things up, Oakland is headed for a great draft pick.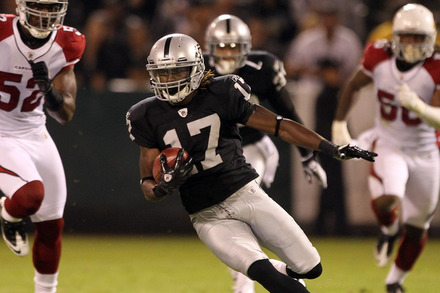 Getty Images
After battling through a number of injuries, this group has done surprisingly well with all things considered.
Coming into the season, Oakland's receiving corps was expected to be one of the unit's major strengths. Filled to the brim with playmakers like Denarius Moore, Darrius Heyward-Bey and Jacoby Ford, this unit was expected to be electric.
Already, however, the three have combined to miss six games this season.
Add to that the absence of rookie Juron Criner, who many expected to make a major impact this season, and it's a miracle the Oakland passing attack has been as successful as it has.
Atop the list of surprises is tight end Brandon Myers, who has caught 16 of the 17 passes thrown his way this season for a team-high 228 yards.
Coming into the season, tight end was definitely a major question mark, but Myers has made it so tight end is the least of Oakland's worries on offense.
Aside from Myers, an impressive 10 players have caught passes for Oakland this season, led by Darren McFadden's 18 catches out of the backfield.
One area this unit could improve upon is their ability to create a big play. Aside from a 64-yard reception for Mike Goodson, the Oakland passing game has been limited to short gains throughout the year.
So like Palmer, this unit has been good but not great. Unfortunately, Oakland's offense needs them to be great right now.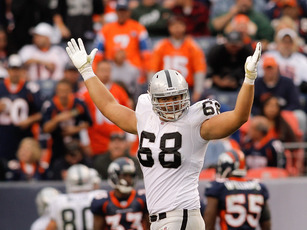 Getty Images
Alright, zone-blocking critics, now is where you can unleash your anger.
While never expected to be a strength of this team, the offensive line was expected to be much improved and on par with most units in the league.
To say that hasn't been the case is a gross understatement.
This unit is mostly to blame for Oakland's inability to run the ball, where the Raiders are second-to-last in the league in rushing yards per game.
On the passing side, they haven't been much better.
In many of Oakland's games, Carson Palmer has had to rush the ball out of his hands for fear of being sacked, and that has prevented the Raiders from making many big plays down-field.
While the coaching staff preaches patience in the zone blocking scheme, they're going to need to show some improvement soon if they expect anyone to listen.
A few more games of getting burned and the message of patience might be met with riots.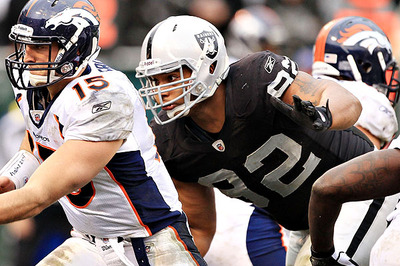 Getty Images
Believed by many to be one of the team's strengths coming into the season, the defensive line has been betrayed by their own statistics.
Currently, Oakland is second-to-last in the league in sacks, and it's 22nd in the league in rush defense.
Moral of the story: It just hasn't been that effective.
With a pathetic defensive backfield, the defensive line was Oakland's only hope for a productive defense in hopes that pressure could protect the inexperienced corners. Unfortunately, that hasn't been the case.
If Oakland wants to return to the defensive force it thinks it is (and can be), it all starts with Richard Seymour, Tommy Kelly, Lamarr Houston, Desmond Bryant and company.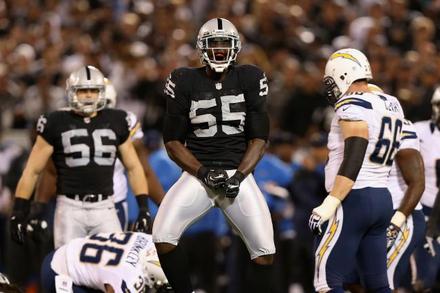 Getty Images
One of the few pleasant surprises in Oakland has been the play of the Raiders' linebacking group.
Despite the absence of Aaron Curry, Oakland has been extremely good throughout the season thanks to the impressive play of Phillip Wheeler and rookie Miles Burris.
Wheeler has been the team's best player defensively this season, flying to the ball both in the run game and the pass game.
Also impressive this season has been Rolando McClain. While many have questioned where McClain stands in the heirarchy of linebackers in the NFL, he has continued to improve every season.
In the run game, McClain's strength has allowed him to be a force; however, in the passing game, he still struggles.
Like the wide receivers on offense, this group isn't the problem, but thus far, they also haven't been the solution.
Getty Images
Coming into the season, Oakland's corners remained the team's biggest question mark despite the arrival of a couple key free-agency acquisitions.
Unfortunately, neither Shawntae Spencer or Ron Bartell have panned out this season, leaving Oakland with an inexperienced group of players, who, to be honest, just aren't that talented.
Oakland currently stands at 26th in the league in passing defense, allowing 283 yards per game.
One other disappointment has been the play of safety Tyvon Branch. Plagued with a poor group of supporters around him, many hoped Branch would bring the collective talent of the group up, but he has failed to do so.
If he wants to stick around in Oakland and earn the money from the big contract he recently signed, Oakland is going to need him to make some big plays this season.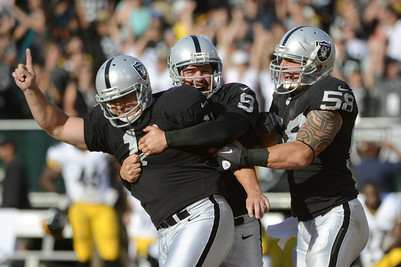 Getty Images
If not for the debacle against San Diego, this group would have earned the team's only "A" grade, but they drop to a minus because of the season's one blemish.
Sebastian Janikowski and Shane Lechler have been as good as ever this season, as this unit continues to do exactly what it has done for years.
One regression, however, has been in the return game, where Oakland has been blessed with guys like Jacoby Ford and Denarius Moore to provide a spark. With Ford out, Moore has yet to make an impact this season, but could be due for a touchdown shortly.
Getty Images
With the age-old question of how much blame falls on the coaching staff, the task of grading Dennis Allen and his group is a difficult one.
On one hand, I thought he handled the Pittsburgh game brilliantly, doing literally everything he could to help his team win.
On the other, however, his team has shown up unprepared and unenthused in half of the games this season (Denver, Miami).
While Allen continues to preach patience in allowing his schemes and ideas to take root in Oakland, the desire for instant results is growing more and more.
If Oakland gets a couple more blowouts under its belt like the whoopings it received in Miami and Denver, the voices calling for Allen to answer his critics will only get louder.
I think Allen is here for the long haul and general manager Reggie McKenzie isn't going to make any rash decisions after just one year with Allen, but a win here or there would do wonders for the pressure on Allen's shoulders.