UFC on FX 5: Power Ranking Every Fighter on the Card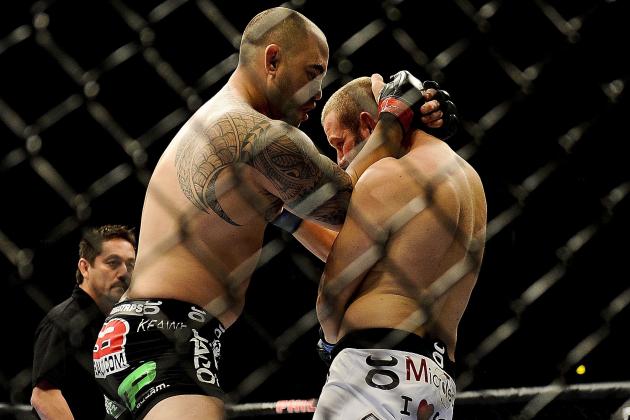 Paul Abell-US PRESSWIRE

UFC on FX 5 is coming Friday and will feature twelve exciting bouts, including a main event between two heavyweights who love to finish fights.
The card also has a nice selection of lightweight bouts as well as the return of Jay Hieron to the UFC.
Twelve fights mean 24 guys have a chance to either make a name for themselves and climb the rankings or find themselves wondering what went wrong and what could have been.
Let's take a closer look at all the fighters on the card and rank the men fighting at UFC on FX 5: Browne vs. Bigfoot.
Begin Slideshow

»
via mmajunkie.com
Marcus LeVesseur made a name for himself wrestling, but after making a pretty good transition to MMA in the independent scene, he was unsuccessful in his first bout with the UFC.
LeVesseur will have a second chance to make an impression when he faces Carlo Prater on the preliminary card on Facebook.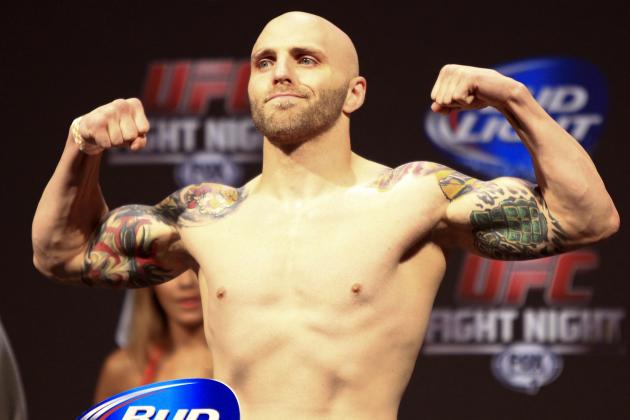 Pat Lovell-USA TODAY Sports

For some odd reason UFC officials are high on Justin Edwards, and he will be facing Josh Neer on the main card of UFC on FX 5.
Edwards has lost two of his last three in the UFC, including his most recent loss to John Maguire in November of last year. The fight has either upset for Edwards or quick finish for Neer written all over it.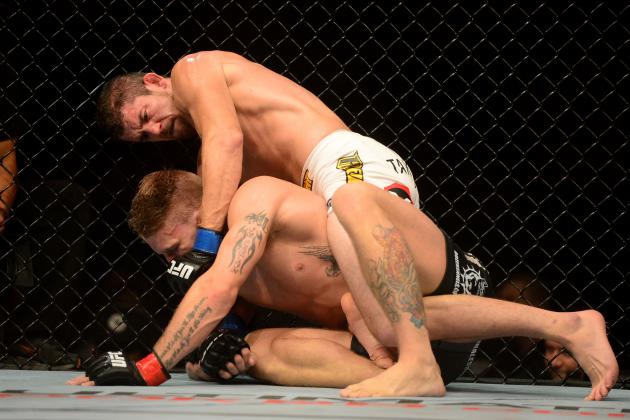 Mark J. Rebilas-US PRESSWIRE

Shane Roller bounced back from a three-fight losing streak at UFC 148 with his win over John Alessio. Before the losing streak, Roller was coming off wins over Jamie Varner and Thiago Tavares and picked up back-to-back post-fight bonuses for his efforts.
Roller will try to go for two when he faces Jacob Volkmann on the preliminary card on Fuel TV.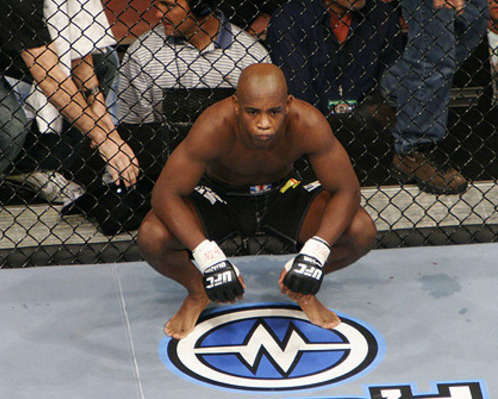 via mmaweekly.com
Yves Edwards lost two of his last three including his most recent loss to the hands of Tony Ferguson.
Edwards will try to return to his winning ways when he faces Jeremy Stephens during the prelims on Fuel TV.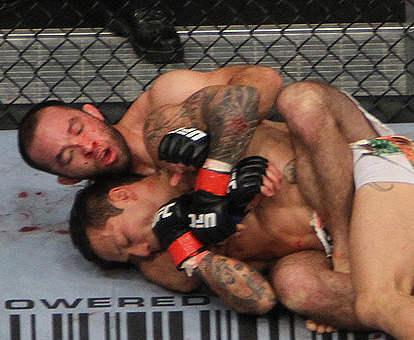 via mmaweekly.com
Darren Uyenoyama will make his flyweight debut against the UFC debut of Phil Harris. Uyenoyama won his UFC debut in November of last year againt Norifumi Yamamoto.
Uyenoyama is a great grappler and will look to drag the fight with Harris to the ground. Uyenoyama will fight Harris on the preliminary card on Fuel TV.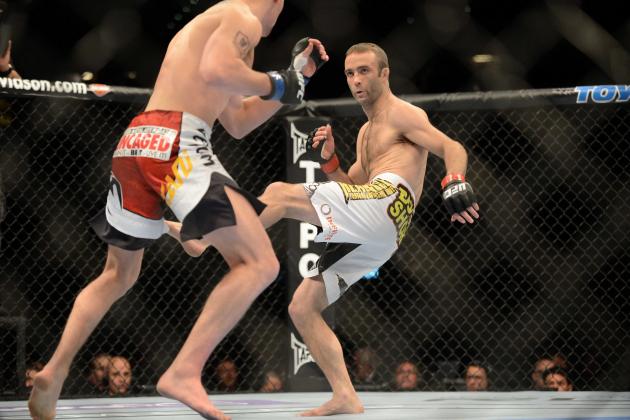 Ron Chenoy-US PRESSWIRE

Jacob Volkmann looked like a potential top guy at 155 after going 5-0 following his debut in the division. Volkmann suffered his first setback at the new division in May when he was submitted by Paul Sass.
Volkmann will look to bounce back from the loss by going against Shane Roller on the preliminary card on Fuel TV.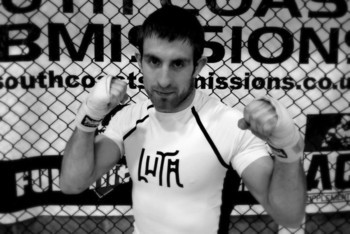 via bleacherreport.com
Phil Harris will make his anticipated UFC debut at UFC on FX 5 in the flyweight division against Darren Uyenoyama.
Harris enters the UFC on a five-fight winning streak and has spent time with both BAMMA and Cage Warriors. Harris hasn't lost an MMA fight since 2007 and will attempt to push his winning steak to six when he goes against Uyenoyama on the preliminary card on Fuel TV.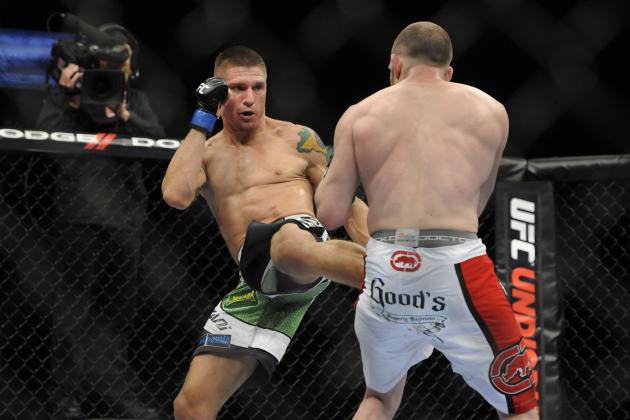 Rafael Suanes-US PRESSWIRE

Carlo Prater should likely be coming off back-to-back losses, but he was deemed the winner by disqualification against top prospect Erick Silva back at UFC 142.
Nonetheless, Prater wasn't able to capitalize on the win, losing to T.J. Grant in his next fight.
After facing two of the best up-and-comers in the UFC, Prater will now face wrestler Marcus LeVesseur on the preliminary card on Facebook.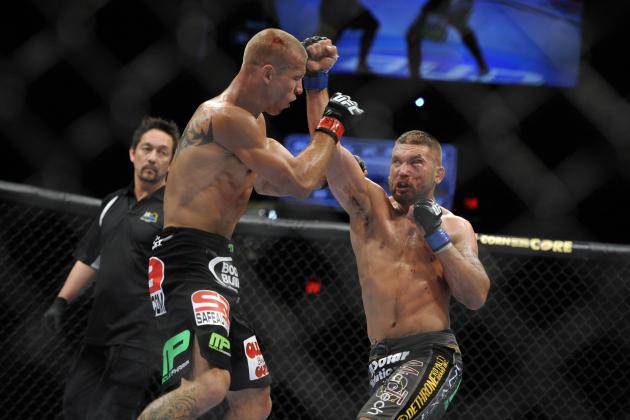 Rafael Suanes-US PRESSWIRE

Jeremy Stephens' last two losses have been against two of the best lightweights in the UFC in Anthony Pettis and Donald Cerrone.
Now, Stephens will be able to fight a man closer to him in the rankings when he faces Yves Edwards on the preliminary card on Fuel TV.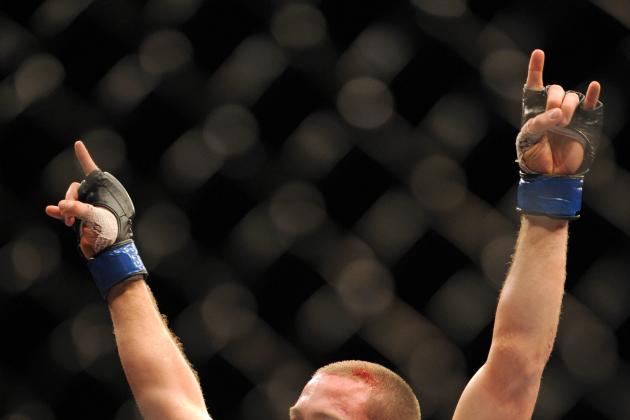 Kelvin Kuo-US PRESSWIRE

Mike Pierce was able to take a nice step up in competition when he faced Josh Koscheck at UFC 143, but he came up short as he was defeated. Pierce was able to get back on track with his most recent win against Carlos Eduardo Rocha in June.
Pierce will now face wrestler Aaron Simpson on the opening bout on Facebook, which may be a tactic by Dana White for both men to spice up their game a bit.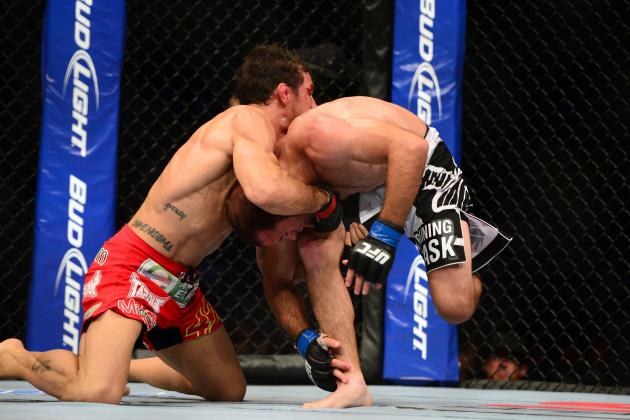 Kyle Terada-US PRESSWIRE

Simpson was once linked to a matchup against Jon Fitch, but now he finds himself on the opening bout on Facebook.
Dana White could be sending a message for him to become more exciting, but nonetheless Simpson is one of the best wrestlers in the welterweight division, and he will attempt to impress the boss when he faces Mike Pierce.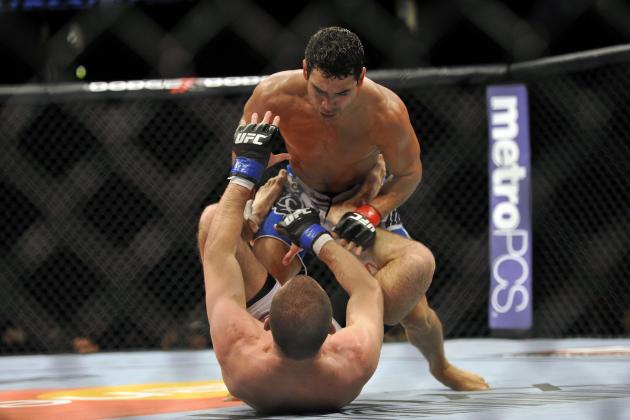 Joe Camporeale-US PRESSWIRE

Danny Castillo is riding a three-fight winning steak and has won six out of his last seven. Since coming over to the UFC from the WEC, Castillo has defeated guys like Joe Stevenson, Shamar Bailey, and Anthony Njokuani.
Castillo will face a stiff test when he steps into the Octagon against Michael Johnson on the preliminary card on Fuel TV.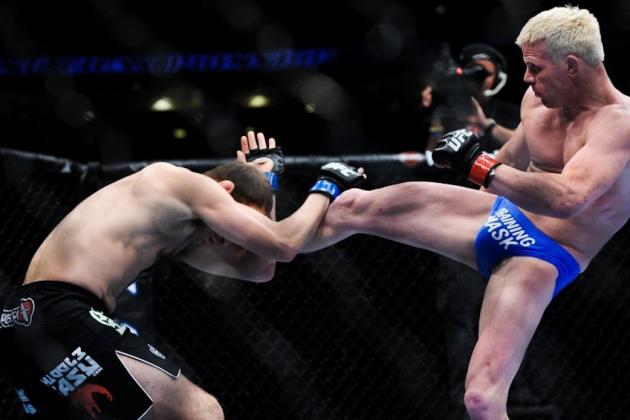 via heavy.com
Dennis Hallman's days of being a top guy are likely over, but he is still a good fighter to have in the middle of the pack.
Hallman, who holds two wins over Hall of Fame fighter Matt Hughes, will face Thiago Tavares on the preliminary card and will attempt to pick up his first win of 2012.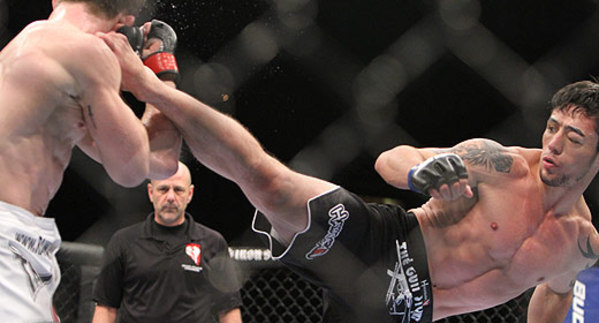 via mmaweekly.com
Diego Nunes is coming off a loss to Dennis Siver back in April but is still regarded as one of the guys to watch at 145.
Nunes will attempt to get back in the winning column when he faces another man trying to return to the mix in Bart Palaszewski.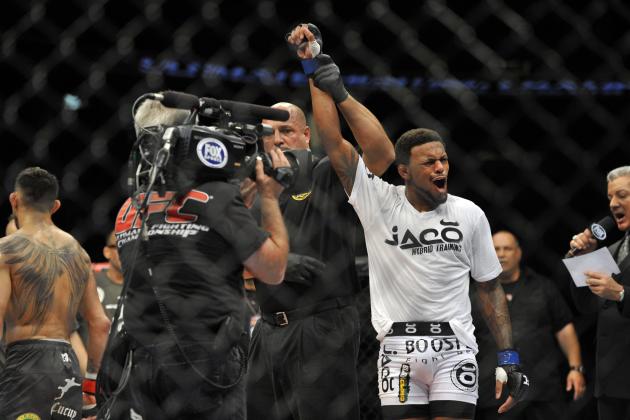 Joe Camporeale-US PRESSWIRE

Michael Johnson is coming off back-to-back wins for the first time in his young UFC career and will look to move his streak to three when he takes on Danny Castillo.
A win for Johnson will move him up even further in the ever-crowed 155 division rankings.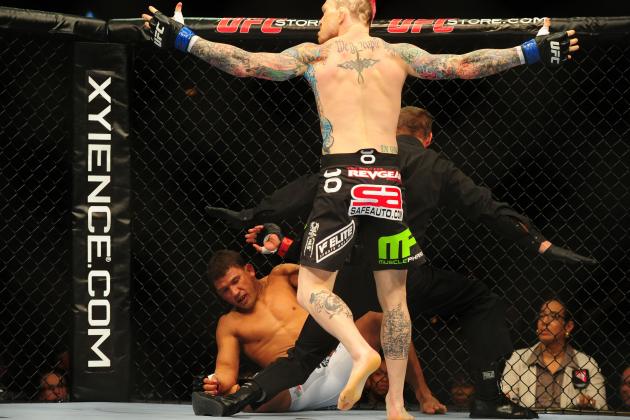 Mark J. Rebilas-US PRESSWIRE

Bart Palaszewski could have become a top-ten featherweight with a victory of Hatsu Hioki back in February, but he wasn't able to pull out a win.
Now, Palaszewski will attempt to climb back into the mix when he faces Diego Nunes on the preliminary card on Fuel TV.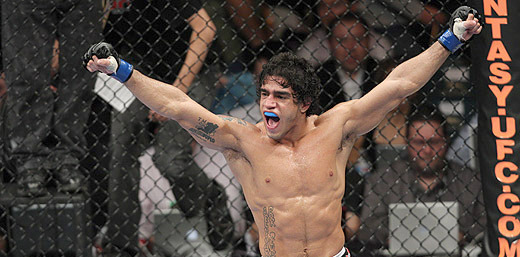 via mmaweekly.com
Thiago Tavares is coming off back-to-back wins for the first time since he started his UFC career back in 2007. His last two victories have been impressive as well, as he's defeated Sam Stout and Spencer Fisher, both in Brazil.
Tavares will return to U.S. soil to face Dennis Hallman on the preliminary card on Fuel in a pivotal fight in the middle of the lightweight division.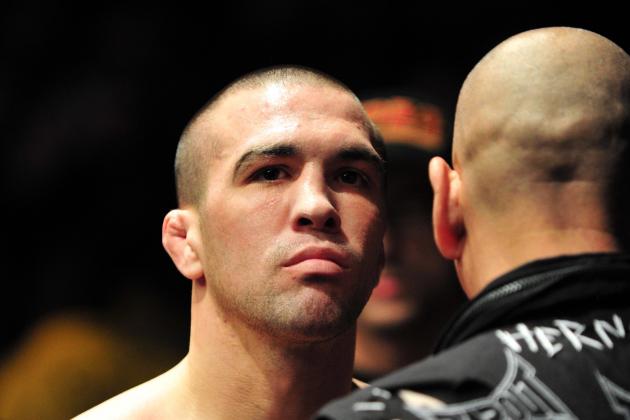 Don McPeak-US PRESSWIRE

After a year away from the UFC, Josh Neer returned and picked up back-to-back finishes before being stopped by Mike Pyle in June.
Neer will now return to the Octagon to face Justin Edwards on the main card of UFC on FX 5 and will likely be deemed the heavy favorite. Will Neer return to his winning ways or find himself at the losing end of an upset?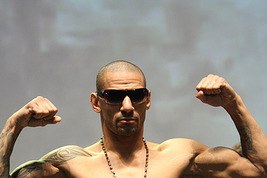 via mmaweekly.com
Jay Hieron makes his return to the UFC after fighting outside the top organization for nearly seven years. His opponent won't be a new face, though, as he'll face Jake Ellenberger, a man Hieron defeated back in 2006.
Ellenberger has improved greatly since then, but so has Hieron, who spent a lot of time in Strikeforce and Bellator during his absence from the UFC.
Hieron will look to instantly become a threat at 170, which he could do with a win against Ellenberger.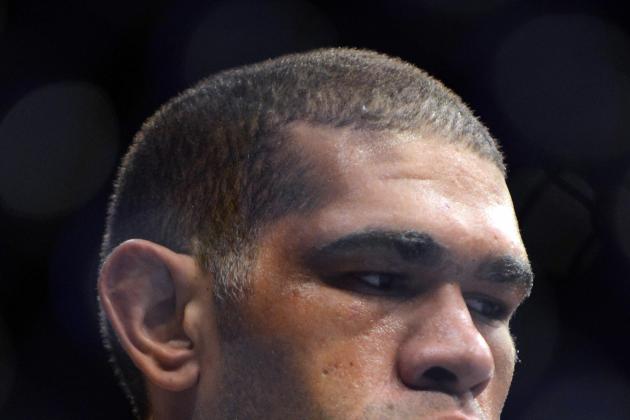 Ron Chenoy-US PRESSWIRE

Antonio Silva was once deemed one of the top heavyweights due to his knockout finish of Fedor Emelianenko, but much has changed since then.
Silva is 0-2 since his win over Emelianenko, but will still have a chance to really redeem himself as he faces a top up-and-comer in the main event at UFC on FX 5.
Silva's power makes him a threat against anyone, but it will be interesting to see what game plan "Bigfoot" will have when he steps into the Octagon with a much faster and more athletic fighter in Travis Browne.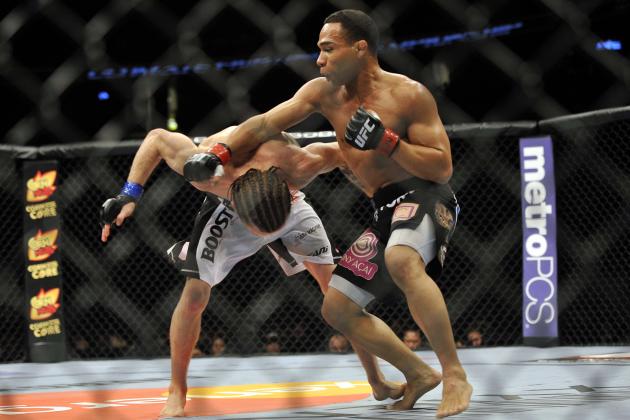 Joe Camporeale-US PRESSWIRE

The flyweight division is all about speed, and we've seen that with Demetrious Johnson becoming the first-ever UFC Flyweight division champion. Try this idea on for size: the fastest fight in UFC history between Johnson and John Dodson—and I don't even mean the finish.
Dodson is ridiculously fast and does some crazy things in the Octagon. Not to mention he has some power in his punches as well. I'm definitely looking forward to the flyweight title eliminator between Dodson and Jussier da Silva.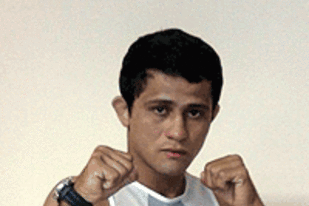 via bleacherreport.com
Very rarely does a fighter make his UFC debut in a title eliminator bout, but that's the case with Jussier da Silva. Don't think it's just because of the lack of depth in the flyweight division either, because this kid is good.
He'll step into the Octagon for the first time with an overall record of 14-1, and if he gets hold of John Dodson's back, it may be nighty-night for "The Magician."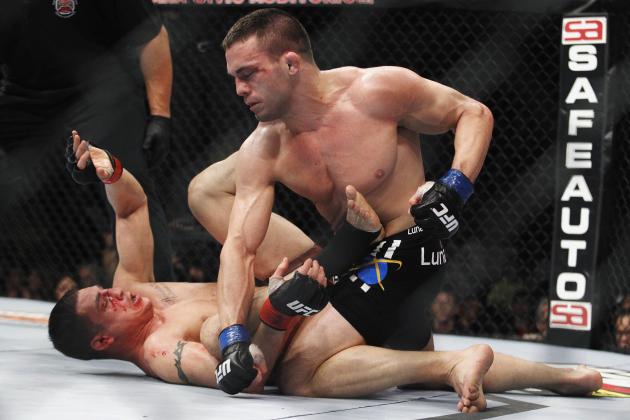 Matt Ryerson-US PRESSWIRE

Jake Ellenberger was on the verge of becoming a title contender in the welterweight division before a loss to Martin Kampmann derailed that plan. Now, Ellenberger finds himself on the comeback trail, and it starts with his fight against Jay Hieron.
Hieron gave Ellenberger his first career loss, so Ellenberger will be attempting to avenge that loss as well as begin his climb back to the top of the welterweight division.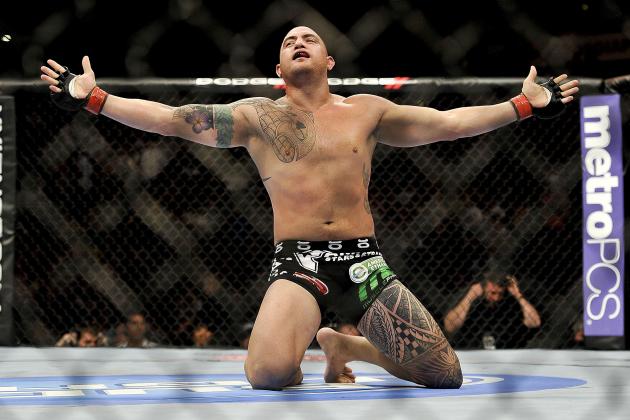 Paul Abell-US PRESSWIRE

Travis Browne isn't quite a big-name heavyweight yet, but following UFC on FX 5, we very well might be looking at yet another man emerging in the heavyweight division.
Browne is undefeated and his only non-win in his career is a draw against Cheick Kongo back in 2010. Since then, Browne has defeated the likes of Chad Griggs and Stefan Struve.
Browne has a chance to really further his status as a top heavyweight contender with a win over Antonio Silva and we could possibly soon be talking about Browne as a title challenger.
Check out MMA Opinion on Facebook for breaking MMA news and analysis.