Every MLB Team's Top Fantasy Stud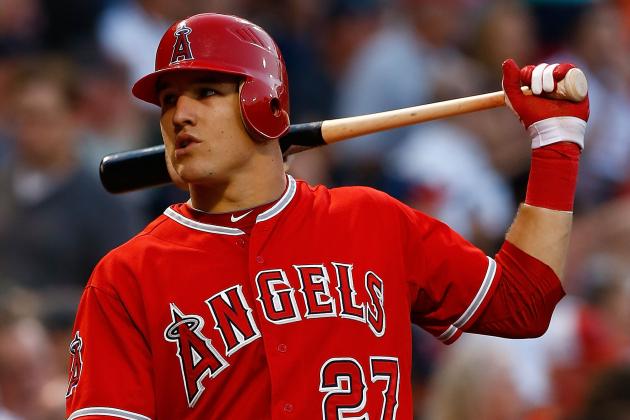 Jared Wickerham/Getty Images
Mike Trout's rise from a late-round stash to No. 1 on the player rater makes him an MVP in both fantasy and real life.
Fantasy baseball moves into the rear view mirror as October baseball heats up.
Before you rush off to make your early 2013 rankings, let's take a look back at who got it done in 2012.
This list of every MLB team's top fantasy stud is filled with plenty of obvious picks, but you may find several surprises as well.
Begin Slideshow

»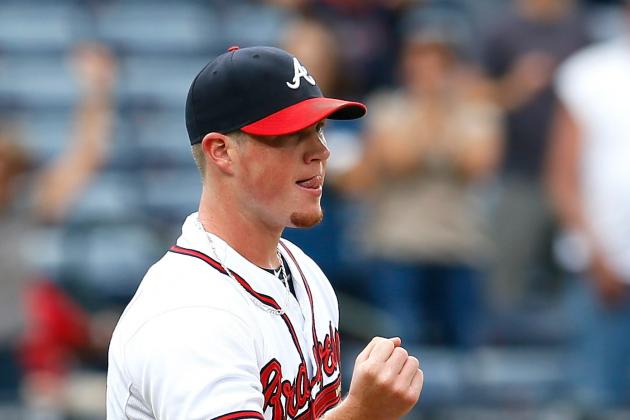 Kevin C. Cox/Getty Images
Atlanta Braves closer Craig Kimbrel delivered on his lofty preseason expectations.
Kris Medlen made himself a very tempting option for this pick by carrying many fantasy teams to championships with his filthy August and September as a starter.
Craig Kimbrel's season-long dominance, however, was just too impressive to ignore.
Kimbrel sent the fantasy baseball world atwitter with his breakout 2011. Owners everywhere reached for him in drafts and auctions this spring.
Although most analysts scream "never pay for saves" any chance they get, Kimbrel made these investments well worth it. He finished as the top closer on Yahoo's player rater with the third-most saves, second-most strikeouts and miniscule ratios.
He only gave up seven earned runs all season.
The Braves feature several strong fantasy players, but Kimbrel's dominance from start to finish made him more valuable than any of his teammates.
The Finish Line: 42 SV, 116 K, 1.01 ERA, 0.65 WHIP
Honorable Mentions:
Kris Medlen: 10 W, 120 K, 1.57 ERA, 0.91 WHIP
Jason Heyward: 91 R, 27 HR, 82 RBI, 21 SB, .269/.335/.479
Michael Bourn: 96 R, 9 HR, 57 RBI, 42 SB, .274/.348/.391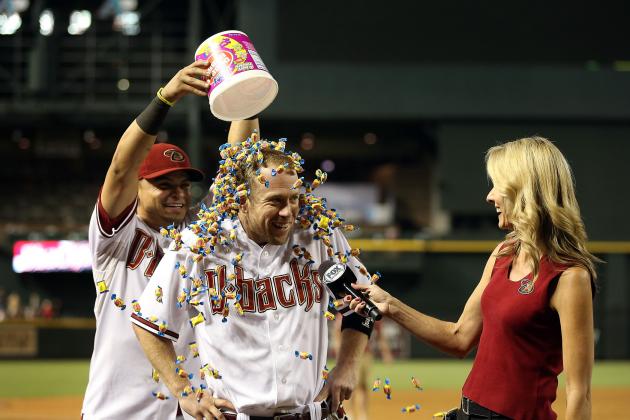 Christian Petersen/Getty Images
Arizona Diamondbacks second baseman Aaron Hill helped many of his fantasy owners celebrate this season.
Justin Upton seemed like a lock for this pick six months ago. The projected breakout instead came from a much more unlikely source.
Aaron Hill began 2012 ranked outside of the Top 200 and oftentimes went undrafted this spring. Any fantasy managers savvy enough to pick up on his resurgent year first were rewarded with a top-30 performance.
Hill finished as the No. 2 second baseman on Yahoo's player rater, behind only Robinson Cano. His juicy stat line stabilized a position otherwise depleted by injuries (Dustin Pedroia) and under performers (Dan Uggla).
The return on investment here makes him the runaway pick from the desert.
The Finish Line: 93 R, 26 HR, 85 RBI, 14 SB, .302/.360/.522
Honorable Mentions:
Paul Goldschmidt (82 R, 20 HR, 82 RBI, 18 SB, .286/.359/.490)
Justin Upton (107 R, 17 HR, 67 RBI, 18 SB, .280/.355/.430)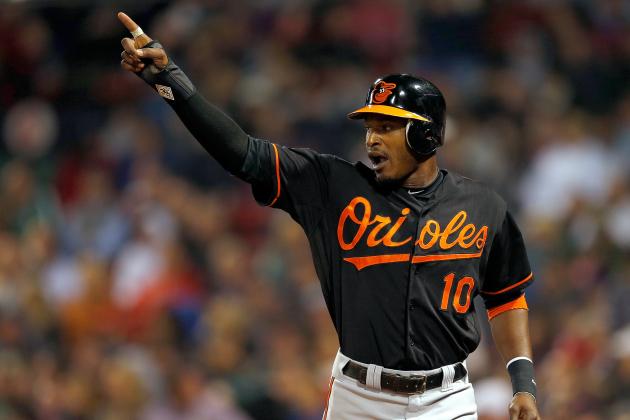 Jim Rogash/Getty Images
Baltimore Orioles outfielder Adam Jones is clearly the No. 1 fantasy option on his team.
It's surprising that a team with a chance to win the American League East on the last game of the regular season didn't have more competition for this pick.
Adam Jones was just that good.
Jones emerged from the middle rounds of drafts to rank 11th among all hitters on Yahoo's player rater. He contributed healthy totals to every category, while serving as the leading force behind Baltimore's run to the playoffs.
Hopefully you had him on your team for similar success.
The Finish Line: 103 R, 32 HR, 82 RBI, 16 SB, .287/.334/.505
Honorable Mentions:
Jim Johnson (51 SV, 41 K, 2.49 ERA, 1.02 WHIP)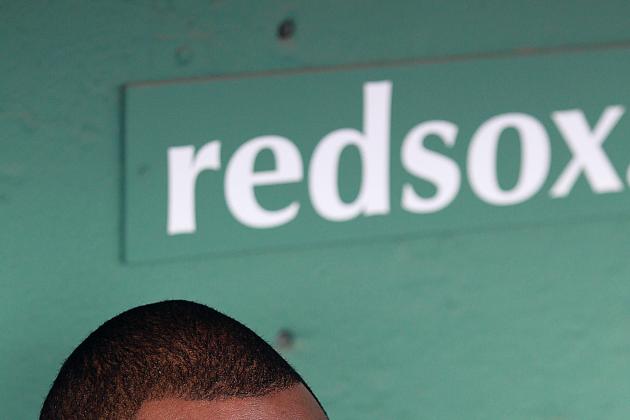 Jim Rogash/Getty Images
Boston Red Sox designated hitter David Ortiz sat out during the most important part of the fantasy season, but his early contributions were too great to ignore.
Picking David Ortiz as Boston's best fantasy stud in 2012 tells you just as much about the rest of his team as his own performance.
Under normal circumstances, it's hard to make a case for any player that sits out the final two and a half months, when fantasy managers need him most. But Ortiz's production when healthy was that good, and the rest of his team was that bad.
Big Papi cranked out 65 runs, 23 homers and 60 RBI in only 324 at-bats. His .318/.415/.611 slash line was especially staggering in any leagues counting on base percentage and slugging percentage.
He even picked up first base eligibility in Yahoo leagues during interleague play.
Honorable Mentions:
Adrian Gonzalez (63 R, 15 HR, 86 RBI, 0 SB, .300/.343/.469)
Dustin Pedroia (81 R, 15 HR, 65 RBI, 20 SB, .290/.347/.449)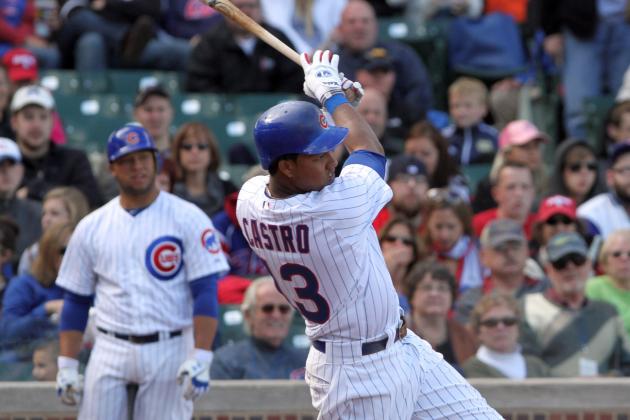 Tasos Katopodis/Getty Images
Chicago Cubs short stop Starlin Castro came through for fantasy owners in 2012 and looks even better for 2013.
Starlin Castro's fantasy owners are glad defense doesn't count in their game. The young star is frustrating to watch in the field, but his talent at the plate is unquestioned.
A case can be made for Alfonso Soriano, another defensively challenged Cub. He doubled Castro in homers and drove in more than 100 runs.
I give Castro the edge, however, because of his speed and position eligibility at shortstop.
Outfield is a grocery store for fantasy managers. You can always find any stat you need there on the waiver wire.
Shortstop is usually a much tougher spot to fill, and 2012 was no exception. Almost every player drafted as a starter underperformed relative to expectations, other than the resurgent Derek Jeter.
Castro's steady production across the board makes him an easy pick here.
The Finish Line: 78 R, 14 HR, 78 RBI, 25 SB, .283/.323/.430
Honorable Mentions:
Alfonso Soriano (68 R, 32 HR, 108 RBI, 6 SB, .262/.322/.449)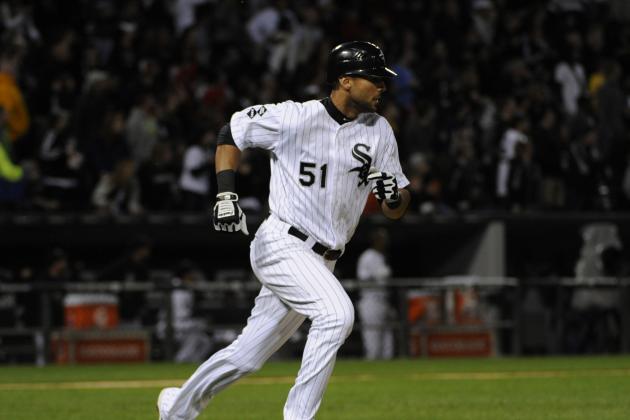 David Banks/Getty Images
Chicago White Sox outfielder Alex Rios didn't turn as many heads as Chris Sale, but he turned in the better fantasy season.
Hidden in the shadows of all the Chris Sale propaganda was an incredible fantasy season from Alex Rios.
Sale's sizzling first half drew all the headlines, but Rios drew the bigger numbers. He teased the fantasy world with great seasons in 2008 and 2010, only to follow each of those campaigns with down years.
His up and down trend continued in the even year of 2012 as he finished No. 10 among hitters on Yahoo's player rater.
Anyone who gambled on a bounce back season from Rios this spring was rewarded handsomely in every category.
The Finish Line: 93 R, 25 HR, 91 RBI, 23 SB, .304/.334/.516
Honorable Mentions:
Chris Sale (17 W, 192 K, 3.05 ERA, 1.14 WHIP)
Adam Dunn (87 R, 41 HR, 96 RBI, 2 SB, .204/.333/.468)
Dilip Vishwanat/Getty Images
Cincinnati Reds closer Aroldis Chapman is as dominant as they come.
Some Reds fans may be upset about yet another snub for Johnny Cueto here, but Aroldis Champan provided the most value in both fantasy and real life. Either way, the fact that Joey Votto clearly sits on the outside of this conversation is even more astonishing than the team's division title.
Chapman finished with 38 saves, despite starting the season in a set-up role and resting his arm for nearly two weeks in September. His 122 strikeouts were more than any other pure relief pitcher in baseball.
His microscopic ratios rival any closer not named Craig Kimbrel or Fernando Rodney.
Cueto's contributions should not be discarded, but Chapman's bullpen dominance was more valuable to both the Reds and his fantasy owners.
The Finish Line: 38 SV, 122 K, 1.51 ERA, 0.81 WHIP
Honorable Mentions:
Johnny Cueto (19 W, 170 K, 2.78 ERA, 1.17 WHIP)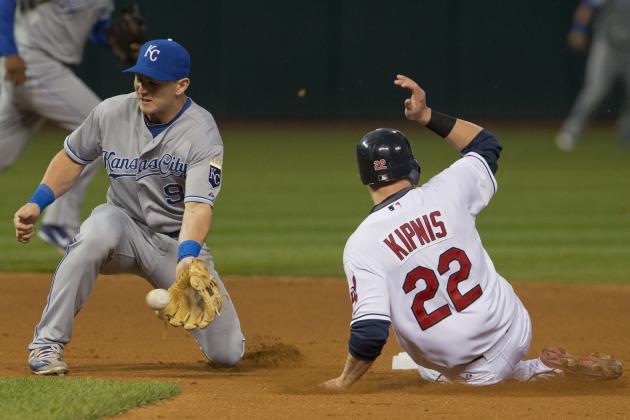 Jason Miller/Getty Images
Cleveland Indians second baseman Jason Kipnis ended 2012 on a slide, but his stellar first half earned him this pick on its own.
Jason Kipnis looked to be literally running away with this spot half way through the season.
After the first three months he had 19 steals, 47 runs, 11 homers, 46 RBI and a .275/.335/.426 slash line. A miserable second-half slide led to the demise of both the Indians and his fantasy owners.
It also opened the door for teammates such as Asdrubal Cabrera, Carlos Santana or Chris Perez to slide into this spot.
But no other Cleveland player stood out.
Perez finished sixth in saves, but his ratios and strikeout rate were all average. Santana's first half and Cabrera's second half were just as bad as Kipnis' down stretch. Neither of their upswings were quite as pronounced as that of the budding second base prospect.
Kipnis' tale of two halves will make for puzzling projections in 2013, but he showed he has the upside to become the best middle infielder in fantasy if he can remain consistent for an entire season.
The Finish Line: 86 R, 14 HR, 76 RBI, 31 SB, .257/.335/.379
Honorable Mentions:
Carlos Santana (72 R, 18 HR, 76 RBI, 3 SB, .252/.365/.420)
Asdrubal Cabrera (70 R, 16 HR, 68 RBI, 9 SB, .270/.338/.423)
Chris Perez (39 SV, 59 K, 3.59 ERA, 1.13 WHIP)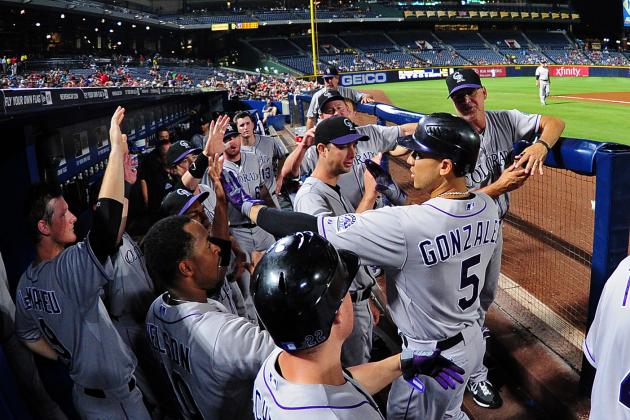 Scott Cunningham/Getty Images
Colorado outfielder Carlos Gonzalez was the only consistent fantasy producer in the Rockies dugout.
Troy Tulowitzki's injury made this the easiest pick on any team. No Rockie came close to challenging Car-Go's annual ability to consistently contribute to every category.
Rookie catcher Wilin Rosario made for a nice pick up and stretch run boost, as did Tyler Colvin.
But neither carried Colorado or their fantasy teams like Gonzalez, who was once again worth every penny of the early-round investments his owners made this spring.
The Finish Line: 89 R, 22 HR, 85 RBI, 20 SB, .303/.371/.510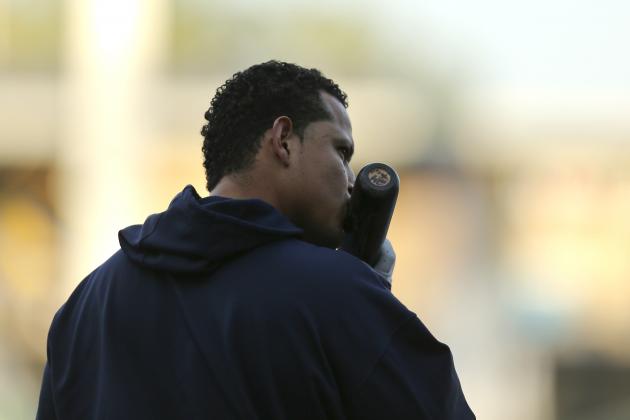 Ed Zurga/Getty Images
Miguel Cabrera finished as MLB's first Triple Crown winner since 1967. It counted in fantasy, too.
Whether or not the first Triple Crown winner since 1967 deserves to be the American League MVP or not remains up for debate, but Miguel Cabrera's historic season clearly makes him the best fantasy player on the Detroit Tigers.
That's no disrespect to Prince Fielder or Justin Verlander.
Both turned in fantastic seasons worthy of all their hype and early-round investments. Both would be the best fantasy player on most other teams.
But Cabrera's Triple Crown says it all.
Mike Trout can keep up in the MVP conversation because of his speed and defense, but not even Prince can make a legitimate claim to Cabrera's reign as fantasy King of Detroit.
The Finish Line: 109 R, 44 HR, 139 RBI, 4 SB, .330/.393/.606
Honorable Mentions:
Prince Fielder (83 R, 30 HR, 108 RBI, 1 SB, .313/.412/.528)
Justin Verlander (17 W, 139 K, 2.64 ERA, 1.06)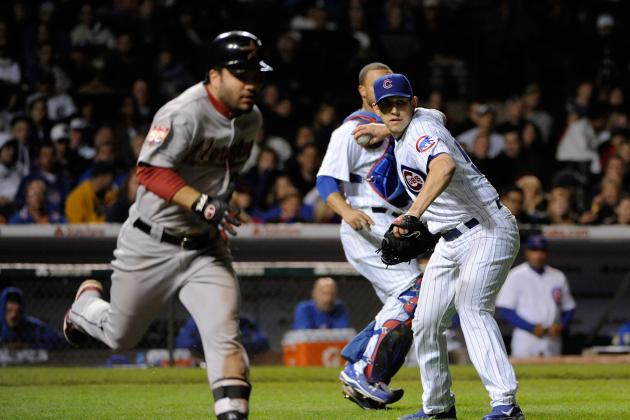 David Banks/Getty Images
Houston Astros second baseman Jose Altuve was one of the team's few bright spots.
Jose Altuve only ranks as No. 123 on Yahoo's player rater, but he's No. 1 in Houston.
The breakout star made sure the Astros weren't completely void of fantasy relevance. He was a hot waiver wire pick up early on that stuck.
Altuve didn't win any fantasy championships on his own, but his speed helped consistently win a category while not creating a liability at the others.
The Finish Line: 80 R, 7 HR, 37 RBI, 33 SB, .290/.340/.399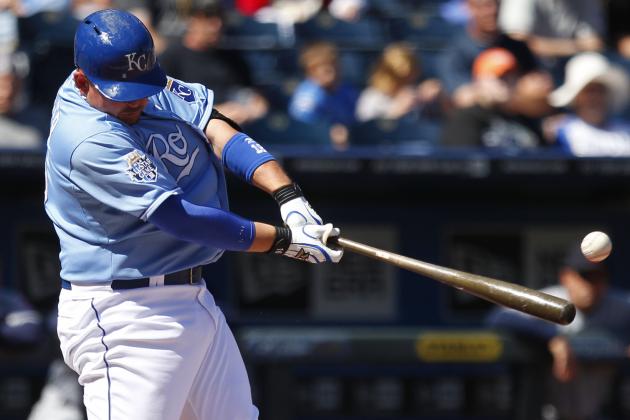 Kyle Rivas/Getty Images
Kansas City designated hitter Billy Butler drove in more than 100 runs to power the Royals offense and fantasy teams everywhere.
Billy Butler was drafted outside the Top 100 players but produced a Top 20 season among hitters on Yahoo's player rater.
He drove in more than 100 runs for the first time in his career. He missed the 30 home run mark by just one round trip, despite never hitting more than 21 homers in any previous season.
If you got boxed out of the early run at first baseman this spring, Butler was a more than adequate consolation prize.
The Finish Line: 72 R, 29 HR, 107 RBI, 2 SB, .313/.373/.510
Honorable Mentions:
Alex Gordon (93 R, 14 HR, 72 RBI, 10 SB, .294/.368/.455)
Jim Cowsert-US PRESSWIRE
Mike Trout took the fantasy world by storm to lead a team loaded with talent.
The Los Angeles Angels are a perfect study for the disconnect between fantasy and reality. How did a team loaded with so many fantasy studs miss the real-life playoffs?
Mike Trout is the unquestioned leader on this team. Anyone good enough to challenge a Triple Crown winner for league MVP, despite not playing the entire season, should run away with that spot.
But don't let the rookie sensation completely eclipse the contributions from old-time studs Albert Pujols (remember him?) and Torii Hunter.
On the mound, Jered Weaver was his typically dominant self and Ernesto Frieri was one of the best fantasy bullpen pick ups all season.
Still, Trout is the big fish here now and will be for quite a while.
The Finish Line: 129 R, 30 HR, 83 RBI, 49 SB, .326/.399/.564
Honorable Mentions:
Albert Pujols (85 R, 30 HR, 105 RBI, 8 SB, .285/.343/.516)
Torii Hunter (81 R, 16 HR, 92 RBI, 9 SB, .313/.365/.451)
Jered Weaver (20 W, 142 K, 2.81 ERA, 1.02 WHIP)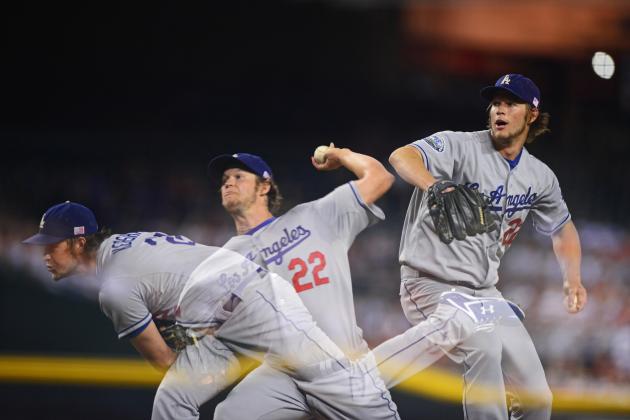 Mark J. Rebilas-US PRESSWIRE
Los Angeles Dodgers pitcher Clayton Kershaw was one of the few arms worth of an early-round investment this spring.
It was hard to imagine anyone other than Matt Kemp in this spot after the way he started the season. Kemp looked like the best fantasy player in all of baseball, and certainly the best on his own team.
But Kemp's injury woes and failure to return to his early-season form brings a much deserving Clayton Kershaw into the spotlight.
Investing top picks or top dollar in starting pitching is not usually advisable, but Kershaw is one of the few exceptions to that rule. He turned in his fourth consecutive season with a sub-3.00 ERA and nearly breached the 1.00 WHIP mark for a second consecutive year.
Getting those ratios from a starter makes him extremely valuable as is.
Adding on 221 strikeouts makes him elite.
The Finish Line: 14 W, 229 K, 2.53 ERA, 1.02 WHIP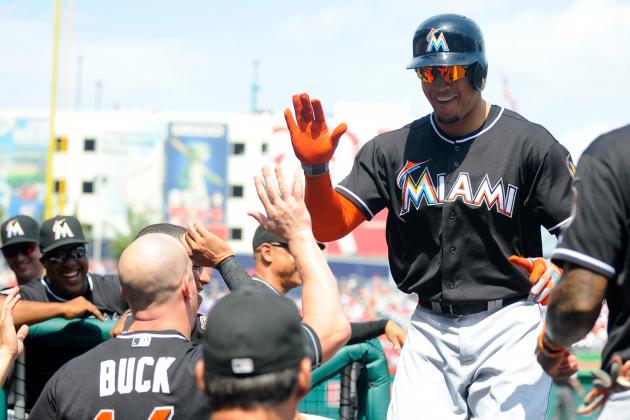 Brad Mills-US PRESSWIRE
The Miami Marlins emptied their dugout, leaving Giancarlo Stanton as one of few fantasy relevant players still around.
Missing 39 games and moving to a cavernous new ball park didn't stop Giancarlo Stanton from swatting a career-high 37 home runs this season.
It only took one game at Marlins Park to see that the new digs could pose a threat to Stanton's power production. An early injury only made matters worse.
But the young slugger rewarded fantasy owners that stuck with him by smashing 12 home runs in May. For an encore, he hit 10 more in August and eight during the game's final month—three of which came during championship week.
Hanley Ramirez was shipped across the country. Jose Reyes was good but not great, like he was drafted to be. Josh Johnson was treated with much more caution and still failed to deliver on expectations.
As for Heath Bell, well, yuck.
The Finish Line: 75 R, 37 HR, 86 RBI, 6 SB, .290/.361/.608
Honorable Mentions:
Jose Reyes (86 R, 11 HR, 57 RBI, 40 SB, .287/.347/.433)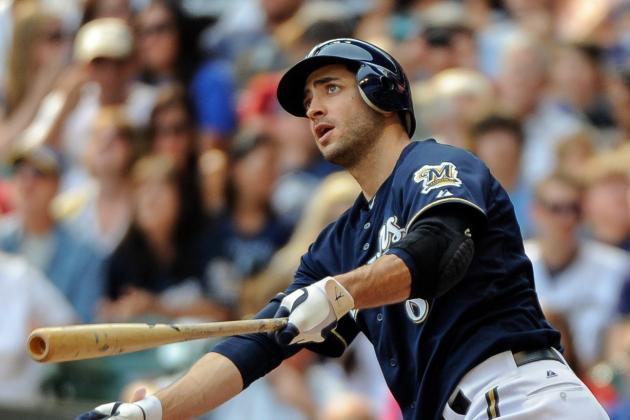 Benny Sieu-US PRESSWIRE
Milwaukee Brewers outfielder Ryan Braun is that combination of speed and power fantasy owners crave.
Lost in the Miguel Cabrera and Mike Trout MVP debate is yet another studly season from Ryan Braun.
From a fantasy perspective, Braun's season was also more valuable than Cabrera's triple crown because of his speed. He became only the ninth player in MLB history to hit 40 home runs and steal 30 bases. He stayed mostly healthy during a year that saw injuries ravage many of fantasy's top producers.
In short, he was the centerpiece of many fantasy championship teams.
The Finish Line: 108 R, 41 HR, 112 RBI, 30 SB, .319/.391/.595
Honorable Mentions:
Aramis Ramirez (92 R, 27 HR, 105 RBI, 9 SB, .300/.360/.540)
Corey Hart (91 R, 30 HR, 83 RBI, 5 SB, .270/.334/.504)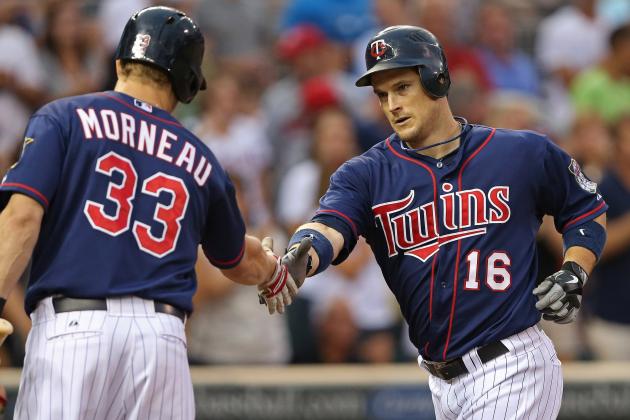 Jesse Johnson-US PRESSWIRE
Minnesota Twins outfielder Josh Willingham produces handshakes no matter where he plays.
Josh Willingham keeps landing in pitcher-friendly parks, but his hits keep landing on the other side of the wall.
He hit a career-high 29 homers in Oakland and then drilled 35 this year in Minnesota. The power surge also produced his first season with more than 100 RBI, after he missed that mark by just two in 2011. Not known for scoring much himself, Willingham crossed home plate a career-high 85 times.
All that output landed the slugger at No. 40 on Yahoo's player rater, No. 23 among hitters.
The Finish Line: 85 R, 35 HR, 110 RBI, 3 SB, .260/.366/.524
Honorable Mentions:
Joe Mauer (81 R, 10 HR, 85 RBI, 8 SB, .319/.416/.446)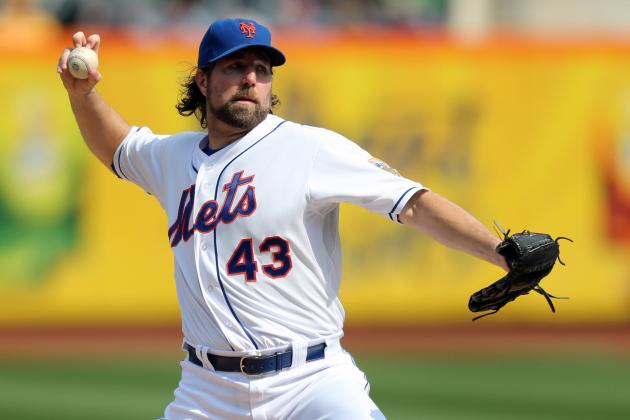 Anthony Gruppuso-US PRESSWIRE
New York pitcher R.A. Dickey edges out third baseman David Wright as the Mets best fantasy player.
I usually favor offense over pitching. Like his filthy knuckleball, however, R.A. Dickey is an exception to the rule.
David Wright began the season as a clear favorite to win this distinction, and he did nothing during the season to soften that stance. In fact, finishing as the 15th-best hitter in fantasy and No. 27 overall on Yahoo's player rater should have strengthened that position.
But R.A. Dickey was even better.
While Wright finished sixth at his position, R.A. Dickey finished as the top-ranked pitcher, No. 5 overall. He was one of just four 20-game winners, ranked fourth in the ratios and trailed only Justin Verlander in strikeouts.
All this came from a fantasy waiver wire claim. If the raw numbers don't give Dickey the edge over Wright, his return on investment sure does.
The Finish Line: 20 W, 230 K, 2.73 ERA, 1.05 WHIP
Honorable Mentions
David Wright (91 R, 21 HR, 93 RBI, 15 SB, .306/.391/.492)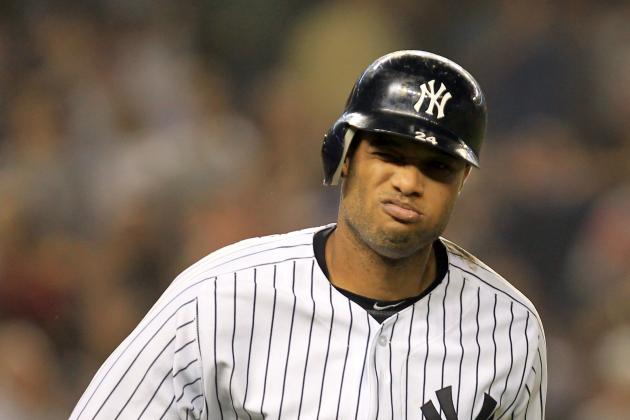 The Star-Ledger-US PRESSWIRE
New York Yankees second baseman Robinson Cano is one mean fantasy baseball player.
The Bronx Bombers always feature a lineup loaded with fantasy studs.
Curtis Granderson refined his power stroke, besting a career-high 41 home runs from last year with 43 this season. Derek Jeter turned in a vintage year to lead all shortstops in a season when all other options seemed to under perform. CC Sabathia fell of his usual lofty pace but still served as a consistent source of wins and strikeouts.
Yet, Robinson Cano once again distinguished himself above his many talented teammates. A career-high in home runs and runs helped him to another year as the top-ranked second baseman, the No. 9 ranked hitter on Yahoo's player rater.
Most importantly, Cano was an absolute monster during championship week, with eight consecutive multi-hit games, three home runs, 11 runs and 15 RBI powered by seven doubles.
He probably won many titles on his own with a 4-of-4, three-run, six-RBI final night powered by two round trips.
The Finish Line: 105 R, 33 HR, 94 RBI, 3 SB, .313/.379/.550
Honorable Mentions:
Curtis Granderson (102 R, 43 HR, 106 RBI, 10 SB, .232/.319/.492)
Derek Jeter (99 R, 15 HR, 58 RBI, 9 SB, .316/.362/.429)
CC Sabathia (15 W, 197 K, 3.38 ERA, 1.14 WHIP)
Rafael Soriano (42 SV, 69 K, 2.26 ERA, 1.17 WHIP)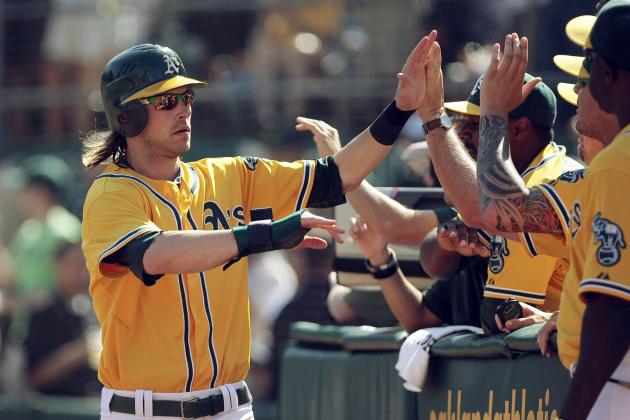 Kelley L Cox-US PRESSWIRE
Oakland Atheltics outfielder Josh Reddick helped lead a band of underdogs to an AL West division title.
The Oakland Athletics are the anti-Angels.
By that I don't mean they are evil, just thrifty.
Los Angeles failed to make the real-life playoffs despite a roster loaded with fantasy brand names. Instead, Oakland won the American League West division title with out a single player ranked in the Top 65 of Yahoo's player rater.
I'm digging even deeper to name the team's best fantasy stud.
Josh Reddick checks in at No. 99 behind Yoenis Cespedes at No. 69. The difference likely comes from a large gap in batting average, but I'm giving Reddick the nod because his counting numbers are better and affect more categories.
The A's are a great baseball story. They didn't help too many fantasy owners, but hopefully we can all enjoy the ride now that our fake season is over.
The Finish Line: 85 R, 32 HR, 85 RBI, 11 SB, .242/.305/.463
Honorable Mentions:
Yoenis Cespedes (70 R, 23 HR, 82 RBI, 16 SB, .292/.356/.505)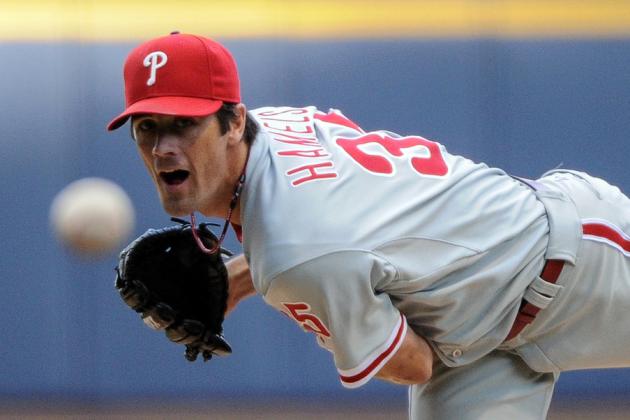 Benny Sieu-US PRESSWIRE
Philadelphia Phillies pitcher Cole Hamels earned a big payday and some serious fantasy street cred.
Cole Hamels' talent is unquestioned, but he was still cast as the third-best starting pitcher on his real-life team this spring. Now his status as the team's best fantasy player isn't even an argument.
Jonathan Papelbon has more of a case than Cliff Lee or Roy Halladay.
Injuries played a role in Hamels' rise to the top, but he still earned it on his own. Recording 17 wins during a down year for the Phillies is impressive (Lee only managed six), especially when it comes with more than 200 strikeouts and crazy low ratios.
The Finish Line: (17 W, 216 K, 3.05 ERA, 1.12 WHIP)
Honorable Mentions:
Jonathan Papelbon (38 SV, 92 K, 2.44 ERA, 1.06 WHIP)
Cliff Lee (6 W, 207 K, 3.16 ERA, 1.11 WHIP)
Jimmy Rollins (102 R, 23 HR, 68 RBI, 30 SB, .250/.316/.427)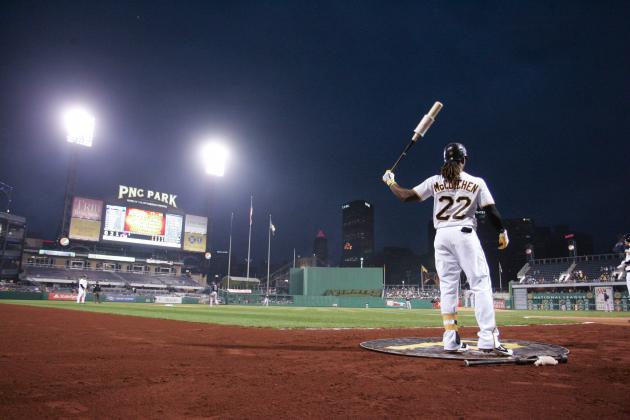 Charles LeClaire-US PRESSWIRE
Pittsburgh outfielder Andrew McCutchen stands alone as the only Pirates fantasy stud.
A few teammates challenged Andrew McCutchen for this spot early on.
James McDonald was sensational before spiraling out of control after the All-Star break. AJ Burnett made for a great waiver wire grab, but he was never elite at his position overall. Joel Hanrahan once led the National League in saves before only earning two handshakes after August 17.
Yes, this was always a one-horse race.
That McCutchen turned in career highs for every roto category made it even more lopsided. The No. 4 overall player on Yahoo's player rater would be the best fantasy option on nearly every MLB team.
The Finish Line: 107 R, 31 HR, 96 RBI, 20 SB, .327/.400/.553)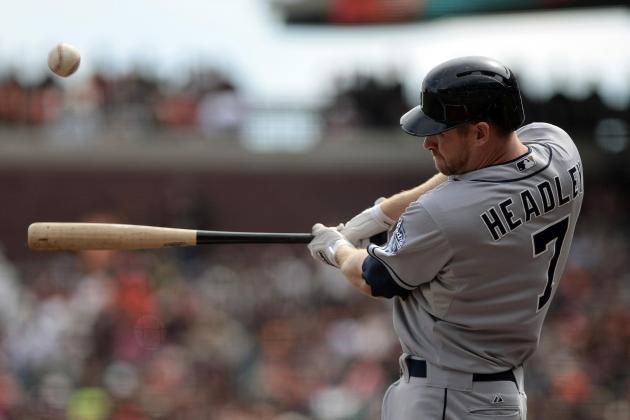 Kelley L Cox-US PRESSWIRE
San Diego Padres third baseman Chase Headley broke out in a big way this year.
Chase Headley produced as one of the top fantasy third baseman in a booming year for the position. Not bad for a guy ranked outside of the Top 250 this spring, especially considering his ball park and lineup.
San Diego's young star still finished behind Miguel Cabrera, Adrian Beltre and fellow breakout slugger Edwin Encarnacion, but he also topped everyone else (including David Wright). He ended the year ranked No. 12 overall on Yahoo's player rater and No. 8 among hitters.
Contributing across the board will do that for you.
The Finish Line: 95 R, 31 HR, 115 RBI, 17 SB, .286/.376/.498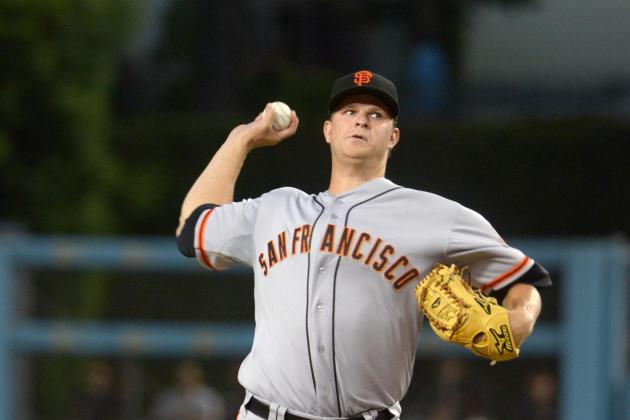 Kirby Lee-US PRESSWIRE
San Francisco Giant pitcher Matt Cain was a perfect choice for anyone investing in starters early this spring.
This is another case that forces me to chose pitching over hitting, despite the presence of two deserving candidates.
Buster Posey turned in an amazing season and should easily win Comeback Player of the Year. Any fantasy manager who took the risk of drafting him was rewarded with the game's top catcher and No. 16 ranked hitter on Yahoo's player rater.
But Matt Cain was nothing short of perfect. Only four starting pitchers were better.
He gets the nod this time, but will have a tough time repeating in 2013.
If Posey doesn't unseat him, Madison Bumgarner just might.
The Finish Line: 16 W, 193 K, 2.79 ERA, 1.04 WHIP
Honorable Mentions:
Buster Posey (78 R, 24 HR, 103 RBI, 1 SB, .336/.408/.549)
Madison Bumgarner (16 W, 191 K, 3.37 ERA, 1.11 WHIP)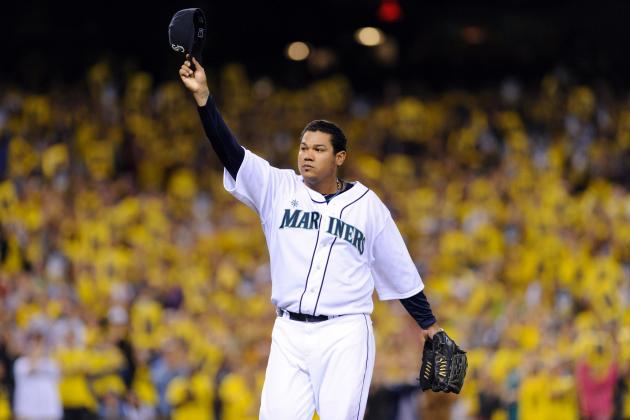 Steven Bisig-US PRESSWIRE
Salute Felix Hernandez on another job well done.
Fantasy owners love when their studs turn out to be everything they draft them to be.
Felix Hernandez is annually one of the most trustworthy starting pitching investments. His final line is nearly identical from year to year, making him a favorite among fantasy analysts projecting stats in the spring.
You drafted Hernandez for his low ratios and high strikeout total while expecting only an average win rate. That is exactly what you got.
Hats off to you, King Felix.
The Finish Line: 13 W, 223 K, 3.06 ERA, 1.14 WHIP
Honorable Mentions:
Tom Wilhelmsen (29 SV, 87 K, 2.50 ERA, 1.11 WHIP)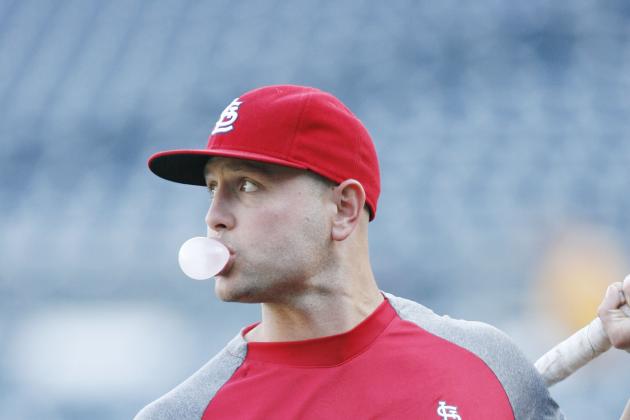 Charles LeClaire-US PRESSWIRE
St. Louis Cardinals outfielder Matt Holliday led a balanced team of fantasy sweetness.
The departure of Albert Pujols turned the St. Louis Cardinals into one of the most balanced MLB teams for fantasy purposes. No one player stood out from the crowd, but more than a handful turned in solid seasons.
St. Louis featured five hitters with at least 20 home runs. Jason Motte became the fourth closer in team history to record at least 40 saves in a single season. Kyle Lohse out-pitched Adam Wainwright and Chris Carpenter with ratios rivaling the best in baseball.
Matt Holliday earns this spot, as the only Redbird with more than 100 RBI, but you can make valid arguments for several other teammates. The race may not be so close in 2013 if Allen Craig plays a full season.
The Finish Line: 95 R, 27 HR, 102 RBI, 4 SB, .295/.379/.498
Honorable Mentions:
Carlos Beltran (83 R, 32 HR, 97 RBI, 13 SB, .269/.346/.495)
Kyle Lohse (16 W, 143 K, 2.86 ERA, 1.09 WHIP)
Jason Motte (42 SV, 86 K, 2.75 ERA, 0.92 WHIP)
Allen Craig (76 R, 22 HR, 92 RBI, 2 SB, .307/.354/.522)
Yadier Molina (65 R, 22 HR, 76 RBI, 12 SB, .315/.373/.501)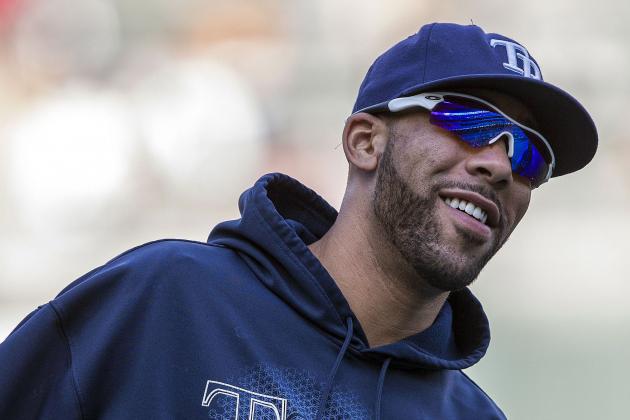 Jesse Johnson-US PRESSWIRE
Tampa Bay Rays pitcher David Price is as studly as they come.
What a gem you found if you drafted David Price outside of the Top 50 this spring. Heck, you'd still be thrilled if you reached for him in the first round.
Any price was right for the Tampa Bay ace, who has a legitimate claim to the American League Cy Young Award this year over reigning MVP Justin Verlander.
Yup, you knew he was good, but did you realize he was that good.
Evan Longoria will eventually give us the full season of top line production we've all been waiting for. But even when he does, there's no more guarantee that this slide will be waiting for him.
Better sit down. The final numbers are staggering. Not even a near perfect season from Fernando Rodney could top him.
The Finish Line: 20 W, 205 K, 2.56 ERA, 1.10 WHIP
Honorable Mentions:
Fernando Rodney (48 SV, 76 K, 0.60 ERA, 0.78 WHIP)
James Shields (15 W, 223 K, 3.52 ERA, 1.17 WHIP)
B.J. Upton (79 R, 28 HR, 78 RBI, 31 SB, .246/.298/.454)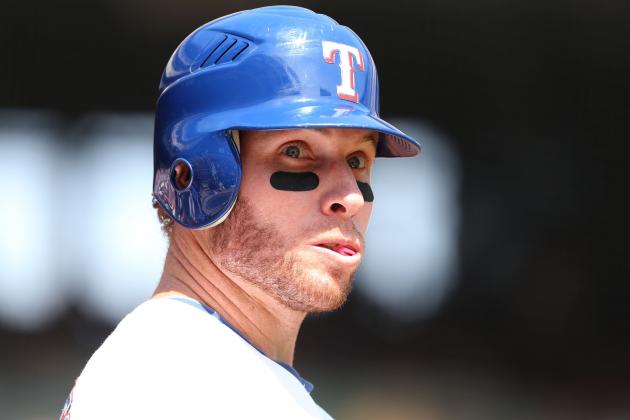 Matthew Emmons-US PRESSWIRE
Owning Texas Rangers outfielder Josh Hamilton sure was fun this year.
You could make a winning fantasy team just by owning most of the Texas Rangers and filling in the gaps with other smart picks. This strategy could have legitimately led your league during the first half of the season, and Josh Hamilton's scorching start was the main reason.
Hamilton's April and May carried every fantasy team he was on.
His power production was so dominant that he didn't even need speed to become the game's top-rated player. He all but won head-to-head fantasy matchups on his own, while shooting his rotisserie owners to the top of the league.
The pace was of course not sustainable, but Hamilton still produced more than well enough to lead his lineup loaded with fantasy goodness. Drafting him always comes with huge risk, but this year he showed just how high of a ceiling comes with it.
The Finish Line: 103 R, 43 HR, 128 RBI, 7 SB, .285/.354/.577
Honorable Mentions:
Adrian Beltre (95 R, 36 HR, 102 R, 1 SB, .321/.359/.561)
Ian Kinsler (105 R, 19 HR, 72 RBI, 21 SB, .256/.326/.423)
Joe Nathan (37 SV, 78 K, 2.80 ERA, 1.06 WHIP)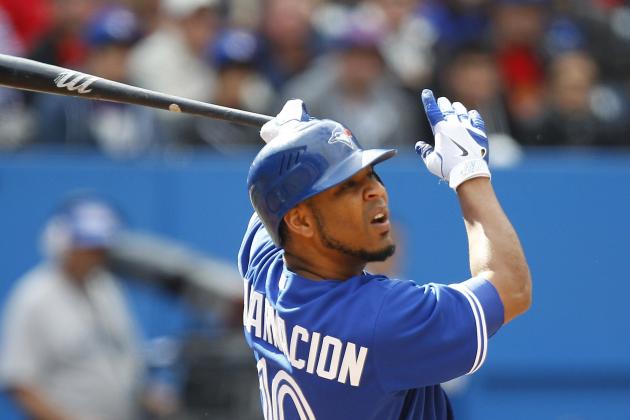 John E. Sokolowski-US PRESSWIRE
Edwin Encarnacion is just the next super slugger to emerge from Toronto.
What's in that Canadian water, anyway?
First Jose Bautista comes out of nowhere to mash 54 and 43 home runs in consecutive seasons, after never hitting more than 16 in any year prior to that. Now Edwin Encarnacion takes 42 round trips of his own, besting his previous career mark of 26.
Hopefully you scooped this sudden stud up near the bottom of the Top 200 and enjoyed the ride all the way up to the No. 10 spot on Yahoo's player rater.
Injuries to Bautista and Brandon Morrow, along with Brett Lawrie's sophomore slump, made this a one-horse race.
It could be much closer and more crowded at the top next year, however, especially if Casey Janssen gets a full year as closer.
The Finish Line: 93 R, 42 HR, 110 RBI, 13 SB, .280/.384/.557
Daniel Shirey-US PRESSWIRE
Washington's Gio Gonzalez pitched plenty well himself with or without Stephen Strasburg in the rotation.
Washington National fans may be left wondering "what if" this October if their team loses early without Stephen Strasburg. Plenty of fantasy managers know the feeling.
The controversial shutdown of the team's staff ace cost many fantasy teams a championship. It also paved the way for Gio Gonzalez to take over as the team's best pitcher and fantasy asset.
But Gonzalez is more than worthy of this distinction.
With or without Strasburg around, Gonzalez pitched his own way to No. 16 on Yahoo's player rater as the game's eighth-best arm and sixth-best starter. He led everyone in wins, struck out over 200 batters and posted elite ratios.
Washington will lean on him during the playoffs. Hopefully Strasburg's fantasy owners had the similar luxury of rostering a second ace.
The Finish Line: 21 W, 207 K, 2.89 ERA, 1.13 WHIP
Honorable Mentions:
Stephen Strasburg (15 W, 197 K, 3.16 ERA, 1.15 WHIP)
Ryan Zimmerman (93 R, 25 HR, 95 RBI, 5 SB, .282/.346/.478)
Ian Desmond (72 R, 25 HR, 73 RBI, 21 SB, .292/.335/.511)
Bryce Harper (98 R, 22 HR, 59 RBI, 18 SB, .270/.340/.477)
Jordan Zimmermann (12 W, 153 K, 2.94 ERA, 1.17 WHIP)