7 Best 'Specialists' in the NBA Today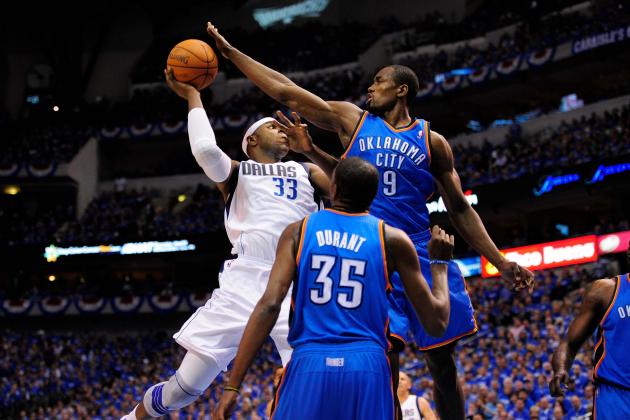 Jerome Miron-US PRESSWIRE
There are multiple specialists in this picture.
Not every player can be a well-rounded superstar like LeBron James. Even though some of these seven players are stars in their own right, they all excel at one certain aspect of the NBA game.
In the next seven slides, I'll identify the best players when it comes to the seven main "specialities" of professional basketball: scoring, three-point shooting, distributing, rebounding, shot-blocking, perimeter defending and interior defending.
Some of the selections are rather obvious, but others might surprise you.
Read on to find out who they are.
Begin Slideshow

»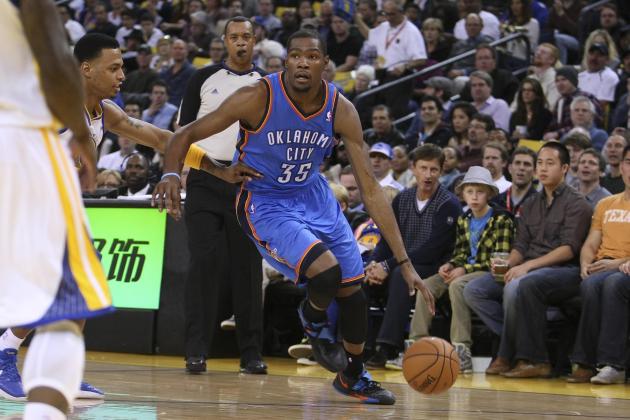 Kelley L Cox-US PRESSWIRE
Kevin Durant is kinda good at scoring.
Kevin Durant isn't exactly a one-trick pony now that his defense is improving and his distributing skills aren't exactly atrocious, but he's still a scoring specialist going into his sixth NBA season.
Just to reiterate: Durant's inclusion here is not an indictment of his overall game, but instead a compliment to his offensive prowess.
Durant has led the league in scoring during each of the past three seasons, and there's absolutely no reason to believe that he's going to slow down the pace of his development. He looked incredible during his experience with Team USA at the London Olympics, and his jumper might be even better than it was throughout the 2011-12 season.
The Oklahoma City Thunder small forward was born to score the basketball. With his spidery arms and deft touch, he can hit shots from the outside or drive into the lane for a ferocious finish. And if he gets the ball in transition, well, you can forget about stopping him.
Durant is almost universally regarded as the second-best player in basketball right now, despite the fact that he plays lackluster defense and struggles to involve his teammates. That, more than anything else, is a true testament to just how great his scoring abilities have become.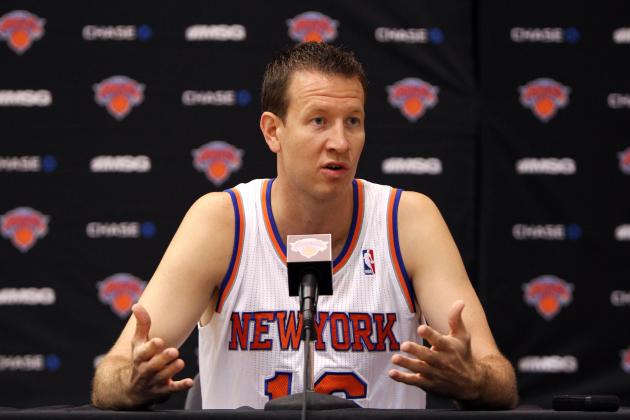 Debby Wong-US PRESSWIRE
"Don't worry, I'll still make 'em" -Steve Novak
Steve Novak doesn't look like the typical NBA contributor, especially now that he's 29 years old and moving past his athletic prime. Then you see him shoot the basketball.
The only reason that Novak is in the league is his unbelievable accuracy from beyond the three-point arc. He's always been a solid perimeter shooter, but he took his marksmanship to another level during the 2011-12 season.
Despite a massive uptick in the number of shots attempted from downtown, Novak made a higher percentage of his three-pointers than ever before. In fact, his 47.2 percent shooting from beyond the arc paced The Association, even though he attempted 5.2 shots per game from long range.
The gap between Novak and Ersan Ilyasova in three-point percentage (17 points) was as big as the drop-off from Ilyasova's second-place finish to Jordan Farmar's eight-place showing (15 points).
Now we get to see how much of an impact Jeremy Lin had on Novak's career year.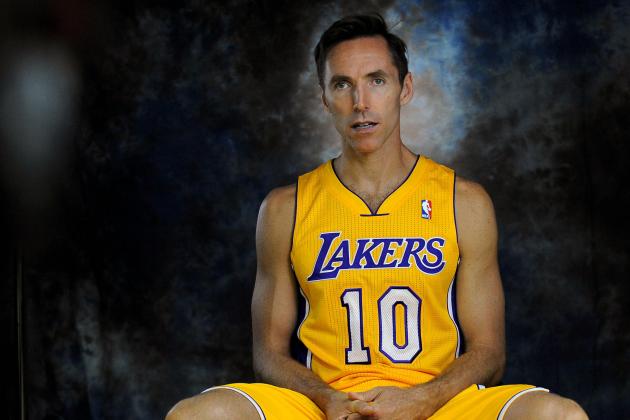 Jayne Kamin-Oncea-US PRESSWIRE
Steve Nash has a lot of tools to work with.
Steve Nash and Rajon Rondo are neck-in-neck for the title of best distributor in the NBA right now.
Both players have court vision that should only be possible when playing video games in slow motion. If the defense presents even the tiniest of passing lanes, both Rondo and Nash will be able to squeeze the rock through it to an open teammate.
Last season Rondo got the better of the longtime Phoenix Sun in the more glamorous assists per game category, edging him out 11.7 to 10.7. They were the only two players to break into double figures.
However, Nash beat Rondo in the more telling assist percentage stat, which measures the percentage of shots made by teammates that are the result of a player's assists. The Canadian floor general led the league at 53.1 percent, while Rondo wasn't far behind at 52.5.
Nash also produced these quantified results while playing alongside Marcin Gortat, Jared Dudley, Channing Frye and Shannon Brown. Rondo achieved his numbers by passing the ball to Ray Allen, Paul Pierce, Kevin Garnett and Brandon Bass.
Picking Nash for the 2011-12 season was questionable but correct. Now that the teammates around him have been drastically upgraded, Nash will fully assert himself for 2012-13.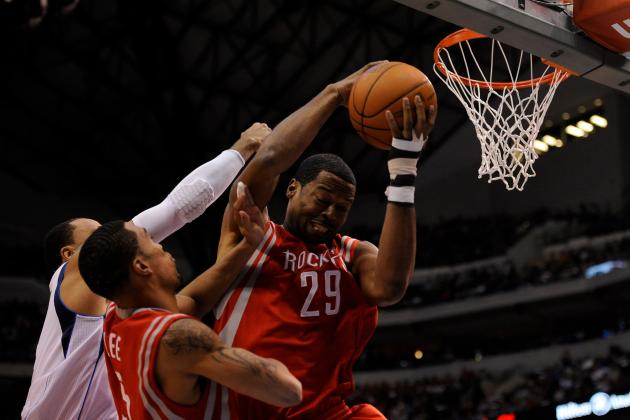 Jerome Miron-US PRESSWIRE
Seeing Marcus Camby here might surprise you.
Although I'm sure that the perimeter defender slide is going to spark some debate, this is probably the selection that will shock the most people.
Marcus Camby finished with the 15th-most rebounds per game last season, posting 9.0 per contest. So, why is it Camby that is represented here and not Dwight Howard, Kevin Love, Andrew Bynum, DeMarcus Cousins, Kris Humphries, Blake Griffin, Pau Gasol, Marcin Gortat, Tyson Chandler, Joakim Noah, Greg Monroe, Al Jefferson, Josh Smith or David Lee?
We're talking about the best rebounding specialist here, not the best volume rebounder. Camby is the most efficient, qualified player when it comes to crashing the boards on both the offensive and defensive end of the court.
He led the entire league in total rebounding percentage at 22.8 percent, thanks to his unique ability to grab boards on either side of the hardwood. He fell down the rebounds-per-game leaderboard because he only played 22.9 minutes per game, far fewer than any of the other 14 players mentioned above.
Camby doesn't just rely on defensive rebounds to boost his total—although he trailed only D12 in defensive rebounding percentage. He had the fifth highest offense rebounding percentage as well.
Take a look at the following table, which breaks down the league's top-15 players in rebounds per game, showing offensive rebound percentage (ORB%), defensive rebounding percentage (DRB%) and total rebounding percentage (TRB%) and the respective ranks:
| | | | | | | |
| --- | --- | --- | --- | --- | --- | --- |
| | ORB% | ORB Rank | DRB% | DRB Rank | TRB% | TRB Rank |
| Andrew Bynum | 10.6 | Not top 20 | 26.1 | 5 | 18.7 | 5 |
| Marcus Camby | 13.3 | 5 | 32.7 | 2 | 22.8 | 1 |
| Tyson Chandler | 11.8 | 19 | 22.7 | Not top 20 | 17.2 | 18 |
| DeMarcus Cousins | 14.2 | 3 | 25.9 | 6 | 19.8 | 3 |
| Pau Gasol | 8.8 | Not top 20 | 21.8 | Not top 20 | 15.6 | Not top 20 |
| Marcin Gortat | 10.0 | Not top 20 | 25.0 | 12 | 17.6 | 17 |
| Blake Griffin | 10.7 | Not top 20 | 25.1 | 11 | 17.8 | 12 |
| Dwight Howard | 11.0 | Not top 20 | 33.1 | 1 | 21.9 | 2 |
| Kris Humphries | 12.2 | 16 | 24.8 | 14 | 18.3 | 6 |
| Al Jefferson | 7.3 | Not top 20 | 25.3 | 9 | 16.2 | Not top 20 |
| David Lee | 9.2 | Not top 20 | 19.9 | Not top 20 | 14.6 | Not top 20 |
| Kevin Love | 11.6 | Not top 20 | 26.4 | 4 | 19.0 | 4 |
| Greg Monroe | 13.3 | 6 | 23.6 | 16 | 18.3 | 8 |
| Joakim Noah | 14.1 | 4 | 21.8 | Not top 20 | 18.0 | 11 |
| Josh Smith | 6.9 | Not top 20 | 24.8 | 13 | 15.9 | Not top 20 |
Only four of these players were able to finish in the top 20 in all three of the categories: Camby, Cousins, Humphries and Monroe.
Of those four, Cousins is the only player close to touching Camby's rebounding prowess.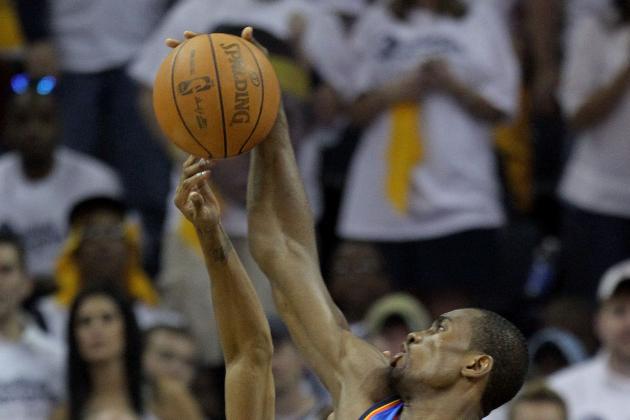 Andy Lyons/Getty Images
A rejection courtesy of Serge Ibaka.
After a difficult selection for rebounding, we come to a rather easy one.
Serge Ibaka stands head and shoulders above the rest of the league when it comes to blocking shots. He still has plenty of work to do on the rest of his defensive abilities, but he provides rejections at an unmatched rate.
In total blocks, Ibaka blew the competition out of the water. His 241 swats just left DeAndre Jordan in the dust, as the Los Angeles Clippers big man placed second with 135 on the season.
When we look at blocks per game, we get a similar result. JaVale McGee finished in second with 2.2, but he was well short of Ibaka's 3.7 per contest. The gap between Ibaka and the rest of the competition is as big as the difference between McGee and Markieff Morris, who recorded the 58th-most blocks per game in the league.
Let's dig even deeper by looking at block percentage.
Once again, it's not even close. Ibaka's 9.8 block percentage just shatters the second-place rate, set by McGee at 6.6.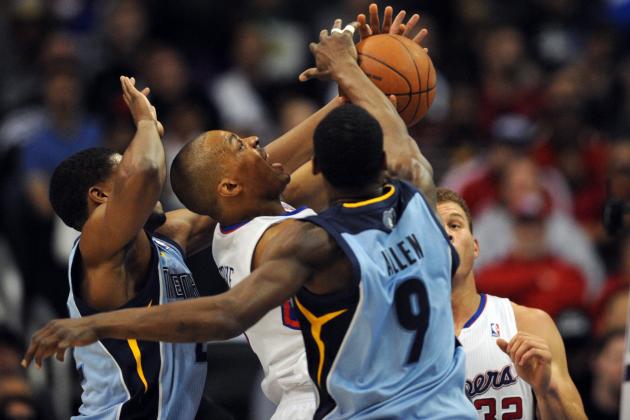 Kelvin Kuo-US PRESSWIRE
Don't mess with Tony Allen on the perimeter.
I strongly considered going with LeBron James here, but it's hard to call LeBron a specialist at anything but being really good at basketball.
The NBA has plenty of great perimeter defenders. LeBron, Andre Iguodala, Gerald Wallace, Rajon Rondo, Luol Deng, Avery Bradley, Iman Shumpert, Chris Paul and Paul George all come to mind. However, Tony Allen still stands out as the league's best lock-down defender on the outside.
He's long, strong and smart, which makes for a deadly combination. Allen plays physical defense, gets up in the face of his man whenever possible, but still manages to play terrific help defense for his teammates.
He always seems to be in the right spot, and his constant effort can't help but fluster the players he chooses to shut down.
Allen's defensive abilities have garnered so much praise that they're on the verge of being mythologized, but something that actually exists can't be considered mythology.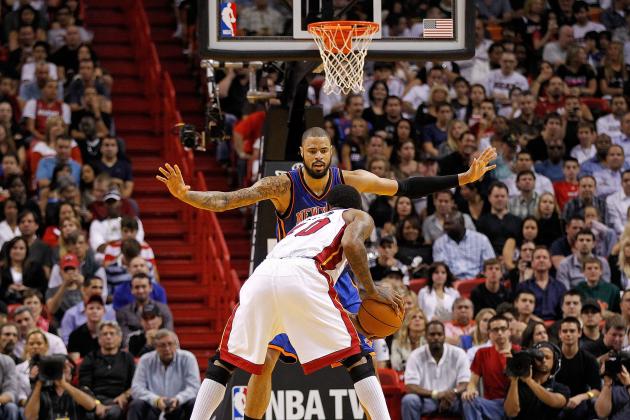 Mike Ehrmann/Getty Images
Tyson Chandler, the reigning Defensive Player of the Year, doing what he does best.
Tyson Chandler may not be the overall defender that a healthy Dwight Howard can be, but he's a force to be reckoned with on the interior.
As we saw with the New York Knicks, Chandler has the ability to completely and utterly change a team's defensive abilities, thanks to his willingness to serve as a rim-protector and make up for the team's shortcomings on the perimeter.
Driving into the paint against Chandler is a disaster waiting to happen.
The Knicks posted the fifth-best defensive rating in the NBA during the 2011-12 season, allowing 101 points per 100 possessions. This was a dramatic shift from the prior campaign, when the Knicks defensive rating of 110.1 placed them in 23rd.
Chandler was the biggest addition to the more defensively potent lineup, and his impact on the less glamorous end of the court was palpable throughout his first season in Madison Square Garden.