Miami Dolphins vs. Cincinnati Bengals: 5 Reasons Why Miami Will Prevail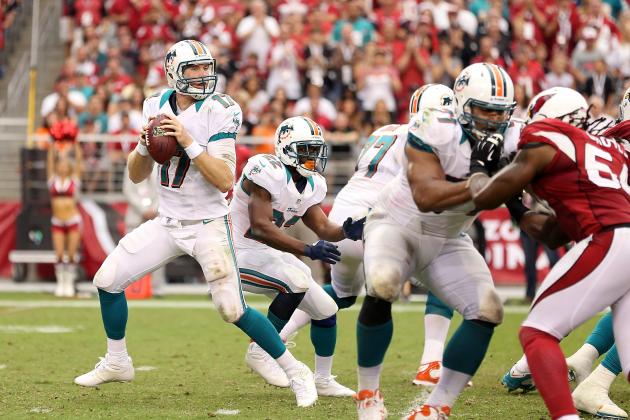 Christian Petersen/Getty Images

My list of articles I read every week usually includes the Bleacher Report Expert Consensus picks.
If you haven't read this week's yet, then it's worth a look—especially when they're predicting this week's Dolphins vs. Bengals game.
The Bleacher Report experts for the most part have the Bengals beating the Dolphins. I say for the most part because while every writer's blurb on the game has Cincinnati winning in a blow out, AFC East lead writer Erik Frenz had this to say:
The Dolphins defense will be the first true test the Bengals have seen since Week 1 against the Baltimore Ravens, when they were held to just one touchdown. Ryan Tannehill put a huge stick of Big League Chew in his mouth last week, and if the flavor lasts longer than the cheap gum, he could have a nice day against the Bengals.
Mr. Frenz predicted a Miami Dolphins victory. I'm about to do the same.
The last time I actually predicted a Dolphins victory was in Week 2 against Oakland. I was called many things by fans of other teams for suggesting that the Dolphins could pull off a victory against the Raiders.
Miami wound up winning that game 35-10. This week I'm predicting victory again—not because I want the Dolphins to win mind you (I want them to win every week but still had them losing to the Texans and Jets), but because they will actually win.
Here's why both Mr. Frenz and I will be correct come Monday morning.
Begin Slideshow

»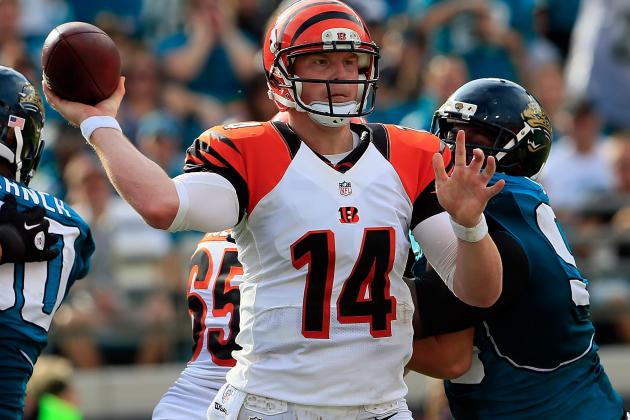 Sam Greenwood/Getty Images

Aside from their Week 1 debacle in Baltimore, the Bengals offense has steam-rolled through their competition.
In the Bengals' last three games, they've scored 33 points per game and averaged 411.6 yards per game. This sounds like a juggernaut in the making!
However I should mention that this was against the Cleveland Browns, Jacksonville Jaguars and Washington Redskins. These defenses are ranked 25th, 26th and 29th respectively.
Even the Baltimore defense they faced in Week 1 isn't looking too hot, as they're ranked 23rd in the league. Despite this the Bengals only came away with one touchdown (a rushing touchdown from BenJarvus Green-Ellis) while Andy Dalton had a forgettable day going 22-of-37 for 221 yards and an interception while getting sacked four times.
Miami's defense is ranked 17th in the league. It's by no means great, but it's statistically the best defense the Bengals have played thus far this season. Miami's defense has employed a bend but don't break philosophy that does struggle against the pass, but can stop the run.
If this gives you nightmares about A.J. Green killing the Dolphins, then it should because that part is going to happen. However Cincinnati has a balanced approach and is averaging 110 yards per game on the ground.
However Miami has the best run defense in the NFL and has shut down two teams with better running games (statistically speaking) than the Bengals (Oakland and Arizona).
This will be a test for Cincinnati; how will they handle the constant pressure on Andy Dalton, and how will they get their running game going? If Miami can keep the Bengals' run game in check, then Andy Dalton and the Bengals receivers will have to put up a sensational game to pull off the victory.
I'm not saying the Bengals can't do it, but I am saying that I trust Miami's defense—especially its front seven.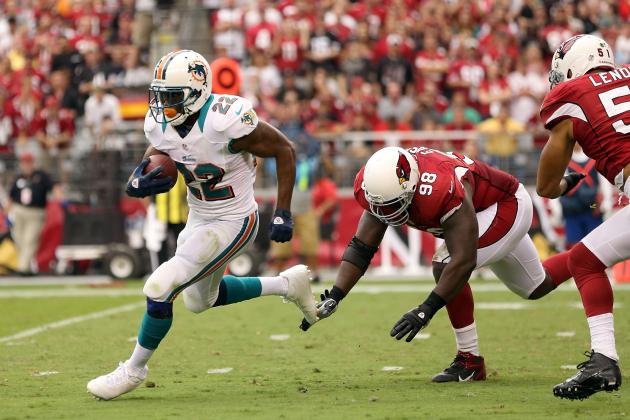 Christian Petersen/Getty Images

Much like the Dolphins (who have only seen teams run on them 96 times), the Bengals haven't been run on a lot (their first four opponents have 99 rushing attempts against the Bengals).
Unlike the Dolphins (who thus far have allowed only 227 yards on the ground for a league-low 2.4 yards per carry), Cincinnati hasn't been too difficult to run on in their limited attempts, as teams have rushed for 523 yards for an average of 5.3 yards per carry.
Now compare this to what the Dolphins have averaged in their four games; 613 yards on 134 attempts for an average of 4.6 yards per carry.
Don't you think the Dolphins coaching staff, a staff that has thus far done a great job in exploiting the weaknesses of the defense in every game this season (Houston's defense doesn't have any weaknesses to exploit) understand this?
With Cincinnati's run defense being so suspect, Miami has a much better chance to close out the Bengals if they lead at the end of the game.
But it's not like the passing game will be shut down either.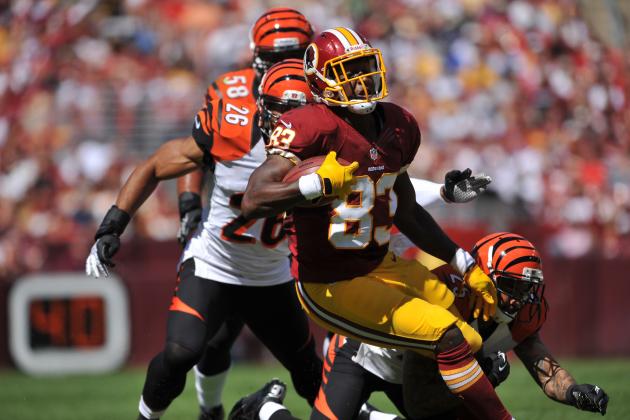 Larry French/Getty Images

Here's a look at some numbers of the quarterbacks that the Bengals competed against. I will tell you the answers after you read them:
A. 21-of-29 299 yards two touchdowns, no interceptions and a passer rating of 128.4.
B. 26-of-37 322 yards two touchdowns, no interceptions and a passer rating of 114.9.
C. 21-of-34 221 yards, one touchdown, no interceptions and a passer rating of 90.4.
D. 23-of-34 136 yards, one touchdown, one interception and a passer rating of 78.8.
The Bengals' pass defense has been atrocious all year long, allowing 939 yards and six touchdowns. You can excuse A. and C. for their performances because those quarterbacks were Joe Flacco and Robert Griffin III, while D. was Blaine Gabbert, who performed the way we'd expect.
But C? That's none other than Brandon Weeden, himself a rookie quarterback who has had his difficulties this season, and one of the few quarterbacks in the NFL with even less talent around him then Tannehill.
Much like with the Dolphins, the only thing to fear with Cincinnati's pass defense is its front seven, which unlike Miami has produced a ton of sacks for the pressure they've put on each team (they lead the league with 16).
But as long as you can keep your quarterback protected, said quarterback should be able to pass on this team. Enter Ryan Tannehill, who faced constant pressure all game long against the Cardinals yet still turned in one of the best rookie performances in NFL history.
Under the Cardinals' constant barrage, Tannehill picked their defense apart, seemingly finding Davone Bess and Brian Hartline all day.
He will be even better now that he doesn't have to throw it to Legedu Naanee, but instead Jabar Gaffney. How much Gaffney will be used is up in the air, but it's still a pretty big upgrade.
As long as Miami can keep Tannehill upright, Miami has the edge here. It's easier said than done, but considering that Tannehill went through last week pretty unscathed sacks-wise, the same could happen this week.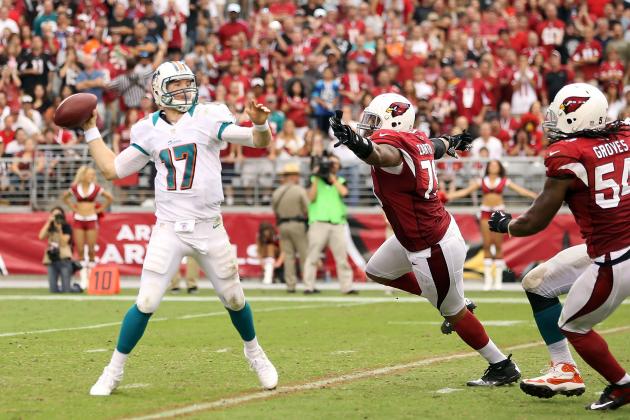 Christian Petersen/Getty Images

As mentioned in the last slide, the Bengals plan on being aggressive in getting to the quarterback. This strategy has worked for them all season, as they lead the NFL in sacks.
But putting Ryan Tannehill under pressure doesn't exactly mean the defense is out of the woods.
Last weekend Tannehill went up against a defense in Arizona that constantly pressured him.
In fact the Miami Herald cited ESPN Stats, Inc's numbers that paint a great picture of how well Tannehill did against the blitz: "Tannehill faced extra pressure on 25 of 44 dropbacks and completed 16 of 22 passes for 306 yards, with a touchdown and interception."
Also something that should impress Dolphins fans; Ryan Tannehill's fourth-quarter passer rating is 11th-best in the league at 94.8.
Of course Miami's offensive line is going to have to do a better job of protecting Tannehill. This is one aspect of the game that has improved from week-to-week however.
Based on Miami's first four opponents, they should be used to a team using a heavy-blitzing scheme. Cincinnati is just one in a long line of teams ready to tee off on Tannehill.
Thus far, he's done well, well enough for me to think that he could overcome the Bengals' attempts at knocking him to the ground.
Christian Petersen/Getty Images

One of my favorite football stats that are overlooked by many is Football Outsiders' Pythagorean Projection.
The Pythagorean Projection is based on Bill James' famous Pythagorean expectation that he uses to measure how successful a baseball team should be compared to how successful they are.
This formula is looked at as a better indicator of a team's future than their actual win-loss record. In fact I believe in it enough that I actually did a Pythagorean Power Ranking of every NFL team.
According to this formula, the Dolphins were ranked 18th, while the Bengals were ranked 15th in my quarter-year power rankings (I will do another one at the halfway mark of the season).
Miami's Pythagorean record would be 1.9-2.1 (rounded up to 2-2), while Cincinnati's Pythagorean Record stands at exactly 2-2.
Also something interesting to note: Miami's point differential is -4, while Cincinnati's is at zero. Point differential is a huge part of the Pythagorean Projection.
What does this mean you ask? It means that these teams are as even as you could possibly get, despite the disparity in their actual records.
This game could go either way, and after everything I've studied up on the Bengals, it will go Miami's way despite the game being played in Cincinnati.
My final prediction:
Miami Dolphins 31, Cincinnati Bengals 24