Pittsburgh Steelers Player Power Rankings Through First Quarter of Season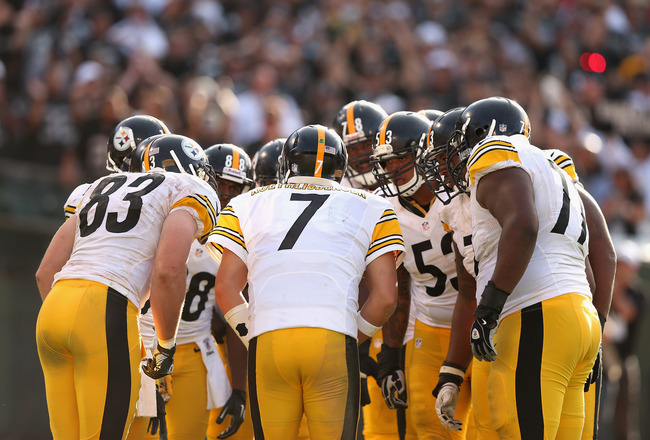 Ezra Shaw/Getty Images
The Pittsburgh Steelers are three games into their 2012 regular schedule. The results have been very mixed on both sides of the football. That always makes ranking players on the team difficult, but there have certainly been some standout performers as well.
Here's a look at how I'd rank the Top 25 players on the Pittsburgh roster after three games and four weeks.
25. Ryan Mundy, S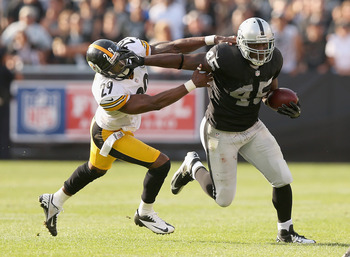 Ezra Shaw/Getty Images
Easily the worst regular contributor so far, Mundy is going to start us off as the bottom-ranked player in this list. I toyed with leaving him off entirely and going with Troy Polamalu, but Mundy has been a bigger contributor so far.
Mundy's signature moment this year has been the hit that put Darrius Heyward-Bey in the hospital. I have no love for Oakland or Heyward-Bey, but those type of hits have no place in today's game. Mundy launched himself at him. He also nearly injured Keenan Lewis, who was covering on the play and doing a good job on his own.
His own game has been terrible. Mundy can't play free safety at all and he's marginal at strong safety. He doesn't make interceptions; he can get beat by a decent move, and he struggles to tackle. At this point, he's likely to be sat in favor of Robert Golden once Troy Polamalu is back in action.
24. Keenan Lewis, CB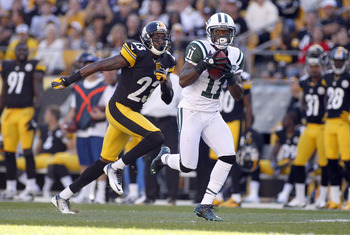 Justin K. Aller/Getty Images
Of the players who've contributed as starters and are not replacing injured guys, Lewis has been by far the worst. Before the year began, he predicted (via NFL.com) he'd be voted into the Pro Bowl. Now, I'm not sure he'd survive a roster cut if there was one coming up.
His coverage skills are spotty and he doesn't maintain his zone very well. He's better in press but that's not how this defense runs things. He has eliminated the penalties that marred him as a younger player but that's come at the expense of big play skills and solid coverage.
If Lewis doesn't turn it around, Cortez Allen will get a shot. He hasn't been a terribly big success either, but he's the best alternative. The Steelers really need Lewis to step up. This is his last shot.
23. Chris Carter, OLB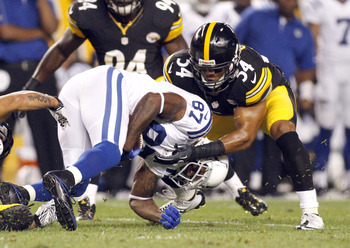 Justin K. Aller/Getty Images
Carter is stepping in to replace James Harrison, and I think it's safe to say no one will be sorry when Harrison is back. After a somewhat impressive rookie year, Carter has clearly demonstrated he's a fringe backup at best.
He has no pass rush skills and he can't set the edge in the run game to keep backs from getting loose on his side. Those are both glaring weaknesses when you consider how effective Harrison is at both roles. The drop off has really hurt the defense and has ruined their containment ability.
I'm surprised that Jason Worilds hasn't gotten more of an opportunity, but Carter is evidently the best the team has in the backup pool. That doesn't bode well if injuries mount again like last season.
22. Ramon Foster, RG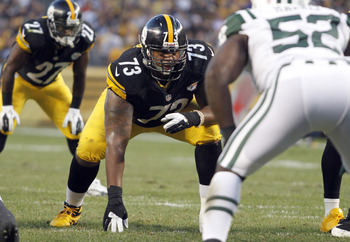 Justin K. Aller/Getty Images
Foster has been the worst of the team's linemen, and the absence of David DeCastro, even if he is a rookie, has been glaring so far. The run blocking hasn't been there, and his pass blocking has been fragile at best.
Foster was a starter last season and performed much better than this, but that success has been missing. With the news that DeCastro is without a limp, his days are likely numbered.
Foster is a capable backup, but I think we've seen all he is capable of in a regular role. Hopefully, he can get a little bit more effectiveness back and hold the fort.
21. Drew Butler, P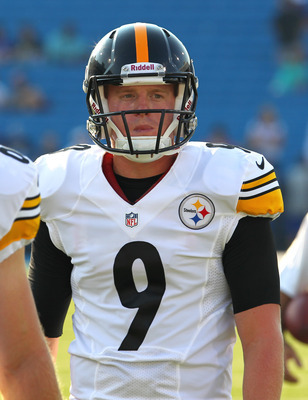 Timothy T. Ludwig-US PRESSWIRE
Punters don't get a ton of credit for being valuable to a roster, but teams always want a good one because the punter is the person who will win or lose your initial field position battles on defense. The better he is at placing a kick or booming it long, the more likely your defense will get favorable field position.
Butler is an undrafted rookie, but he's played like a veteran so far. He has a great leg and his placements have been excellent. He also gets in on tackles if necessary and isn't afraid to mix it up.
At this point, he's done everything possible to help out the defense.
20. Shaun Suisham, K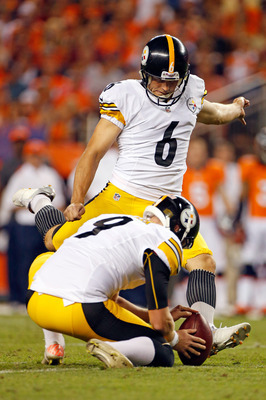 Doug Pensinger/Getty Images
I toyed with not ranking the specialists, but after looking at the roster, both of them have been among the better half of the players. They've also contributed regularly. So now you've got them back to back. We've already talked about Butler, but more impressive has been Suisham.
I originally didn't even want him on this team, but I'm now pretty happy he's here.
Suisham's biggest knock was his leg. He seems much stronger this year, and he's been able to bang some long field goals. His kickoffs aren't perfect, but they're better than last season. His accuracy has been excellent so far and that is very important as the team will likely need every point possible.
19. Casey Hampton, NT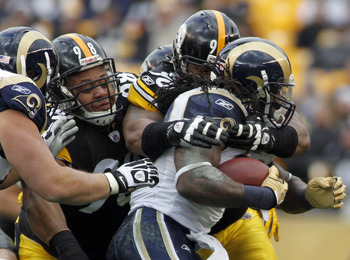 Justin K. Aller/Getty Images
Hampton is back faster than most people thought. He doesn't need a ton of athleticism to play his position, but he doesn't really have enough to play it right now either. He's struggling, and I think the time before he is replaced completely is drawing very close.
The problem with Hampton is that he's no longer maintaining blocks and opening spots for the linebackers. He also isn't generating push the way he once did. He's basically taking up space in the middle.
If he can't get it figured out against the Eagles, I would say its past time to go to Steve McLendon, who is much younger and more athletic.
18. Ike Taylor, CB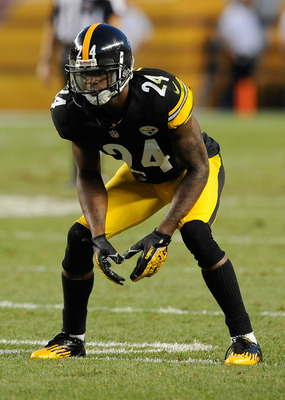 Joe Sargent/Getty Images
It's surprising to see Taylor this low I'm sure, but he hasn't been very good this season. He's doing a lot of extra stuff because of the injury to Troy Polamalu and the other problems at corner, but his individual assignments haven't been very good.
Taylor still seems to be a bit lost after being burned in Denver last season, but he needs to get himself back on track. He got baited constantly against the Jets and ended up having penalty problems there. In the other two games, he hasn't been able to maintain his zone.
If Taylor can't get himself on track, the Steelers will not be able to stop anyone from throwing the ball.
17. Isaac Redman, RB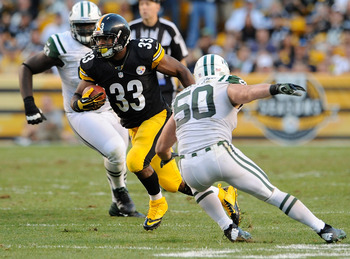 Joe Sargent/Getty Images
Redman entered the year as the starter at running back and had a rough preseason with some injuries and some ineffective moments. Overall, however, he earned the job.
He hasn't earned the right to hold onto it. Once Rashard Mendenhall is back in the starting role, I would expect Redman to fight for carries with Jonathan Dwyer and Baron Batch. Batch has been effective in limited action, and I think he's actually earned more opportunities than Redman as things tighten up.
I still think Redman can be a big contributor, but it's not going to be as a starter. He needs a decent hole in front of him and doesn't create them on his own anymore.
16. Ziggy Hood, DE
Justin K. Aller/Getty Images
I really thought I'd be more impressed with Hood after the preseason performances and after he grew a lot as a starter in 2011. Unfortunately, I'm actually mildly disappointed.
I've backed him from the beginning, but I think it may be time to play Cameron Heyward more often. He's been much better in far less time. That tells me that it's probably a better idea for him to take on the starting role at this point.
Hood is still a decent player, but he doesn't really fit well into this system and it's starting to become obvious that the team drafted Heyward for a specific reason and not to sit and wait for Brett Keisel to retire.
15. Jonathan Dwyer, RB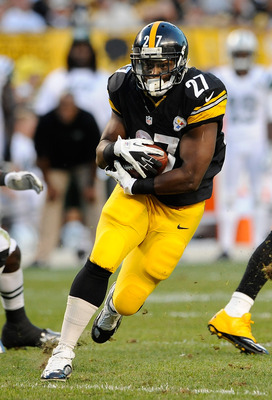 Joe Sargent/Getty Images
The running game has been a disappointment, but Dwyer has been the more productive back in my opinion and he will likely be the top backup once Rashard Mendenhall is back in action.
Dwyer plays with more intensity and hits the hole quicker than the other backs on the roster. He can blast through blockers and carry a couple with him if needed. He's looked healthy and strong this year and seems to be trying to prove himself again.
The issue remains consistency, but hopefully that will improve along with the line. Right now, all of the team's runners are succeeding in spite of their blocking. That's a tough road.
14. Willie Colon, LG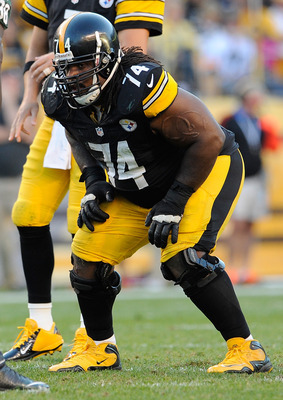 Joe Sargent/Getty Images
Colon has easily been the team's most inconsistent lineman. He blocks pretty well, and I think most of the intricacies of the left guard spot have been ironed out so that he can be successful after spending his professional and collegiate careers as a tackle.
The problem I have always found with Colon has been the propensity to commit stupid penalties at really bad times. There really isn't a good time for a penalty unless it's done intentionally, but Colon has killed off whole drives with a holding call.
Until that stops, he's going to be inconsistent and generally a trouble spot. It's a shame because his blocking is excellent most of the time.
13. Brett Keisel, DE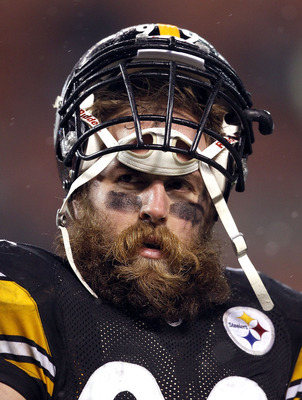 Matt Sullivan/Getty Images
I'm not sure yet, but Keisel may have lost a step finally. It's a small thing really, but I see him not making as many plays this year as he was making in 2011 and before. That's worrisome because he's the best defensive end the team has at this point.
Keisel still hasn't been bad. I think some of what ails that position will be solved when James Harrison returns to action. It will make Keisel more of an afterthought, and he will get a little more freedom. People don't fear Chris Carter or Jason Worilds.
I also think Keisel might benefit from being rotated occasionally with Cameron Heyward. It couldn't hurt and might keep him more fresh.
12. Larry Foote, ILB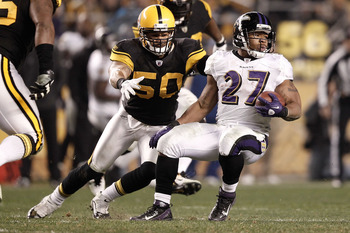 Jared Wickerham/Getty Images
Returning to a starting role after a long, long time on the shelf is very impressive. Foote has been a backup since he returned to Pittsburgh for the 2010 season. Now, he's in James Farrior's old spot and playing pretty well.
Foote has never been a great run support guy, but he's been passable there and seems to have gained back a step I thought he'd lost. He's not Farrior in his prime, but he'll do for this year.
He's done a good job in the pass defense game as well and he can still get into the backfield and get to the quarterback when given an opportunity. His instincts are still excellent.
11. Max Starks, LT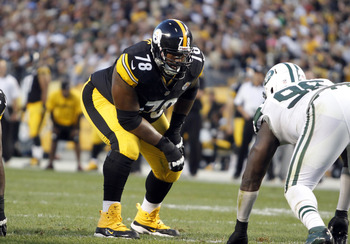 Justin K. Aller/Getty Images
I'm actually pretty impressed with Starks. He's returned from injury and played very well and saved the team after rookie Mike Adams completely failed to win the left tackle job in the preseason the way most expected.
Starks is a Ben Roethlisberger favorite, and it is easy to see why. He keeps the quarterback upright and holds his blocks as long as possible. His run blocking hasn't been great, but that's nothing new, and it's actually been better than on the other side of the line.
Starks probably only has a couple of years left in the tank. He needs to stay healthy this year as the team cannot afford to lose a tackle.
10. Marcus Gilbert, RT
Jeff Gross/Getty Images
Gilbert came into the season with the expectation that he'd be even better than his successful rookie campaign. He's been about on that same level, so I'm a little bit disappointed.
What impresses me so far is that Gilbert has found ways to stay on the field despite being banged up. His pass protection has improved some as well, and Ben Roethlisberger isn't facing much pressure from the right side.
The run blocking is still a major concern, but that is across the line and I'm beginning to wonder if it's a schematic issue rather than something with each player being deficient. Either way, it needs to get better.
9. Lawrence Timmons, ILB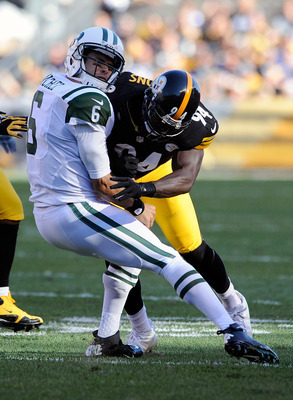 Joe Sargent/Getty Images
Timmons has been effective in his role, and he will likely finish the year as one of the team's top tacklers. I think he could benefit from a system that asks him to blitz more often, but for what he's been doing, you can't argue with the results.
Timmons seems to have improved his run stopping during the offseason. That's a good thing because more runners are getting to the second level and past the defensive line.
The big benefit with Timmons, especially with a lot of injuries and ineffectiveness around him, is that he doesn't make mistakes, and he keeps plays in front of him at all times.
8. Ryan Clark, FS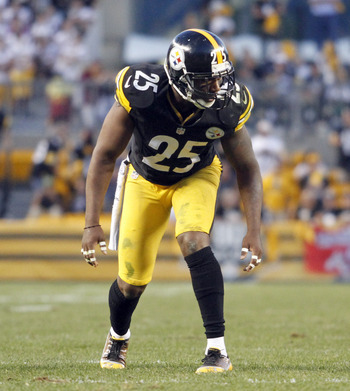 Justin K. Aller/Getty Images
Clark hasn't been great, but he's been the best of a terrible secondary. That's not me trying to give him a backhanded compliment. He's the only reason teams haven't torched the entire unit. You have to take his play with a grain of salt because of what he's working with.
Clark's primary responsibility in coverage is to prevent tight ends from getting loose and doing what Heath Miller has done to everyone. So far, that mission has been fulfilled.
Clark is also expected to help out over the top and to play the deep safety on certain plays. That's been a little more hit or miss, but sometimes there's just nothing he can do. He has been an effective last line of defense.
7. Maurkice Pouncey, C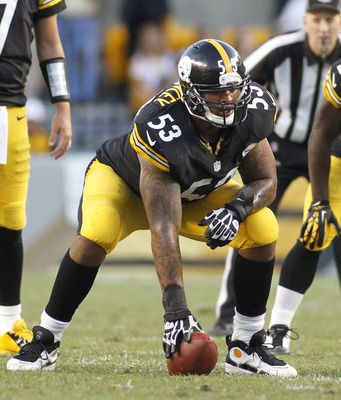 Justin K. Aller/Getty Images
I struggled with this because I feel like the offensive line has been very bad overall, but I looked at the tape again and realized that most of that hasn't had anything to do with Pouncey or his play on the field.
If you watch, Pouncey is trying to handle his own guy and usually one that the guards either miss or cannot handle. That's a tall task for anyone. He's done an okay job.
One of the big reasons I think he's playing very well overall is that there really hasn't been a ton of pressure directly up the middle. It's his job to prevent the pocket from being crushed so that Ben Roethlisberger can step up or step out. So far, that has happened.
6. Will Johnson, FB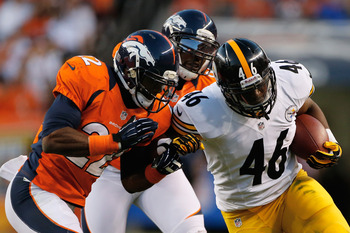 Doug Pensinger/Getty Images
Is this too high to rank a fullback? I don't think so. Johnson has been very good for a player with no experience playing a position that's largely become a dying art.
He's fulfilled the prototypical role of lead blocker very well behind an offensive line that gives him no help. He gets downfield quickly and has good instincts for who to block and when to engage or disengage. He doesn't get fooled and taken out of plays either.
Beyond that, Johnson has been a valuable weapon in the passing game and has been playing as something like an extra tight end at times. He's even been split out wide. When he catches the ball, it's similar to what Heath Miller brings. He runs people over and drags them along for the ride.
5. LaMarr Woodley, OLB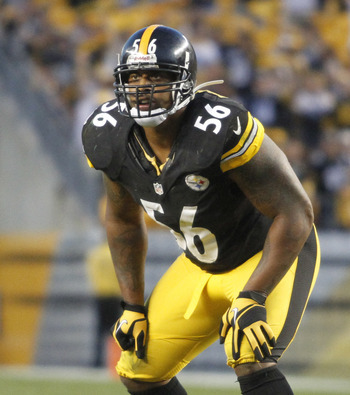 Justin K. Aller/Getty Images
As disappointing as the defense has been as a unit, the fault does not really lie with LaMarr Woodley. He's been about as good as you would expect for a player with his skills. He's the only defensive player generating consistent pass rush and pressure.
I'm more impressed after looking at the tape again and seeing just how much he's playing on an island. He's without James Harrison, his tandem rusher. The inside linebackers don't get used for blitzing very often. The play behind him has been horrible.
I'm left to wonder just how good a season Woodley would be having after three games with a healthy and productive defense around him. He's very hard for blockers to handle and he is a sure tackler.
4. Antonio Brown, WR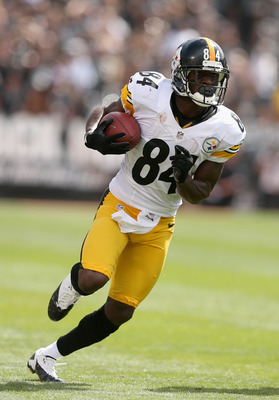 Ezra Shaw/Getty Images
Outside of two mistakes, it's been about even money on who the better receiver is through three games. Mike Wallace and Antonio Brown have been excellent, but right now Wallace is just slightly better. That doesn't mean Brown isn't having a great start to the year.
I would say Brown has so far justified his contract extension. He's been elusive, difficult to tackle and nearly impossible to defend. He can just do so many different things that there's no telling how his route will develop.
Brown gives the team an excellent tandem with Wallace because one of them cannot be double teamed. Lately that's been Brown, who has produced, regardless of how many guys are on him during a play.
3. Mike Wallace, WR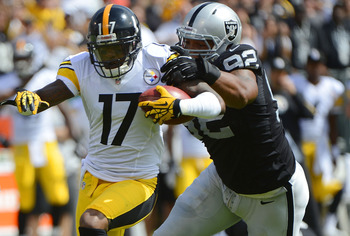 Thearon W. Henderson/Getty Images
Wallace missed all of the offseason activities and training camp because of his holdout, but if you didn't know that, you'd never guess it from the way he's played. He's been excellent and looks very comfortable in an offensive system he's most likely still learning.
The best thing I've seen with Wallace is a development in his ability to run different routes. Previously, he was mostly just a deep threat. Anything underneath would go to another receiver or one of the tight ends.
Under Haley, Wallace is becoming a complete receiver. He's done a nice job on quick slants and other short and intermediate routes. He's also become better on deep routes and it seems like he and Ben Roethlisberger are on the same page after a couple of years where it was touch and go.
2. Heath Miller, TE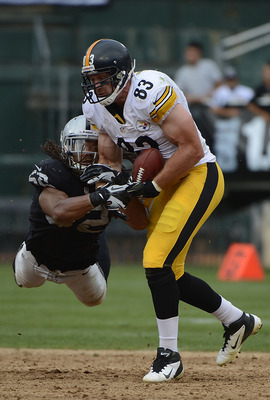 Thearon W. Henderson/Getty Images
With the arrival of Todd Haley, I expected a returned emphasis on the tight end position. The rest of the league has focused on the position after the success of the two tight end system in New England. The Steelers already had a great one in Miller.
Now the system is making Miller a star.
Miller is now a primary target on third downs and in high leverage situations. He's been huge in the red zone, and Haley has put him into some interesting routes.
Part of Miller's resurgence is due to the fact that teams simply can't cover him and the team's dynamic receivers at the same time. I look for Haley to keep finding ways to get mismatches on defenses.
1. Ben Roethlisberger, QB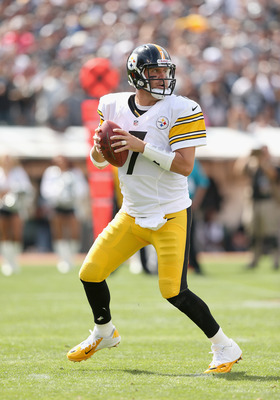 Ezra Shaw/Getty Images
Can there really be any other choice at the top? Roethlisberger isn't just the best player on the team after three games, he's actually among the best quarterbacks in the NFL right now.
His completion percentage is in the top five of the league and he's the second-ranked passer by rating. His eight touchdowns against one interception is also among the best ratios in the league. He is just having a phenomenal year.
The new offensive system seems to have helped Roethlisberger excel and Todd Haley's increased accountability and focus have limited Roethlisberger's mistakes. He's doing a great job of making accurate decisions and he isn't even holding the ball as long as he used to under the old regime.
Keep Reading

Pittsburgh Steelers: Like this team?