NFL Week 5 Injury Report: Who Will Play, Who Will Sit?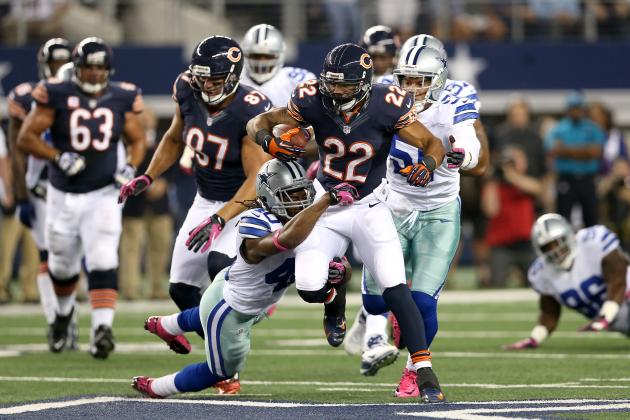 Ronald Martinez/Getty Images

When it comes to trying to decide which of your injured fantasy football stars you want to start, or which ones are better to sit, here is our weekly installment that includes NFL Week 5 injury report advice.
We will look at the specific matchup they have, how much they have been practicing, and what the recent history of your player is with how often the coaching staff is deciding to let them play through the injury.
Please note that we are omitting six teams from our report this week. Four teams are on their bye week in Week 5. They are Dallas, Detroit, Oakland and Tampa Bay. Since this report will be published on Friday evening, we are also omitting the teams playing in Thursday Night Football, which are the Arizona Cardinals and St. Louis Rams.
Here is a link to the latest Week 5 injury report from ESPN.com. If you prefer the NFL.com injury report list instead, here is a link to that.
Begin Slideshow

»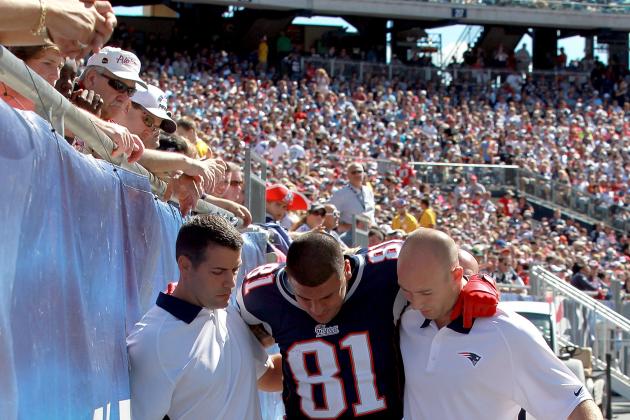 Jim Rogash/Getty Images
Aaron Hernandez is still expected to miss Week 5
New England Patriots TE Aaron Hernandez hasn't been able to turn in a full practice this week due to his ankle injury, so he is listed as questionable this weekend against the Denver Broncos.
Due to the severity of his sprain, it would seem more likely that Hernandez will start in Week 6 than he will in Week 5.
If the Patriots think Hernandez is good enough to play, I suspect he will have a limited role this week, and will then start taking more snaps from Week 6 on. For now, I would sit him, unless you have no other tight end to plug in to your lineup.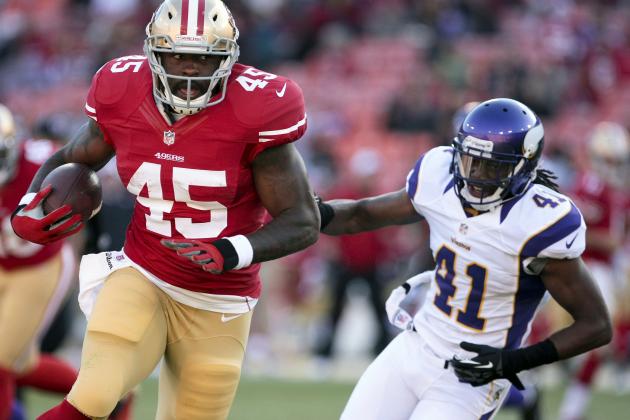 Kelley L Cox-US PRESSWIRE
Brandon Jacobs is looking like he is finally healthy
San Francisco 49ers RB Brandon Jacobs' knee injury has progressed to the point that he was able to take a normal week of practice with the rest of the 49ers.
He will be playing this weekend, so if you are hurting at running back due to the four teams on bye this week, Jacobs could very well be in a position to put up a red-zone touchdown, as the 49ers will probably be testing the Buffalo Bills run defense.
Jacobs will be playing, so if you need a running back to plug in, consider Jacobs.
Jonathan Daniel/Getty Images
Lance Moore is dealing with a hamstring injury
New Orleans Saints WR Lance Moore is dealing with a bad hamstring injury, and as a result, he wasn't able to practice this week.
Moore is expected to miss the game Sunday against the San Diego Chargers, so if you were thinking about starting Moore, he needs to go back to your bench for Week 5.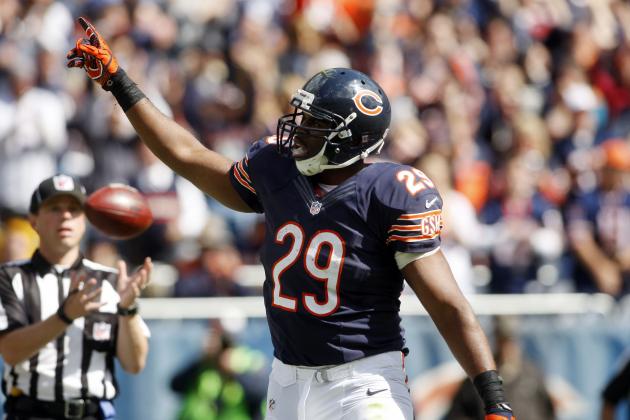 US PRESSWIRE
Michael Bush is coping with a shoulder injury in Week 5
Chicago Bears RB Michael Bush has been playing with a bad shoulder, but he is still planning to gut it out in Week 5 when the Bears travel to face the Jacksonville Jaguars.
Since both Bush and Matt Forte are banged up, expect both of them to be used this weekend, but don't expect a big game. The Bears have enough options on offense that they can spread the ball around.
If you were planning to start Bush, go ahead and play him, but if you have a potential better option on the bench, consider a healthier option.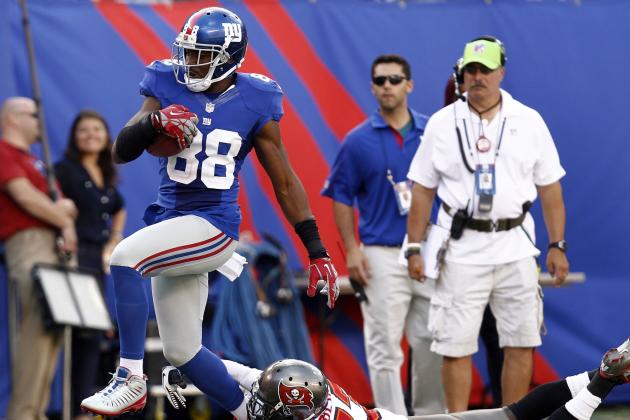 Jeff Zelevansky/Getty Images

New York Giants WR Hakeem Nicks looks like he will be missing another game due to his knee and foot injuries, so here is another star player that you need to move back to your bench for this weekend.
If Domenik Hixon is available in your league, you might want to consider grabbing him this week, to plug into Nicks' slot in your starting lineup.
It does sound like Nicks is making progress this week, so there is some good news here. Hopefully, he can play for you in Week 6.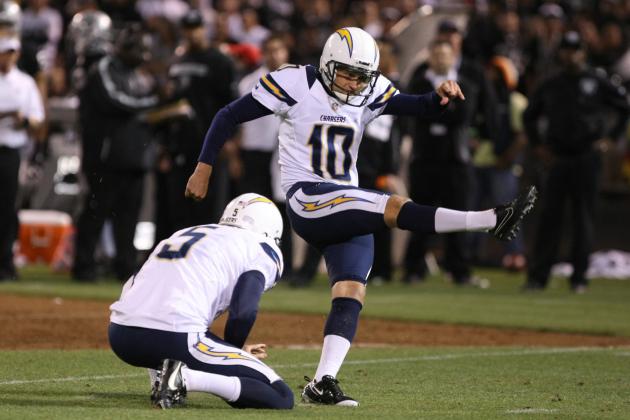 Kelley L Cox-US PRESSWIRE
Nate Kaeding has a groin injury.
San Diego Chargers K Nate Kaeding has a groin injury that is bad enough that he will not be playing this weekend when the Chargers face the New Orleans Saints.
If you need a kicker to replace Kaeding for the week, the Chargers are going to let Nick Novak take over for Kaeding in Week 5, so feel free to plug him in.
No word yet for sure on how much longer Kaeding will be out, but a tweet from Kevin Acee suggests the Chargers might have to make a move on Kaeding.
Chargers have decision to make on Kaeding. Saw specialist and is "week to week." But w/ Gaither healthy & Carr signed, no room for 2 kickers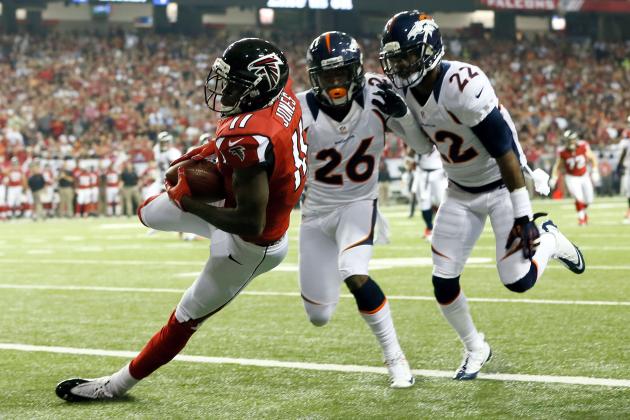 Kevin C. Cox/Getty Images
Juluo Jones is bothered by a hand injury
Atlanta Falcons WR Julio Jones has been dealing with a hand injury for weeks. It caused him some problems last week, but he is just too talented to leave on your bench.
The undefeated Falcons are going to Washington to play the Redskins. As hot as starting quarterback Matt Ryan has been playing, you want to be starting all of your relevant Falcons players, and Jones is as relevant as it gets.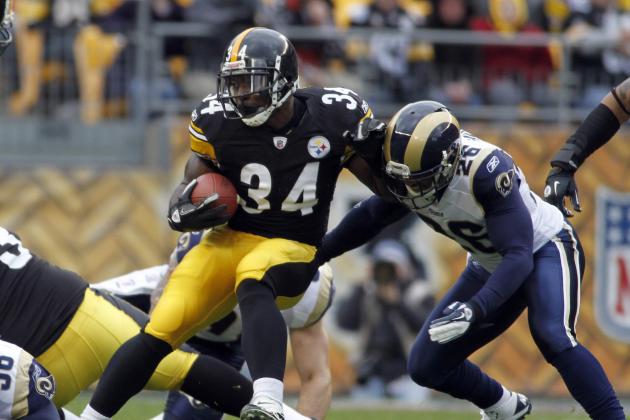 Justin K. Aller/Getty Images
Sounds like Rashard Menhenhall is ready to see action in Week 5
Pittsburgh Steelers RB Rashard Mendenhall has been targeting the Week 5 contest against the Philadelphia Eagles as the game he was to return to active duty with the team.
The Steelers medical team has allowed him to progress to the point that he will play this weekend, but nobody knows for sure how many snaps he will play or how effective he will be.
I have seen various reports suggesting he will be eased in to the flow of the game this week, while others suggest he will carry the bulk of the workload.
If I had Mendenhall on my fantasy team, I expect him to get touches this weekend, but I don't know what kind of quality runs he will produce. I prefer to see a player produce first and then put him back in the starting lineup, as opposed to starting him and regretting the move later on.
Based on all of the above, I would not start Mendenhall this week, but be prepared to start him next week if he comes out of the game without any setbacks.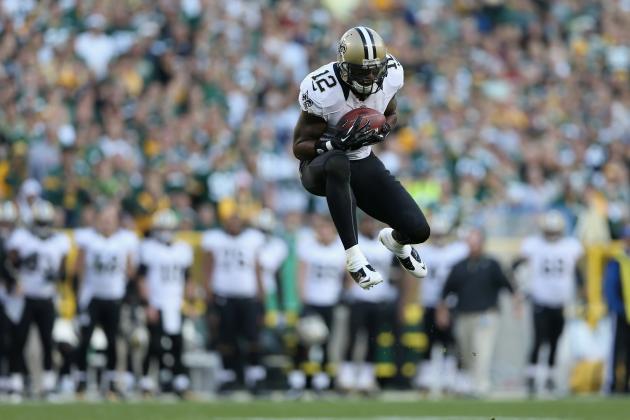 Jeff Gross/Getty Images

New Orleans Saints WR Marques Colston has been playing through a foot injury this year.
While the injury may be causing him some pain, Colston is still putting up good numbers, and that is all we care about if you are interested in him as a fantasy owner.
If you normally are starting Colston, then go ahead and start him this week against the San Diego Chargers.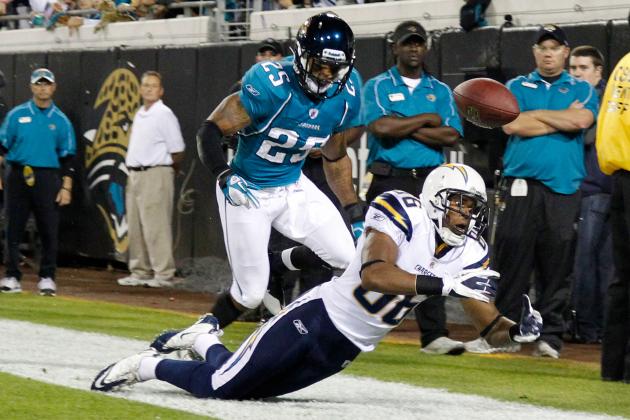 Mike Ehrmann/Getty Images
Is Vincent Brown on your fantasy radar screen now?
The purpose of this slide is to alert you that San Diego Chargers WR Vincent Brown should be on your radar screen for your fantasy football team. He went on Injured Reserve, so the earliest he can come back is Week 7.
However, if you are in need of some WR depth (perhaps you just lost Santonio Holmes for the rest of the year), we are now just two weeks away from when Brown can make his debut. You should consider adding him to your team.
Obviously he will still be out for two more weeks, which is why he is still probably available in your league's free agent pool.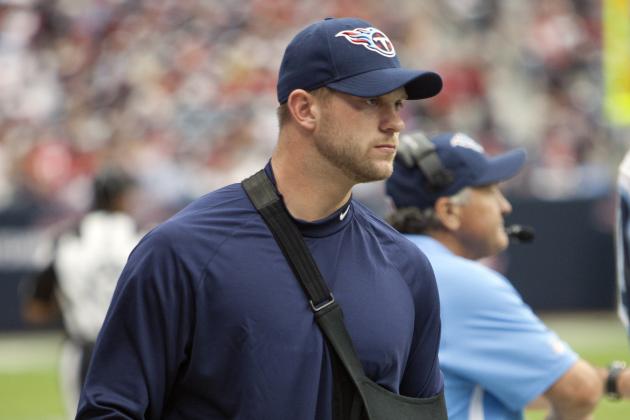 Bob Levey/Getty Images
Jake Locker needs to be on your bench in Week 5
After Tennessee Titans QB Jake Locker has suffered two shoulder separations, the Titans have decided to have him sit out for at least Week 5, and how much longer than that remains to be seen.
If you were previously starting Locker on your fantasy team, you might want to consider picking up veteran Matt Hasselbeck, who will be leading the Titans offense for the immediate future.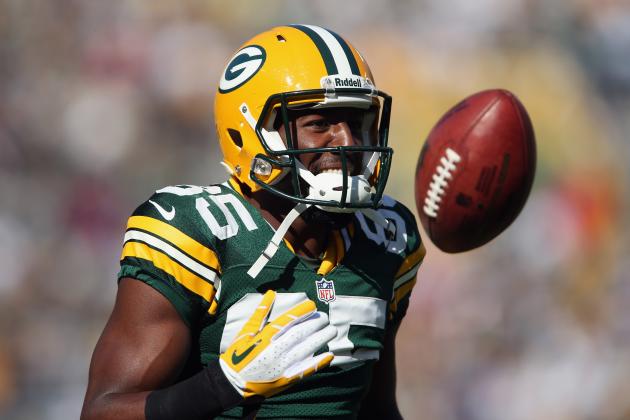 Jeff Gross/Getty Images
Greg Jennings may be shutting it down for a while
Green Bay Packers WR Greg Jennings has already been classified as out for the Week 5 game against the Indianapolis Colts, so you have time to adjust your roster accordingly.
With some key receivers being out this weekend, combined with the four bye-week teams, you might have to drill down a bit in your league's waiver wire or free agent pool to come up with a player to fill in for Jennings.
According to the Green Bay Press Gazette.com, Jennings might have to shut it down for a while to let the groin heal. No telling right now how long he will be out, so that is why you need to have a contingency plan for him.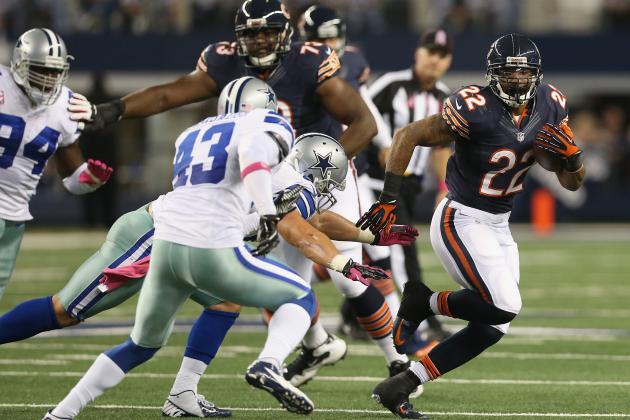 Ronald Martinez/Getty Images
Matt Forte should be starting for you this weekend
Chicago Bears RB Matt Forte was able to finally get in a full practice on Friday, so the ankle injury that had been holding him back for the last few weeks looks like it is healing.
The Bears will be playing the Jacksonville Jaguars in Florida, so this looks like a good opponent for Forte to rack up some positive yards for your fantasy team.
Go ahead and start Matt Forte this weekend against the Jacksonville Jaguars. The Jaguars have been giving up 150 yards per game on the ground this year, which is why they are ranked No. 30 against the run.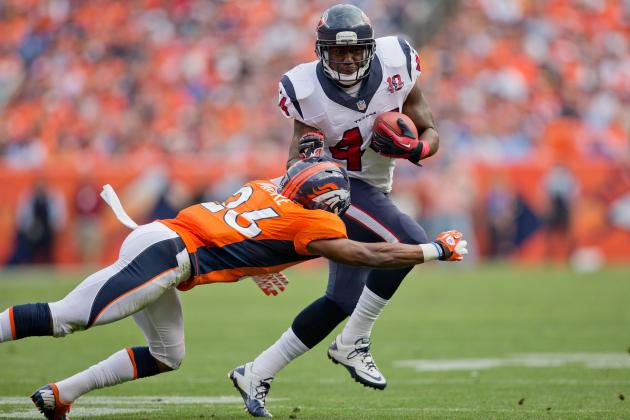 Justin Edmonds/Getty Images
Ben Tate has a toe injury that is slowing him down
Houston Texans RB Ben Tate might have your fantasy football team in a quandary this weekend. If you normally start Tate, you have to be concerned that his toe injury prevented him from practicing with the Texans on Friday.
The Texans are playing the New York Jets on Monday Night Football, so if it turns out that Tate is inactive, you are probably stuck, unless you have another healthy option on your bench that you can turn to instead.
Tate is a solid player to keep on your roster in the event that Adrian Foster goes down to injury. But, if you are trying to decide between starting him or benching him this week, I think he will play on MNF, but I wouldn't look to start him on my fantasy football team.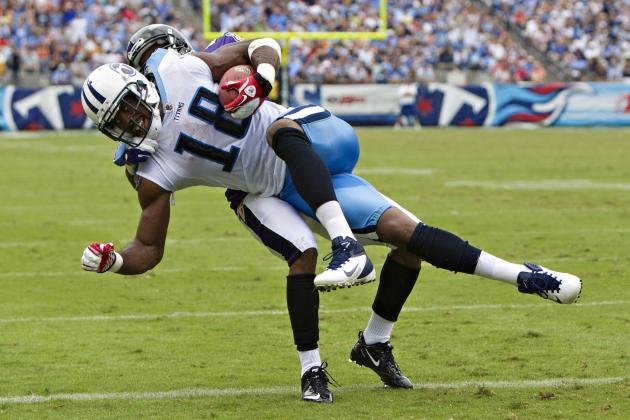 Wesley Hitt/Getty Images

Some players that appear on the injury report make better progress during the week, while others regress due to a setback. Consider Tennessee Titans WR Kenny Britt to be in the setback category, as he hurt himself at practice this week.
It doesn't look like Britt will play against the Minnesota Vikings. Here is a tweet from Jim Wyatt talking about Britt:
#Titans WR Kenny Britt on his chances of playing: "It's not looking so good right now as we stand, but we have two days."
Britt really hasn't been somebody you can count on, so you might want to consider cutting bait and going with some new blood on your team. One possible idea as we mentioned before, how about stashing San Diego Chargers WR Vincent Brown?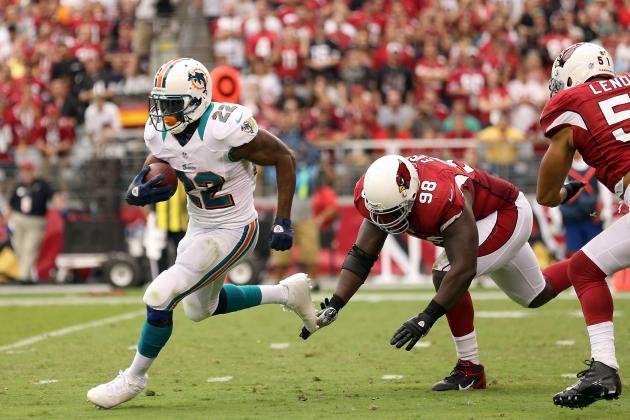 Christian Petersen/Getty Images

Miami Dolphins RB Reggie Bush has been hit by injuries to his knee and hip this season. Despite the injuries, Bush was able to practice this week, so he looks good and ready to go this weekend against the Cincinnati Bengals.
If you own Bush, go ahead and plug him in as your starter. He will play this weekend, unless he has a last-second setback.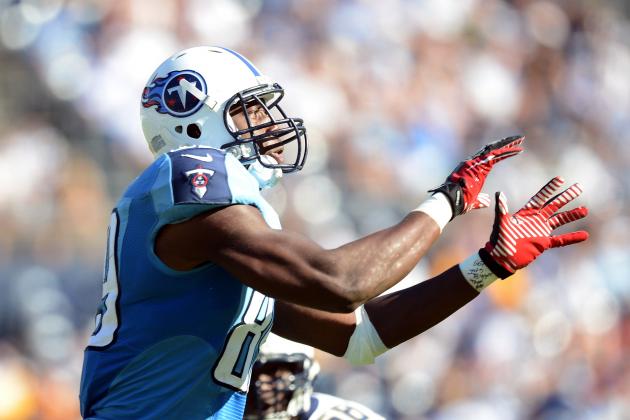 Harry How/Getty Images

Tennessee Titans TE Jared Cook has been hampered by a shoulder injury. He has steadily improved this week to the point that he is now probable, after turning in a full practice on Friday.
For the Titans game this weekend against the Minnesota Vikings, there was a tweet from Terry McCormick with an update on the status of several Titans for the game:
Patrick Bailey and Scott Solomon questionable. Mike Otto questionable, Jared Cook probable
We already know that Jake Locker is out, and Kenny Britt is probably also not going to play, so you might want to consider starting Cook if you are in a bind at tight end this weekend.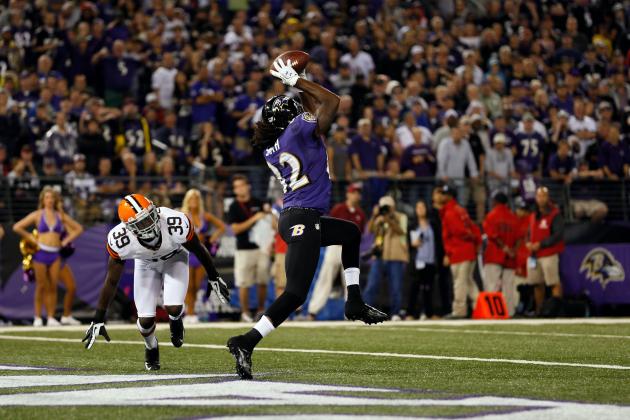 Rob Carr/Getty Images

Baltimore Ravens WR Torrey Smith has an ankle injury, but he was able to get in enough practice reps this week that he should be fine for action this weekend when the Ravens play the Kansas City Chiefs.
Smith is a solid WR option, and if you normally start Smith, then by all means go ahead and keep him as your starting WR for Week 5.
Ravens quarterback Joe Flacco is comfortable throwing the ball to Smith, so continue to ride the hot hand.
Al Messerschmidt/Getty Images

Washington Redskins WR Pierre Garcon has been missing some games due to a foot injury, but he was able to practice this week and is probable to play against the Atlanta Falcons.
Based on the early-season chemistry that Garcon had with rookie quarterback Robert Griffin III, you should expect that Griffin will be looking to connect with Garcon again, so go ahead and put Garcon in your starting lineup for Week 5.
That is it for this week's look at the injury report for Week 5. Thanks for checking out the presentation.