Georgia vs. South Carolina: The Complete Game Preview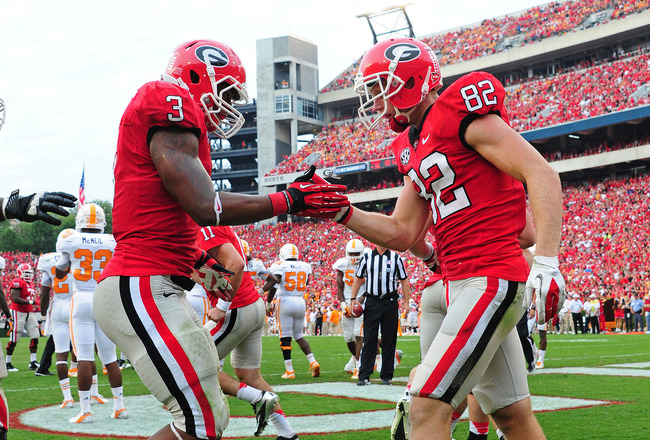 Scott Cunningham/Getty Images
This is a big as it gets when it comes to the Georgia-South Carolina series. When the Bulldogs and Gamecocks get together on Saturday, it could very well determine the SEC East Champion.
South Carolina took care of Georgia last year, but the it was the Bulldogs who had the best record in the division and went on to play LSU in the SEC title game.
For the first time in this series, both teams are ranked in the top 10 and this has to be the biggest game that will be played at Williams-Brice Stadium.
Who: Georgia vs. South Carolina
When: Saturday 7:00 p.m.
Where: Williams-Brice Stadium (80,250)
TV: ESPN
Radio: Sirius 92, XM 99
Internet: GTV on Georgiadogs.com
Depth Chart for Georgia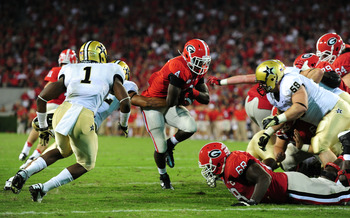 Scott Cunningham/Getty Images
QB: Aaron Murray, Hutson Mason, Christian LeMay
RB: Todd Gurley, Keith Marshall, Ken Malcome
FB: Merritt Hall, Richard Samuel
FLK: Tavarres King, Rantavious Wooten, Chris Conley
SE: Marlon Brown, Michael Bennett, Malcolm Mitchell
TE: Arthur Lynch, Jay Rome
LT: Kenarious Gates, Mark Beard, Austin Long
LG: Dallas Lee, Ben Reynolds
C: David Andrews, Chris Burnette
RG: Chris Burnette, Greg Pyke
RT: John Theus, Watts Danztler
DE: Abry Jones, Garrison Smith
NT: John Jenkins Kwame Geathers
DE: Cornelius Washington, Ray Drew, Mike Thornton
OLB: Ramik Wilson, Chase Vasser, Josh Dawson
OLB: Jarvis Jones, Jordan Jenkins, T.J. Stripling
ILB: Michael Gilliard, Amarlo Herrera
ILB: Alec Ogletree, Christian Robinson
CB: Malcolm Mitchell, Sanders Commings, Devin Bowman
CB: Branden Smith, Damian Swann
SS: Shawn Williams, Corey Moore, Josh Harvey Clemons
FS: Bacarri Rambo, Connor Norman
P: Colin Barber, Adam Erickson
PK: Marshall Morgan, Jamie Lindley
PR: Branden Smith, Damian Swann
KR: Branden Smith, Todd Gurley, Malcolm Mitchell
Depth Chart for South Carolina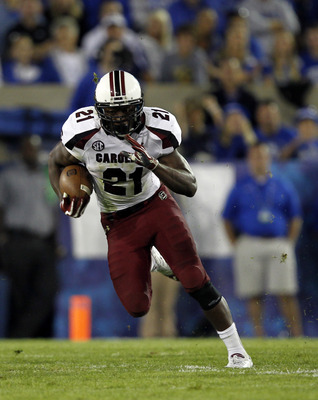 John Sommers II/Getty Images
QB: Connor Shaw, Dylan Thompson, Seth Strickland
TB: Marcus Lattiimore, Kenny Miles
FB: Qua Gilchrist, Connor McLaurin
WR: Ace Sanders, DeAngelo Smith, Shaq Roland
WR: Bruce Ellington, Damiere Byrd, K.J. Brent
TE: Justice Cunningham, Rory Anderson
LT: Corey Robinson, Brandon Shell
LG: A.J. Cann, Will Sport
C: T.J. Johnson, Kyle Harris
RG: Ronald Patrick, Kaleb Broome
RT: Mike Matulis, Cody Gibson
DE: Devin Taylor, Aldrick Fordham, Gerald Dixon
DT: Byron Jerideau, Gerald Dixon Jr.
DT: Kelcy Quarles, J.T. Surratt
DE: Jadeveon Clowney, Chaz Sutton
MLB: Reginald Bowens, Damario Jeffery
WLB: Shaq Wilson, Quin Smith
SPR: DeVonte Holloman, Sharrod Golightly
CB: Victor Hampton, Ahmad Christian
SS: Brison Williams, T.J. Gurley
FS: D.J. Swearinger, Kadetrix Marcus
CB: Jimmy Legree, Akeem Auguste
PK: Adam Yates, Landor Ard
P: Tyler Hull, Patrick Fish
KOR: Bruce Ellington, Damiere Byrd
PR: Ace Sanders, Victor Hampton
What Happened to the Bulldogs Last Week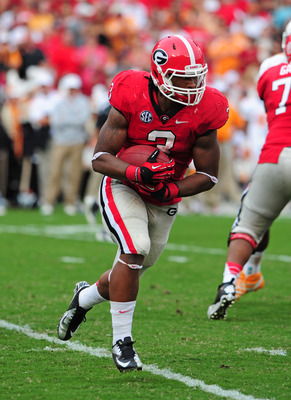 Scott Cunningham/Getty Images
In a game where there was a combined 95 points scored by both teams, Georgia came away with a 51-44 win over Tennessee.
The freshmen duo of Keith Marshall and Todd Gurley once again came up big for the Bulldogs as Marshall rushed for 164 yards and two touchdowns and Gurley rushed for 130 yards and three touchdowns.
Aaron Murray also had a big day through the air, completing 19 of his 25 passes for 278 yards, two touchdowns and two interceptions.
The Bulldogs' defense did give up nearly 500 yards to the Vols, but they forced three turnovers in the Vols' last four possessions, including two interceptions by Sanders Commings.
Alec Ogletree and Bacarri Rambo made their 2012 debut and did not disappoint. Ogletree led all defenders with 14 tackles and three passes defended while Rambo was right behind Ogletree with nine stops.
What Happended to the Gamecocks Last Week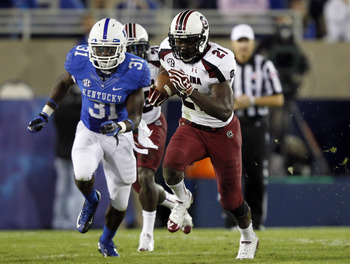 John Sommers II/Getty Images
The Gamecocks had a tough time taking down Kentucky as they went down by 10 points at the half. But they were able to score 31 unanswered points in the second half to come away with the 38-17 win.
Marcus Lattimore is getting stronger each game, rushing for 120 yards on 23 carries and two touchdowns against Kentucky. That made quarterback Connor Shaw more effective, and he completed 14 of his 18 passes for 148 yards and two touchdowns as well as rushed for 76 yards on 19 carries.
The Gamecocks defense was the difference in the third quarter as they limited the Wildcats to 33 total yards. They were just as effective in the fourth quarter when DeVonte Holloman and Gerald Dixion Jr. picked off Kentucky quarterback Jalen Whitlow.
Dating back to last year, the Gamecocks have won nine consecutive games, the longest streak for them since 1984.
What It Means for Both Teams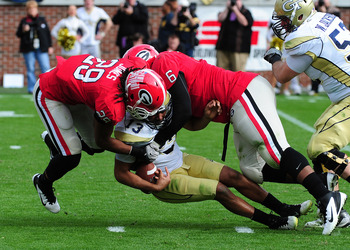 Scott Cunningham/Getty Images
This game means almost everything for both teams when it comes to where they want to be at the end of the season.
South Carolina has never won an SEC title and a win against Georgia would put them that much closer to their goal. The Gamecocks still have to play LSU and Florida afterwards but a win against the Bulldogs would give them confidence to take on any team.
The Bulldogs lost to South Carolina the last two years and would love to take down the Gamecocks to remain undefeated and be on their way back to the Georgia Dome. Like South Carolina, the Bulldogs still have to get by Florida, but a win against the Gamecocks would give them the confidence to run the table.
Key Player for the Bulldogs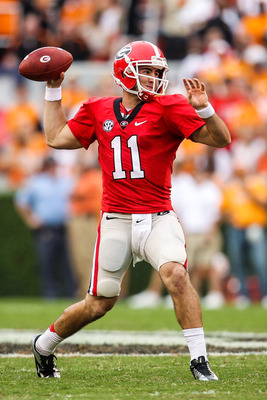 Daniel Shirey-US PRESSWIRE
Aaron Murray will be in the spotlight on Saturday for many reasons.
In order for the Bulldogs to win, Aaron Murray will have to play big against a defense that only gives up 11 points per game.
Normally, Murray tends to make mistakes in big-time games, but this year Murray has played well and looks to be much improved compared to the last two years.
This will be the best defense Murray has faced all year, so he will have to rely on his offensive line and his freshmen running backs to play well so he can make plays.
Key Player for the Gamecocks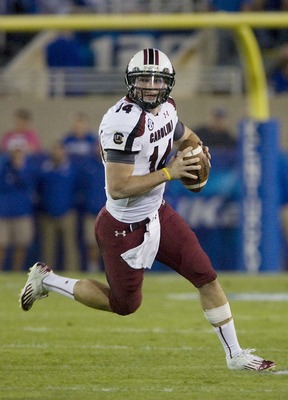 Mark Zerof-US PRESSWIRE
Connor Shaw is somewhat in the same spot as Murray because this is the biggest game he has played in his young career.
Shaw has played well whenever he's on the field, but he tends to not finish games because he does get injured quite a bit.
But he's an effective runner and an efficient passer, so a good as Tyler Bray was against Georgia, the Bulldogs will have their hand full with Shaw. He brings so much to the table and would love to have a huge game against Jarvis Jones and company.
The Bulldogs Will Win If...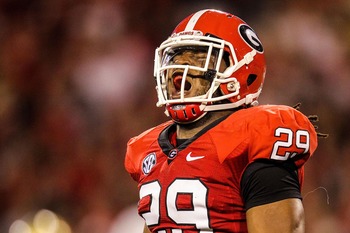 Daniel Shirey-US PRESSWIRE
The Bulldogs will win if the offense can score over 30 points.
That might seem simple because the offense averages 48 points per game. But as mentioned earlier, the Gamecocks' defense is as good as it gets and the offensive line will have to be sure they know where Jadaveon Clowney is at all times.
The defense will also have to play well which means Jarvis Jones will have to make a couple of impact plays. He has come up big so far this season and is chomping at the bit to get back on the field since he did not have a great game against Tennessee.
The Gamecocks Will Win If...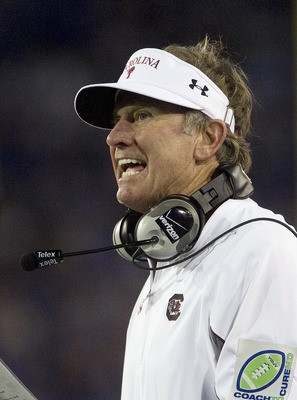 Mark Zerof-US PRESSWIRE
The Gamecocks will win if the defense limits the Bulldogs offense to 20 point or less.
It's not that the Gamecocks can't score—they average 33 points per game. But it they keep the game a low-scoring affair that will play into South Carolina's favor because they are a defensive-minded football team.
They will have to hit Murray early and often to make his life miserable the entire game. They also need to make sure they take good tackling angles on Marshall and Gurley so they won't run wild on the Gamecocks. It may seem simple, but all the teams that have played the Bulldogs this season have failed to stop the Bulldogs' offense.
Prediction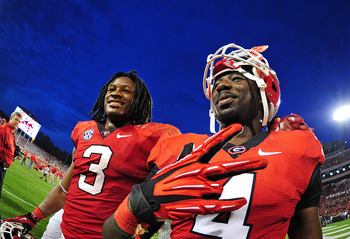 Scott Cunningham/Getty Images
Because the game is played at South Carolina, the Gamecocks do have a slight advantage. The defense is one of the best in the conference and Shaw is starting to find his groove.
However, the Bulldogs have one of the best offenses in the country and with the combination of Murray, Gurley, Marshall, the wide receivers and Jarvis Jones leading the defense, it will be a tough task for the Gamecocks to take down the Bulldogs.
This one will be tight all game long and it will come down to who will turn the ball over the most. The Bulldogs offense has been known to turn the ball over in games like these, but I think Murray has something to prove and will play turnover-free football, which will lead to a win for the Dawgs.
Final Score: Georgia 30, South Carolina 24
Keep Reading