5 NBA 2012 2nd-Round Picks Guaranteed to Shock Fans in Training Camp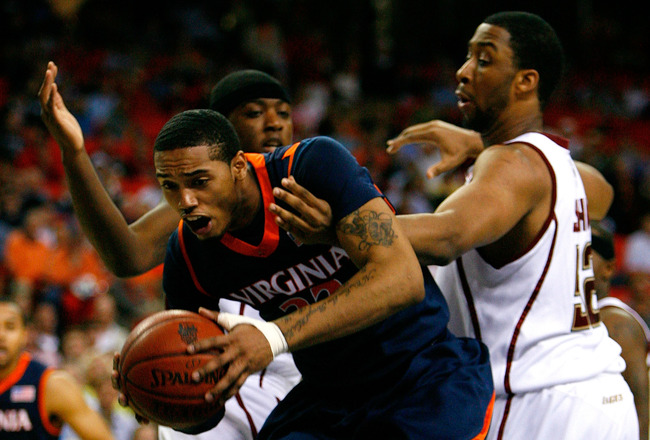 Kevin C. Cox/Getty Images
Players in the second round of the NBA draft do not get their contracts guaranteed, so it is difficult for some of them to find a stable situation.
From the start of the draft process, those who aren't given first-round grades are overlooked because very few second-round draft picks become stars.
That being said, front offices that are able to find value with their second-round selections garner an advantage over their competition.
Manu Ginobili is a perfect example of finding a star in the second round, as the San Antonio Spurs snagged him with the 57th selection in 1999.
Trying to pick out which second-round picks will have successful careers is an inexact science, but that doesn't mean it isn't worth giving it a shot.
Bernard James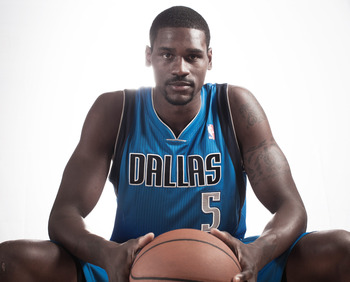 Nick Laham/Getty Images
I'm in the minority in thinking that Bernard James will have a successful NBA career, but the staff sergeant has the game to prove all the doubters wrong.
At 6'10", James is capable of playing both power forward and center. His versatility is good thing, but he would hold far more value if he was a potential franchise center.
While at Florida State, James distinguished himself as a good rebounder and as a dominant rim defender.
The biggest knock on James in the draft process was his age, as he is already 27 years old. Currently, there is doubt surrounding James' upside because his offensive game is viewed as a liability.
The Dallas Mavericks traded for James on draft night hoping that he could help out their frontcourt immediately.
Fortunately for Mark Cuban's team, he will do just that.
James will stand out during training camp and prove throughout the preseason that he is ready to contribute in the NBA.
While he isn't likely to become an All-Star-caliber player, James will use his experience and mental toughness to be a success as a rookie.
Draymond Green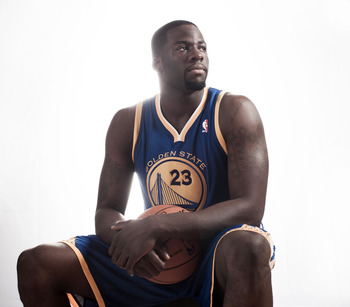 Nick Laham/Getty Images
Draymond Green can do it all but isn't prolific in any specific area. While no player should be punished for being well rounded, the fact that Green doesn't do anything extremely well has worried some analysts.
The criticism that Green has gotten is a product of the overanalyzing that comes with the draft process. Michigan State was lucky to have Green for so long, and he left school as the program's all-time leading rebounder.
On top of the fact that Green is a good scorer and is a great passer for his size, he has the ability to play both forward spots and could be a real asset on a team that likes to play small ball.
The Golden State Warriors have suffered through quite a few injuries in the recent past, as Stephen Curry missed a lot of time during the 2012 season due to ankle issues.
Andrew Bogut, who was acquired by the Warriors prior the 2012 trade deadline, has yet to make his debut for the team, but he appears to be ready to contribute this season.
It wouldn't shock anyone to see the Warriors dealing with injury issues this season, in which case Green will be given an opportunity to shine.
Green will distinguish himself because he is a natural leader who has had a great deal of success in his past. Every team in the league needs winners and leaders on their roster, and Green is both of those things.
Kyle O'Quinn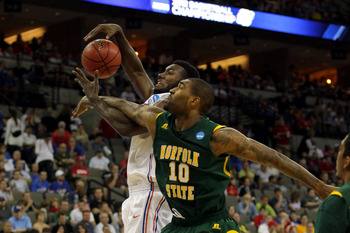 Doug Pensinger/Getty Images
The Orlando Magic aren't going to be very good this season, that much is all but guaranteed. While the Magic will find it hard to compete on a nightly basis, with players like Kyle O'Quinn on their roster, they will be scrappy and play tough.
O'Quinn played his college ball at Norfolk State and was a member of the team that upset Missouri during the 2012 NCAA tournament.
The primary reasons that O'Quinn was never offered a scholarship to play at a bigger school were due to the fact that he is't a great athlete and isn't great with the ball in his hands.
While O'Quinn will never become a dominant offensive presence in the post, that doesn't mean that he can't affect the game in other ways.
O'Quinn is the type of player who will do whatever it takes to help his team, which is good for the Magic because they are going to need a lot of help as they begin the post-Dwight Howard era.
Mike Scott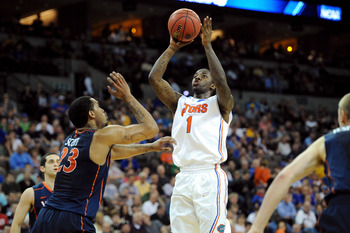 Eric Francis/Getty Images
Mike Scott dominated in ACC play over the span of his final two seasons at the University of Virginia.
Based on his production alone, Scott should have been selected in the first round.
Scott's stock dropped due to the fact that he is 24 years old and still leaves a lot to be desired on the offensive end of the court.
At 6'8", Scott will be a bit short to play power forward in the NBA, but he will overcome that on both ends of the floor.
Scott's ability to dominate on the glass has been overlooked up to this point, but that will change in the preseason.
While it may take the ex-Cavalier a while to adjust to defending NBA-caliber players, he will have no problem contributing on the glass right away.
Scott will be a valuable role player for the Atlanta Hawks this season, and that effort starts with a great training camp.
Will Barton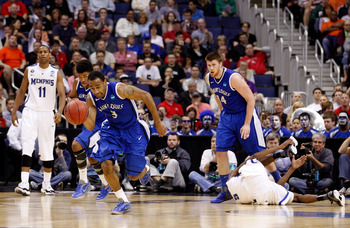 Rob Carr/Getty Images
Will Barton was a 5-star recruit coming out of high school and chose to play his college ball at Memphis.
At 6'5", Barton has the size to be a dominant shooting guard. While he has some work to do from behind the arc, Barton is decent from mid-range and is excellent at getting to the rim.
NBA teams are always looking for good wing players, as there is always a shortage of them in the league.
The Portland Trail Blazers will need contributions from their draft picks to be successful, which will ensure that Barton will get a fair chance to stand out during training camp.
All Barton will need is a chance, and he will prove to be an effective role player for the Blazers this season.
Keep Reading