New England Patriots vs. Buffalo Bills: Grading Each Starter on the Pats Defense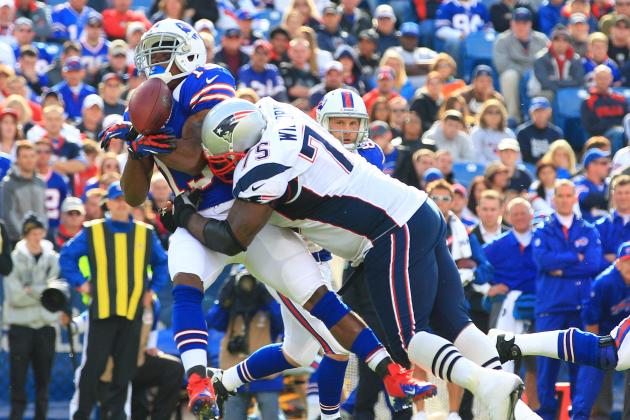 Kevin Hoffman-US PRESSWIRE
New England's defense hit hard in Week 4.
Four games into the regular season, the New England Patriots' defense remains a tough unit to gauge.
Sometimes they look like a dominant group, one that batters opposing runners and pressures the QB like the early 2000s Willie McGinest-era Patriots. Other times, opposing quarterbacks pick apart their secondary, expose their linebackers' flaws in coverage and gash them over the deep middle of the field.
During their Week 4 matchup against the Buffalo Bills, New England's D showed both sides of that coin.
The Pats forced four INTs and three fumbles, two of which they recovered. They limited dangerous Buffalo rushers CJ Spiller and Fred Jackson and pressured QB Ryan Fitzpatrick in spurts.
But they also allowed 438 total yards, including Fitzpatrick's 340 passing yards and four touchdown passes.
It's tough to evaluate the Pats' defensive performance in Week 4 wholesale, especially for a game in which performances varied wildly. So let's give each starter on the Patriots defense their own individual grade.
Begin Slideshow

»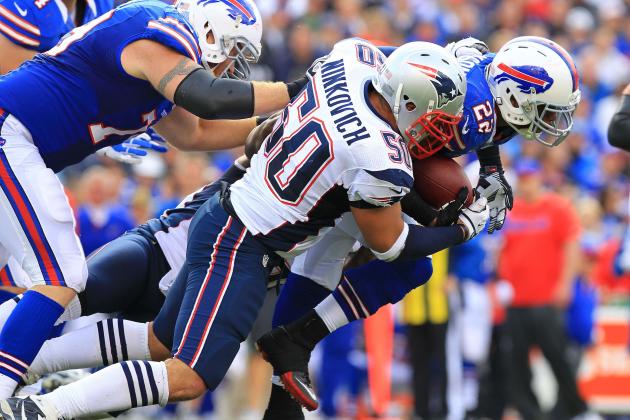 Kevin Hoffman-US PRESSWIRE
Nink is a steady but unremarkable contributor to the Patriots defense.
Analysis: Rob Ninkovich is an interesting study because he's a linebacker/end tweener who lacks the coverage skills to be an effective LB and the athleticism to consistently pressure the quarterback.
As a result, he often frustrates Pats fans (including this one) who feel the defense need a dynamic playmaker opposite RE Chandler Jones.
But Nink does a lot of things well. He's versatile, something that's important to coach Bill Belichick. He sets the edge effectively against the run, and occasionally he's able to use his strength to collapse the pocket.
We saw these skills on display in Week 4. Several times, Ninkovich beat his blocker and strung runners out on the edge for little or no gain. On passing downs, he wasn't a huge factor, though he did have one big third-quarter strip sack of Fitzpatrick.
Unfortunately, Nink's weaknesses were also apparent against the Bills. On Buffalo's first drive, Nink pressured Fitzpatrick, forcing him to tuck-and-run. But the linebacker failed to keep contain and the Bills' QB juked Ninkovich and ran outside for a 10-yard gain.
Ninkovich was also swallowed up by a lineman on a 24-yard completion to TE Dorin Dickerson in the first quarter. Ninkovich was lined up in coverage on Dickerson and appeared out of position on the play.
Overall, it was yet another solid, but unspectacular game from Ninkovich.
Highlight: The strip sack of Fitzpatrick, in which Nink slipped past the tackle and controlled his body beautifully in order to force the fumble.
Week 4 Grade: B-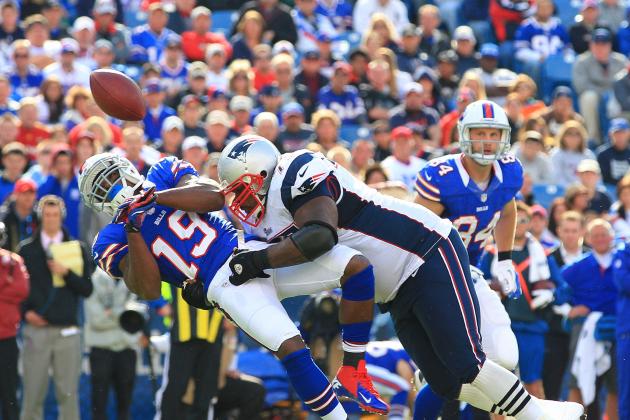 Kevin Hoffman-US PRESSWIRE
This hit by Wilfork is worth a second look.
Analysis: Pats fans take him for granted, but Vince Wilfork might be the best defensive tackle in the NFL when it comes to consistently dominating the point of attack.
With outstanding leverage, footwork and athleticism, Wilfork drives his man back and swallows up ball-carriers like few other players in football. He was a big part of New England's gameplan to slow Spiller and Jackson, and he also collapsed the pocket a handful of times in Week 4.
Wilfork also made some big plays: he tipped a pass off the line that turned into a Jerod Mayo INT. He even recovered a big fumble by Spiller at the Pats' goal line as the first half was winding down.
Along with linebackers Brandon Spikes and Jerod Mayo, Wilfork has helped turn the middle of the Pats defense into an intimidating force. All three of them are physical, disciplined players with great instincts, and together they shut down the Bills' rushers.
Wilfork is so good he almost goes unnoticed, but everyone appreciates what a monster he is when he makes a few plays around the ball.
Highlight: His incredible read-and-react pancake of Donald Jones that forced the ball loose on what would have been a short completion. It's proof that a devastating blow can be dealt without the defender leading with his helmet.
Week 4 Grade: A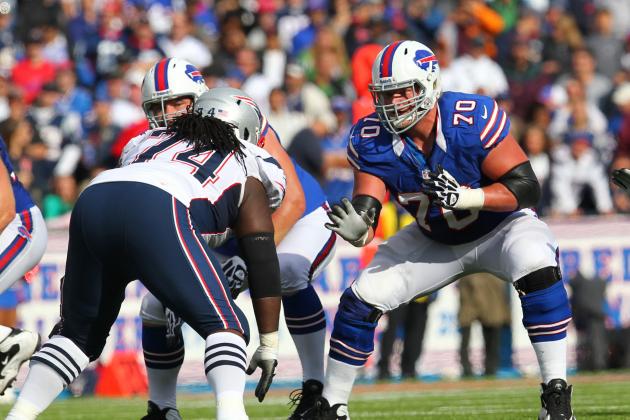 Timothy T. Ludwig-US PRESSWIRE
Kyle Love struggled against the Bills.
Analysis: Kyle Love started the game as a nose tackle in New England's 4-3 defense.
Love struggled against the Bills up-tempo offense and added little to the pass rush. He's stalwart at the point of attack, but he's not quick laterally and had trouble collapsing the pocket and getting upfield to make plays.
Still, there were some positives for Love in the game: he was stout against the run and helped slow down CJ Spiller on a key play in which Brandon Spikes forced a fumble just outside the end zone at the end of the first half.
Overall, it was a weak game but in a matchup that doesn't play to Love's strengths. He'll rebound in the coming weeks.
Highlight: Love slowed CJ Spiller on an otherwise sure touchdown run late in the second-quarter. Brandon Spikes came over, popped the ball loose, and changed the momentum of the game.
Week 4 Grade: D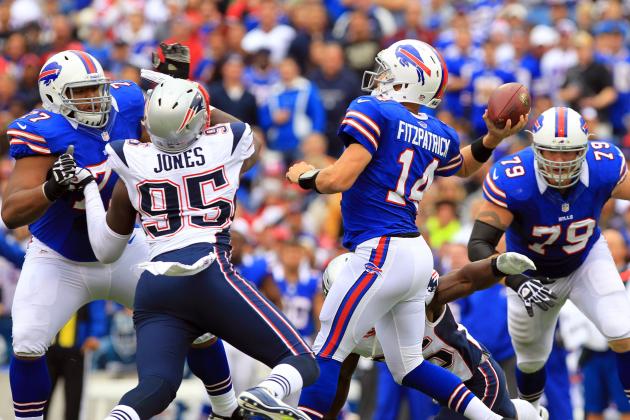 Kevin Hoffman-US PRESSWIRE
Chandler Jones always seems to be in the QB's vicinity.
Analysis: Rob Ninkovich, the defensive end opposite Chandler Jones, got plenty of rest as part of a rotation with DE Jermaine Cunningham.
Not so for Jones.
Mike Reiss of ESPNBoston.com reports that Jones played all but five defensive snaps in Week 4. That's remarkably impressive for a rookie defensive end.
Jones—who has shown great burst and a flurry of athletic moves off the line—was impressive against the Bills. He totalled five tackles, two QB hits and a sack. He was also strong again in setting the edge.
The Pats have a great run-stuffing LB corps, and Jones has done a good job of funneling runners to them rather than letting rushers get to the outside and turn upfield.
Against the pass, he's the Pats best rusher. He's got three of the Patriots seven sacks, and he's already drawing double-teams in his first few NFL games. He beat two linemen to pick up a sack against the Bills on a first quarter third-and-four.
Jones' performance doesn't warrant an "A," since there were long stretches during which New England's D-line didn't get pressure on Fitzpatrick. But he still played well, yet again. Jones is living up to his first-round billing.
Highlight: His sack in the first quarter, in which Fitzpatrick was flushed out of the pocket by Jermaine Cunningham and Jones dusted two blockers to finish the job.
Week 4 Grade: B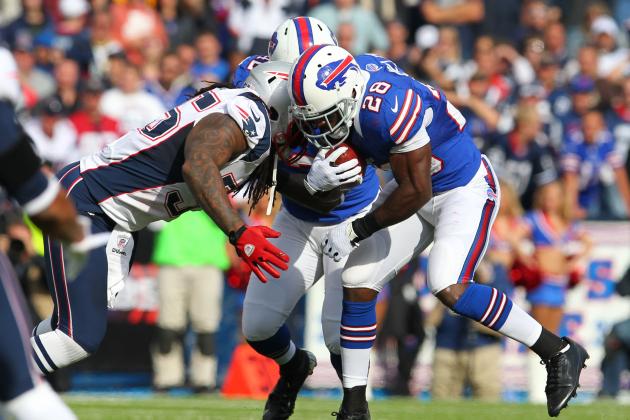 Timothy T. Ludwig-US PRESSWIRE
Brandon Spikes has delivered crushing hits this season.
Analysis: Brandon Spikes might be the best run-stuffing linebacker in the AFC.
He's played lights out this season against the run. He's a thumper with great read-and-react instincts and the strength and power to make ball-carriers pay. He forced two fumbles against the Bills, including a huge goal-line thud that jarred the ball loose from CJ Spiller.
That play was huge. The Bills were knocking on the door for another score against a gassed Pats defense at the end of the half. A touchdown there would have made the score 21-7 in favor of the Bills.
Instead, Spikes diagnosed the weak-side run, came barreling over with good lateral explosiveness and stuffed the ball-carrier.
When Spikes gets a head of steam, his hits register on the Richter scale. Few players in football cause more fumbles simply by the sheer force of their tackles.
Spikes wasn't perfect: He made a few mistakes in coverage, where his good instincts don't make up for his lack of quickness. On the Bills second TD score to TE Scott Chandler, Spikes got caught in no-man's land when dropping back into pass coverage. He didn't take away the middle of the field and left Chandler in space for the easy score (though Spikes got little help from his safeties).
Overall, though, it's tough to knock Spikes down too much for that. He's still an integral part of a ferocious New England linebacking corps, and he made some huge plays against the Bills.
Highlight: His brutalization of CJ Spiller at the goal line at the end of the first-half. It may have saved the game for the Pats.
Week 4 Grade: A-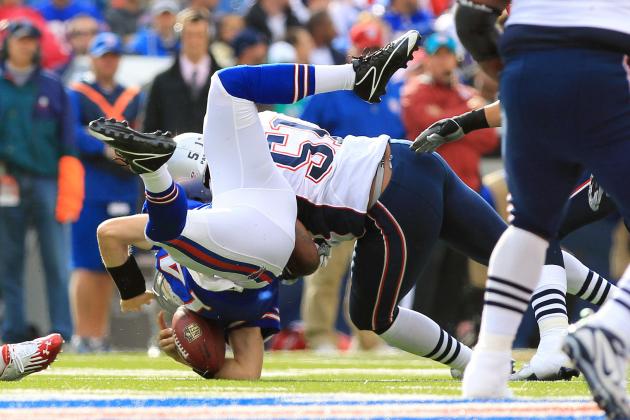 Kevin Hoffman-US PRESSWIRE
Mayo is the anchor of New England's linebacking corps.
Analysis: Defensive Captain Jerod Mayo is dependable and whip-smart, but he hasn't always been a playmaking linebacker.
That has changed with the development of MLB Brandon Spikes, who frees up Mayo to play weakside linebacker. Playing primarily OLB, Mayo is seventh in the NFL in total tackles with 39 through four games, and he's also defended two passes.
Mayo registered his first INT of the season on a nice diving play off a pass tipped by Vince Wilfork. He was also the centerpiece of a Patriots front-seven that held the Bills' two-headed rushing attack to a 3.6 YPC average.
Like Spikes, Mayo had his flaws in coverage. He gave up a big fourth-down conversion to Fred Jackson, who was flexed out wide in a one-on-one matchup against Mayo. Fitzpatrick recognized the mismatch and lofted the ball up for Jackson to make a play.
Mayo's coverage was tight, but—like so many of the Patriots defenders in coverage—he played the man, not the ball. He never turned to deflect the pass, and Jackson was able to make the over-the-shoulder catch for a 34-yard gain. The play set up a 20-yard TD strike to Scott Chandler.
Still, Mayo set the tone for the Pats with playmaking and physicality in Week 4, and played a big part in wearing down the Bills offense in the second half.
Highlight: His diving interception in the first quarter off a tipped third-down pass.
Week 4 Grade: B+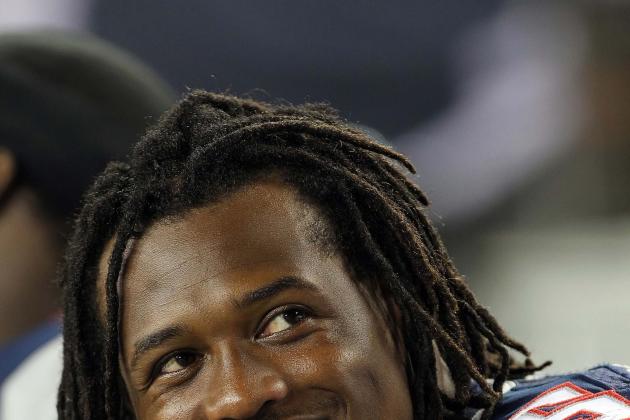 Kim Klement-US PRESSWIRE
Hightower (now No. 54) spent much of the game on the sideline with a hamstring injury.
Analysis: Rookie Dont'a Hightower played nine snaps to start the game for the Patriots before leaving the game with a hamstring injury. He looked good early, chasing down Ryan Fitzpatrick for a first-quarter sack.
It was a beautiful play by the rookie. He came untouched from the strong side on an overload blitz. Spiller picked up the blitz well but Hightower dusted him, shoving him into the backfield like a stack of magazines. Then Hightower headed for the QB.
Fitzpatrick bolted off-tackle to the left side, hoping to make something of a broken play. Hightower—showing a great motor—pursued the quarterback, wrapped him up from the back and brought him down behind the line of scrimmage.
It's always great to see your rookies display strength and hustle. Unfortunately, it's just about all we have to judge the young LB. He injured his hamstring on the play and spent the rest of the game on the stationary bike.
His sack deserves an "A" grade, but we can't give it to him based on one play. So we'll have to refrain from evaluating Hightower again until he returns (which will hopefully be soon).
Highlight: His high-motor sack of Fitzpatrick in the first quarter.
Week 4 Grade: Incomplete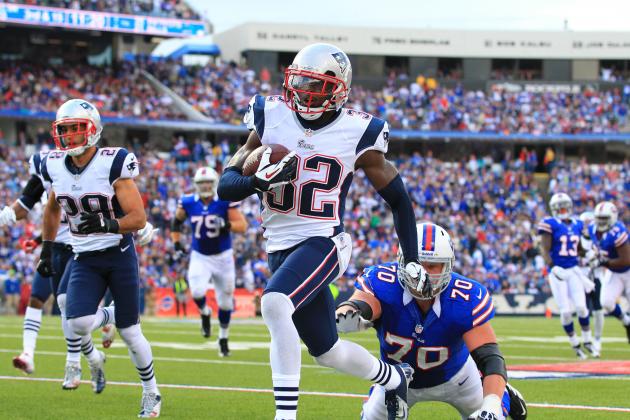 Kevin Hoffman-US PRESSWIRE
Good to have you back, Devin.
Analysis: A quick note to whoever kidnapped the real Devin McCourty after his rookie season and held him hostage all through last year: thanks for bringing him back.
McCourty has played much better this season after a lost 2011. Despite his rough fourth quarter against the Baltimore Ravens in Week 3, he was the Pats' best overall player in coverage that game.
In Week 4, he played even better. McCourty capitalized on opportunities that he failed to take advantage of in Week 3, like when he bungled more than one INT opportunity against Baltimore.
This time, when the plays were there to be made, McCourty made them. He registered two interceptions against the Bills, including a nice play in which he undercut a route by WR Stevie Johnson.
McCourty was solid in pass coverage, allowing only two catches in six targets. He's looked a lot more like his ballhawking, tight-coverage self recently.
He also was solid in run support. He rushed to the line several times to stop plays outside the tackles. He even stuffed a Fred Jackson run behind the line of scrimmage in the second quarter.
McCourty did get lucky on his first pick. His man beat him over the top and Fitzpatrick underthrew the ball, but the third-year CB still played very well in Week 4.
Highlight: McCourty's fourth-quarter pick of Fitzpatrick. He stayed with his man in a deep right-side zone and jumped the route at the last second. Then he made a nice return to set the Pats up in great field-position.
Week 4 Grade: A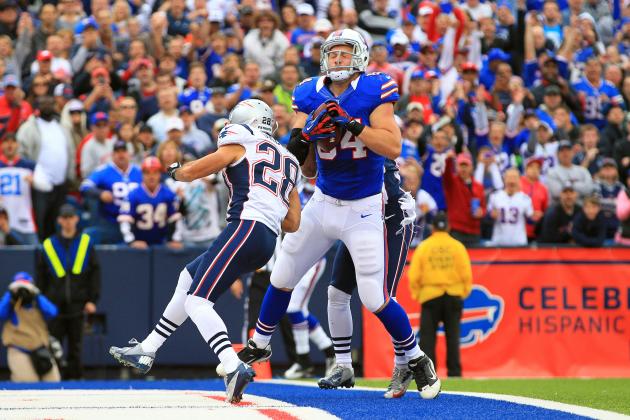 Kevin Hoffman-US PRESSWIRE
Gregory was burned often by the Bills.
Analysis: Gregory was horrible in Week 4.
There might not have been a worse individual defensive performance by New England in the game, which is saying something for a defense that gave up nearly 30 points to the Bills.
This is the second straight game that Gregory has played poorly. It bears asking whether Belichick will turn to second-rounder Tavon Wilson, who has shown great ball skills early (including another INT against the Bills).
Gregory takes bad routes to receivers (including an embarrassing sequence on a 68-yard touchdown pass to Donald Jones in which Gregory got turned around twice), doesn't tackle well and lacks the speed and instincts to provide support to the cornerbacks.
The Bills tore the Patriots apart in the middle of the field. The corners covered the sidelines well, but Buffalo dissected the safeties and linebackers in coverage, particularly with their TEs up the seams.
Gregory has displayed no discernible NFL skills to this point as a Patriot. A change needs to be made at the strong safety position and soon.
They need a guy there who provides support. Right now, they have one who needs it.
Highlight: More like a lowlight. This awful 68-yard touchdown play. A safety simply can't let a ballcarrier dust him like that.
Week 4 Grade: F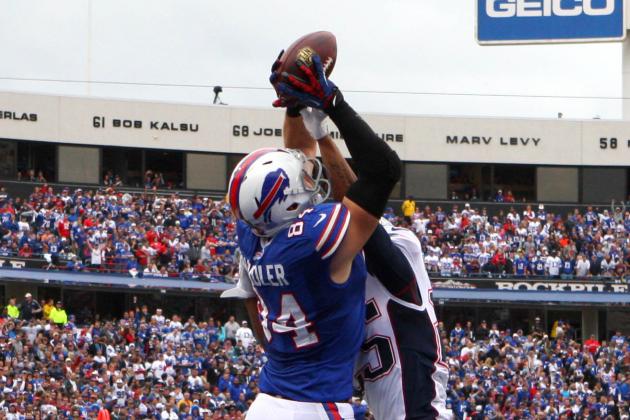 Timothy T. Ludwig-US PRESSWIRE
Chung couldn't get up to make a play on this one.
Analysis: Steve Gregory's partner at safety, Patrick Chung, didn't fare much better.
Chung isn't best utilized in a pairing with Gregory because he's a physical safety more than a coverage one. As an aside, that's another reason to pair him with a coverage guy like Tavon Wilson (a former CB) rather than Gregory.
When Chung is asked to cover the deep middle, he's usually exposed in coverage. He's usually a step late in support and even though he can lay the wood on ballcarriers, he simply doesn't offer much in the way of pass defense.
He's good enough in run support to warrant a starting spot, but the Patriots need to scheme around his weaknesses in coverage. The Bills picked him apart in Week 4, utilizing their TE Scott Chandler's eight-inch height advantage to abuse him on one touchdown throw.
Chung—like Mayo on the fourth-down pass to Fred Jackson—played Chandler tight down the right sideline, but didn't get his head around to make a play on the ball. Chandler caught the ball high and tucked it in for the score.
Chung also took a bad angle on Donald Jones's 68-yard score, whiffing on the tackle.
It's becoming more and more clear the weak link on the Patriots' defense is their safeties. If they don't right the ship this week, Peyton Manning could tear them apart in the middle-third of the field.
Highlight: Another low-light. Where was Chung on Chandler's second TD? How can the Patriots allow such a big target to get open in the middle of the endzone? That was some awful coverage by the safeties.
Week 4 Grade: D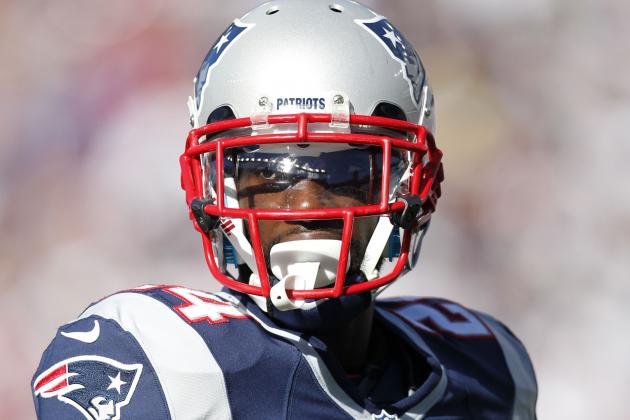 Greg M. Cooper-US PRESSWIRE

Analysis: Kyle Arrington struggled in pass coverage in Week 4, allowing three receptions on four targets for a total of 86 yards (stats per NESN.com).
His biggest gaffe was the 68-yard touchdown strike to Donald Jones. The play started out as a quick slant. Arrington tried to jam the receiver at the line, but then he whiffed and let Jones get a clean release.
Compounding the error, Arrington hesitated and allowed Jones to get behind him. Then, to make things even worse, he whiffed on the tackle, which set up an embarrassing display of safeties missing tackles as Jones waltzed into the endzone.
Arrington did play well against the run, coming up in support to stop rushers off the edge several times. And though he did yield three catches in his four targets, it's also impressive that he was only targeted four times, given that he played 67 snaps.
It wasn't quite a day-to-remember for Arrington, but he wasn't as bad as the safeties behind him.
Highlight: It's one thing to defend the quick slant: Those are tough to cover. But you have to make the tackle once your man catches the ball. Leave him in space, and he might do what Donald Jones did to the Pats—take you to the house.
Week 4 Grade: C