Northwestern vs. Penn State: Complete Game Preview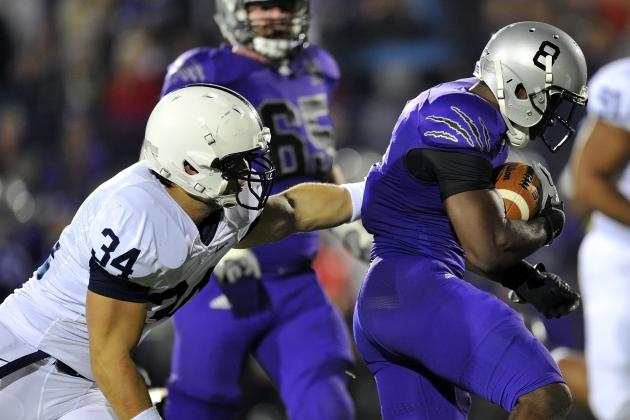 Mike DiNovo-US PRESSWIRE

Since 1993, Penn State and Northwestern have played each other every year with the exception of 1999, 2000, 2007 and 2008.
The Nittany Lions (3-2, 1-0 Big Ten) hold a favorable margin on Northwestern (5-0, 1-0 Big Ten) throughout the years, 12-3.
Bill O'Brien and his crew are hoping to extend their winning streak to four straight games, while the Wildcats are looking to remain undefeated on the season and make themselves eligible for a bowl game.
With that being said, let's break down this matchup between Penn State and Northwestern.
Begin Slideshow

»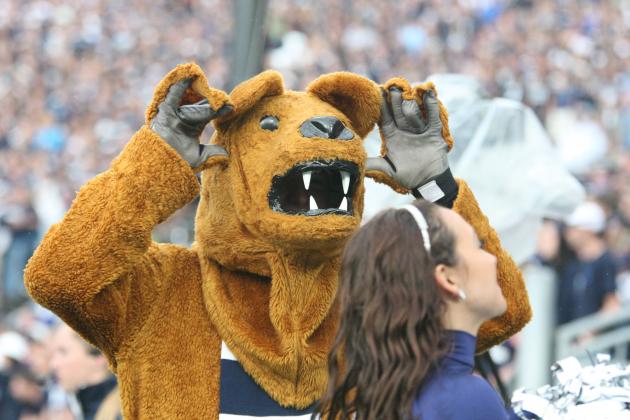 Rob Christy-US PRESSWIRE

Who: Northwestern at Penn State
When: Saturday, 12 p.m. (ET)
Where: University Park, PA
Stadium: Beaver Stadium
TV: ESPN
Radio: ESPN Radio
Internet Stream: ESPN.com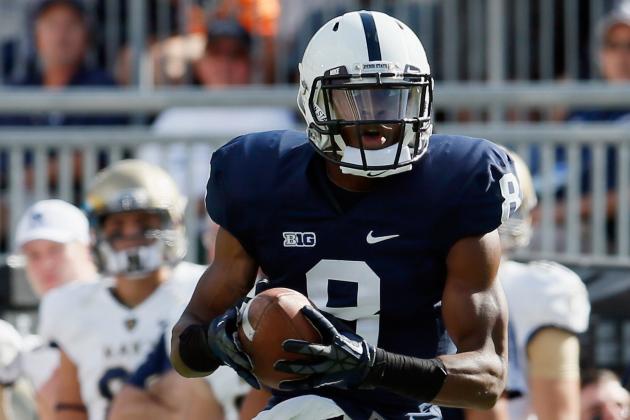 Rob Carr/Getty Images

Offense
QB: Matt McGloin
RB: Bill Belton (along with Zach Zwinak, Michael Zordich and Derek Day)
WR: Allen Robinson
WR: Brandon Moseby-Felder
TE: Kyle Carter
TE: Matt Lehman
LT: Mike Farrell
RT: Adam Gress
RG: John Urschel
LG: Miles Dieffenbach
C: Matt Stankiewitch
Defense
DE: Deion Barnes
DE: Sean Stanley
DT: Jordan Hill
DT: DaQuan Jones
LB: Gerald Hodges
LB: Glenn Carson
LB: Michael Mauti
CB: Stephon Morris
CB: Adrian Amos
S: Stephen Obeng-Agyapong
S: Malcolm Willis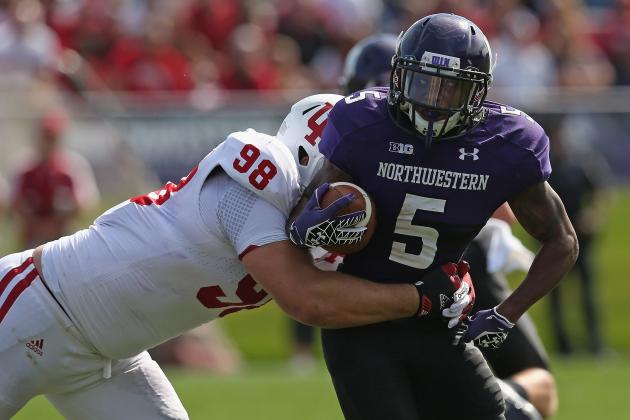 Jonathan Daniel/Getty Images

Offense
QB: Kain Colter/Trevor Siemian
RB: Venric Mark
RB: Dan Vitale
WR: Rashad Lawrence
WR: Tony Jones
WR: Demetrius Fields
LT: Patrick Ward
RT: Jack Konopka
LG: Brian Mulroe
RG: Neal Deiters
C: Brandon Vitabile
Defense
DE: Quentin Williams
DE: Tyler Scott
DT: Brian Arnfelt
DT: Sean McEvilly
LB: Chi Chi Ariguzo
LB: David Nwabuisi
LB: Damien Proby
CB: Nick VanHoose
CB: Quinn Evans
S: Ibraheim Campbell
S: Jared Carpenter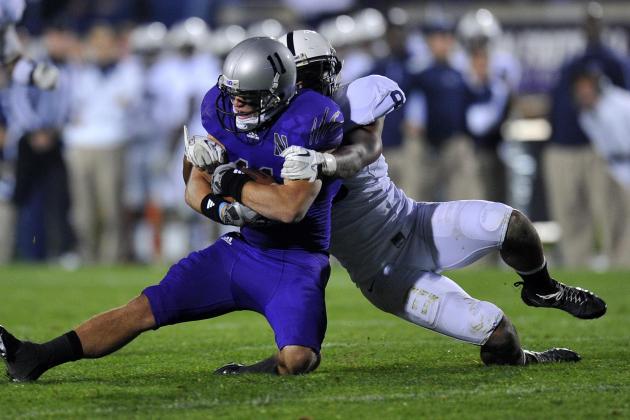 Mike DiNovo-US PRESSWIRE

A win this week for either of these teams would be huge moving forward throughout the season.
When you look at Penn State, national pundits and college football fans in general wrote the Lions off after losses to Ohio and Virginia opened them at 0-2.
However, O'Brien's clan has picked up the slack winning three straight, but their triumphs have been against less-than-stellar opponents (Navy, Temple and Illinois).
With No. 24 Northwestern coming to town, a victory against their stiffest competition so far would be paramount for the Lions' spirits going into the bye week.
In terms of Northwestern, they've beaten BCS-qualifying foes such as Boston College, Syracuse and Vanderbilt in the nonconference slate.
Despite this, an away game in Happy Valley hasn't been kind to the Wildcats historically (only one win in Beaver Stadium).
A win on the road against the Lions on their homecoming weekend would be monumental for Pat Fitzgerald and his gang.
Bradley Leeb-US PRESSWIRE

Key Player: Michael Mauti
This may seem like an obvious pick, but I honestly think Mauti will have to play at a level similar to last week for Penn State to beat Northwestern.
Mauti had a well-documented defensive effort against Illinois, tallying six tackles, combining on a sack and picking off Illini quarterback Nathan Scheelhaase twice.
The senior linebacker earned the Walter Camp National Player of the Week and Big Ten Defensive Player of the Week honors (the second time in the past three games).
However, Northwestern's offense is a complete 180-flip from that of the Illini.
The Wildcats put up 44 points and over 700 yards against Indiana last Saturday.
Out of the 700-plus, 394 of them were rushing yards from the likes of all-purpose machine Kain Colter and wide receiver-turned-running back Venric Mark.
The Lions' front seven is going to have their hands full on Saturday, and Mauti will need to lead this defense if they want to pull out a "W."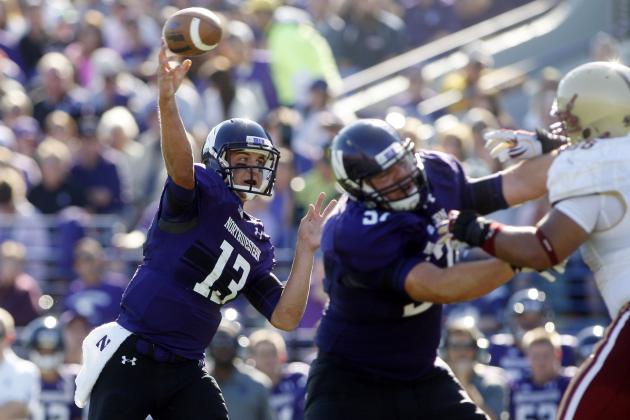 US PRESSWIRE

Key Player: Trevor Siemian
As previously mentioned, Northwestern has had success running the football in the past couple of weeks.
However, the Wildcats are going up against one of the best linebacking corps in the country led by Mauti and Gerald Hodges.
The Lions, who allow only 13.6 points per game on average, have tightened up against the run in recent weeks.
Question: If Venric Mark and Colter are shut down running ball, who will step up for the Wildcats?
Answer: Trevor Siemian.
Siemian, a 6'3" sophomore, is Northwestern's throwing quarterback and could be asked to carry the offensive load if the Lions are playing smart and aggressive rush defense.
The Florida native owns a 69 percent completion rate and 672 passing yards on the season, highlighted by 308 yards against Indiana last week and a late-game comeback against SEC foe Vanderbilt.
If the Lions see Siemian lined up in the backfield at quarterback, he's most likely going to throw it.
The only thing that remains to be seen is...can they stop him?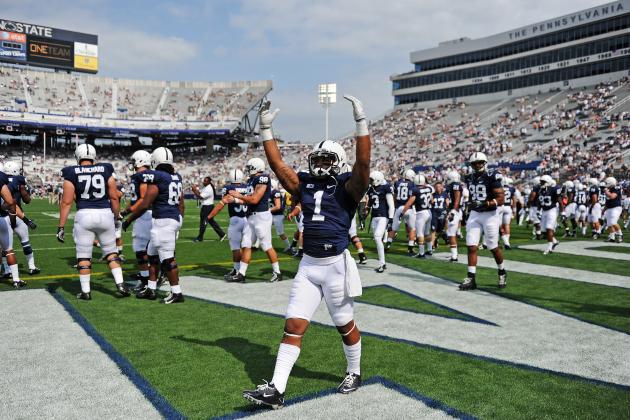 Patrick Smith/Getty Images

Even though Northwestern quarterback Trevor Siemian is a deadly passer, the Lions will be hoping he gets plenty of passing attempts on Saturday.
Because it's going to be almost impossible to shut it down, the Lions will need to limit the Wildcats' running game, especially the tricky play of Kain Colter.
If the Penn State defense can put a relative stop to the rushing aspect, they'll be able to key in on Siemian and expect the pass—making Northwestern one-dimensional and predicable.
On the offensive end, Matt McGloin will need to have a game like he had against Temple (24-of-36, 318 yards, 1 touchdown).
Northwestern is best in the Big Ten against the run (allowing on average 90 yards per game), and if Bill Belton, Zach Zwinak and Co. get the gritty yards, McGloin will be faced with some 3rd-and-long situations.
Expect the former walk-on to look to breakout receiver Allen Robinson and tight ends Kyle Carter and Matt Lehman to run clean routes and make plays.
If the Lions want to win this one, then senior Matt McGloin will have to provide a signature performance on homecoming weekend in order to oust the undefeated 'Cats.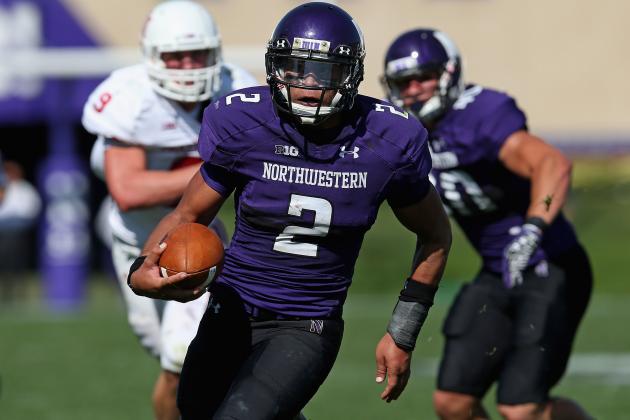 Jonathan Daniel/Getty Images

On the opposite end, Kain Colter and Ventric Mark will need to play like they have been in the past couple of games in order to beat the Lions on the road.
Siemian is a young quarterback with a lot of promise, but to ask him to carry the load is hoping for too much.
Instead, look for Pat Fitzgerald to run the ball and do it often with Mark and Colter to cause Penn State's defense to play off-balance and keep Lions defensive coordinator Ted Roof guessing.
In terms of defense, they'd be smart to key in on the run against the Lions.
While McGloin has played surprisingly well (fourth in total offense in Big Ten), the Lions did so well offensively against Illinois last week because the passing and running game complemented each other.
Sure, McGloin passed the ball efficiently (18-of-30, 211 yards, 1 touchdown, 0 INTs), but the running by Zach Zwinak (19 carries, 100 yards, 2 touchdowns) and Bill Belton (16 carries, 65 yards) paved the way toward offensive balance against the Illini.
If Northwestern is able to neutralize the run and make McGloin pass 40 times, the Wildcats' chances at victory will be pretty favorable.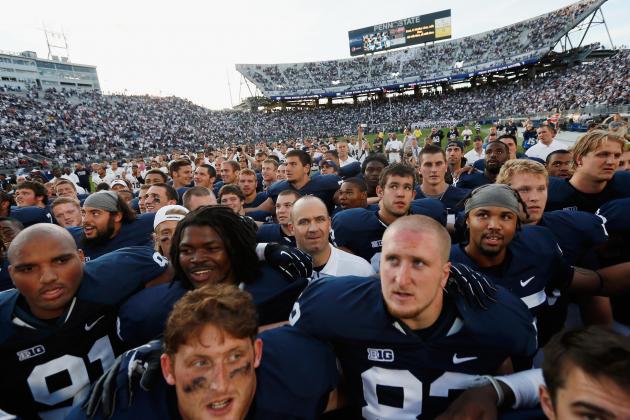 Rob Carr/Getty Images

Everybody remembers the iconic Penn State-Northwestern game in Nov. 2010 when the Nittany Lions rallied from 21 down to beat the Wildcats for Joe Paterno's then-400th career win.
This Saturday will be quite different circumstances than the last time Northwestern visited Beaver Stadium, but I think it will result in a similar outcome.
While Penn State has been ridiculously good in first quarters this season (outscoring opponents 49-0), I think that Northwestern will jump out early and score 14 points while Penn State's defense adjusts to Kain Colter and Co.
However, look for Michael Mauti and the Penn State linebackers to dig in and make key adjustments in the second half of this one.
I think the defensive effort combined with fourth quarter heroics by the McGloin-Robinson connection will lead the Lions to a victory over No. 24 Northwestern.
Prediction: 27-24 Penn State