Tennessee Football: Ranking the 5 Biggest Changes Derek Dooley Needs to Make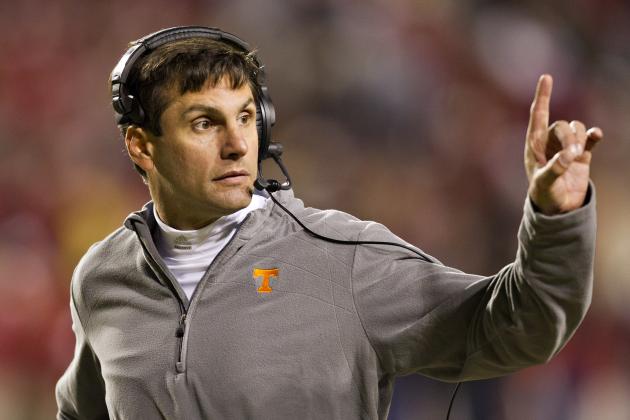 Wesley Hitt/Getty Images
Tennessee head coach Derek Dooley.
Derek Dooley's tenure as head coach has not been considered, by many, to be a success. To this point it hasn't been a great success, but it also hasn't been a abject failure.
There are many Volunteer faithful that, on a daily basis, are calling for him to be removed from his position. Even some writers on this site are doing the same.
His record against ranked teams and in the SEC have been thrown out so much that there is no need to repeat it.
There are changes that Dooley needs to make in order to remove himself from the hot seat he is currently on. These changes will go a long way toward endearing him to Vols fans.
Some of these changes need to take place with the team as a whole, while the others are things that need to change about himself.
Begin Slideshow

»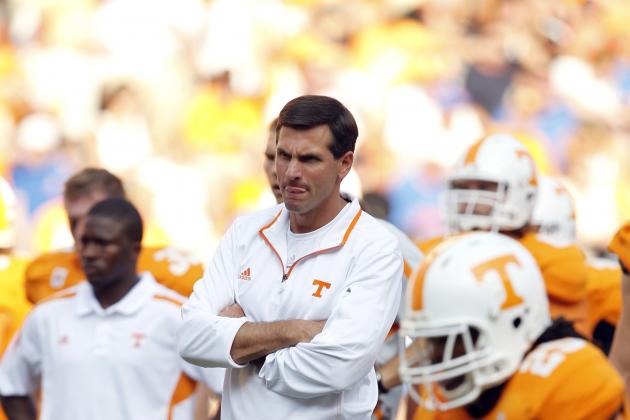 John Sommers II/Getty Images

Tennessee is a team that is perceived as quitters. They have gained this because in certain games it appears they have laid down and given up.
The most recent example of this is the final 18 minutes against Florida. For all intents and purposes, the Vols relented to the onslaught that the Gators put on them.
Steps in the right direction were made in their last game against Georgia. They fought the entire game and almost came up with the upset.
This is not a perception that can be shaken overnight. Tennessee will have to continue to show this level of fight the rest of the season.
This ties in directly to Derek Dooley. He has to continue to push the team to do this.
Breaking the perception that the Vols are quitters will go a long way to getting Dooley where they want to be.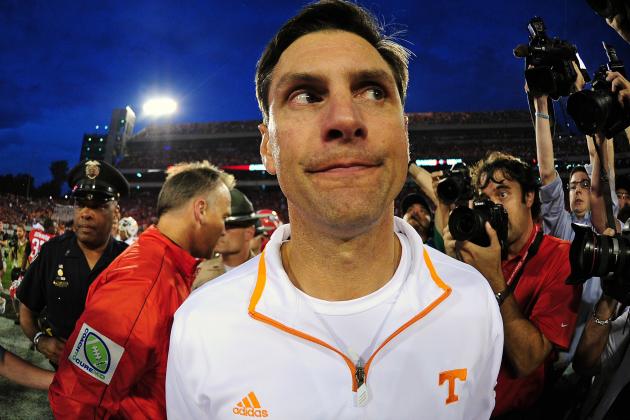 Scott Cunningham/Getty Images

From all accounts, Derek Dooley is considered to be a very intelligent man. This in evident in the way he carries himself and speaks in interviews.
However, he is not considered to be a big-time coach, especially not an SEC-level coach.
It's been said that he has been out coached on numerous occasions, and it's hard to argue with the point.
There are two things that will help Dooley change the perception about him.
The first is to win a big-time game within the conference. So far this season there have been two opportunities for just this. Both have ended up as losses for him.
The second is to win a game that Tennessee isn't supposed to. This would mean upsetting teams like Alabama or South Carolina. Both of these are daunting tasks to be sure.
These are the things that must be done if the perception about him is to change.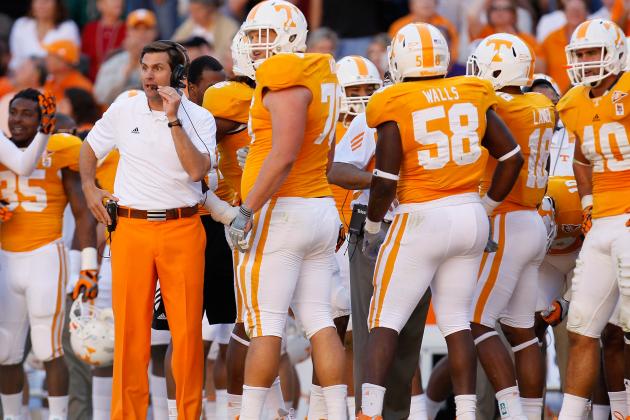 Kevin C. Cox/Getty Images

It's no secret that the weakness of the Tennessee team this season is its defense. It has been gashed by a lot of big plays this season, especially running plays.
Most fans know that it takes into the second year to see results after changing to the 3-4 defense.
If Derek Dooley wants to right his ship, results will need to come a lot faster than into the second year. He needs results now.
Any chance for this team to be successful hinges on this. The offense can put up enough points to win, but the defense gives up more than it can score.
It is unclear what he will have to do in order to get this accomplished. Whatever it is, it needs to be done quickly.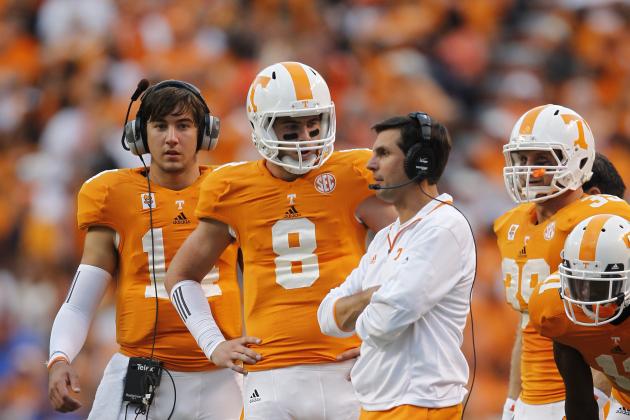 John Sommers II/Getty Images

Derek Dooley's quarterback is well known for his nonchalance when it comes to the importance of things with this football team.
He is constantly having to reassure fans and the media that Tyler Bray does care. That's not a good thing having to remind everyone of this.
This all ties in with Bray's erratic play when the team is trying to come from behind. He has a tendency to make multiple mistakes and break down fundamentally in these cases.
Dooley needs to find some way to get inside of Bray's head, otherwise it will not be good for him. His fate is tied to how well Bray is able to perform, so he must get through to him.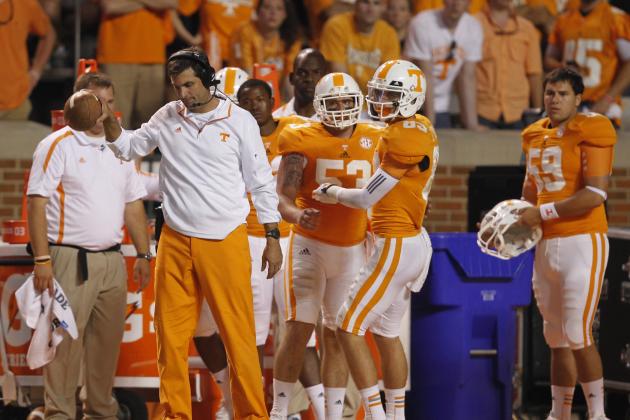 John Sommers II/Getty Images

Saying that Tennessee's kicking this season has been atrocious would be a large understatement. It is probably the worst aspect of the team this season.
Missing long field goals from time to time is acceptable, but the Vols are doing much worse. The team has missed four extra-point attempts on the season, and it doesn't appear to be getting any better.
It's to the point of fans calling in to radio shows suggesting that the team abandon the kicking game all together and just start trying for two after every score.
In most SEC games, points are at a premium and the ability to consistently kick field goals decides more than its fair share of games.
There is always the option of holding open tryouts, but that usually doesn't yield any results.
Suggestions of sports psychologists have been floated around the help the kickers mentally, but this may not be the answer either.
The answer is not clear, but one way or another, this is something that needs to be corrected.