Arsenal vs. Olympiakos: Champions League Live Score, Highlights, Recap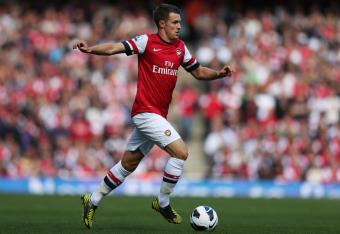 Richard Heathcote/Getty Images
UEFA Champions League Group B Live Updates
Arsenal 3-1 Olympiakos (full time)
Arsenal: Vito Mannone; Carl Jenkinson, Thomas Vermaelen (capt.), Laurent Koscielny, Kieran Gibbs; Francis Coquelin, Mikel Arteta, Santi Cazorla; Alex Oxlade-Chamberlain (Theo Walcott 71'), Lukas Podolski (Aaron Ramsey 80'), Gervinho (Olivier Giroud 80')
Olympiakos: Balazs Megyeri; Giannis Maniatis (capt.), Paulo Machado (Marko Pantelic 81'), Pablo Contreras, Jose Holebas; Kostas Manolas, David Fuster, Dimitris Siovas, Drissa Diakite (Ariel Ibagaza 73'), Leandro Greco (Djamel Abdoun 67'); Kostas Mitroglou
GOALS: Gervinho (ARS) 42', Mitroglou (OLY) 45', Podolski (ARS) 56', Ramsey (ARS) 90'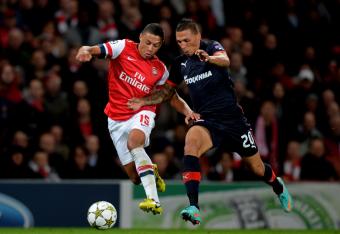 FULL TIME
ARSENAL 3, OLYMPIAKOS 1
There's the final whistle, and Arsenal have won. It wasn't easy, and the scoreline is a bit flattering, but the Gunners deserve the win in the end.
Gervinho and Podolski scored the goals, with Gervinho involved in the build-up to the second as well. The Gunners were sloppy in the first half but woke up in the second.
There were still a few worrying moments after halftime, but all in all, it was a much-improved display after a poor first half.
Coquelin seemed to pull up with an injury right at the end. We'll have to keep an eye on that as it develops.
So the Gunners have six points from two Champions League matches. They haven't always played well, but results matter.
90+4—GOAL! ARSENAL!
Ramsey completes the win with a brilliant chip!
Mannone takes a goal kick long, Ramsey runs on, beats a defender and chips over the goalkeeper.
Great, great goal from Ramsey.
90'—ARS 2, OLY 1
Three minutes of stoppage time…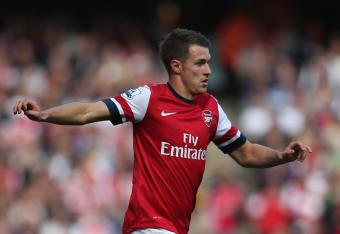 89'—SHOT!
Ramsey flashes a shot wide of the near post. It wasn't all that close, but it looked pretty.
Both Ramsey and Giroud have been dangerous since coming on.
88'—ARSENAL CHANCE!
Cazorla and Ramsey combine on a clever short free kick routine. Cazorla races to the endline and pulls back for Giroud, whose shot is blocked.
There was a hint of handball, but nothing from the ref.
87'—ARS 2, OLY 1
Walcott dribbles into the box and tries to pick out Cazorla. The timing is slightly off and the chance passes.
Arsenal almost home. Can the Gunners hold on?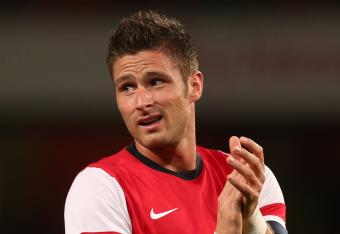 83'—ARS 2, OLY 1
Koscielny backs off Abdoun, allowing the Olympiakos forward some time on the left. His cross is right at Mannone.
On the other end, Giroud gets on the end of a cross and redirects the ball on goal. The keeper saves well, but that was a nice touch from Giroud.
80'—ARSENAL SUBS
Aaron Ramsey and Olivier Giroud enter the match. Gervinho and Lukas Podolski, the two scorers, make way.
Gervinho receives an earful from the ref on his way off the pitch.
Ten minutes left. Can the Gunners seal this one?
78'—ARS 2, OLY 1
Cazorla takes a corner for Arsenal from the right. Koscielny makes contact, but he can't get a good header on goal. The keeper collects.
76'—ARS 2, OLY 1
Arteta springs Gervinho behind the offside trap with a ball over the top.
Gervinho's first touch is awful, and he loses the ball out of bounds with nobody near him.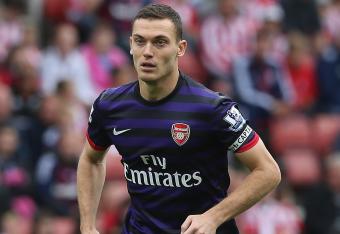 75'—ARSENAL CHANCE!
Theo Walcott receives the ball on the right side of the box and pulls back for Thomas Vermaelen, who has ventured forward from defense, in the middle.
The keeper collects just in time, and Vermaelen races back to cover.
73'—OLYMPIAKOS SUB
Another change for the visitors.
Ariel Ibagaza replaces Drissa Diakite.
71'—ARSENAL SUB
Alex Oxlade-Chamberlain leaves the match. Theo Walcott enters.
Can Walcott's speed bring Arsenal a third goal?
70'—ARS 2, OLY 1
Arsenal's defense gives the ball away again, but Olympiakos give it right back.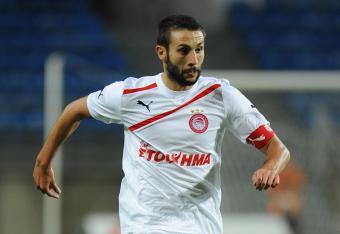 67'—OLYMPIAKOS SUB
Djamel Abdoun comes on. He probably would have started if fully fit.
Greco, who supplied the assist on Olympiakos' goal, heads off.
Abdoun is heading up top to help out with Mitroglou. Olympiakos going for it at the Emirates.
65'—PENALTY APPEAL
On the other end, Jenkinson runs into Greco with a clumsy challenge. No call.
It's a corner for Olympiakos, and they take it short. Arsenal are slow to react but eventually clear.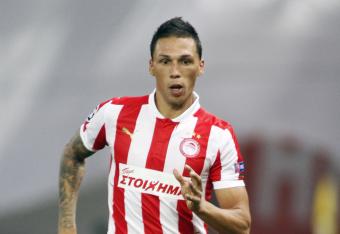 64'—PENALTY APPEAL
Holebas topples Alex Oxlade-Chamberlain in the box, but the referee waves play on.
Was it the right call? Looked like Holebas used his arms, not just his shoulder.
63'—YELLOW CARD AND MISS!
Contreras goes into the book for a hip check and tackle on Coquelin.
On the free kick, Koscielny heads the ball over the bar from close range. It should be 3-1.
58'—ARS 2, OLY 1
First Podolski, and then Gervinho whistled for offside as Arsenal push forward more.
This is much better from Arsenal, who finally seem to have awakened.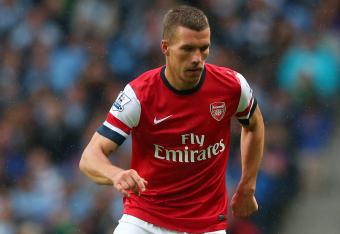 MORE ON THE GOAL
Cazorla frees Gervinho with a through-ball on the left. Gervinho's first cross is cut out, but the ball heads right back to him.
Gervinho dribbles deep into the box and pulls back for Podolski, who puts the ball through the keeper's legs.
Nice work from Gervinho, and a good finish from Podolski. Arsenal needed that.
56'—ARSENAL GOAL!
Podolski puts Arsenal back ahead! Gervinho heavily involved in the buildup
54'—SHOT!
Mitroglou has a shot from way out after a quick free kick. His 30-yard shot is hit well, but it's wide of the near post.
That's a warning for Arsenal.
52'—ARS 1, OLY 1
Gibbs cuts out a pass on the edge of Olympiakos' box and slips a pass to Gervinho.
Gervinho is whistled for offside in a tight decision.
This is better from Arsenal. More pressure. More energy. Better approach.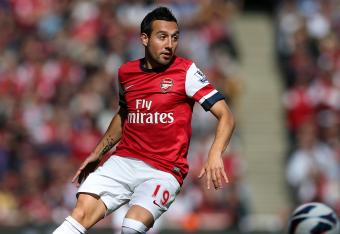 50'—ARSENAL MISS!
Podolski slips the ball (from the ground) to Gervinho on the left. Gervinho cuts back for Cazorla, who has a free look at goal.
Cazorla hits his first-time shot wide of the post. What a miss!
48'—ARS 1, OLY 1
Coquelin takes a knock from Mitroglou's forearm in a midfield challenge. He's fine after a few moments.
This article is
What is the duplicate article?
Why is this article offensive?
Where is this article plagiarized from?
Why is this article poorly edited?