Florida State vs. N.C. State: Complete Game Preview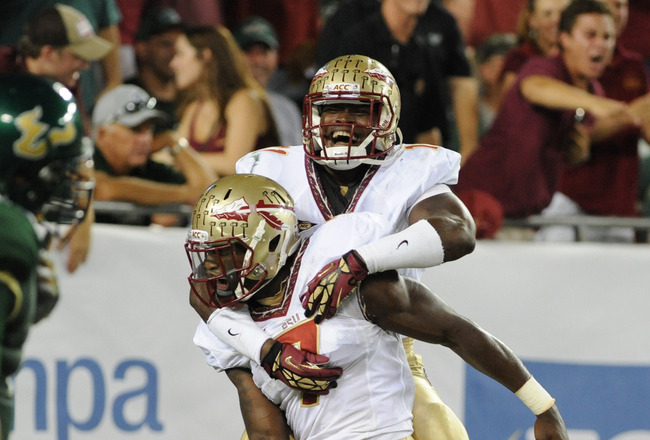 The Seminoles rejoiced en route to a 30-17 victory over USF.
Al Messerschmidt/Getty Images
For the first half of the USF game, Florida State either got its fans angry enough to have a heart attack or scared enough...to have a heart attack.
I admit, I was almost as furious as this Arkansas fan.
In spite of the erratic first half, the Seminoles put a strong second-half performance and sealed the game midway through the fourth quarter.
In addition, Florida State finally got some deserved praise from the AP Top 25 poll. Jimbo Fisher's squad, which had obviously outperformed LSU on a far larger stage (for the second week in a row), is now No. 3 in the nation. It is the first time since November 2003 that the Seminoles have been a Top Three team.
Yes, times are good in Tallahassee.
But can times be as promising on the road? Will Bobby Bowden's Road Warriors be paid homage in Raleigh on Saturday by this generation's 'Noles?
Tune in to find out.
Gameday Information

The Seminoles were downed 28-24 last time in Raleigh.

Who: Florida State at N.C. State
When: Saturday, 8:00 PM
Where: Raleigh, North Carolina (Mapquest it)
Stadium: Carter-Finley Stadium
TV: ESPN2
Radio: Sirius XM (among others)
Locally: Check out Seminoles.com's listing to the left
Internet Stream: Not applicable
Florida State Depth Chart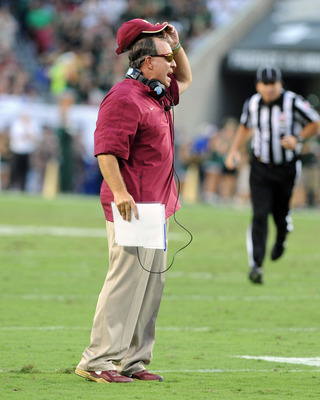 Jimbo Fisher's depth chart is as deep as ever.
Al Messerschmidt/Getty Images
Florida State has the same familiar set-up.
The Seminoles are talented enough with quarterback E.J. Manuel, running back Chris Thompson, and defensive ends Bjoern Werner and "Tank" Carradine to keep the Seminoles running well.
N.C. State Depth Chart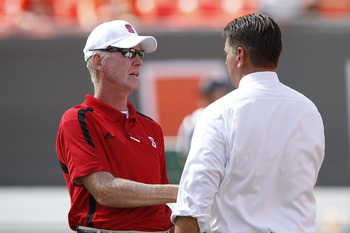 Tom O'Brien has a strong, but not exceptional, roster.
Joel Auerbach/Getty Images
North Carolina State's Wolfpack is talented, but nowhere near FSU's talent level.
Russell Wilson isn't quarterback anymore, even though we see him in some non-controversial highlights.
Quarterback Mike Glennon is talented, but already has 6 interceptions to go along with his ten touchdowns.
What Happened to the Seminoles Last Week
Florida State and USF were pugilists in South Florida.
Al Messerschmidt/Getty Images
Florida State has proven it can handle games on the road.
Still, it wasn't pretty. I will say that again and again, but even Alabama trailed Ole Miss.
FSU got the experience of a road game and won 30-17. E.J. Manuel avoided critical interceptions, and Dustin Hopkins did (mostly) well on kicks, though he missed his first field goal attempt in what could have caused a momentum shift in USF's favor.
With LSU's atrocious performance against Clemson, the Seminoles moved up to 3rd in the AP Top 25, and emerged 5-0 for the first time since 2005.
What Happened to N.C. State Last Week

Miami won an ACC shootout against the Wolfpack last weekend.

N.C. State fell to Miami in Miami Gardens 44-37. I won't kid you, the Wolfpack have not been that successful on the road. Miami was only the latest in that line of defeats.
The Wolfpack clawed their way back from an eleven-point deficit multiple times, and if it wasn't for Miami quarterback Stephen Morris's ACC-record 566 passing yards and a touchdown in the final minute, the Wolfpack could have won their first ACC game of the year.
What It Means to Both Teams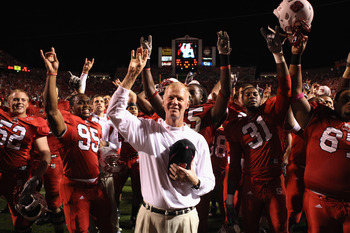 N.C. State could use a confidence boost for its bowl hopes.
Streeter Lecka/Getty Images
For Florida State, the goal is simple. Win every game and hope that Oregon loses.
For N.C. State, it's a bit more complicated. The Wolfpack, who were supposed to beat Tennessee and make some noise in the ACC Atlantic, have fallen on a mediocre 3-2 (0-1 ACC) start. The Wolfpack were outdone by the Volunteers, who have admittedly improved. The Wolfpack's dreams of maybe making a run at a 10-or-more win season have dampened considerably, and some had thought they could shock the Seminoles in Raleigh, which has been a tough venue for Florida State even during its dynasty years.
Still, the Seminoles could lose, although it's unlikely. While Tom O'Brien's team has struggled on the road (losses to Tennessee and Miami) they have been competitive. Nevertheless, losing a marquee game at home could deflate the team, and with back-to-back road games and Clemson still ahead, an FSU victory would put pressure on N.C. State to make a bowl trip this season.
Key Player for Florida State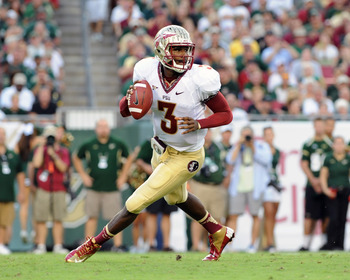 E.J. Manuel--shockingly--is the variable to FSU's success.
Al Messerschmidt/Getty Images
I am sorry for all of you who would like to see another player than E.J. Manuel be the key player. But he isn't in the Heisman race for no reason.
Bjoern Werner could take Mike Glennon out of the game, but the defense will pretty much stop anyone. Heck, it contained Sammy Watkins (enough) to get FSU a win two weeks ago.
E.J. Manuel, like Stephen Morris and Tyler Bray, can continue to prosper through the air, gashing the Wolfpack defense early and often.
A case could be made for punt returner/receiver Rashad Greene, who could be an x-factor if the offense gets languid.
Key Player for N.C. State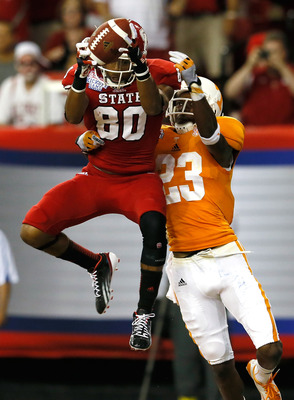 Bryan Underwood has been Mike Glennon's go-to receiver.
Kevin C. Cox/Getty Images
Bryan Underwood has caught touchdown passes in every single Wolfpack game so far. With Mike Glennon's underwhelming stats (10 touchdowns, 6 interceptions), Underwood has to make the difficult catches and get the yards after catch against a blistering Seminoles' defense.
Florida State Will Win If...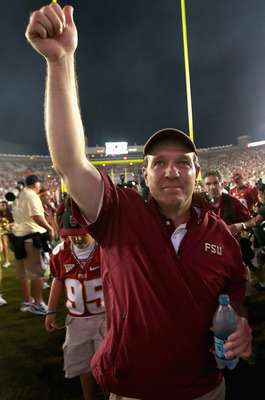 Jimbo Fisher wants to boost his career resume against N.C. State.
Streeter Lecka/Getty Images
1. E.J. Manuel avoids the pick.
2. Rashad Greene has a monster day to keep the team motivated.
3. Play-action passing and Chris Thompson are used in adequate doses.
N.C. State Will Win If...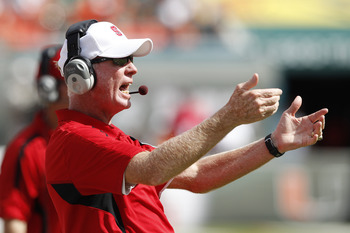 Tom O'Brien can have N.C. State take the next step vs. FSU.
Joel Auerbach/Getty Images
1. Mike Glennon hits Underwood often.
2. Underwood does not get injured.
3. The offensive line keeps Bjoern Werner away from Glennon.
4. The defense picks off E.J.'s questionable passes.
Prediction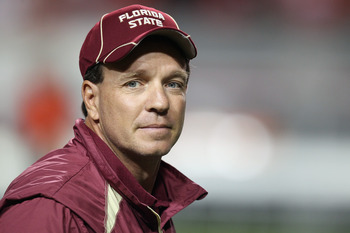 Florida State will outdo their Raleigh hex.
Streeter Lecka/Getty Images
Prediction: Florida State 31, N.C. State 14
The Seminoles will end their heartbreaks in Raleigh by tearing Mike Glennon apart with the help of Bjoern Werner.
N.C. State will get on the board, but the Seminole defense is so talented that only the excellent players at Clemson have been able to make a dent.
Keep Reading

Florida State Football: Like this team?