Giants vs. Eagles: How Poor Coaching Set Up a Crushing Loss for Big Blue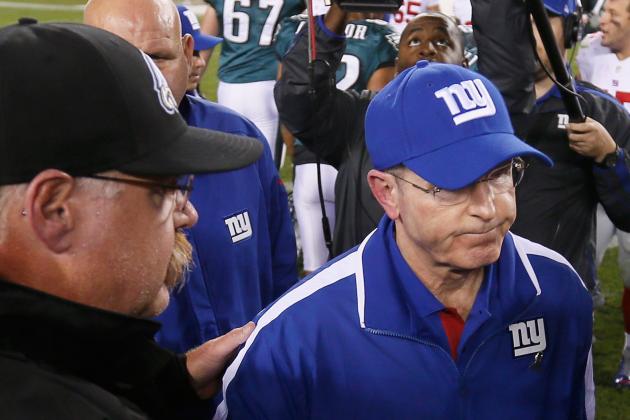 Rob Carr/Getty Images

The New York Giants suffered their second divisional loss last Sunday night to the Philadelphia Eagles, and this one was all on Tom Coughlin's staff.
The usually reliable leaders of the reigning Super Bowl champions played a prominent role Sunday, and for all the wrong reasons. The Giants were in a position to invade their rival's home turf and come away with a win that would place them atop their division.
Instead, they're at 2-2, without a divisional win in two tries this season, and Tom Coughlin doesn't have to look far to point the blame.
Coughlin acknowledged this in comments to ESPN New York, saying, "Put the blame right here, it is right where it should be. The game was in hand, we let it get out of hand."
Here's how the Big Blue coaching crew let this one slip right through their fingers.
Begin Slideshow

»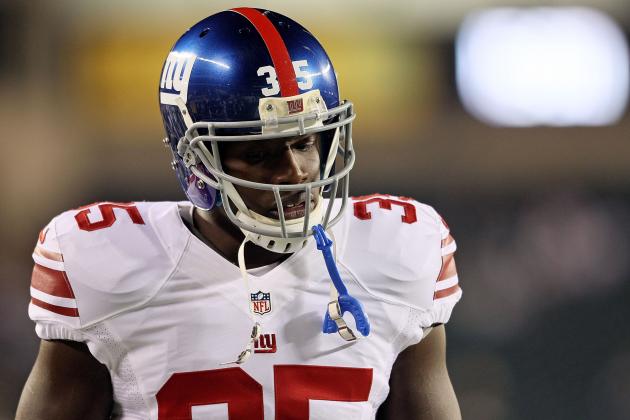 Alex Trautwig/Getty Images

In his first career start against the Carolina Panthers, Andre Brown rushed for 113 yards on 20 carries and scored twice.
The very next week, he touched the ball six times.
Against the Birds, Brown had five carries for 14 yards, and caught an Eli Manning pass for a gain of four. This was because Ahmad Bradshaw returned from injury and got the start—he managed 77 total yards on 16 touches against the Eagles.
After the sort of week Brown had against Carolina, however, it's debatable whether Bradshaw should've gotten the call to start—regardless of his health.
And that's not a disservice to Bradshaw, it's common sense: Backs who displayed the skills Brown did in Week 3 are feature backs.
At the very least, they touch the ball more than six times.
Ahmad Bradshaw has proven he belongs as a starter in the NFL, but Week 4 was Brown's time to shine after how he helped the Giants win in Week 3.
Tom Coughlin and the Giants staff took it away from him.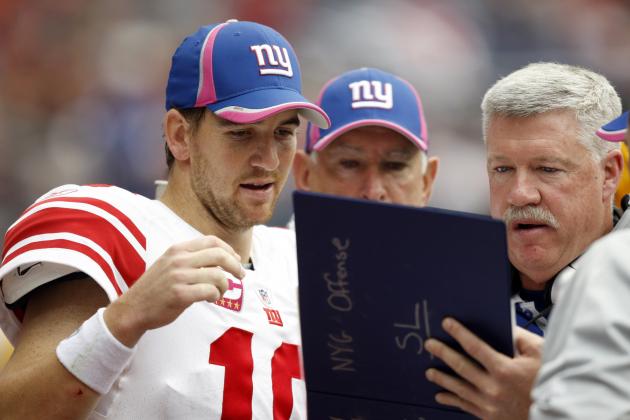 Bob Levey/Getty Images

Since last season, Eli Manning's offense has relied on shorter crossing routes as their most dependable means of gaining yards.
Offensive coordinator Kevin Gilbride strayed from his usual tendencies Sunday.
If you take a look at the Giants' pass target chart from their win against Carolina (via Pro-Football Reference) you'll see that the Giants were very productive with deep pass patterns (5-for-5).
Against Philadelphia however, Gilbride took more chances downfield, with little success.
But that didn't stop him from trying.
According to Pro-Football Reference's chart, Manning targeted his receivers on deep routes nine times, connecting on only three passes.
Counting plays that were called back due to penalties, there was a total of 11 unexecuted passing plays of more than 20 yards that resulted in incompletions.
Three of those led directly to punts, and one was the last offensive play the Giants ran (more on that later). Not to mention, Manning's fourth quarter hurl to the back of the end zone that was intercepted by Dominique Rodgers-Cromartie.
Conversely, nine of Manning's passes on underneath routes resulted in gains of at least 10 yards.
One attempt to Ramses Barden on a slant resulted in defensive pass interference in the fourth quarter, and Victor Cruz's touchdown was scored on a slant route.
On 4th-and-1 in the fourth quarter, Manning dumped the ball to Cruz on a slant, and he subsequently ran for a 38 yard gain. There were two instances where Manning changed the call at the line to a short passing route—both resulted in first downs.
As you can see, sticking to the usual plan wouldn't have hurt the Giants on Sunday.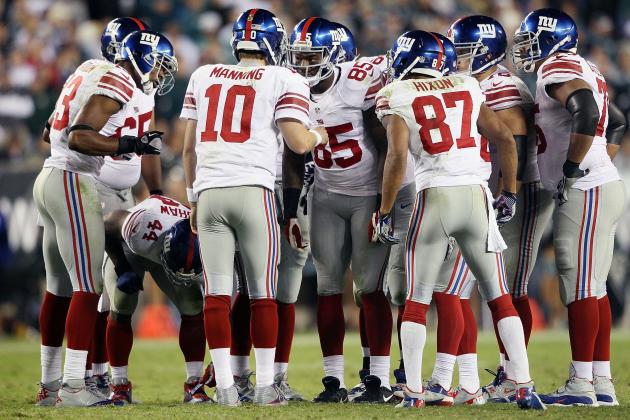 Alex Trautwig/Getty Images

The last offensive play the Giants ran came with 15 seconds left in the game (more on that in a bit, but first things first)on 2nd-and-19 from the Philadelphia 36-yard line.
Instead of a more high-percentage, shorter play to the sidelines to make a potential game-winning field goal more reasonable for Lawrence Tynes, Eli Manning tossed it deep towards the end zone to Domenik Hixon, to no avail.
Tynes then attempted two 54-yard field goals (he was iced once by Andy Reid), and missed them both—one wide left and one short—to seal the game for the Eagles.
The last playcall was the first issue with the Giants' last sequence.
The second issue is the fact that it was their last play.
Tom Coughlin was out of timeouts, after having to burn one in the third quarter to avoid a delay of game penalty and using the other two during the Eagles' previous drive. Coughlin elected to send his field goal unit onto the field on third down, with 15 ticks remaining.
Coughlin's thought process was that risking a play where a receiver wouldn't manage to stop the clock would be too big of a gamble, as the field goal team would then have less than 10 seconds to take the field, line up and get the ball snapped.
What Coughlin neglected to consider is that Eli Manning has won two Super Bowl MVP awards and should, by now, have the trust of the coaching staff.
Would Eli fire off a last-second pass if he wasn't 100 percent positive that his receiver could get out of bounds?
Doubtful.
Coughlin admits he has had second thoughts since the miscue.
"If I were to do it over myself, would I be as conservative with the 15 seconds? Not this morning," Coughlin said to ESPN New York on Monday.
Follow John Dorn on Twitter at @JSDorn6 for more Giants chatter.