Bleacher Report's Minor League Baseball Awards for 2012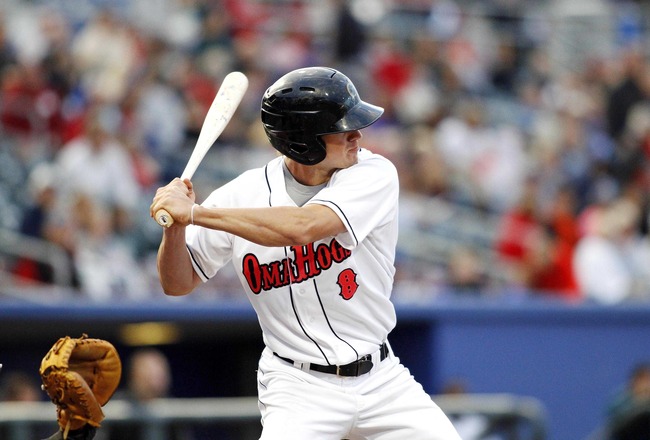 Matt Ryerson-US PRESSWIRE
Even though the 2012 minor-league season is complete, the end-of-the-year awards continue to roll out. In the last week, I reviewed both the All-Star and all-disappointment teams from every minor-league level and weighed in on the five leading candidates for the Minor League Player of the Year award.
Today, however, I thought I'd assign some more superlatives to deserving players for their outstanding respective 2012 seasons.
So, before the minor-league season becomes a distant memory, here are some final thoughts on baseball's top prospects.
Best Breakout Performer: Alen Hanson, SS, Pittsburgh Pirates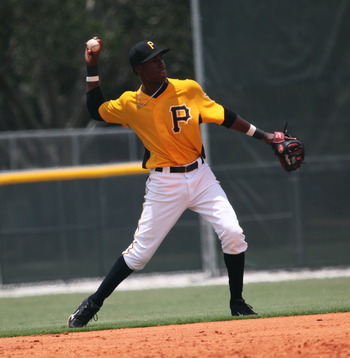 Courtesy of MLBProspectWatch.com
All of Hanson's tools were on display this season at Low-A West Virginia. As the team's everyday shortstop, the switch-hitter batted .309/.381/.528 with 151 hits, 62 extra-base hits (16 home runs) and 35 stolen bases in 124 games. He has a quick, effortless swing from both sides of the plate that should allow him to hit for both a high average and slightly above-average power by the time he reaches the major leagues.
Biggest Disappointment: Julio Teheran, RHP, Atlanta Braves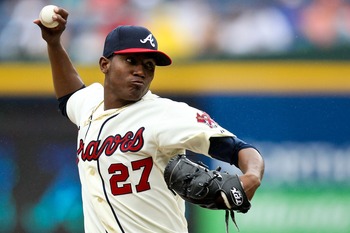 Daniel Shirey-US PRESSWIRE
Regarded as one of the top pitching prospects in baseball headed into the season, Teheran seemingly never bounced back following an ugly spring training.
In his second straight season pitching for Triple-A Gwinnett, the 21-year-old did nothing but regress with a 7-9 overall record, 5.08 ERA, 10.0 H/9, 1.2 HR/9 and 6.7 K/9.
Best Power Pitcher: Dylan Bundy, RHP, Baltimore Orioles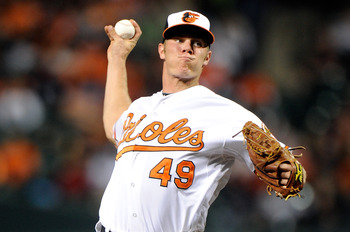 Greg Fiume/Getty Images
Bundy began his momentous season at Low-A Delmarva, where he did not allow an earned run over 30 innings while recording 40 strikeouts compared to only two walks.
The 19-year-old was absolutely overpowering at every stop this season, with reports of his fastball flirting with triple digits and epic GIFs of his breaking ball.
Best Command: Clayton Blackburn, RHP, San Francisco Giants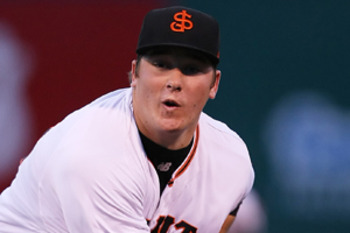 Courtesy of MiLB.com
After a brief but impressive professional debut last season in the rookie-level Arizona League, the 6'3", 220-pound right-hander executed pinpoint control in his first full campaign.
Only 19 years old, Blackburn recorded 143 strikeouts while issuing only 18 walks in 131.1 innings spanning 22 starts.
Best Power Hitter: Wil Myers, OF, Kansas City Royals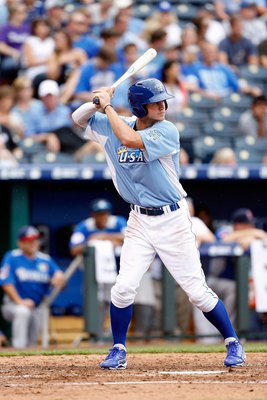 Jamie Squire/Getty Images
Coming off a disappointing season that featured time lost due to a lingering knee injury and a .745 OPS in 99 games, many scouts questioned Myers' power and overall potential at the plate.
After a monstrous Arizona Fall League, the 21-year-old appeared to be back on track, as he went on to post a 1.146 OPS in 35 games in Double-A to open the 2012 season. He was promptly awarded with a promotion to Triple-A, where he spent the remainder of the season.
Myers certainly quieted his preseason skeptics, as he finished the 2012 season with a .314/.387/.600 slash line, 26 doubles, 37 home runs (second-highest total in the minors), 109 RBI and 140/61 K/BB in 134 games.
Best Overall Hitter: Oscar Taveras, OF, St. Louis Cardinals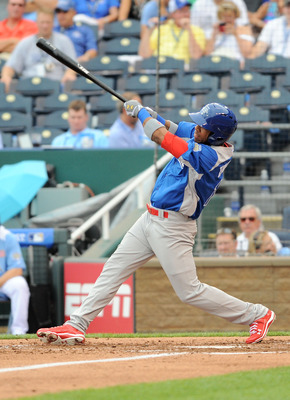 Denny Medley-US PRESSWIRE
With incredibly strong wrists and some of the best hand-eye coordination I've ever seen, 20-year-old Oscar Taveras is, in my opinion, the best hitter in the minor leagues. He walks nearly as much as he strikes out and makes more consistent, hard contact than a lot of big-league hitters.
The left-handed hitter's power developed in the face of advanced competition this season, as he batted .321/.380/.572 with 67 extra-base hits (23 home runs), 94 RBI and 56/42 K/BB in 124 games.
Most Improved Hitter: Myers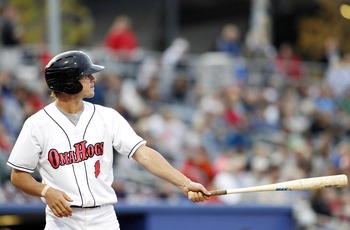 Matt Ryerson-US PRESSWIRE
After posting a .934 OPS with 54 extra-base hits in his full-season debut between Low-A and High-A in 2010, the catcher-turned-outfielder only played in 99 games the follow year. Myers suffered a gash to his knee early in the season that ultimately became infected and robbed him of his mojo at the plate.
Swinging the bat like a man on a mission, Myers rebounded in a major way, launching 37 home runs (second-best total in the minor leagues) between Double-A and Triple-A.
Next Year's Mike Trout/Bryce Harper: Myers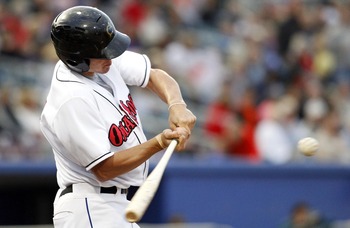 Matt Ryerson-US PRESSWIRE
Myers will be entering his age-22 season in 2013 and, although it's uncertain, could conceivably make the team with a strong spring training. He's an elite offensive prospect with the potential to be a major run-producer in the Royals' order for years to come.
Best Leadoff Man/On-Base Guy: Adam Eaton, OF, Arizona Diamondbacks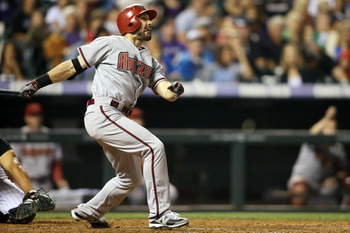 Chris Humphreys-US PRESSWIRE
After batting .381/.456/.539 with 119 runs, 186 hits, 58 extra-base hits, the undersized (5'8", 185 pounds) outfielder was named both the Rookie of the Year and Most Valuable Player of the Pacific Coast League (Triple-A).
In addition to his impressive campaign with the bat, the left-handed hitter also tallied 59 walks and was hit by 20 pitches while serving as the team's leadoff hitter.
He was promoted to the major leagues on Sept. 4 and batted .259/.382/.412 with seven extra-base hits, 14 walks and three hit by pitches in 22 games.
Best Defensive Infielder: Francisco Lindor, SS, Cleveland Indians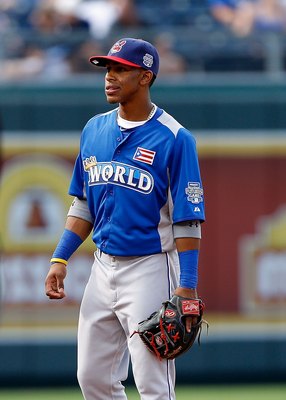 Jamie Squire/Getty Images
Lauded for his defense coming out of high school, the Indians made Lindor the No. 8 overall pick in the 2011 draft and assigned him to Low-A Lake County in his full-season debut.
Playing at a level known for high error totals from middle infielders, the 18-year-old received rave reviews for his defense at shortstop. Simply put, Lindor makes the jaw-dropping plays that a player his age should not make. Once he reaches the major leagues, his should remain there for a long, long time.
Best Defensive Outfielder: Jake Marisnick, OF, Toronto Blue Jays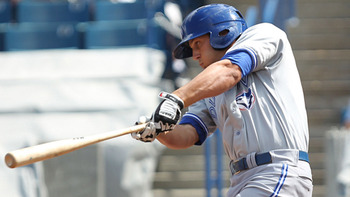 Courtesy of MiLB.com
Now, I know that there are plenty of exceptional candidates for this award. However, I continue to be more and more impressed with Marisnick's defense in center field.
At 6'4", 200 pounds, his defensive prowess stems from unbelievable athleticism and natural instincts, and he also boasts a plus arm.
Best Defensive Catcher: Austin Hedges, C, San Diego Padres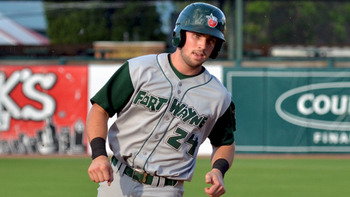 Courtesy of MiLB.com
A highly touted defensive catcher out of high school, the Padres selected Hedges in the second round of 2011 draft. At 6'1", 190 pounds, he possesses an ideal mix of aggressiveness and refinement.
In 94 games this season, the 19-year-old recorded 88 assists and a 9.05 range factor-per-game and threw out 32 percent of hopeful base stealers.
There was a strong chance that he'd ultimately reach the major leagues as a defense-first prospect, so the fact that he turned in a strong season at the plate makes him one of the top catching prospects in the game.
Best Bullpen Arm/Future Closer: Bruce Rondon, RHP, Detroit Tigers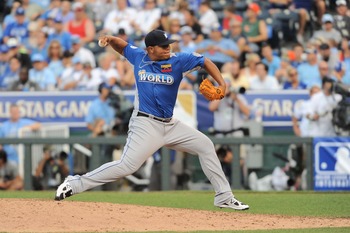 Denny Medley-US PRESSWIRE
As he showcased in the XM Futures Game, Rondon, 21, boasts a fastball that sits in the 98-102 mph range and comes out of his hand with ease.
Beginning the 2012 season at High-A, the right-hander pitched his way up the ladder to Triple-A—there was even a belief that he may reach the major leagues as a September call-up.
Between three levels, Rondon registered 29 saves, a 1.53 ERA, 11.2 K/9 and 4.4 BB/9 while appearing in 52 games.
Best Base Stealer: Billy Hamilton, SS, Cincinnati Reds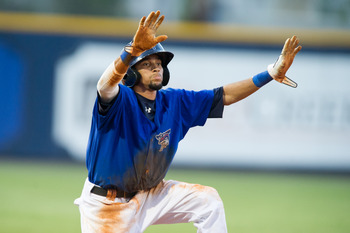 Michael Chang/Getty Images
After stealing 103 bases in 135 games last year for Low-A Dayton, Hamilton entered the 2012 season already boasting the title of the fastest man in baseball.
Thanks to vastly improved on-base skills and a more controlled swing from both sides of the plate, the 21-year-old had substantially more opportunities to run this season.
After a midseason promotion to Double-A, Hamilton ultimately shattered Vince Coleman's 1983 professional stolen base record of 145 and finished the 2012 season with 155 swipes in 192 chances.
Keep Reading