Week 5 Fantasy Football Projections: Predicting the Top 10 Scoring RBs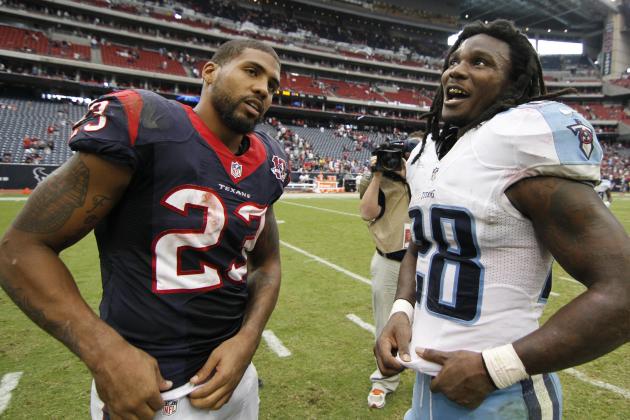 Brett Davis-US PRESSWIRE

Raise your hand if you had Chris Johnson with the most rushing yards in the NFL last week? OK then, how many had Brandon Bolden in second? How about those who had Hartline as the number 1 receiver to grab off the waiver wire last week? (Wait, for that one I should actually raise my hand.)
The point is, fantasy football is a bit crazy. You never know what's going to happen. But you can always make a solid estimate, and there's no better way to make that estimate than with solid math.
That's where numberFire.com comes in. As the Lead Writer for numberFire, I have seen our predictions consistently outpace the competition this year. Last week, four of the five borderline starters I recommended ended up having double-digit fantasy point days, and Malcom Floyd may have gotten there too if the Chargers weren't already up 107 to -3 or so by halftime.
I'm back once again to give you the top-10 running backs for Week 5. This list is based off of numberFire.com's patented projections. So if you disagree with this list, just know that you're not arguing with me, you're arguing with math.
And with that, we're off!
Begin Slideshow

»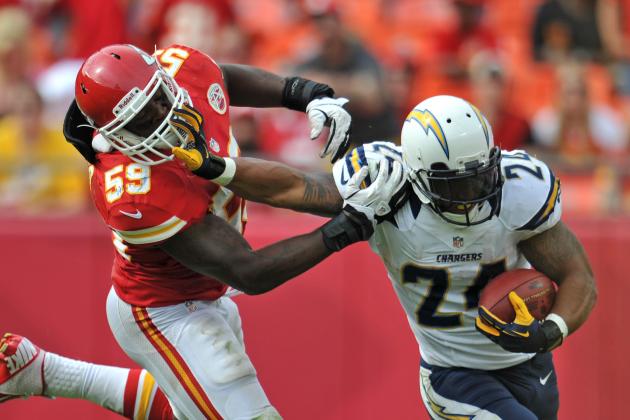 Peter Aiken/Getty Images

NumberFire Projected Stats: 75.91 rushing yards, 0.64 rushing TDs, 21.35 receiving yards, 0.09 receiving TDs
Projected Fantasy Points: 13.85
Week 6 Opponent: New Orleans Saints
I understand the injury concerns, and I would rather be struck by a lightning bolt than guess how the Ryan Mathews/Jackie Battle timeshare is going to work out. That's the downside that you're going to have with Mathews, especially when Battle saw 10 carries in the first quarter against the Chiefs.
But with that said, the Saints defense has been bad this season. As in "numberFire has only the inept Raiders defense as less efficient" bad. Every single opposing running back they have faced so far this season has put up at least 10 fantasy points, including the not-so-murderer's-row of Alfred Morris, DeAngelo Williams, and Cedric Benson.
And the one time they did play a top-tier back, Week 3 against the Chiefs? All Jamaal Charles did was go off for the single-highest fantasy day on the entire season.
Even if Mathews gets some of his carries poaches by Battle, there should be enough room for him here to have a productive day. Be aware of his pass-catching ability as well—he had five receptions against the Falcons in his first game back and two last weekend.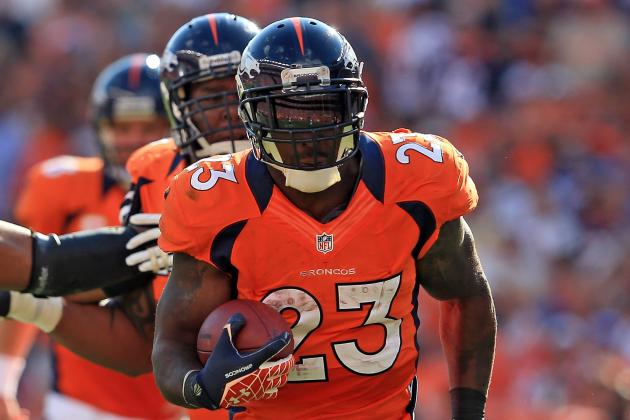 Doug Pensinger/Getty Images

NumberFire Projected Stats: 83.18 rushing yards, 0.72 rushing TDs, 18.91 receiving yards, 0.02 receiving TDs
Projected Fantasy Points: 14.39
Week 6 Opponent: New England Patriots
You can go ahead and tell me that Willis McGahee's body should be breaking down soon, and I'll agree with you. You could tell me that the Denver Broncos' offense is becoming more passing-centric with Peyton Manning, and nobody could argue. You could even point to Ronnie Hillman and Lance Ball stealing occasional carries, and I would understand where you're coming from.
Then I would tell you to turn right around and look at the stats. In the three games where McGahee hasn't played the most efficient defense in the league (Houston), he has combined for 289 rushing yards, three rushing TDs, and 34 receiving yards. He has torn up both good defenses (Atlanta) and bad defenses (Oakland), and New England lies somewhere in the middle.
And for those worried about him losing carries, check the stats: 65 percent of all the Broncos' handoffs this year have gone to McGahee.
Meanwhile, Hillman has only carried the ball 16 total times through four games, and Lance Ball has only seen 12 handoffs. Barring injury, Willis McGahee is the Broncos' featured back going forward and a must-start.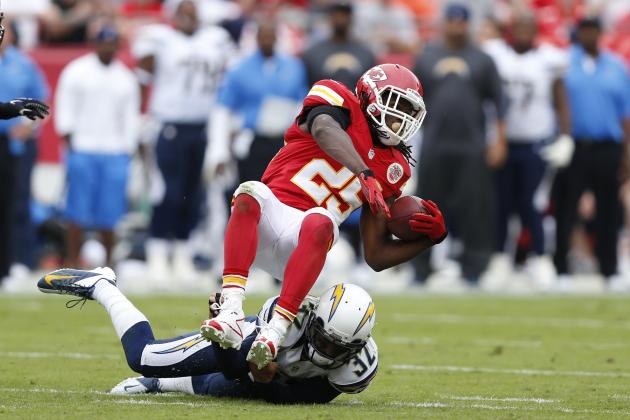 Joe Robbins/Getty Images

NumberFire Projected Stats: 77.87 rushing yards, 0.57 rushing TDs, 29.65 receiving yards, 0.13 receiving TDs
Projected Fantasy Points: 14.53
Week 6 Opponent: Baltimore Ravens
He came back down to earth this past week; and by came back down to earth, I mean that he still had the fifth-highest fantasy point total for a running back in a standard league. At this point, Charles is tearing everyone who doubted him to shreds, and there is no reason he should be on a fantasy bench this week.
One of the metrics numberFire likes to look at to measure a running back's effectiveness is "success rate". The idea is simple: Does your team have a higher chance of scoring points than it did before your rush? If so, that rush is successful.
If you have a success rate of 30 percent as a running back, you're average. If you have a success rate of 35 percent, then you're doing something right. If you're at 40 percent, then you deserve the money that Maurice Jones-Drew didn't get.
So how do this season's starting backs stack up? Through four games, C.J. Spiller is still riding high off of his first two incredible weeks with an unsustainable 53.7 percent success rate. In second is Stevan Ridley with his surprising 46.0 percent rate. In third? It's not Ray Rice (4th) or Maurice Jones-Drew (6th) or LeSean McCoy (7th).
It's Jamaal Charles with a 41.7 percent success rate. That means that over two-fifths of the time he carries the ball, he gives the Chiefs a better chance to score. Especially in a league where passing has become much more efficient than running the ball, that's not a bad percentage to have.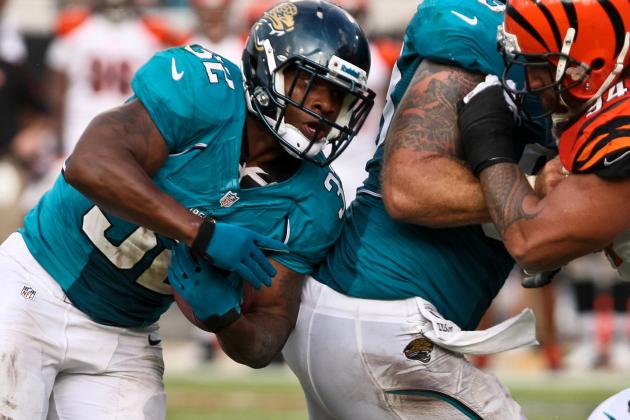 Rob Foldy-US PRESSWIRE

NumberFire Projected Stats: 97.20 rushing yards, 0.46 rushing TDs, 23.23 receiving yards, 0.09 receiving TDs
Projected Fantasy Points: 14.82
Week 6 Opponent: Chicago Bears
MJD is coming off of his worst rushing performance of the year against the Bengals. Now, he's coming into a game against a Bears defense that numberFire has ranked as the third-toughest defensive unit in all of football.
Should you be worried as an MJD owner? Slightly, yes. But not enough to even think about benching your star back.
The main reason for Jones-Drew's success is that, simply, the Jaguars don't have that many other weapons. MJD accounts for 86 percent of all handoffs so far for Jacksonville this season, and that's even when you throw in the eight carries and the start Rashad Jennings had in Week 1.
Since then, Jennings has carried the ball only two times, and no other Jaguar (other than Gabbert scrambles) has more than once.
Passing the ball is only slightly different. Jones-Drew is fourth on the team in targets with 15, but those 15 targets are only two behind second-place Laurent Robinson and one behind third-place (and owner of the coolest name ever) Cecil Shorts III.
This season, he has converted those 15 targets into 13 receptions, an astonishing 87 percent catch rate that solidifies him as a dual-threat heading into the future.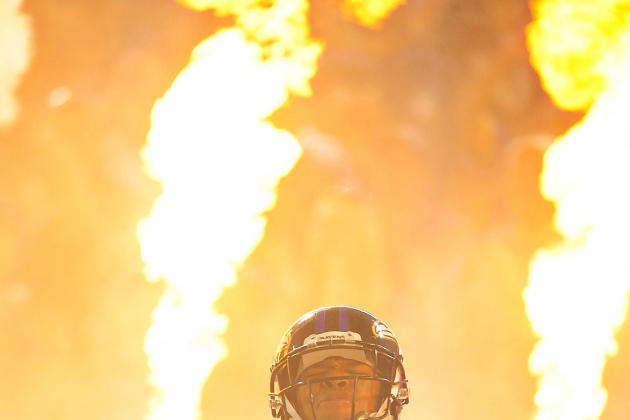 Evan Habeeb-US PRESSWIRE

NumberFire Projected Stats: 70.26 rushing yards, 0.42 rushing TDs, 50.20 receiving yards, 0.20 receiving TDs
Projected Fantasy Points: 15.43
Week 6 Opponent: Kansas City Chiefs
No, those flames aren't coming from Rice's biceps. But yes, he's been on such fire that you shouldn't feel silly for asking.
Saying why Ray Rice is going to run wild all over the Chiefs is like explaining proper crab-catching technique to a Maryland fisherman. Rice has had at least eight fantasy points in every one of his games so far this season, and he's hit the 20 FP mark twice.
He's second among all running backs with 62 FP through the first four games, which is right around where most figured he would be. Not only is he the leading rusher on the team, but he's a leading receiver as well (his 31 targets are one behind Dennis Pitta for the most on the team). He can do it all.
I bet he could even play defense, and at this point, the Chiefs would be happy to have him there. They have given up at least 24 points in every single one of their contests this season and have given up 35 points in three of those games.
More often than not, it's been the pass that has been the Chiefs' undoing, but running backs are getting their points too (just look at what C.J. Spiller did in Week 2). If I'm a fantasy owner, the only thing I'm worried about is the Ravens getting ahead by too much this week.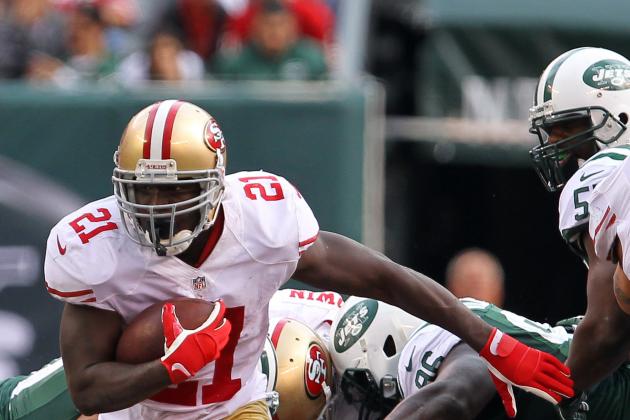 Ed Mulholland-US PRESSWIRE

NumberFire Projected Stats: 98.35 rushing yards, 0.80 rushing TDs, 18.47 receiving yards, 0.05 receiving TDs
Projected Fantasy Points: 16.42
Week 6 Opponent: Buffalo Bills
Frank Gore's a solid back, and his 49 FP and three double-digit fantasy games so far this year have exceeded some expectations. But that alone isn't enough to merit his inclusion as a top five back this week. Looking at the Buffalo Bills' defense does.
Last week, Stevan Ridley tied for the highest fantasy point total of any running back in the NFL. Brandon Bolden finished tied for third. The problem: they're both on the same team, and both absolutely destroyed the Bills defense.
The Bills have been up and down stopping the run so far this season—they held both Trent Richardson and Jamaal Charles in check, but Peyton Hillis and Shonn Greene went off for their best performances of the season.
The thing is, Frank Gore is a better running back than any of the previous names mentioned in this article. His four games so far this year have been against Minnesota, Green Bay, Detroit, and the Jets, all four of whom have talented defenses, but three of whom (Minnesota excepted) have struggled at times this year.
There is one main difference between the team he'll face this week and those teams: Buffalo does not have the same front seven talent. Gore can be a league-winner this week.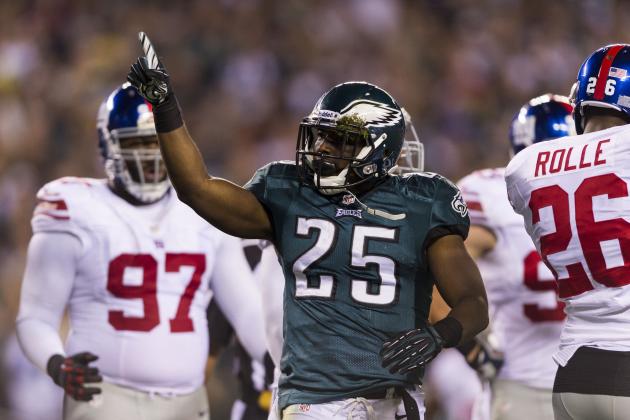 Howard Smith-US PRESSWIRE

NumberFire Projected Stats: 96.17 rushing yards, 0.78 rushing TDs, 25.70 receiving yards, 0.02 receiving TDs
Projected Fantasy Points: 16.78
Week 6 Opponent: Pittsburgh Steelers
In the battle of Pennsylvania, you must take a side. And if I have to choose, I'm riding the guy who has amassed 43 fantasy points so far this year in a standard league while only scoring one touchdown.
I wouldn't worry about those scoring stats, as they will come for McCoy. And I'm especially comforted when you notice the amount the Eagles are getting him involved in the offense. 63 percent of all Eagles rushing attempts are by McCoy, and that even includes the times Vick takes off with the ball.
There is no reason to worry about poachers here; backup Bryce Brown only has 13 carries and 43 yards on the season. In the passing game, McCoy has been dangerous as ever as well, being targeted 19 times (third most on the team).
This week should prove to be a good matchup for him as well, as the Steelers have been nowhere near as effective defensively as they have been in past seasons. They as rank numberFire's no. 26 opponent-adjusted defense so far this season, behind such staunch defensive names as the Colts, Chiefs, and Jaguars.
In the three games the Steelers have played, they have only allowed one 100-yard rusher (Darren McFadden), but only due to a lack of carries as both Bilal Powell and Willis McGahee had a yards per carry average at 3.3 or above.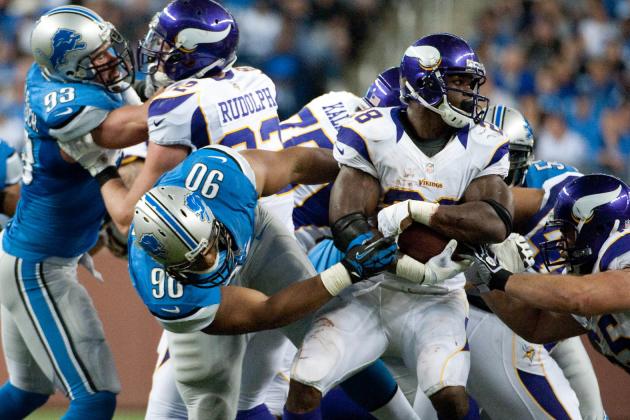 Tim Fuller-US PRESSWIRE

NumberFire Projected Stats: 103.34 rushing yards, 0.80 rushing TDs, 19.11 receiving yards, 0.02 receiving TDs
Projected Fantasy Points: 16.89
Week 6 Opponent: Tennessee Titans
I think I'm ready to say that All-Day is officially All-Day once again. His 102 yards rushing last week was his highest yardage total since Week 7 last year, and it was only his fourth time reaching the century mark rushing since the beginning of the 2011 season. But slowly, AP is regaining his form.
Peterson has increased his rushing total in each of the past three weeks, and a big reason is simply the amount of carries he's been given. He finished fourth among all backs with 25 carries in Week 3, and he was sixth in Week 4 with his 21 carries.
The Vikings obviously see no issue with his body pounding the rock; backup and expected vulture Toby Gerhart only has 22 combined carries on the season.
And if you're ever going to trust Peterson, it's going to be against the Tennessee team he faces this weekend. Because it's extremely relevant, here's the rundown of every opposing back Tennessee has faced this season. See if you can spot a trend.
Week 1, Stevan Ridley: 20 FP
Week 2, Jackie Battle: 18 FP
Week 3, Mikel LeShoure: 19 FP
Week 4, Arian Foster: 14 FP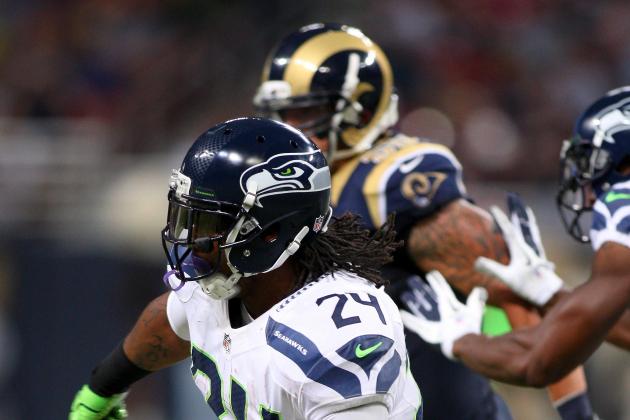 Scott Kane-US PRESSWIRE

NumberFire Projected Stats: 107.04 rushing yards, 0.94 rushing TDs, 18.40 receiving yards, 0.07 receiving TDs
Projected Fantasy Points: 18.15
Week 6 Opponent: Carolina Panthers
Quick, tell me the one running back to have at least 80 yards rushing in every single game so far this season. Wait, looking at the picture is cheating. Perhaps I should have led off with that...
Fine, since you're bad at playing by the rules, it's Marshawn Lynch.
In first in rushing yards in the NFL, Lynch is a case of high quantity over all else. The Seattle Seahawks are dead last in the NFL so far this season with 100 passing attempts. They are also second in the entire NFL with 137 rushing attempts, with an NFL-high 57.8 percent rushing rate as the result. And it's Lynch who has been the benefit of that rushing attack, accounting for 92 of the Seahawks' 137 carries.
Lynch has more carries by himself than eight different NFL franchises have rushes.
If he's going to go off once more, the Panthers are a solid candidate for him to do it against as well. They have allowed at least 95 yards rushing to each opponent's lead back this season, including season-highs for Doug Martin (95 rushing yards), Pierre Thomas (110), Andre Brown (113), and Michael Turner (103).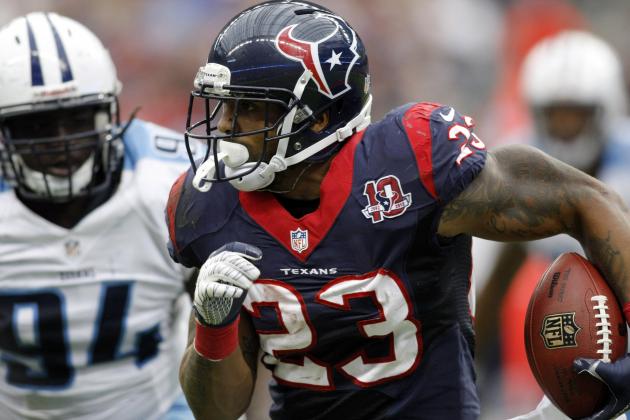 Brett Davis-US PRESSWIRE

NumberFire Projected Stats: 98.72 rushing yards, 0.86 rushing TDs, 26.08 receiving yards, 0.13 receiving TDs
Projected Fantasy Points: 18.16
Week 6 Opponent: New York Jets
And now, for your number one running back, we have the man who has been the number one back the entire season: Arian Foster.
Even with Ben Tate sitting on the bench, the Texans simply trust Foster to get the job done. His 103 carries this year lead the league, and the next closest player is 11 away (Lynch). He has not been overly effective with his runs, as his 3.7 yards per carry only ranks 30th among qualified backs, but when you're running the ball as much as Foster does, big totals are no issue.
Currently, Foster is on pace to finish the year with 412 rushing attempts. For comparison's sake, that mark would place him second on the all-time list. The NFL record is 416 rushing attempts, set by Larry Johnson in 2006. The 400-attempt mark has only been met five times in the NFL's history, and only twice since the turn of the century (Eddie George's 403 mark in 2000 being the other).
I don't expect to see Foster slow down against the Jets either, especially considering the weeks they have given up to opposing backs. Frank Gore had 17 FP against them in Week 4, Daniel Thomas and Reggie Bush each had 60 yards rushing against them in Week 3, C.J. Spiller had 169 yards rushing against the Not-So-Mean Green in Week 1.
Foster could be due for a big day once again, and he deserves the top slot this week.