Nebraska vs. Ohio State: The Huskers' Five-Step Plan to Stop Braxton Miller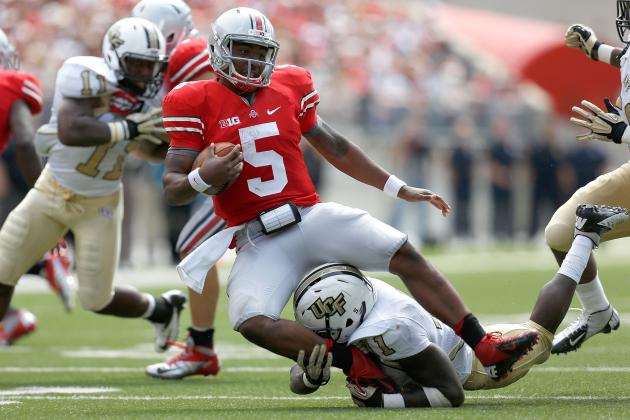 Kirk Irwin/Getty Images

On Wednesday, presidential candidates Barack Obama and Mitt Romney will face off in the first of their televised debates. At that debate, you can expect to hear each candidate lay out a five-point plan to fix the country's deficit or immigration or health care or whatever other issue the candidate intends to focus on. It's what they do.
So, in that spirit, let's take a look at what Nebraska's five-point plan should be to slow down Ohio State's phenom quarterback, Braxton Miller, on Saturday. Yes, we can. Believe in America. Good night, God bless you and God bless the United States of America.
Begin Slideshow

»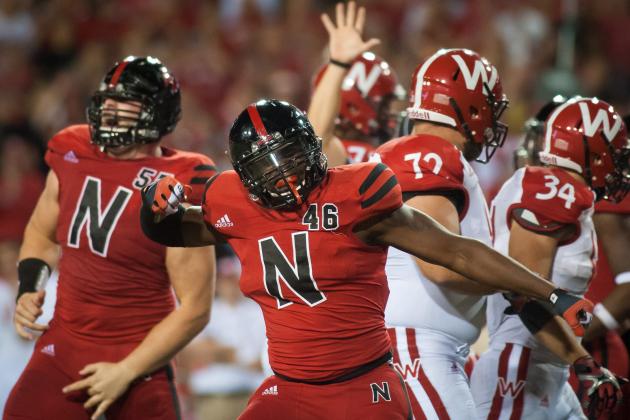 Eric Francis/Getty Images

Braxton Miller is second in the B1G in yards per carry and total yards rushing. He's fifth in the conference in total rushing attempts. So a big part of Ohio State's offense is Miller running the ball. In head coach Urban Meyer's spread offense, many of Miller's runs come out of a shotgun option, giving him the ability to read the defense and choose an alley of attack.
To slow Miller down, then, will require Nebraska's defense to maintain discipline so players can remain in proper position to defend against his multiple attacks. The defensive ends will need to maintain coverage of the edges to prevent Miller from getting outside and attacking the sideline. Linebackers and safeties will need to stay in their lanes and not overpursue a play to stay in position, and to not get burned by play action.
Miller is going to get his yards, more than likely, against Nebraska's defense. But it will be Nebraska's defensive discipline that will keep the 5-10 yard gains from ballooning into 50-70 yard touchdown runs.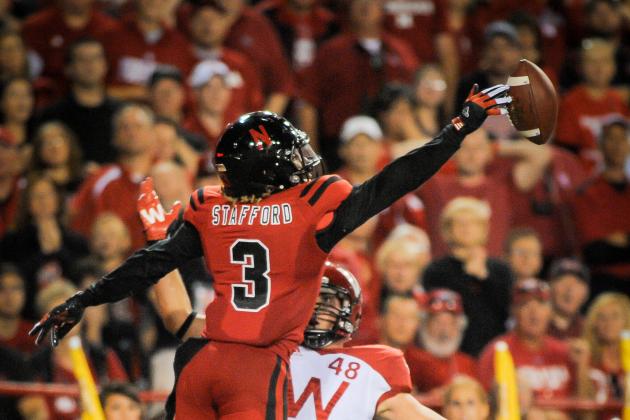 Eric Francis/Getty Images

Nebraska is ranked 40th in the nation and fourth in the B1G in opponent's third down conversion rate, allowing a first down on third down 35 percent of the time. But for Nebraska to be successful against a dynamic offensive threat like Braxton Miller, Nebraska will need to take advantage of the opportunities it gets to get the Ohio State offense off the field. When the Buckeyes are in a third-down situation, it is more likely that Nebraska will be able to keep them from converting and more likely that Nebraska will have success in containing Miller.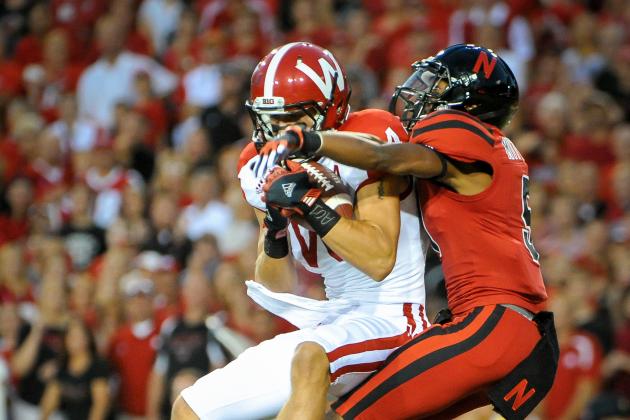 Eric Francis/Getty Images

Given his druthers, Bo Pelini would usually prefer to have Nebraska play with two safeties high, providing bracket coverage on both sides of the field. That leaves seven players in the box to defend the run, and can create matchup problems, especially with the quarterback as an effective ball carrier.
If Nebraska drops a safety into the box to help with the run, with eight defenders, it makes the defensive job easier to stop the run. However, it leaves the defense with only one safety deep to help the corners in man-to-man coverage.
Ohio State is third in the B1G in rushing yardage per game, averaging 224 yards. However, the Buckeyes are 11th in the conference in passing yardage per game, averaging only 194 yards. If Nebraska is able to shift its defense to stop the run, and if Nebraska's corners are able to handle Ohio State's receivers in single coverage, Nebraska's chances to slow down Braxton Miller improve dramatically.
Gary A. Vasquez-US PRESSWIRE

Against UCLA, the last time Nebraska went on the road, NU's defense gave up 653 yards of total offense, including 344 yards rushing. Many of those yards were due to poor tackling, atrocious tackling or simply no tackling on the part of Nebraska defenders that were in position to make a play.
In Nebraska's second road game of the season, a repeat of NU's tackling performance against UCLA could easily lead to the Buckeyes having a similar offensive output to the Bruins. Defensively, Nebraska has shown the ability to get into position to make plays and shut down opposing offenses. But if Nebraska doesn't properly wrap up and tackle against Ohio State, it could be a long night for the Blackshirts in Columbus.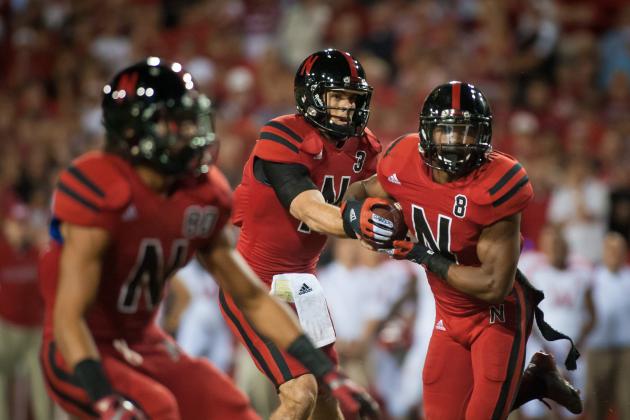 Eric Francis/Getty Images

In this case, the best defense against Braxton Miller might be a good offense. If Nebraska is able to keep the ball and win a time of possession battle against Ohio State, NU will curtail the number of snaps Miller will get and limit the opportunities he will have to beat Nebraska with his arm or his feet.
Nebraska's up-tempo offensive strategy runs somewhat counter to this goal, but has been effective in putting points on the board. But if Nebraska is able to get a running game established and can put some long drives together, NU can keep Miller on the sidelines and unable to do damage against the Blackshirts.
If you'd like to contact Patrick to schedule an interview, provide feedback or get advice on which type of chocolate goes best with fresh fruit (spoiler alert: dark), then e-mail patrickrunge@gmail.com.
Or, you could always...Follow @patrickrunge