Updated 2012 NFL Draft Report Card Grades at the Quarter Mark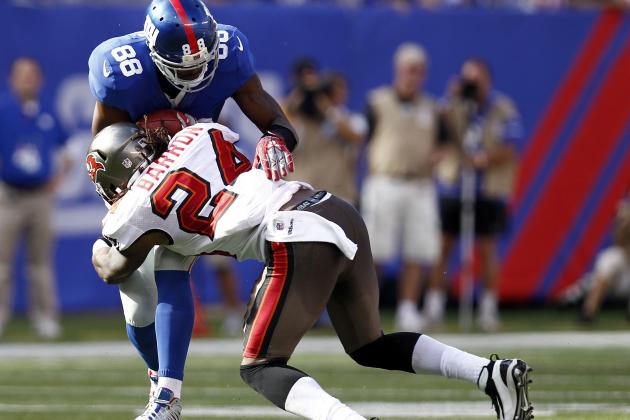 Jeff Zelevansky/Getty Images

The best time to grade a draft class is ideally three years after it is selected, but why wait? The NFL season's first quarter is done and gone, so how did each team's rookie class perform?
We'll take you team by team, looking at the best pick for each club so far and grading them on what they've done to date. Again, we're not grading on potential, but on what the rookie class has actually produced on the field through the first four weeks.
Who's rookie class will come out on top?
Begin Slideshow

»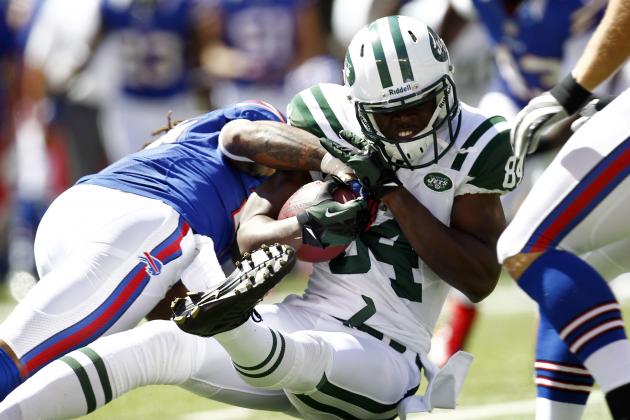 Jeff Zelevansky/Getty Images

Best Pick: Left Tackle Cordy Glenn
When you grab a marquee cornerback in Round 1 and follow it up with a very good left tackle in Round 2, you're doing well for yourself.
The Buffalo Bills' draft class is largely reliant upon Stephon Gilmore and Cordy Glenn, but both have played well as starters in their first season. Glenn especially has looked the part of a franchise left tackle through four games.
Grade: A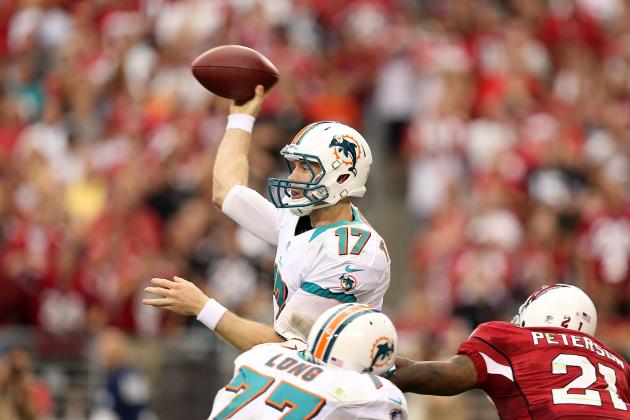 Christian Petersen/Getty Images

Best Pick: Quarterback Ryan Tannehill
Immediately after the 2012 NFL draft, the Miami Dolphins didn't get a good grade from us. In fact, they were heavily criticized. It would appear, four weeks into the season, that we owe them a big apology.
Quarterback Ryan Tannehill has outplayed the expectations of everyone, showing that he is the real deal for the team as they rebuild and move forward. Tannehill is playing at a level right now that we didn't think he'd be at until year two.
Jon Martin has played well at right tackle and Lamar Miller looks like a keeper if the team cannot hold onto Reggie Bush in free agency. All in all, a very good draft for the Dolphins.
Grade: A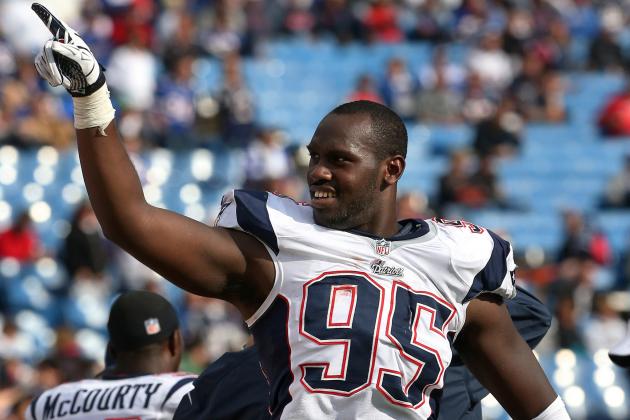 Tom Szczerbowski/Getty Images

Best Pick: Defensive End Chandler Jones
The New England Patriots focused on defense in the 2012 NFL draft, and so far, it's paying off.
Chandler Jones has played at a Pro Bowl level this season, giving the Patriot defense a legitimate pass-rusher. Fellow first-rounder Dont'a Hightower has been very good in run support, and even little known Tavon Wilson has played well in nickel packages.
Jones is the highlight of this draft class, but from the product on the field so far, Bill Belichick hit a home run with his 2012 draft.
Grade: A+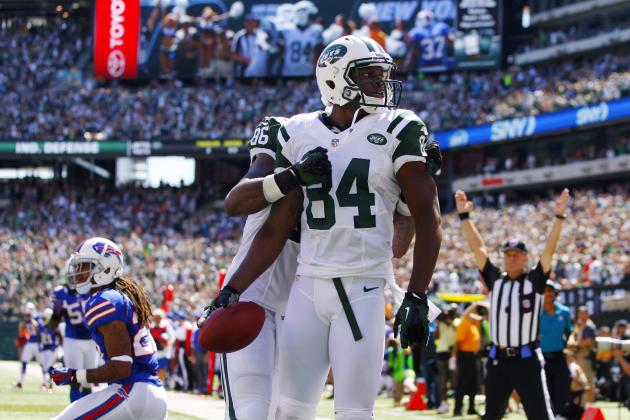 Rich Schultz/Getty Images

Best Pick: Wide Receiver Stephen Hill
The New York Jets' 2012 draft class has been a roller coaster of inconsistency.
Before Week 4, first-rounder Quinton Coples had been used sparingly, further highlighting concerns we had about him pre-draft in terms of work ethic and being able to learn an NFL scheme. Coples did play well in Week 4, but it was in a game the Jets were already losing by 20 points.
Stephen Hill, even though injured, has been the Jets' best pickup. Hill has shown flashes of being able to stretch the field and make plays deep, something this offense definitely lacks.
Grade: D+
Rob Carr/Getty Images

Best Pick: Offensive Tackle Kelechi Osemele
You could make a decent argument for outside linebacker Courtney Upshaw as the team's best draft pick, as he attempts to fill in for Terrell Suggs. Upshaw has been solid, but Kelechi Osemele has been the best performer and best value.
As a second-round pick, the Ravens were able to find a starter on the offensive line with incredible upside at a spot where most teams are drafting depth. Osemele has stepped in well at right tackle, especially in the run game.
The entire Ravens draft class has been very good, which has become the status quo with Ozzie Newsome and Eric DeCosta running the scouting department.
Grade: B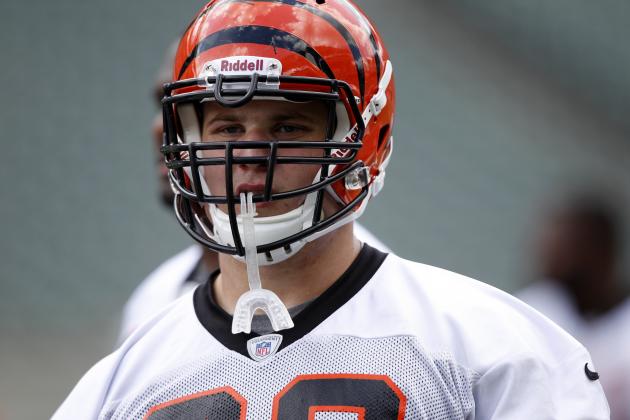 Frank Victores-US PRESSWIRE

Best Pick: Offensive Guard Kevin Zeitler
The top of the Bengals' draft brings good and bad. While first-rounder Kevin Zeitler has been an instant starter at guard, cornerback Dre Kirkpatrick struggled before the season and has yet to see the field due to injury.
The overall depth of this class is good, and the Bengals are set up for the future, but their performance through the first four weeks of the season could be much better. When grading the class again after the season, this will likely be much different if everyone plays up to their potential.
Grade: C+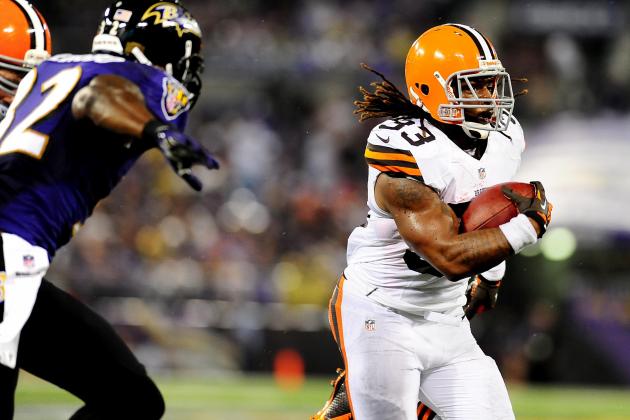 Evan Habeeb-US PRESSWIRE

Best Pick: Running back Trent Richardson
So much of how to grade the Cleveland Browns' draft depends on what you think of Brandon Weeden at quarterback. Others like Weeden, but I'm not sold on his potential to be the franchise quarterback of this team.
The rest of the 2012 draft class is playing very well.
Trent Richardson has become a workhorse back in a short amount of time, proving to doubters why he was the No. 3 overall pick in the draft. Billy Winn has been a steal from the sixth-round at defensive tackle. Mitchell Schwartz is the team's clear-cut right tackle of the future. Travis Benjamin is showing a spark on offense with his game-changing speed.
All told, few draft classes can live up to this one.
Grade: A+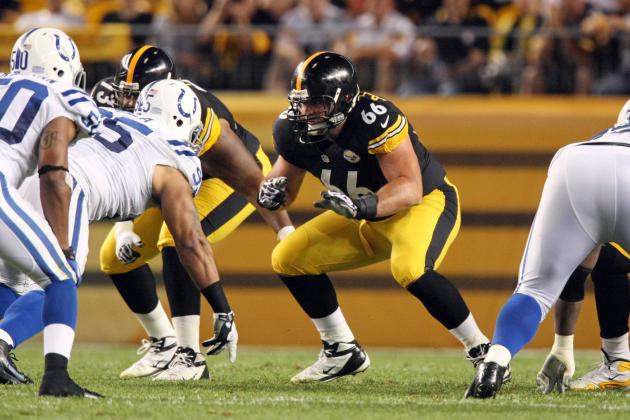 Jason Bridge-US PRESSWIRE

Best Pick: Offensive Guard David DeCastro
The season-ending injury to first-round pick David DeCastro hurts the Pittsburgh Steelers' draft class overall, but the rest of the group hasn't done much, either.
Mike Adams has struggled at both tackle spots, leaving major doubts about his ability to ever be a high-level starter. Linebacker Sean Spence has been a non-factor due to injury, meaning the team's first three picks have all failed to produce.
Things may change once DeCastro is on the field, but the overall grade for the class through the first quarter isn't good.
Grade: C-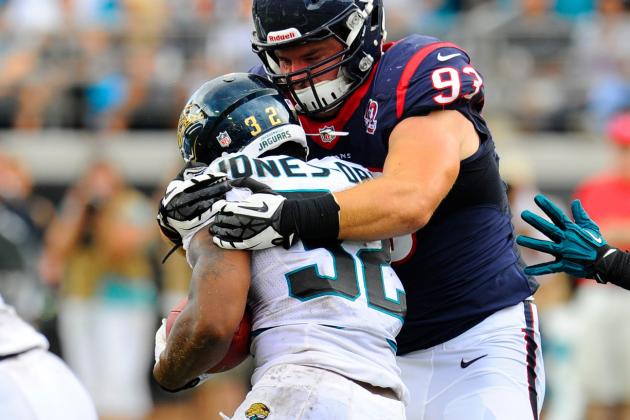 Dale Zanine-US PRESSWIRE

Best Pick: Defensive End Jared Crick
When the Houston Texans made Whitney Mercilus their first pick in the draft, I questioned the selection. Heavily.
Mercilus hasn't yet made an impact on the field, and some of that can be chalked up to depth. But as Lance Zierlein of Sports Talk 790 told us, "In limited snaps, he looks like he's thinking more than just playing. He's not ready...at all. He's just running into people and not playing the position well."
Mercilus may be a gem down the road, but to date, he's been ineffective. The team's best pick has been fourth-rounder Jared Crick. A perfect fit for Wade Phillips' defense, Crick has a bright future on the Texans' defensive line.
Grade: D+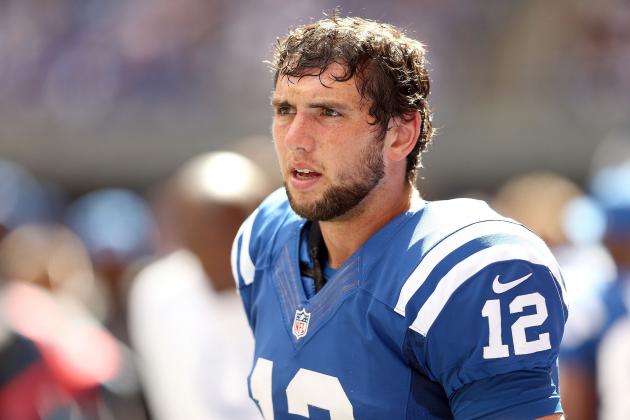 Andy Lyons/Getty Images

Best Pick: Quarterback Andrew Luck
Six months later, the Indianapolis Colts can still feel good about their selection of Andrew Luck as the first overall pick in the 2012 draft.
Luck hasn't been flawless, but he's shown all the traits needed to be a franchise quarterback for the next decade. Luck's performance has been solid, but the rest of the rookie class can't say the same.
Indianapolis is relying heavily on its rookies, but Coby Fleener, Dwayne Allen and T.Y. Hilton have all been just OK. No player from this draft class has stood out as a great pickup in Rounds 2 through 7.
Grade: C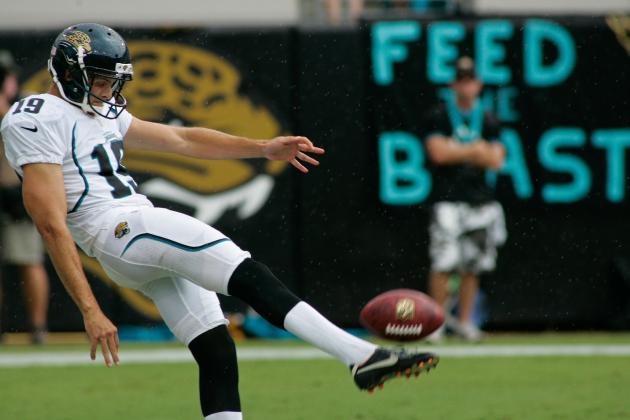 Phil Sears-US PRESSWIRE

Best Pick: Punter Bryan Anger
A draft class that was full of hope and potential in April is now being looked at as further evidence that the Jaguars need a new general manager.
First-round pick Justin Blackmon has struggled to generate separation from defenders, and when open, he's dropping the ball too often. Second-rounder Andre Branch has yet to show the same first-step quickness that helped him so much at Clemson. He looks lost at times.
The best of the bunch has been a punter. A punter drafted in the third round. Bryan Anger's selection was mocked back in April, but he's been—by far—the best of a bad draft class from Jacksonville's front office.
Grade: D-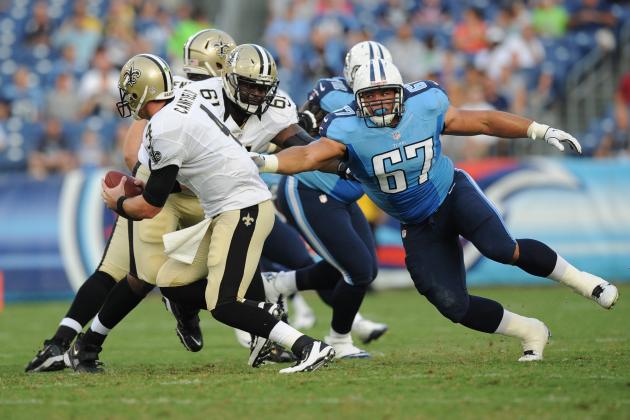 Randy Sartin-US PRESSWIRE

Best Pick: Defensive Tackle Mike Martin
The Tennessee Titans played it conservative in the 2012 NFL draft, and so far, that's paid off OK for them. First-rounder Kendall Wright has struggled at times, but you can also see flashes of brilliance mixed in there.
The best pick for the team was grabbing defensive tackle Mike Martin. Playing mostly as a reserve defensive tackle, Martin has one sack, four quarterback hits and six hurries in four games. He has a chance to eventually move into the starting lineup with production like this.
This was largely a draft for depth, with Wright and Martin being forced into action sooner than expected. As the season unfolds, the grade has a great chance to go up.
Grade: B-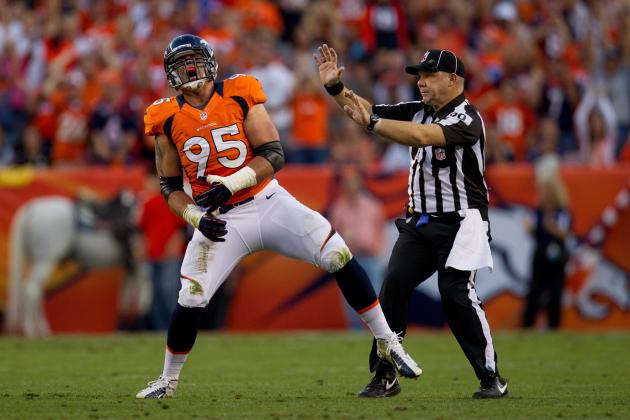 Justin Edmonds/Getty Images

Best Pick: Defensive End Derek Wolfe
The Denver Broncos had no picks in the first round of the 2012 NFL draft, but they hit paydirt in Round 2.
Defensive end Derek Wolfe has been exceptional for the Broncos' front four, playing with speed and strength from the edge of the defensive line. Wolfe has produced with one sack, two hurries and all-around toughness.
The steal of the class may be quarterback Brock Osweiler, but we've yet to see him in a regular-season game. The Broncos are starting to see impact from Ronnie Hillman at running back, and likely by Week 17, his grade will be much higher.
Grade: B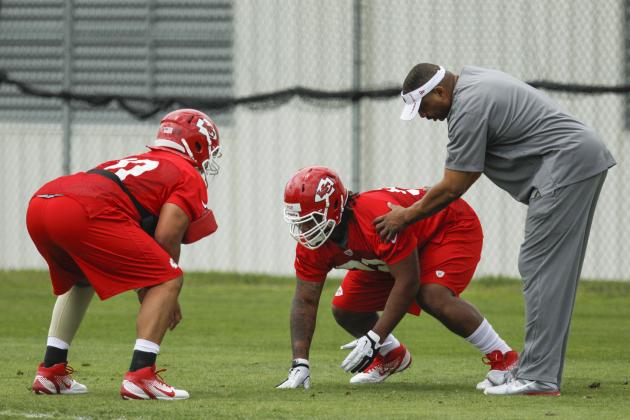 Kyle Rivas/Getty Images

Best Pick: Defensive Tackle Dontari Poe
Let's not sugarcoat things...the Kansas City Chiefs' 2012 draft class has been terrible.
First-round pick Dontari Poe has seen action at a pace of 30 snaps per game, which isn't bad, but his production on those snaps has been minimal. Poe's wonderful athletic ability that propelled his stock to the No. 11 overall pick hasn't been seen.
That's not all. The team opted for depth along the offensive line with Jeff Allen and Donald Stephenson in back-to-back rounds, which may be fine, but it's not helping a 1-3 team right now.
There is promise here, but if you're looking for instant impact, you won't find it from the Chiefs' 2012 draft. At least not yet.
Grade: F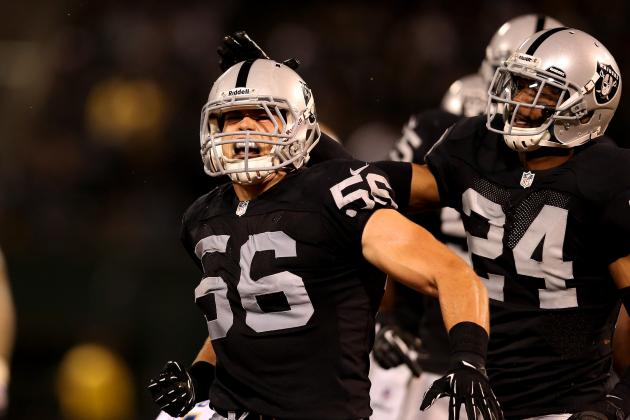 Ezra Shaw/Getty Images

Best Pick: Outside Linebacker Miles Burris
It's hard to be too tough on a draft class that didn't even get started until pick No. 95. First-year general manager Reggie McKenzie did the best he could with the batch of picks Al Davis left him.
One instant impact player from this crop has been outside linebacker Miles Burris. The fourth-rounder looks like a keeper on the edge opposite Philip Wheeler, giving Oakland a nice young duo to build around at linebacker.
The rest of the class hasn't produced yet, but that's to be expected from a group of Day 3 draft picks.
Grade: C+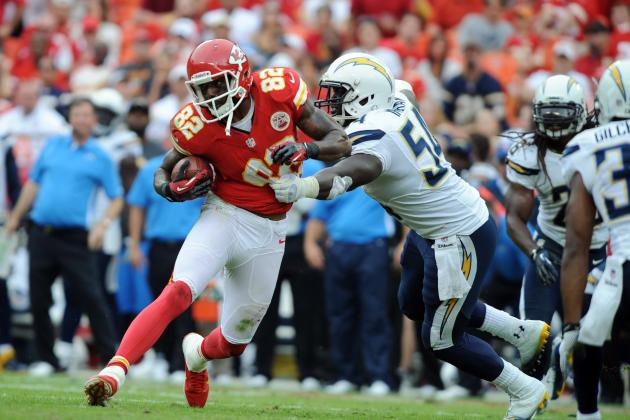 John Rieger-US PRESSWIRE

Best Pick: Outside Linebacker Melvin Ingram
The San Diego Chargers set out to improve their defense in the 2012 NFL draft, and so far, it's working.
First-rounder Melvin Ingram has been an instant upgrade at outside linebacker, giving the team another pass-rusher and allowing them to keep Larry English off the field. Ingram's been a positive producer in his first four games.
Fellow rookie Kendall Reyes has been equally good on the defensive line, showing the promise of being a building block for the team's future.
Grade: B+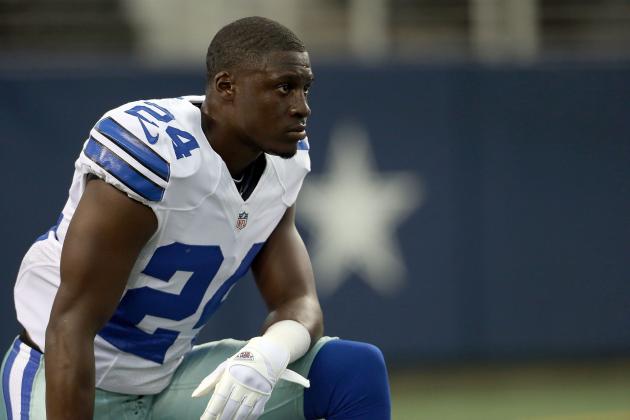 Ronald Martinez/Getty Images

Best Pick: Cornerback Morris Claiborne
The Dallas Cowboys' 2012 draft is a story of two contributors—Morris Claiborne and Tyrone Crawford.
The team's first and second picks, Claiborne and Crawford have become impact players on a much-improved defense in their first season of play.
Claiborne narrowly edges out Crawford as the best pick through four games. Claiborne has struggled, which we saw in Week 4, but overall, he is making the instant impact that allowed him to be a top draft choice back in April.
As Claiborne and Crawford improve this year, Dallas' draft grade could easily move into the "A" range.
Grade: B+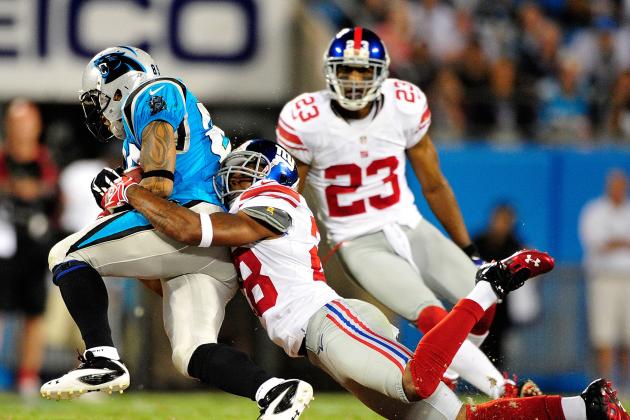 Grant Halverson/Getty Images

Best Pick: Cornerback Jayron Hosley
The New York Giants wanted to add speed on offense, and they did so by drafting David Wilson (RB) and Rueben Randle (WR) in the first and second round, respectively. The problem is that neither has been able to contribute yet.
Wilson had his chances, but fumbles have kept him in Tom Coughlin's doghouse through the first four weeks. However, he did have some recent success as a kick returner against the Eagles. Randle, on the other hand, has seen just four targets (members access) come his way.
The best draft pick so far has been third-rounder Jayron Hosley. The young cornerback has made his mark on the defense, stepping in as a solid cover man and a very good edge run-defender.
Grade: D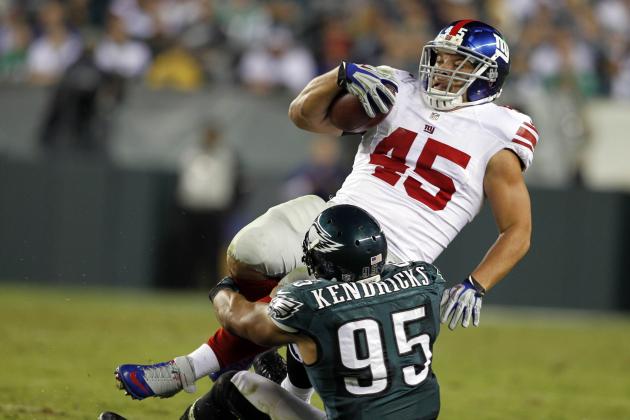 The Star-Ledger-US PRESSWIRE

Best Pick: Outside Linebacker Mychal Kendricks
The 2012 draft class reeled in by the Philadelphia Eagles has a very good chance to be the best from the entire draft.
With Fletcher Cox, Mychal Kendricks, Bryce Brown and Brandon Boykin all making big contributions early on, the Eagles have the benefit of instant-impact players and guys stocked on the roster for the future. Players like Vinny Curry and Nick Foles haven't produced, yet, but they are in position to be future stars.
Kendricks has been an ideal fit for the Eagles' rebuilt defense. Lined up next to DeMeco Ryans, Kendricks is the rangy force the team was lacking at outside linebacker.
Grade: A+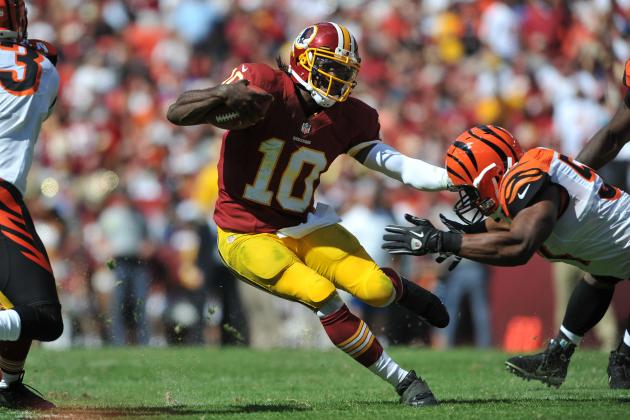 Larry French/Getty Images

Best Pick: Quarterback Robert Griffin III
The Washington Redskins mortgaged their immediate future to move up and select quarterback Robert Griffin III with the No. 2 overall pick. Through the first quarter of the season, that move looks pretty good for Washington.
Griffin has hit the ground running, proving to be the franchise quarterback this team so badly needed. But Griffin hasn't been the only big contributor from this rookie class. Not even close.
Sixth-rounder Alfred Morris has taken the starting-running-back job and performed like a first-rounder. Morris' play has been a nice surprise from a draft class that many expected to be all RGIII.
Grade: A-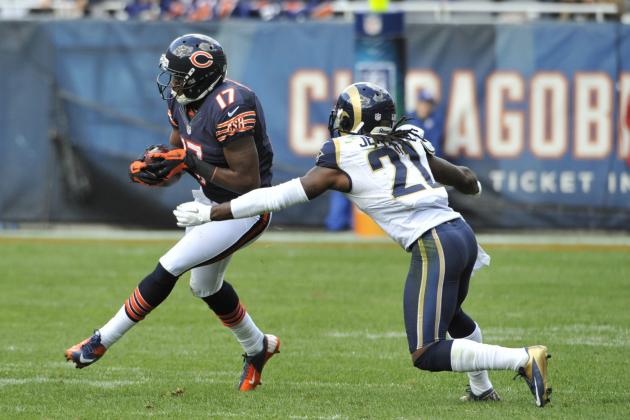 David Banks/Getty Images

Best Pick: Wide Receiver Alshon Jeffery
If only someone had told everyone back in April that Alshon Jeffery would be the best wide receiver from this class...
All kidding aside, Jeffery has been very good early on for the Bears. He's not producing consistent 100-yard games, but he's playing as well as any rookie—including those drafted a full round ahead of him.
The 2012 draft class for Chicago is very solid, altogether. Shea McClellin has improved each week at defensive end and is showing the tools to become a good pass-rusher; he's just not quite there yet. You can see Brandon Hardin and Evan Rodriguez's potential clearly, but they both have to develop more before they are producing and contributing to the grade.
Grade: B-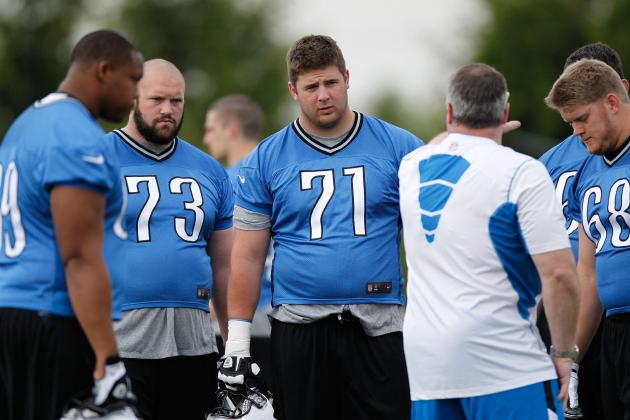 Gregory Shamus/Getty Images

Best Pick: Offensive Tackle Riley Reiff
The Detroit Lions aren't getting production from the 2012 draft class yet, but when they do, this grade will be much different. Trust me.
First-round pick Riley Reiff will be excellent at left tackle once Jeff Backus moves on, or is moved to another position. Bill Bentley will be fine at cornerback. This is a draft that's bursting with potential, but to grade the team on what the rookies have done thus far, there's not much to work with.
Grade: C-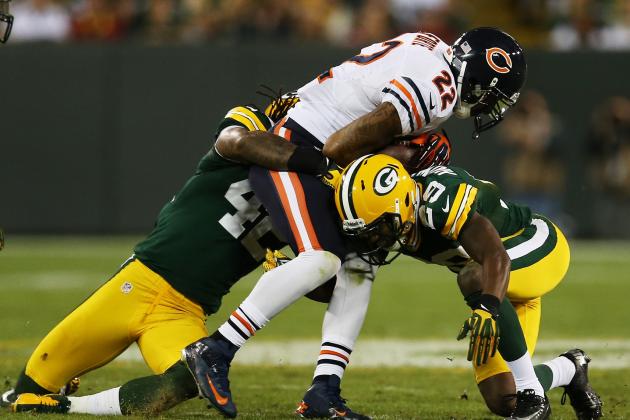 Jonathan Daniel/Getty Images

Best Pick: Safety Jeron McMillian
The Green Bay Packers are in the discussion for which team has had the best production so far from its 2012 draft class. This group is loaded.
First-rounder Nick Perry is starting at outside linebacker. Second-rounder Jerel Worthy is getting major minutes at defensive end. Third-rounder Casey Hayward should be starting opposite Tramon Williams. Fourth-rounder Jeron McMillian has been the best rookie find of the entire class.
The national media hasn't picked up on this yet, but McMillian has been amazing for the Packers' defense. Through four weeks, Pro Football Focus ranks McMillian as the fifth-best safety in the NFL (members access). And he was the team's fourth-round pick.
The Packers have outdone themselves with this draft class. And that's saying something.
Grade: A+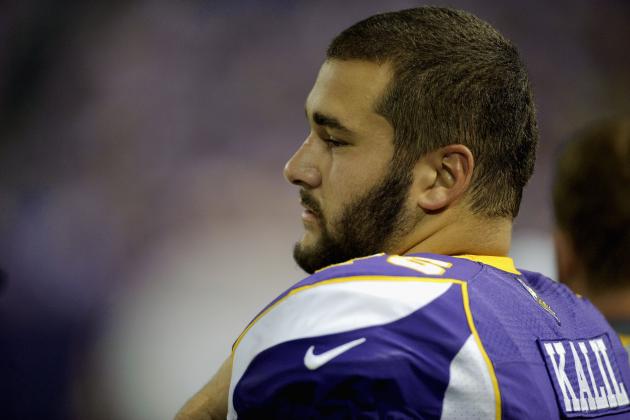 Hannah Foslien/Getty Images

Best Pick: Offensive Tackle Matt Kalil
There is a lot to like from the Minnesota Vikings' 2012 draft. It all starts with pick No. 1.
Matt Kalil has been a franchise-caliber left tackle from the opening week. He's allowed zero sacks and is improving in the run game as he goes. He's a clear-cut "A" right now.
Fellow first-rounder Harrison Smith has been a season-long starter, too, making big plays and really showing up in coverage. Smith has allowed a passer rating of just 66.7 this year. Remarkable for a rookie.
The remainder of the class is very strong and loaded with potential. The turnaround of the Vikings' fortunes will be rapidly advanced by the work of this draft class.
Grade: A+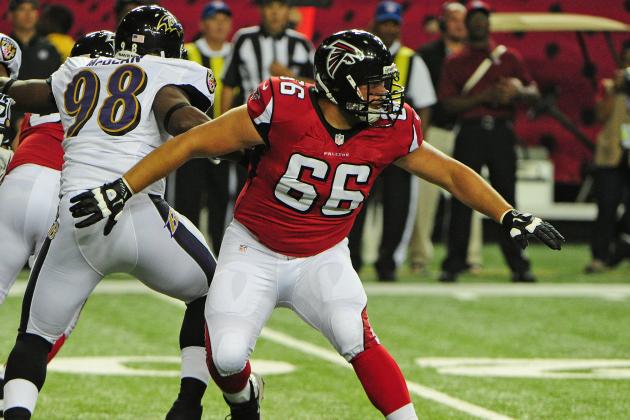 Scott Cunningham/Getty Images

Best Pick: Guard Peter Konz
The Atlanta Falcons are faced with a draft class that was partially used up in 2011 as part of the trade to land Julio Jones, and the remainder of the group is still waiting to see the field.
The team's first pick came in the late second round, where it chose guard/center Peter Konz. He was slated for an early impact, but to date has not been able to do it as a second-stringer. The same goes for third-round pick Lamar Holmes, who is the second-team left tackle.
The Falcons are 4-0, and the roster didn't need instant-impact type players, and good thing, because their 2012 draft class hasn't been ready to produce.
Grade: C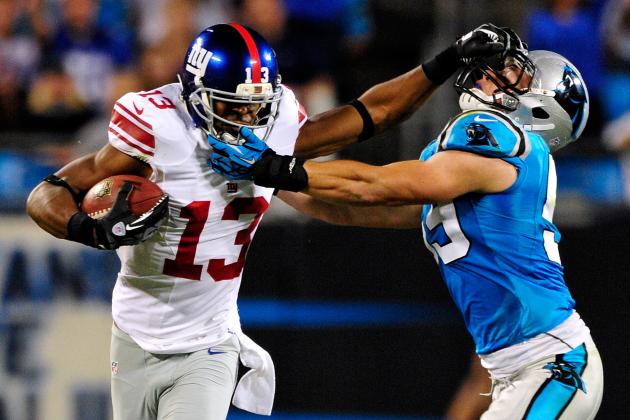 Grant Halverson/Getty Images

Best Pick: Outside Linebacker Luke Kuechly
The Carolina Panthers have netted two starters from their 2012 draft class, but those two starters are struggling after four weeks.
First-rounder Luke Kuechly wasn't a player we ranked very high, but the Panthers liked him enough to pull the trigger with the No. 9 overall pick. Kuechly has started every game, but he's struggled to get off blocks in the run game (the same issue we saw at Boston College). Our friends at Pro Football Focus currently rank Kuechly as the worst 4-3 outside linebacker in the NFL (members access).
Amini Silatolu was a player we did like, a lot, but he's struggled to acclimate to the NFL early on. Silatolu has been solid as a blocker, but penalties are holding him back thus far.
Grade: D+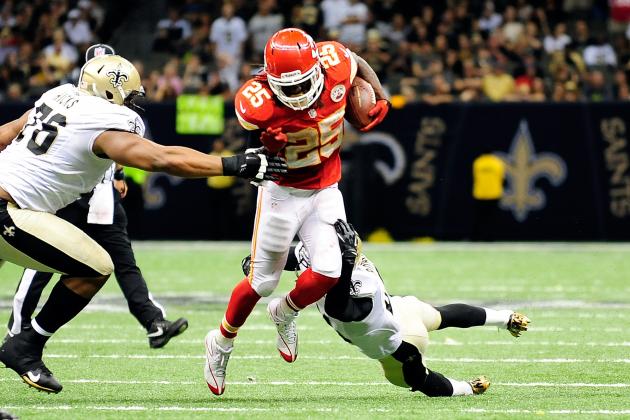 Stacy Revere/Getty Images

Best Pick: Defensive Tackle Akiem Hicks
The New Orleans Saints' draft didn't get started until Round 3, thanks to their 2011 trade for Mark Ingram and the penalty for the NFL's bounty investigation. They hit a home run with their first pick, though.
Defensive lineman Akiem Hicks, from tiny University of Regina, has been a key contributor for Steve Spagnuolo's defense. Hicks is playing very well considering the transition he is making from a tiny college in Canada to the NFL.
The rest of the class is waiting to take off. Nick Toon has potential, but hasn't yet been able to make an impact at wide receiver.
Grade: C+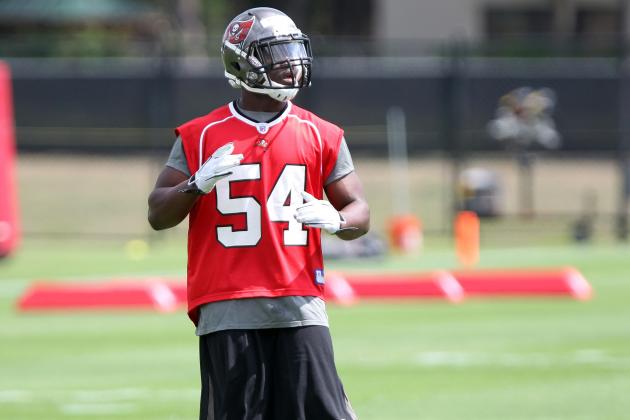 Kim Klement-US PRESSWIRE

Best Pick: Outside Linebacker Lavonte David
You really can't do much better than the Tampa Bay Buccaneers' 2012 draft class.
First-round picks Mark Barron and Doug Martin are both starting, and both showing very good production. Martin has been limited due to some issues on the offensive line, but his hard running style is very impressive.
Second-rounder Lavonte David is also starting, and he's been the best of the bunch to date. David's speedy style of play makes him a versatile asset against the run and pass. In Tampa's scheme, he's a perfect fit.
Grade: A+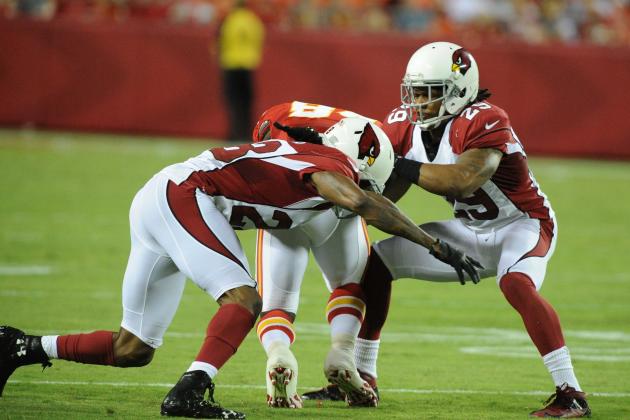 John Rieger-US PRESSWIRE

Best Pick: Cornerback Jamell Fleming
Jamell Fleming was a B/R favorite before the 2012 NFL draft. We followed him from the Senior Bowl through the scouting combine and fell in love with how physical he played. When Fleming fell to the Arizona Cardinals in Round 3, our war room knew the team had a steal.
Fleming has lived up to our expectations in a hurry. He's playing major minutes on one of the top defenses in the NFL, and in the Arizona scheme, his physical press-coverage skills are a great fit.
The Cardinals' grade would be much better if first-rounder Michael Floyd was producing, but on a team that doesn't have great depth at wide receiver, he's still not made an impact.
Grade: C+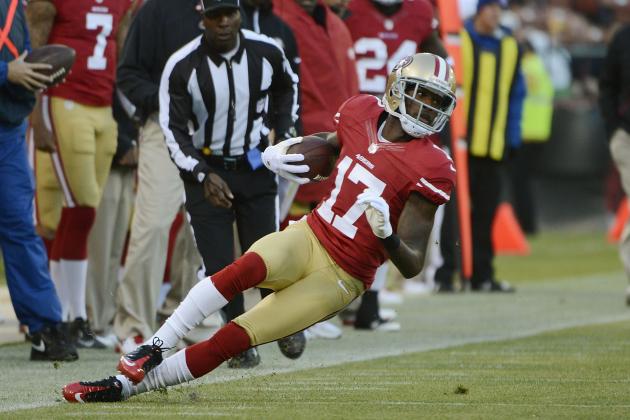 Thearon W. Henderson/Getty Images

Best Pick: Wide Receiver A.J. Jenkins
The San Francisco 49ers' 2012 draft class is an odd one. The picks were solid, as the team opted to go for speed on offense and developmental defenders. What's odd is that not one draft pick touched the field on offense or defense during the first four games.
More than any other draft, the 49ers have banked on potential, letting their rookies learn by watching. We saw flashes in the preseason, but the only way to grade the 49ers' 2012 draft right now is to say we can't grade it at all.
Grade: I (Incomplete)
Otto Greule Jr/Getty Images

Best Pick: Defensive End Bruce Irvin
Bruce Irvin and I have had some moments on Twitter, basically boiling down to him telling me pre-draft that he'd be a first-round pick. He was right; I was wrong. I still don't think he's over it.
Irvin has been great, showing that as purely a pass-rusher he can make a major impact on the way offenses handle the Seahawks' defense. Just ask Aaron Rodgers.
The rest of the draft class has been very good. Bobby Wagner is starting at linebacker and looks like a three-year veteran instead of a rookie. Russell Wilson walked into a crowded quarterback depth chart and stole the job—and while he's been up and down, he's still playing while others watch.
Grade: A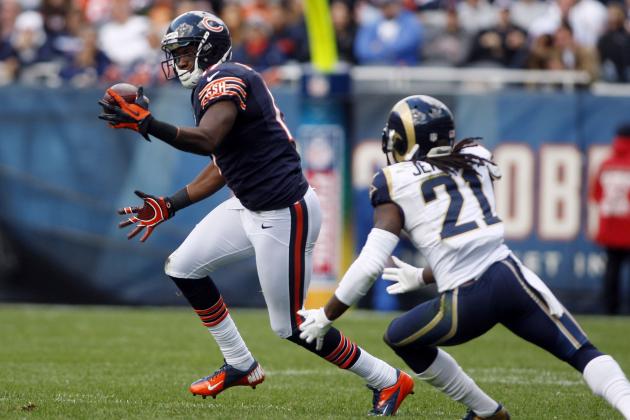 US PRESSWIRE

Best Pick: Cornerback Janoris Jenkins
Janoris Jenkins may prove a lot of people wrong before his career is over.
No one knocked Jenkins' talent when he entered the 2012 NFL draft, but we all worried about his character. Six months in, Jenkins hasn't been in trouble once and is showing the talent of a Top 10 overall pick. The Rams' genius is paying off.
The 2012 class will go down as one of the best in this team's history if it keeps playing like it has in the first four weeks. Jenkins has been Pro Bowl-worthy at times, while Michael Brockers has been a beast against the run from defensive tackle.
This class would be graded even higher if everyone was producing. Given time, the 2012 NFL draft will be looked at as the turning point in the Rams' franchise.
Grade: A