One Burning Question Facing Every NBA Team Entering 2012-13 Training Camp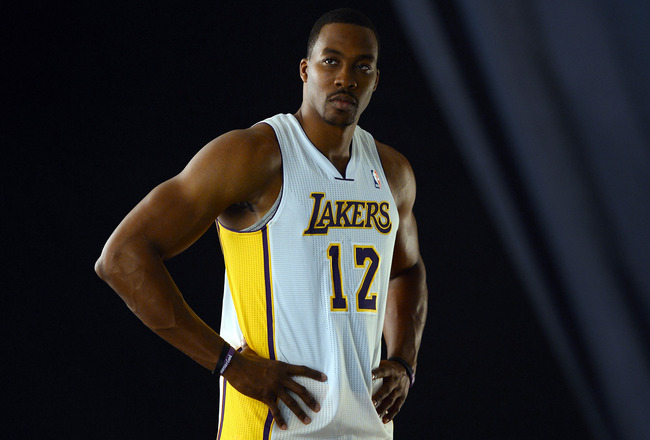 Harry How/Getty Images
It's finally happened—the NBA offseason is over. And for many teams, so is the honeymoon period.
The time for speculation has passed; it's time to unearth some answers.
Every team has issues that need to be resolved and questions that need to be addressed, and there is no exception. While the offseason provides franchises with an opportunity to ponder such quandaries and even attempt to formulate solutions, all efforts remain untested.
Until now, the start of training camp.
This is when teams begin to take shape, when rotations are set and, most importantly, when organizations are forced to confront their most pressing uncertainties.
Because, for the first time since the end of the 2012 NBA Finals, today is more important than tomorrow.
Atlanta Hawks
Photo via hawksquawk.net.
Where does the offense go from here?
Love him, hate him or covet his bank account, Joe Johnson was a consistent scorer.
He was Atlanta's leading scorer, in fact, and now the Hawks are tasked with establishing another prolific point-totaling option.
Is that someone Josh Smith?
Most would say yes, but he's hardly the dominant inside-out option Johnson was. He shot 25.7 percent from beyond the arc last season, and per Kirk Goldsberry of CourtVision Analytics, nearly a fifth of his field-goal attempts were "long twos," yet he converted on just 36.9 percent of those.
At this point, it's neither naive nor ignorant to admit Smith's 18.8 points per game could have merely been a product of the defense's focus on Johnson, as well as Al Horford's absence.
Which brings us to Horford himself.
Can he stay healthy long enough to develop into a No. 1 scoring option? Should the offense even be run through him?
Truth be told, we don't know. His best season came in 2010-11, when he averaged more than 15 points per game in over 35 minutes of action. Impressive? Yes. But without Johnson to help stretch defenses, can he do more in the same kind of minutes? Doubtful.
So, who will step up? Will Smith elevate his game? Can the ball be put in Horford's hands more? Should the Hawks look to Lou Williams or Jeff Teague to become the go-to scorer?
The praise that came with shedding payroll in Johnson's departure is now a distant memory. Reality is beginning to set it in, and Atlanta needs to figure its new-look offense out.
Boston Celtics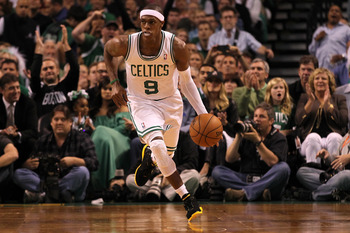 Jim Rogash/Getty Images
Who will run the offense in Rajon Rondo's stead?
Rajon Rondo needs a backup. Badly.
Jason Terry will undoubtedly be leaned upon in Avery Bradley's absence, but the Celtics must be careful not to split his focus.
Since being relegated to a sixth-man role in 2007, Terry's assists never exceeded 4.1 per game. While that's admirable for a combo guard off the bench, its an unrealistic expectation for him to put up such numbers in a teetering role, as the 35-year-old continues to age.
Simply put, Terry's primary focus needs to be scoring on this team. Asking him to handle point-guard duties too often, or even at all, diminishes his potential impact in that regard.
And who's to say Bradley is the solution either? He's a decent ball-handler, but his court vision isn't what you would expect of a combo guard.
For the Celtics to succeed, and for Rondo to receive some much-needed relief, a second playmaker must emerge.
And as of right now, Boston isn't sure who that playmaker is, or if he's even in the fold at all.
Brooklyn Nets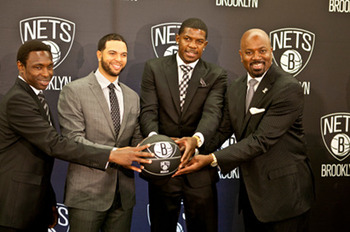 Photo via brooklyneagle.com.
Is this what chaos or title contention feels like?
The Nets have plenty of new faces, but the same cannot be said of their chemistry.
Deron Williams is still feeling out his teammates after a lockout-shortened, injury-plagued 2011-12 campaign; Brook Lopez is in the same boat; no one knows how Kris Humphries will fare on a team with talent; Gerald Wallace is aging; and Joe Johnson is overpaid and on the wrong side of 30.
And yet Brooklyn's core—each and every one of those mentioned—are bona fide stars or have star-esque potential. So, naturally, the goal is to contend for a championship.
But while Johnson himself has no doubts, you can't help but feel the Nets are expecting a little too much, much too soon.
After all, this is a team that finished 22 games under .500 last season. Retooled or not, the climb from basement to contention is a steep one.
Charlotte Bobcats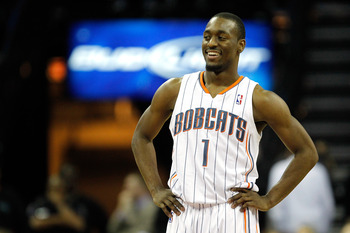 Streeter Lecka/Getty Images
Will a man emerge among boys?
I won't go as far as to say the Bobcats are terrible, but it is implied.
That said, I will direct your attention to Charlotte's lack of leadership.
The Bobcats have just three players over 30—Matt Carroll, DeSagana Diop and Brendan Haywood—none of whom are leader-type material.
And where will Charlotte turn from there? Ben Gordon? Ask the Pistons how that worked out. Kemba Walker? He's willing, but is he ready? Michael Kidd-Gilchrist? It's rarely wise to put the pressure of an entire franchise on a rookie's shoulders.
Yes, the Bobcats will win more than seven games this season, but for them to truly progress and truly move forward, a leader must emerge.
The problem is, right now, the franchise doesn't know if one will.
Chicago Bulls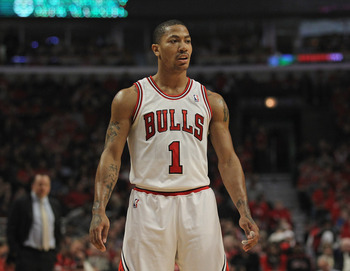 Jonathan Daniel/Getty Images
Is this what damnation feels like?
Let's face it: The Bulls are barely a playoff team without Derrick Rose.
The team showed some fight by posting an 18-9 record without their fearless leader last season, but we're not talking spurts of Rose-less basketball; we're talking months—maybe even a year.
Can Chicago really carry on for that long without Rose? While the talent on the roster suggests "yes," keep in mind the Bulls are resting their hopes on three vital yet injury-prone players in Carlos Boozer, Luol Deng and Joakim Noah. If one of them goes down, then what?
Perseverance only gets you so far; at some point a state of being trumps a state of mind.
Subsequently, the Bulls must use training camp as a means to establish an identity outside Rose and assume a mindset that dictates he won't be back this season. It must eradicate any trace of hope.
Because for Chicago, if it wishes to avoid a collapse, hope is its greatest enemy.
Cleveland Cavaliers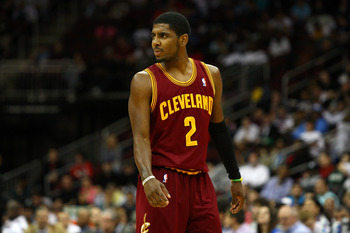 Chris Chambers/Getty Images
Who's our No. 2?
Not only did the Cavaliers fail to make any substantial free-agency acquisitions, but they watched their second-leading scorer walk out the door and into the open arms of the Lakers.
Can you say "trouble"?
As impressively telling as Kyrie Irving's rookie campaign was, he can't lead this rebuilding charge alone. He needs a consistent second option on offense, essentially the first player he will look to pass to. He also needs someone to share the vocal responsibilities as well; he can't be the only directional leader either.
Who will that second player be? Dion Waiters? You mean one of the biggest reaches of the draft? Not so much.
Tristan Thompson? Intriguing, but he's more of a project than a source of comfort.
Anderson Varejao? Again intriguing, but it's tough to establish yourself as a prolific sidekick when you're constantly injured and traipsing your way in and out of trade rumors.
Tyler Zeller? Maybe some day, but not now.
Then who?
That's the question Cleveland could have answered this offseason with more than $10 million annually to spend, but it didn't. So now it's come to this—an unsettling guessing game.
Dallas Mavericks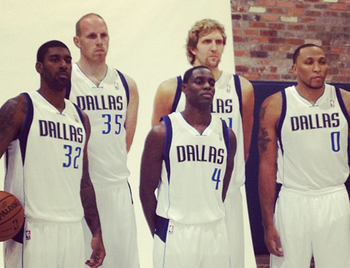 Photo via beyondthebuzzer.com.
Can O.J. Mayo provide a second star-caliber presence?
Dallas rebounded well upon losing Jason Kidd and Jason Terry to the beast that is free agency.
However, just as last season, the Mavericks are a team without a second superstar, playing in a league dominated by powerhouses.
Enter O.J. Mayo.
After an impressive rookie and sophomore campaign, Mayo's production and overall effectiveness tapered off quite a bit when he was relegated to the bench in Memphis. With Dallas, though, he'll be inserted back into a starting lineup, where he supposedly belongs.
But does he belong? Can he tap that once-tapped, now-untapped star potential that had fans up in arms between 2008 and 2010?
For the sake of their championship aspirations, the Mavericks sure hope he can.
Denver Nuggets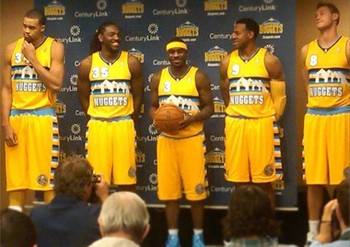 Photo via ballerstatus.com.
Should the art of small ball be embraced?
The Nuggets are deep—scary deep, in fact. And that's great, but now it's time to sort through this obnoxious amount of depth.
With such a task, though, come a few quandaries, none more important than establishing which method of attack is best.
Denver has plenty of size in Kosta Koufos, JaVale McGee and Timofey Mozgov, but only McGee can be considered explosive, and it's an unstable type of explosive.
Which brings us to the potential small-ball lineup that George Karl must experiment with. Ty Lawson, Wilson Chandler, Andre Iguodala, Danilo Gallinari and Kenneth Faried make for a wildly athletic, undeniably elusive dynamic. But is it one the Nuggets will embrace?
We can all but guarantee that won't be the starting lineup, but as Karl's mantra dictates, it's not who starts, but who finishes.
And out the gate, what lineup will be given the majority of burn, the opportunity to finish?
We defer here to training camp.
Detroit Pistons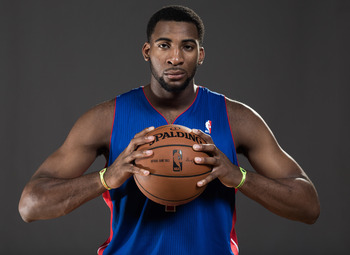 Nick Laham/Getty Images
Did we bite off more than we can chew?
I like that the Pistons acquired an expiring contract in Corey Maggette, but I didn't like much else about their offseason. And I'm betting I'm not the only one.
Detroit took on a major project in Andre Drummond, one that isn't going to be completed or close to assembled overnight. Outside of that notion, the gravity of said project is unknown, so the Pistons are left wondering how raw Drummond actually is.
Detroit bet big on Drummond.
They were betting his athleticism could yield results, and that those results would be star-esque. But on a roster where Greg Monroe is the only source of certainty, can the Pistons give Drummond the ample time he'll need to develop? Or will they feel pressured to rush him before Monroe reaches Kevin Love-like discontent?
If Detroit's immediate future is a car, Drummond holds the key, and the Pistons are just hoping he doesn't lose it before they have a chance to start it.
Golden State Warriors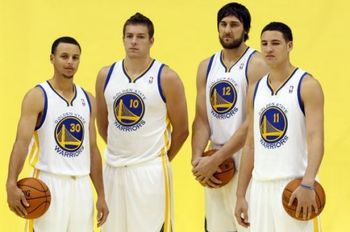 Photo via sfgate.com.
Is depth still a playoff-defying issue?
On paper, the Warriors appear poised to make a postseason push. Which means absolutely nothing.
For the past few years, depth has been Golden State's Achilles' heel. When Stephen Curry went down, it had no one to pick up the playmaking slack. When former franchise star Monta Ellis went cold, no one else went hot. And when Andris Biedrins stepped onto the court, there was no one there to tell him to sit back down.
But that's all over now, right? Andrew Bogut, Jarrett Jack and Carl Landry have resolved such an issue, correct? Klay Thompson, Brandon Rush and even Harrison Barnes are prepared to step up, aren't they?
Time will only tell, but training camp may tell more. It should give the Warriors a better idea of how susceptible they are to a complete collapse, courtesy of the injury bug.
Because with their stock of injury-prone athletes, depth will either be their saving grace or bitter downfall.
Houston Rockets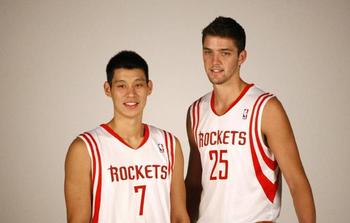 Photo via news.xinhuanet.com.
So, who's going to step up and lead this docket of no-names?
Much like the Bobcats, only not as extreme, the Rockets are in serious need of a leader.
After a complete roster overhaul, Houston's most experienced player comes in the form of the 30-year-old Carlos Delfino. Not exactly reassuring, is it?
This was a team that nearly made the playoffs last season, and now, they're resting their hopes on two newly signed, vastly unproven free agents in Omer Asik and Jeremy Lin and three talented, yet extremely raw rookies in Terrence Jones, Jeremy Lamb and Royce White.
But are any of them ready to step up and be a leader? The obvious choice is Lin, who will most likely start at point guard. Yet, undrafted rookie Scott Machado is already challenging his short-lived regime.
What does that tell us? Well: 1. Not everyone bought into Linsanity, but more importantly; 2. The going won't always be easy in Houston.
A leader must emerge from within the ranks of the unproven, because, let's face it, Kevin Martin already has one eye on the door.
But who?
Wouldn't Daryl Morey like to know.
Indiana Pacers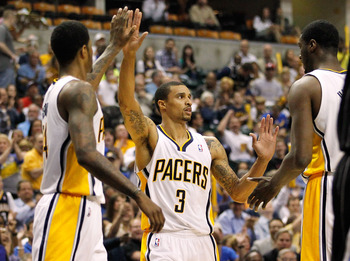 Gregory Shamus/Getty Images
Do we have a championship-caliber point guard in our midst?
The Pacers would like to believe they got better over the offseason. Well, I'd also like to believe I can dunk, but I can't, and they didn't.
Not only did Indiana ship out its best playmaker for an underwhelming backup big man, but they threw a boatload of cash at George Hill, a below-average floor general who will be expected to lead the offensive charge.
Will he live up to expectations? While he is considered a combo guard, the answer is no. He's too much of a scorer, not enough of a passer and has too low an assist-to-turnover ratio (2.79) for someone who dropped just 2.9 dimes per game last season.
How about D.J. Augustin? Perhaps, but not right now. This season will be about adjusting to being surrounded by actual talent, and there's a widespread concern that his statistics may have been bolstered by the lack of competency in Charlotte.
So, here's hoping Sundiata Gaines makes some serious noise during training camp.
Los Angeles Clippers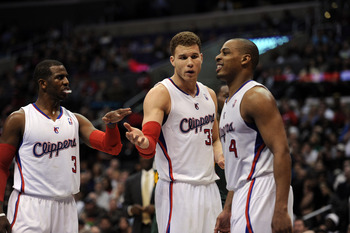 Harry How/Getty Images
Can the phrase "championship worthy" be put in the team program?
I'm not going to sit here and attempt to disprove the Clippers' current dynamic.
But I will direct you to how an excessive amount of uncertainty could kill both their championship and powerhouse status.
What if Chris Paul gets injured and misses extensive time; who's there to fill in? What if Chauncey Billups can't generate any lift in his jumper? What if Lamar Odom can't even return to a shell of his former self? What if DeAndre Jordan becomes too much of a liability? What if Jamal Crawford continues to be, well, Jamal Crawford? And what if Blake Griffin cannot extend his impact beyond earth-shattering dunks?
What then?
That's the problem. As prolific as this squad can be, they have the potential to be just as self-destructive and become just as irrelevant.
Which is why, especially for them, training camp means everything, as it will shed some clarity, or perhaps some darkness, on what direction they're actually headed.
Los Angeles Lakers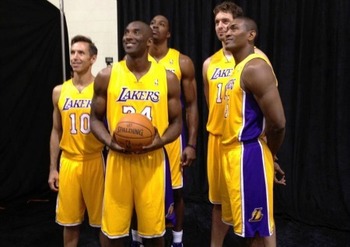 Photo via mediabistro.com.
Who is the most valuable player?
It seems like a minor inquiry, but to the Lakers, this question means everything.
Kobe Bryant can claim this is still his team all he wants, but such proclamations mean little, if anything, until the true show-stopper emerges.
Because while Bryant is the longest-tenured face, Steve Nash will be tasked with tying together a prolific attack. And while Pau Gasol is more versatile, Dwight Howard will be relied upon in the post much more.
But who means more? Who will prove to be the difference between a monumental failure and basketball immortality? Who is the one the Lakers absolutely, positively cannot do without?
Bryant? Gasol? Howard? Nash? Metta World—OK, just kidding.
The fact is, until a clear-cut leader emerges from this quartet of superstars, the Lakers are identity-less.
And that's hardly a state that implies a championship is on the way.
Memphis Grizzlies
Chris Graythen/Getty Images
Was addition by subtraction the best way to go?
When the Grizzlies bid adieu to O.J. Mayo, they deemed his scoring abilities expendable. But were they?
Sure, Memphis brought in Jerryd Bayless to help restructure the second unit, but does his presence fulfill only one need while Mayo's departure created another one?
Let's face it, the Grizzlies are no stranger to extensive injuries. Both Rudy Gay and Zach Randolph have missed large chunks of the past two seasons, and like it or not, as inconsistent as Mayo was, his scoring was a saving grace on more than one occasion.
Now, though, Memphis has opted for stability over star potential. Bayless is safe. He can score and pass some, which is just what the second unit needed.
But that second unit is now down a potential 15- to 20-point-per-game scorer. Can an average playmaker make up for that? Can Gay, Randolph and company stay healthy long enough to render Mayo's past presence a mere luxury and not necessity? And most importantly, are the Grizzlies still a title contender with one less potential star on the roster?
That's a tough call, one that training camp may not even be able to answer.
Miami Heat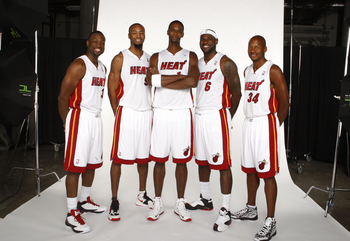 Photo via mraxels10.tumblr.com.
Is there such a thing as being too stacked for your own good?
Even in comparison to the Lakers and the Thunder, the Miami Heat are stacked. But are they too stacked for their own good?
We watched LeBron James and prolific company wreak havoc throughout the NBA last season, and it resulted in an NBA championship. Now, though, it's different. Ray Allen and Rashard Lewis have entered the fold as two highly talented players that desperately want to prove their latest doubters wrong.
And with so many stars and so many hungry players, can a successful balance be achieved? We saw how difficult it was for James and Dwyane Wade in their first season together; we saw the growing pains that ultimately cost them a championship. Will that happen again?
Miami would be inclined to say no, but in reality, until all the pieces are in place and learning how to play off one another, such an answer is merely speculative banter.
Which is why training camp is so important, because it gives the Heat the opportunity to put some of the fire out on this burning question.
After all, a diligent October could lead to a fulfilling June.
Milwaukee Bucks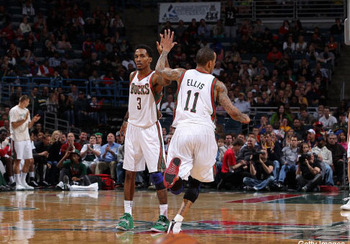 Photo via blogs.thescore.com.
What's the deal with this Monta Ellis and Brandon Jennings thing?
Milwaukee took a risk this past March, one that looked good on paper and in point-totaling stat lines. But what is actually for the best?
Upon the Monta Ellis-Brandon Jennings backcourt's inception, the Bucks went 13-8 to close out the season. Not bad, right? Well, it is when you consider the dynamic imploded in the last 10 games, when Milwaukee went 3-7 to close out the season and miss the playoffs.
Such a collapse should serve as a wake-up call, though. There's clearly a connection that needs to be established between the two. I mean, it's slightly troubling that the two players—being the scorers that they are—only managed to tally 20 or more points apiece together three times.
That has to change, just like their commitment to defense. We need to see more from each of them on both sides of the floor.
Or else the Bucks will be left where they've been stranded for the past six years—in the lottery.
Minnesota Timberwolves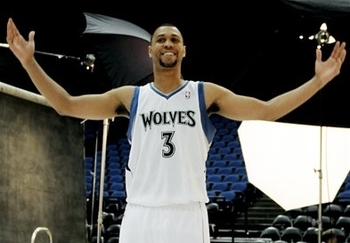 Photo via sports.yahoo.com.
How beneficial was the offseason to our playoff aspirations?
Kevin Love believes; do you?
Though there are plenty of great things to say about the improvements the Timberwolves made over the offseason, not one of them comes with a larger-than-prescribed dosage of risk.
Both Andrei Kirilenko and Brandon Roy were superstars, but that was then, this is now. Neither has seen NBA action in over a year, and Kirilenko is on the wrong side of 30 while Roy is battling back from serious knee problems.
Alexey Shved and Lou Amundson were also nice additions, but ones who will only have a limited impact because of their one-way prowess.
At full strength, this team seems like it can contend for a postseason spot, but with the questions surrounding Kirilenko, Roy and even Rubio, such a state is not a given.
And consequently, neither is Minnesota's right to a playoff appearance.
New Orleans Hornets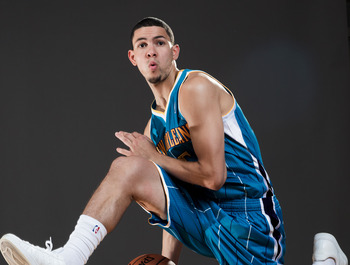 Nick Laham/Getty Images
Can Eric Gordon and Austin Rivers coexist in the same lineup?
Essentially, Eric Gordon and Austin Rivers are the same player. At the very least, they're extremely similar.
But one of them will be asked to change their shoot-first ways, to switch gears and become the primary facilitator. And that one is Rivers.
In theory, it makes sense. Gordon is the more established player, so it seems logical to ask that the neophyte be the one to make the most crucial of adjustments.
But can Rivers do it? Can he table his volume shooting in favor of a completely unselfish mindset, not just to salvage New Orleans' backcourt pairing, but to ensure the well-being of the entire team?
Rivers' versatility suggests that he can, yet a transition of this magnitude is never guaranteed to succeed. Let's not forget, the 6'4" rookie is also going to be adjusting to the NBA in general, not just a new role. There's also the fact he was never asked to pass in college, averaging a modest 2.1 assists per game in his only season at Duke.
If the Hornets want Gordon and Rivers to form a formidable duo, though, one that can actually coexist in the same unit, there's no other option. Which is why the duration of training camp is just as important as any game on their schedule.
New York Knicks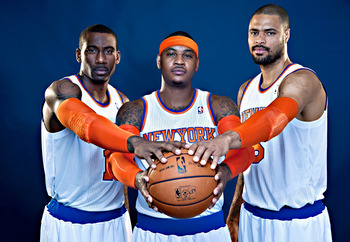 Photo via espn.go.com.
Will a veteran-based dynamic result in postseason glory or catastrophic failure?
The Knicks are old.
Tyson Chandler just turned 30, giving New York five players on its roster who are 30 or older. And once Rasheed Wallace finalizes his deal, that will make six. Considering Steve Novak and Amar'e Stoudemire are 29, it might as well be eight.
And is that too much, especially when we realize each of those players will be expected to contribute in more than a minor capacity?
You see, it's not just about getting Carmelo Anthony and Stoudemire on the same page. It's about getting the entire team on the same page, which is tough to do when the roster is laden with players who are not just set in their ways, but past (or moving past) their primes.
So, while veteran leadership is essential, there is such a thing as too much to the point where it is counterproductive.
Have the Knicks reached that point?
That's something everyone in New York is trying to figure out, and it's a sticking point that could ultimately cost the team's title window.
Oklahoma City Thunder
Mike Ehrmann/Getty Images
How big of a distraction will James Harden's contract situation be?
For the Thunder, it's not about establishing chemistry; it's about ensuring it doesn't get interrupted. Which is exactly what James Harden's contract situation—or lack thereof—has the potential to do.
Even though Harden believes that an extension between him and Oklahoma City will be reached before October 31st, there's no guarantee it happens. And even if it does, until it does, a cloud of uncertainty will continue to loom over the Thunder and their dynasty.
Because if Oklahoma City doesn't reach an extension with Harden in time, what then? Will it match a max offer sheet for him next summer, or would the absence of an agreement be the beginning of the end?
At this point, the latter seems unthinkable, yet until a deal is inked, it's a very real, very plausible scenario.
One that's currently burning through the minds of the Thunder and their fans.
Orlando Magic
Photo via sports.yahoo.com.
What's the recipe for success in the post-Dwight Howard era?
Dwight Howard may no longer be trolling within the confines of the Amway Center, but his presence is still very much felt.
Once Orlando dealt its franchise star, it committed to a rebuild. But what exactly must that rebuild entail? And better yet, what constitutes a successful Howard-less campaign?
Most tend to believe the Magic could have received much more than they did in exchange for Superman's services. And if that's the case, does Orlando have a method to its madness? Is there a plan in place? Does that plan dictate the team win as many games as possible or tank their way to a top-three pick?
It's extremely difficult to wrap our heads around, because the Magic's situation is a complex one. They went from championship contenders to bottom-feeders overnight, and are now tasked with piecing together a blueprint that they can sell to their fans.
And as training camp ensues, there isn't an NBA pundit who isn't curious to see how Orlando opts to cope without the most prominent man-child in the game.
Philadelphia 76ers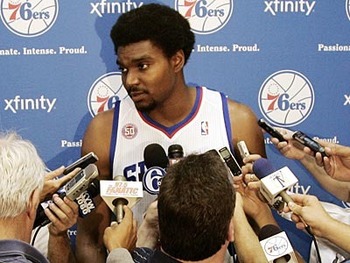 Photo via philly.com.
Was acquiring Andrew Bynum the right thing to do?
And so it begins.
Merely hours after the Sixers officially opened their doors, word came that Andrew Bynum would be sidelined for three weeks.
Talk about bad timing. Philadelphia was supposed to start anew with a clean slate and healthy franchise centerpiece. But now this.
Bynum has a history of knee issues, so any problem that arises or persists in that region is of major concern. Because if he goes down, so do the Sixers' playoff and title hopes. They took a gamble by acquiring him, and not just because of his knees but because of his impending free agency.
What if Bynum not only goes bust but opts to take his talents elsewhere next summer? It seems so far away, but the truth is, such thoughts are plaguing the minds of the Philadelphia organization.
Like it or not, precautionary or not, Bynum's latest "setback" is extremely unsettling.
He alone holds the fate of the Sixers franchise. And how promising a future the organization has depends on how quickly and how effectively he heals.
Phoenix Suns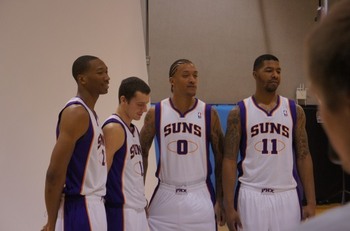 Photo via oregonlive.com.
Who's the new Steve Nash?
Phoenix needs another Steve Nash. Not in the sense of him as a point guard—though that would help—but in terms of a franchise face, a leader for the entire organization.
But who is it?
Marcin Gortat has shown two-way promise, but there's a widespread belief that he's a byproduct of Nash's prowess.
Well, then how about Goran Dragic? Or Luis Scola? Michael Beasley, perhaps?
All are viable options, but there's no clear-cut choice, which is a problem. With Nash at the helm, the Suns had stability in terms of leadership, if nothing else. And they need that again, to officially begin life after him.
Because, as of right now, Phoenix is seemingly built to contend for playoff spot in the near future. It just needs a leader—point guard or not—to tie it all together.
Portland Trail Blazers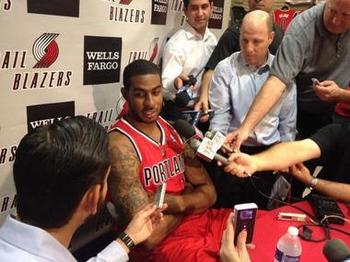 Photo via oregonlive.com.
What kind of team is this?
From contenders to basement dwellers, the Blazers covered all bases last season. But what about this year?
Portland retained a vital and versatile presence in Nicolas Batum, and it had a strong draft that resulted in the additions of Meyers Leonard and Damian Lillard, but where is it headed?
You have a franchise cornerstone and superstar like LaMarcus Aldridge, and you think: This is a franchise destined for a postseason berth. But then, you have two rookies who will be thrust into the starting lineup, one of whom will be tasked with running the offense. And there's also the uncertainty of Batum to consider; he's paid like a superstar, but his production is anything but guaranteed.
So, what will be the expectation of the Blazers? It's easy to deem them a lottery team, but in all reality, they're a fringe team; it could go either way.
And that's tough to embrace, because it makes it difficult to gauge their potential. Subsequently, training camp must serve as the measuring stick that establishes a measuring stick; it must set the ceiling for this team and what it has to offer.
Sacramento Kings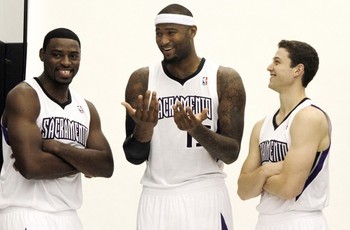 Photo via washingtonpost.com.
Is this team talented enough to escape the wrath of the Maloof brothers?
The Kings are their own worst enemy, or rather, their owners are.
Search for a new home aside, the Sacramento organization is an absolute mess, and its offseason activity only furthered that notion.
If the Kings weren't busy tossing $30 million Jason Thompson's way, they were killing time damaging Jimmer Fredette's chances at success even further by bringing in Aaron Brooks. And it's unclear whether or not the roster has what it takes to succeed in spite of such positional uncertainty.
Sacramento hasn't seen the light of the playoffs in six years, and while there's talent to appreciate in DeMarcus Cousins, Tyreke Evans and even Thomas Robinson, it might not be enough to help the team climb out of the NBA's basement.
And at this point, for a team that's been in disarray for so long, doing so is the only thing that matters.
San Antonio Spurs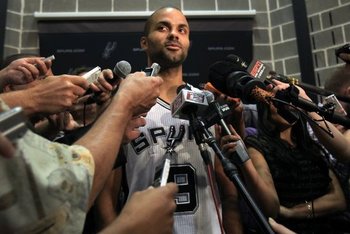 Photo via lockerpulse.com.
Was standing pat this offseason the right move?
San Antonio's main focus this past summer was keeping the roster intact, but was that the right move?
Sure, the Spurs advanced all the way to the Western Conference finals, but they were downright overmatched against a faster, more athletic Thunder team.
Was such a display merely San Antonio failing to play up to snuff, or was this a team showing their age, indicating that its title window had all but closed?
Because if the latter is the case, the Spurs didn't do nearly enough this offseason. They made sure to guarantee the returns of Tim Duncan, Danny Green and Boris Diaw but failed to land another game-changing presence, unless you consider Patty Mills a future superstar.
So, as San Antonio prepares to wage regular-season battle, the question of whether or not this team is fit to contend after a relatively idle offseason will continue to linger.
Well into the year.
Toronto Raptors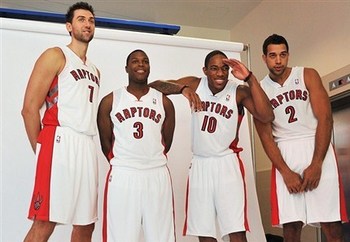 Photo via tsn.ca.
How much better will this team actually be?
Toronto was plenty busy this offseason, and heading into training camp, there was no question the team had improved its roster for the better. But by how much?
In a wide-open Eastern Conference, the sky appears to be the limit for this relatively young and exuberant Raptors squad, yet is such optimism overkill at the moment?
Toronto finished off the 2011-12 campaign 20 games under .500 and is essentially banking on rookies Terrence Ross and Jonas Valanciunas, the unproven Landry Fields and current one-year wonder Kyle Lowry to revive an abysmal franchise.
Is that realistic? Are these new players that much of an upgrade that they, along with Andrea Bargnani, Jose Calderon and DeMar DeRozan, will be enough to propel this organization back to playoff or even fringe status in the span of year?
The answer there largely depends on how well Toronto utilizes its training camp, because while such a drastic improvement begins on paper, it ends with chemistry.
Utah Jazz
Photo via washingtonpost.com.
Which of the Big Four fits the blueprint best?
Utah's Big Four isn't big in the sense that those players are all superstars, but rather, because they're all big.
Derrick Favors, Al Jefferson, Enes Kanter and Paul Millsap make up the deepest interior rotation in the NBA. For how much longer, though, remains to be seen.
Both Jefferson and Millsap are unrestricted free agents upon season's end, while the Jazz have team options on Favors and Kanter. It's almost a sure bet that two of them will be shown the door, but which two remains to be seen.
That's what training camp and beyond is all about. Yes, Utah wants to make the playoffs, but establishing a championship blueprint is more important. And as constructed, the Jazz aren't winning any titles. Postseason berth or not, the priority now is putting the proper pillars in place for the future.
More specifically, the correct low-post pillars, because whomever the Jazz deem valuable enough keep will be the foundation upon which they build.
So, here's to a season brimming with low-post-related questions.
Washington Wizards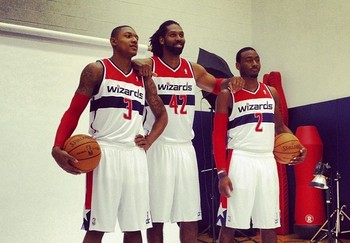 Photo via forums.realgm.com.
Can Bradley Beal lead his teammates in John Wall's absence?
So much has been made of the Bradley Beal-John Wall backcourt pairing in Washington, and training camp should have provided a glimpse into the duo's future. But it won't.
Wall is set to miss up to eight weeks rehabbing a left knee injury, leaving Beal to lead not just the backcourt but the entire offensive charge on his own.
With Wall sidelined, the rookie combo guard will be expected to assume most of the playmaking duties. Though he's proved to be a deft passer, he's hardly known as a primary playmaker; he averaged just 2.2 assists per game while at Florida.
That said, Beal is thought to have the raw talent to make it work. He's a great ball-handler and has superb court vision; he just needs to translate those attributes into assists, into opportunities for his teammates.
It's a lot to ask of a kid who was preparing to play the Robin to Wall's Batman, yet even with veterans like Nene and Emeka Okafor on the docket, Beal emerging as a leader is a necessity. Washington needs a cool, calm, collected and confident floor general to maximize its on-court potential now, with or without Wall.
And if Beal cannot emerge as that savior, as that necessary stopgap, the Wizards can kiss their chance at long-awaited redemption goodbye.
Keep Reading