Dallas Cowboys' 1st-Quarter Report Card Disappoints Mom and Dad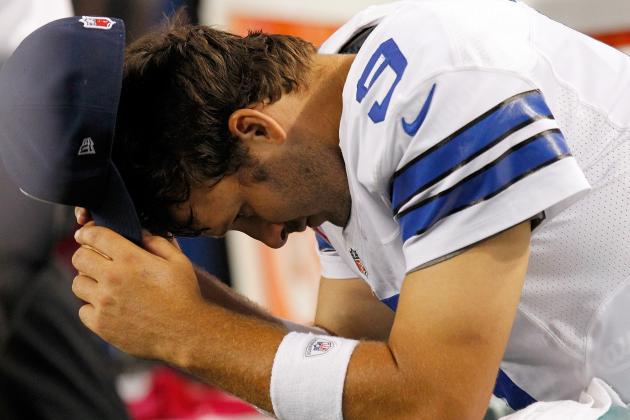 Tom Pennington/Getty Images

The Dallas Cowboys are exactly where they were at the end of last year .500. Much improvement is needed, and there are still 12 games left to be played. A bye week will help the Cowboys get healthy in many areas and possible solve some communication errors on multiple levels.
It seems that the Cowboys were riding so high after the emotional victory against the Giants to open the season that they forgot there are still 15 games left. Look for Jason Garrett to bring his team back down to Earth over the bye week and surprise everyone with a win against the Ravens on October 14.
Begin Slideshow

»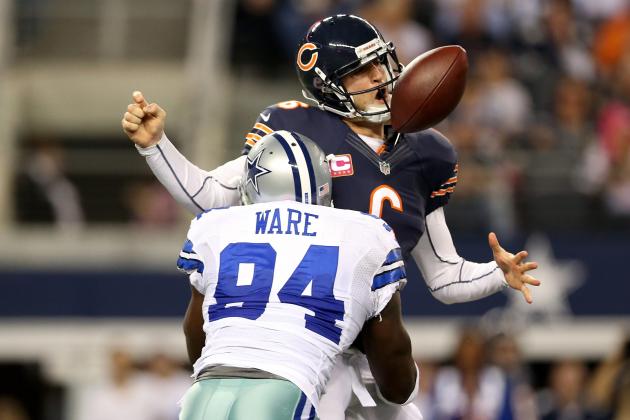 Ronald Martinez/Getty Images

This could be the best linebacker corp in the NFL right now. Between Sean Lee and Bruce Carter, no other NFL team has faster and more athletic inside linebackers than the Dallas Cowboys.
On the outside, you will be hard-pressed to find a better combination of linebackers than DeMarcus Ware and Anthony Spencer. It seems at times that the pass rush was just a split-second too late; expect that to change.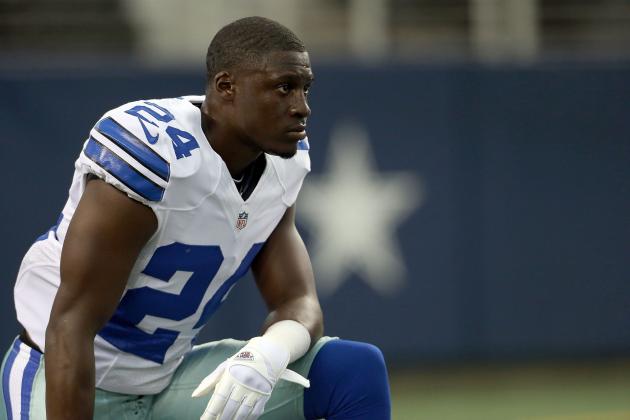 Ronald Martinez/Getty Images

Up until last night's horrible showing against the Bears, the Cowboys defensive secondary had done an excellent job of defending the pass. A season-ending Achilles injury for Barry Church means Danny McCray gets the start and that Mike Jenkins is a roaming free safety in many packages. Morris Claiborne is still just a rookie; look for him to get better with each game.
Turnover machine Matt Johnson should be back from multiple injuries and can help put another ballhawk-type player in the secondary to start creating more turnovers.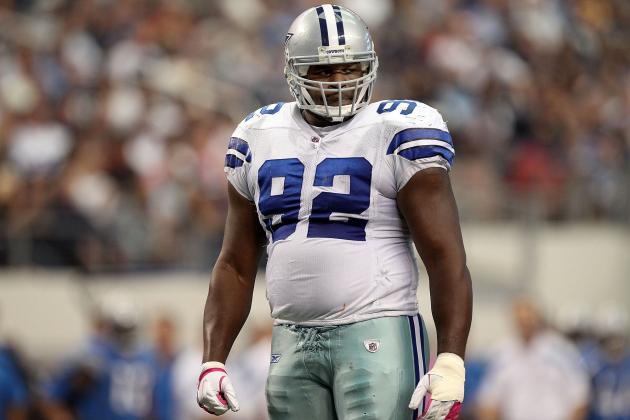 Ronald Martinez/Getty Images

The bye week couldn't have hit at a better time. This defense sorely needs Jay Ratliff back. For as nice of a run-plugger that Josh Brent and Sean Lissemore can be, Ratliff is the master of penetration and disruption, two keys to being a run-stopping/pass-rushing nose tackle.
Jason Hatcher is having an excellent, disruptive year, but the spot opposite him is full of rotators that don't get their name mentioned all too much. Tyrone Crawford is seeing expanded playing time each game and is slowly building up to being a beast of a 3-4 defensive end.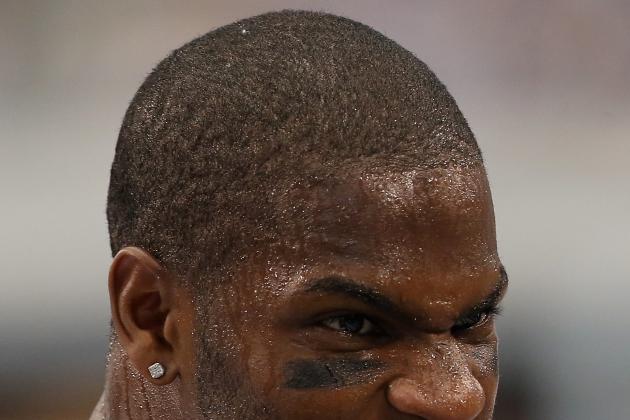 Ronald Martinez/Getty Images

DeMarco Murray has had some struggles getting the train started, but so has the entire offense. Hard-nosed running is still his forte, and once the Cowboys get out of the "rough-defense" part of the schedule, look for Murray to finish what he started last season when he went almost 900 yards in five games.
Felix Jones might just decide how the Dallas Cowboys season goes. With the hard-nosed runner, Murray, prone to injury due to his running style, there will be at least two games where Felix will get significant playing time, and he will excel with the opportunities, making the front office look eerily smart (like they did in the Mike Jenkins situation).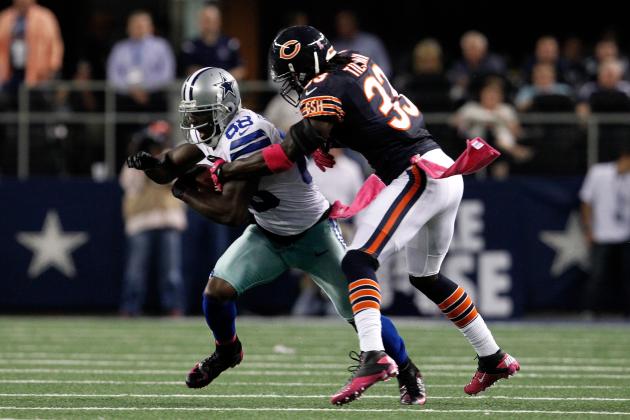 Tom Pennington/Getty Images

Even as Dez breaks his career record for yards and receptions in a game, we still look at the plays he left on the field because of inexperience. Although it is nice to not see Dez disappear towards the end of games because of conditioning, if Dez ever wants to get that huge contract that will leave him financially secure for the rest of his life, he will have to become a student (and master) of the game.
Every time he touches the ball, he is liable to "hulk smash" through every defender and take it to the house; however, he has to know the playbook and all of the audibles before that can be accomplished.
Miles Austin has not been injured in the regular season, but I would suspect that he would have been more productive with the prolific Dez Bryant opposite him. Maybe these receivers just are not as good as we thought they were.
Let's not even get into the third WR or lower, as Ogletree only showed up in the first game of the season and then pulled a Houdini.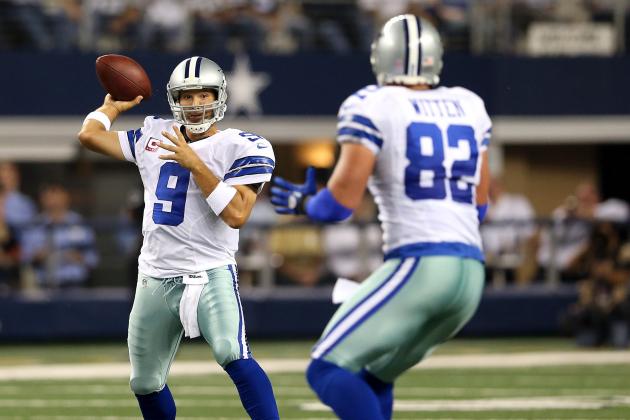 Ronald Martinez/Getty Images

Pleasant as it was to see Witten back to his normal self against the Giants, it was pitiful to see the dropped balls because he was "hearing footsteps" in the secondary. I am not questioning his toughness, but if you were thinking he wasn't hearing footsteps after feeling his spleen lacerate three months ago, then you must know where you spleen is.
Backups John Phillips and James Hanna have been pleasant surprises when given the chance, but the jury is still out.
Tom Pennington/Getty Images

Through the first three weeks, Romo has given viewers everything that we knew he was capable of. Against the Giants, Romo was an efficient machine that dissected that defense like no other. But against the Seahawks, Bucs and Bears, Romo looked less than stellar. Some mistakes were not his fault, but the fault of the poor offensive line play, and some mistakes were made by Romo being Romo.
His level of play will have to significantly improve for the Cowboys to even be thinking about Jim Mora's favorite word, "Playoffs!? Playoffs?!"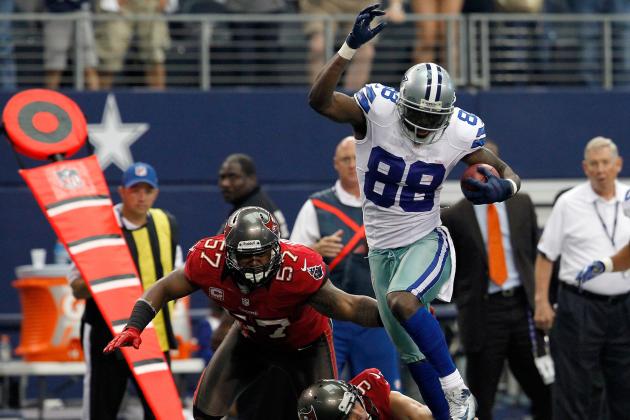 Tom Pennington/Getty Images

The punt and kick returns have been a joke save for one amazing punt return by Dez Bryant. It would have been a touchdown, but Dez couldn't juke the kicker. Coverage hasn't been horrible, but that can always improve. Punter Chris Jones was having an excellent year before his injury against the Bucs, and Moorman, the backup brought in off the street (recently released by Buffalo) has several amazing kicks against the Bears. Dan Bailey is still automatic and is the least of this team's worries.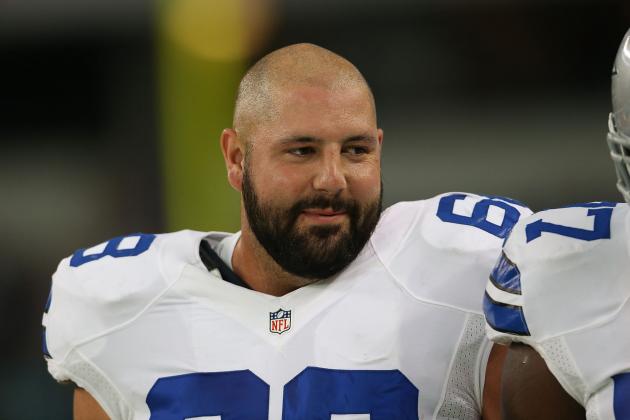 Ronald Martinez/Getty Images

What a mess. Against the Bears, the O-line actually looked like an O-line. There were very few penalties and very few missed blocks; that Bears defense is just phenomenal. Bill Callahan has started to right this ship and look to see continued improvement from the O-line the rest of the year.
This is a good thing, because as the O-line goes, the Cowboys go; this might be a recipe for peaking at the right time.The only thing to keep this unit group from getting an "F" is that there seemed to be remarkable improvement through the week from the Bucs game to the Bears game. Lots of room for improvement…