Philadelphia Eagles: Rookie Progress Report Through First 4 Games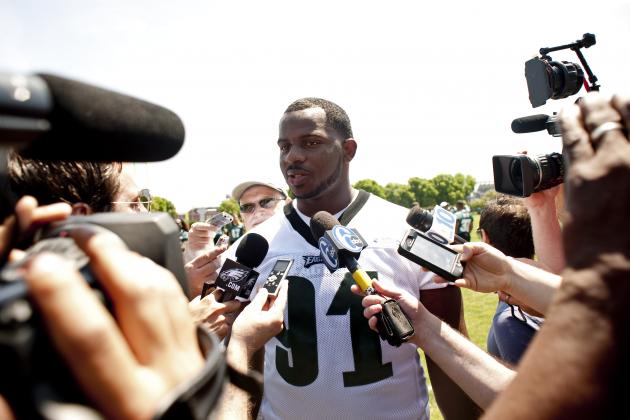 Howard Smith-US PRESSWIRE

During the offseason, the Philadelphia Eagles hauled in a draft class that was widely regarded as the NFL's very best.
Four games into the 2012 season and the Eagles sit atop the NFC East with their 3-1 record. However, both Andy Reid and Michael Vick have already taken turns on the proverbial "hot seat," and will continue to be highly scrutinized until the season ends.
Whether it's been by design or by necessity, Philadelphia's rookies have been given important roles on offense, defense and special teams. Ironically enough, it just might be the play of these first-year players that have kept the Eagles in the upper-echelon of the league.
There have been five Eagles "rooks" that have played extensively up till now, and it will be those handful that I'll be assessing and assigning first quarter grades to.
Begin Slideshow

»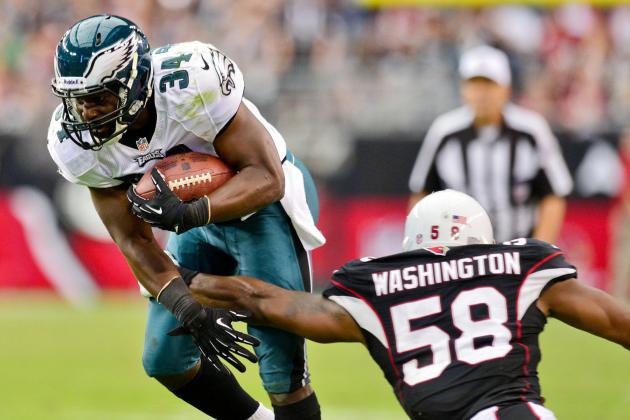 Matt Kartozian-US PRESSWIRE

Dion Lewis might have started the season behind LeSean McCoy on the depth chart, but that distinction hasn't transitioned into any carries on the field.
Instead, seventh-round pick, Bryce Brown, is being featured as the change-of-pace back and has received a handful of goal-line carries as well.
So far, Brown has been less than spectacular. His 3.3-yards-per-carry average won't blow anyone away and his inability to break the plane near the goal line is frustrating for fans to watch.
But aside from the numbers part of his game, Brown has done a decent job of spelling McCoy. He runs hard and downhill, and hasn't looked like a liability in pass protection.
With that being said, Brown remains extremely raw and still has difficulty finding holes. If he could just convert on his short-yardage opportunities, the Eagles would feel much better about giving him extra snaps.
Grade: C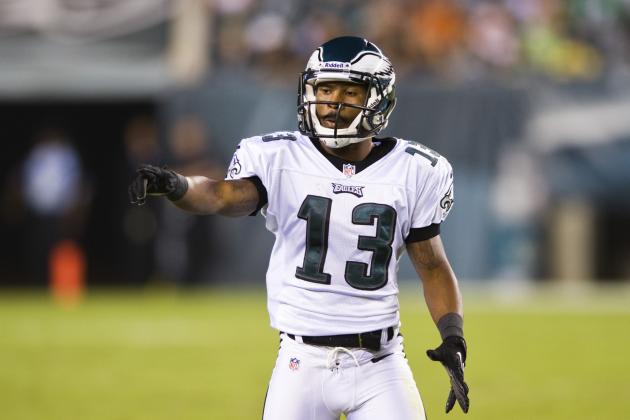 Howard Smith-US PRESSWIRE

Damaris Johnson was brought on to replace DeSean Jackson as the Eagles' primary punt returner, but he has been forced into an expanded role due to Jeremy Maclin and Riley Cooper's injuries.
Johnson got a Week 3 start at wide receiver against the Arizona Cardinals and proved that he can handle himself. He caught five passes for 84 yards against one of the NFL's top defenses, but also lost a fumble on a punt return during the same contest.
I believe that his lone miscue was a byproduct of his big-play mentality—where he fought for extra yardage that just simply wasn't there. For a rookie trying to make an impression on his coaching staff, I can't say I blame him.
Now, if he continues to give the ball up, or make poor decisions when fielding punts, you might see Andy Reid use Jackson as a returner when the situations become more meaningful.
Even with that said, there's no doubt that the Eagles see Johnson as a playmaker and want to give him the ball in open space. Johnson's eight catches have netted an average of 15.5 yards, and each of them has resulted in a first down.
As the season grows older, I expect his role on offense to grow, while his role on special teams begins to shrink.
Grade: B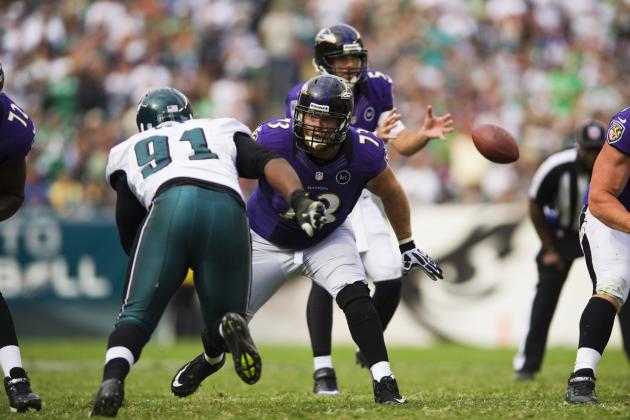 Howard Smith-US PRESSWIRE

It's hard to earn recognition alongside pass-rushers like Trent Cole, Jason Babin and Cullen Jenkins, but the rookie has done just that.
After becoming the most under-the-radar first-round selection in franchise history, Fletcher Cox has proven why he was born to play in the "Wide 9."
Cox has collected 10 tackles and one sack as he's been rotated in and out of Jim Washburn's system. His penetration and ability to occupy blockers was on full display against the Baltimore Ravens, and is only one of the reasons why he led the defensive line in snaps played for that contest.
His play upfront, coupled with the presence of DeMeco Ryans, has drastically improved the run defense and explains why the Eagles are holding opponents to under 92 rushing yards per game.
While I don't want to set expectations too high, it's hard to not get excited about Cox, who should be a mainstay on the defensive line for years to come.
Grade: A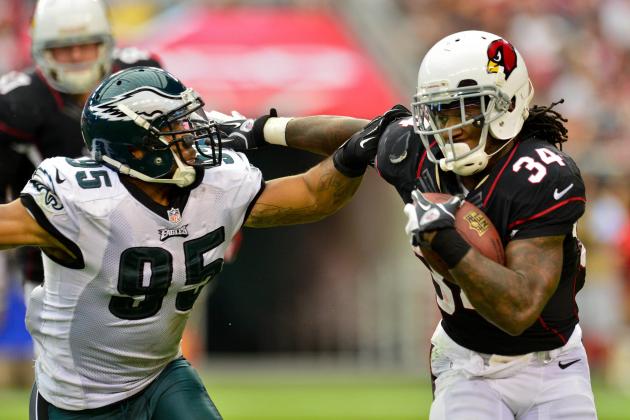 Matt Kartozian-US PRESSWIRE

If you wanted to blame Mychal Kendricks for stealing Fletcher Cox's thunder, I wouldn't stop you.
Kendricks has stepped in nicely as a full-time starter and has made fans forget about last year's failed Casey Matthews experiment. The former Pac-12 Defensive Player of the Year is the team's fourth-leading tackler and has played very disciplined football. Rarely does he over-pursue against the run and for the most part, he has held his own against opposing tight ends in coverage.
With the way the defensive line is playing (even if they aren't recording sacks) and the way Kendricks is still adjusting to the pro game, there's no reason for Juan Castillo to rush his linebacker into an expanded role.
If the Eagles can continue to get consistent play from their second-round pick, they just might have two candidates challenging for Defensive Rookie of the Year honors by the end of the season.
Grade: B+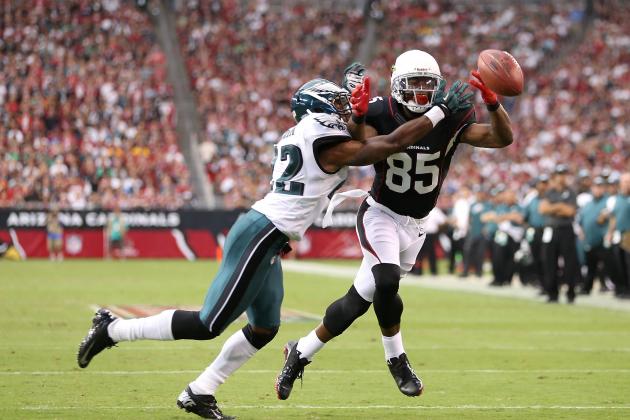 Christian Petersen/Getty Images

Quarterback aside—the most difficult position to play in the NFL is nickel cornerback.
With two sides of the field to cover, a variety of receivers to defend and the need to play with physicality, defenders are almost set up for failure. But Brandon Boykin has shown promise during his short stint in an Eagles uniform and still has to balance the responsibility of kick returns.
Larry Fitzgerald and Victor Cruz schooled the rookie over the middle, but that doesn't take away from Boykin's clutch Week 2 performance against the Baltimore Ravens. Twice, down the stretch, Joe Flacco targeted Boykin, who was in one-on-one coverage, and twice, the pass fell incomplete.
As he gets more accustomed to elite NFL talent, you should see his natural athletic ability take over, which will allow him to become more of the playmaker the Eagles selected him to be.
Grade: B-
Follow me on Twitter @JasenShen