Barcelona vs. Real Madrid: Predicting the Two Starting Lineups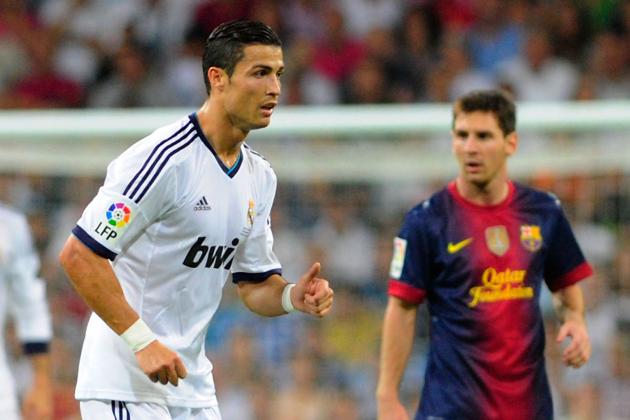 Gonzalo Arroyo Moreno/Getty Images

Bleacher Report continues its build up and coverage of this weekend's El Clasico by predicting the starting lineups for both Barcelona and Real Madrid.
Cristiano Ronaldo and Lionel Messi are sure to take to the field, but what will Tito Vilanova do about his midfield and defensive conundrums?
Can Jose Mourinho trust Sergio Ramos so soon after the fissure in their relationship, or will Raphael Varane get the biggest chance of his career so far?
Begin Slideshow

»
David Ramos/Getty Images

Victor Valdes is the undisputed No. 1 goalkeeper at the Camp Nou and, despite dropping a real clanger in El Clasico earlier this season, is a sure-fire starter for the game.
Jose Manuel Pinto accepts his role as No. 2 in the team and this helps the squad's harmony levels considerably as there's no friction and he's a great character to have around.
The Barca stalwart just needs to avoid mental lapses.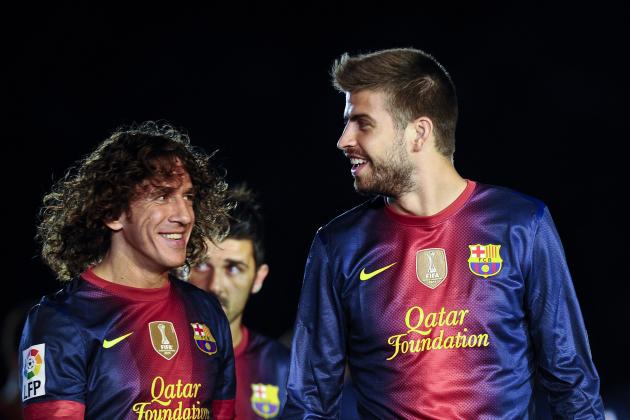 David Ramos/Getty Images

The UEFA Champions League has told us a lot about how Tito Vilanova will sculpt his defence for this El Clasico.
With ongoing concerns regarding Jordi Alba's defensive frailties coupled with the fact he started the midweek game against Benfica, it is highly likely we'll see Adriano slot in at left back.
Carles Puyol suffered a horrific shoulder injury during this clash, and with Gerard Pique a continued fitness doubt, Alex Song and Javier Mascherano look certain to reunite in central defence.
Dani Alves is, of course, the only defender (if you can call him that) in the team that is assured of his place barring a complete meltdown.
Adriano, Mascherano, Song, Alves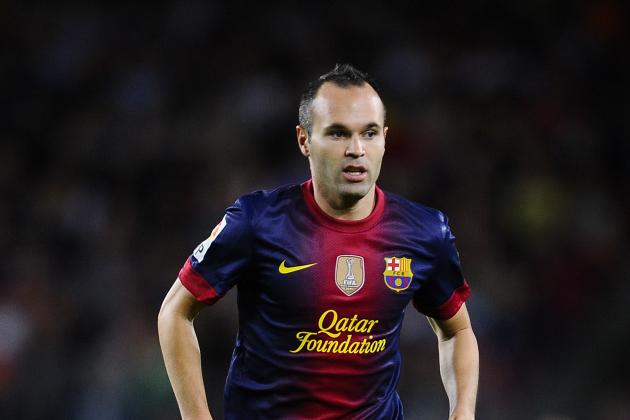 David Ramos/Getty Images

The midfield three will be a game-time decision for Tito Vilanova to make as the fitness of Andres Iniesta hangs in the balance.
Xavi is certain to both start and pull the strings, while Sergio Busquets is a shoo-in for the holding midfield role he performs so well.
Will Xavi's midfield partner be the usual suspect in Don Andres, or will the Blaugrana boss opt to continue with the in-form, red hot Cesc Fabregas?
Busquets, Xavi, Iniesta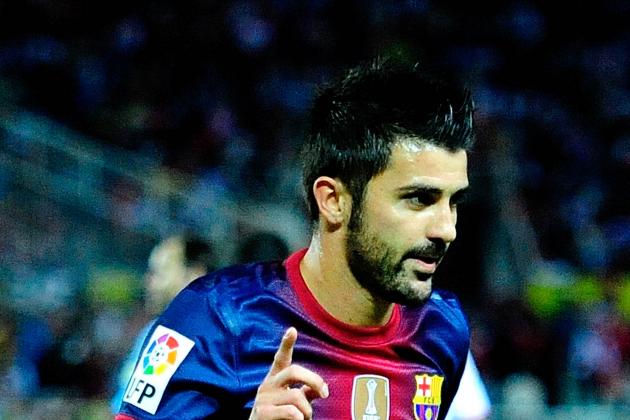 Gonzalo Arroyo Moreno/Getty Images

Not only did Barcelona's 2-0 victory over Benfica shape the look of the defence for this weekend's El Clasico, but it also took a big step towards revealing Tito Vilanova's thoughts on his attacking options too.
With David Villa regaining fitness and actually starting against Granada several weeks ago, it appears his absence in Lisbon could mean a starting role for him against Real Madrid.
Lionel Messi will, of course, occupy the central forward's position, while the decision between Pedro and Alexis Sanchez is unenviable.
Pedro always pulls it out in the big games, so the Blaugrana tactician may well opt to start him ahead of the Chilean.
Villa, Messi, Pedro
David Ramos/Getty Images

The goalkeeping spot on Jose Mourinho's team isn't up for debate—that spot is Iker Casillas' and no one comes close to taking it away from him.
He's got over 600 appearances for Los Blancos under his belt, meaning plenty of experience in the fierce and testing atmosphere of El Clasico.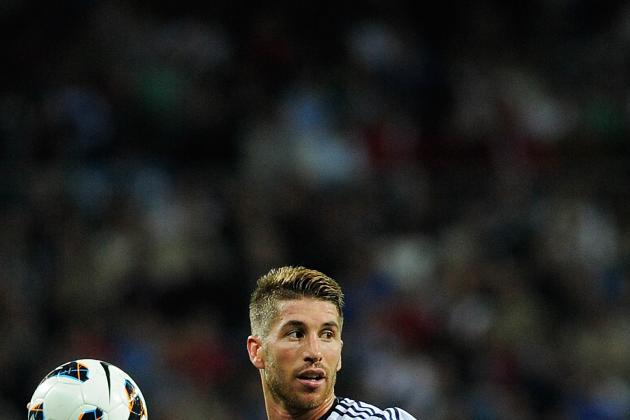 Gonzalo Arroyo Moreno/Getty Images

Jose Mourinho may well have kick-started his side's season by dropping Sergio Ramos. No, he wasn't exclusively at fault for a sub-par opening four games, but whatever the Portuguese manager did, it's worked.
Ramos is back in the side and should line up alongside the ever-impressive Pepe in the centre, as his appearance at right back last week was a ploy to rest Alvaro Arbeloa.
The former Liverpool man should assume his usual role on the right side of the defence, while the left back role should be awarded to Marcelo.
Despite the Brazilian's poor temperament, his performances in recent big games have been superb.
Marcelo, Pepe, Ramos, Arbeloa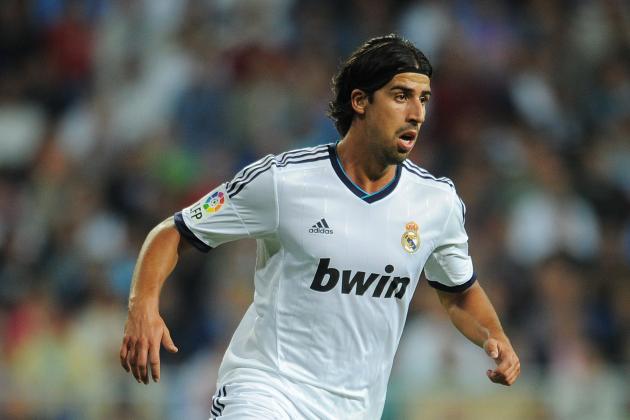 Jasper Juinen/Getty Images

Sami Khedira is a major fitness doubt ahead of El Clasico.
His usual two-man pivot partner in midfield, Xabi Alonso, is nailed on to start, so it will be interesting to see what Jose Mourinho does should the German prove unfit.
Luka Modric or Michael Essien are the choices, but neither provide the stability the former Stuttgart player does. For that reason, there's a chance the Portuguese tactician opts for the three-man midfield seen when the reigning champions took on Manchester City.
Alonso, Essien, Modric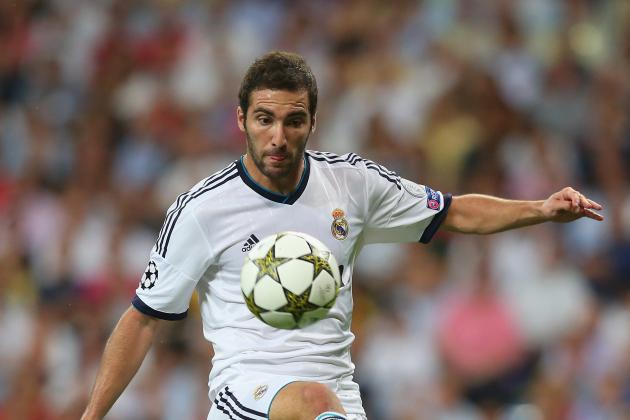 Alex Livesey/Getty Images

Jose Mourinho faces another tough choice with regard to his lone striker position. Gonzalo Higuain has been generally preferred so far this season, while Karim Benzema has made a certifiable impact from the bench in recent weeks.
Cristiano Ronaldo will start of course, leaving Angel Di Maria to take up his usual slot on the right side of of the front three.
There have been some grumbles about the Argentinian winger's sloppy passing game, but there is no chance the boss throws Jose Callejon in at the deep end.
Ronaldo, Higuain, Di Maria