NFL Power Rankings: 5 Teams Flying under Everyone's Radar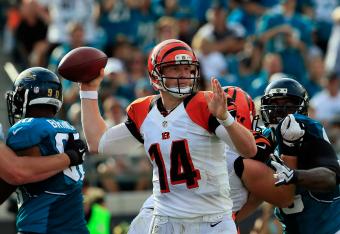 Sam Greenwood/Getty Images
The NFL is known for parity and 2012 has proven no different. Seventeen of the 31 NFL teams are either 2-2 or 3-1, with only a few teams clearly ahead of the rest.
Naturally, this leads to some teams being forgotten in the fracas. In a league where the smallest intangibles can be the difference between wins and losses, there really is no separation between a team with two wins and a team with three.
With that in mind, here are five teams that are flying completely under the radar despite their respective performances through four weeks of the 2012 season.
1. Cincinnati Bengals (3-1)
The Bengals were the surprise team of 2011, turning a 1-2 start into an unexpected playoff appearance. It seems that the confidence Cincinnati found last season has spilled over into 2012. Since getting blown out by the Ravens in their first game, the Bengals have reeled off three straight wins, including a 27-10 demolition of Jacksonville this Sunday.
The Bengals are one of the most intriguing teams in the league. In his 10th season at the helm of the Cincinnati organization, head coach Marvin Lewis has found the right players to run a system predicated on smart, disciplined football. Lewis' proven track record, paired with the impeccable play-calling of assistant coach Jay Gruden, has been absolute gold for a team that has spent more time over the last two decades at the bottom of the league than they would like to admit.
Why are the Bengals under the radar? Because they're not flashy, and there's nothing they do that makes headlines. Andy Dalton is as steady as they come under center, and while phenomenal receiver A.J. Green makes some spectacular plays, he doesn't make himself out to be a diva in front of the media.
The Bengals are fine with that. Cincinnati has a great offense and a solid defense, and are looking to surprise a lot of people with a division title.
2. Minnesota Vikings (3-1)
In the preseason, there was no doubt that the Minnesota Vikings would find themselves at the bottom of the NFC North. The Packers were coming off of a 15-1 year, the Lions had just made the playoffs and the Bears had Super Bowl aspirations after a productive offseason.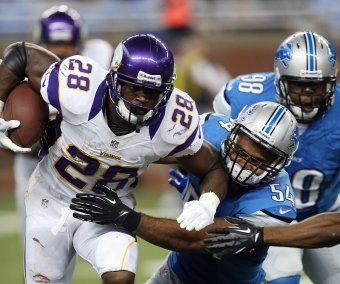 Leon Halip/Getty Images
So, of course, the Vikings have vaulted to the top of the division. Minnesota has easily been the biggest surprise of the year (sorry Cardinals fans) in a loaded division, and all signs point to the hot start being legitimate. The Vikings' defense is for real, and Adrian Peterson has proven everyone wrong by returning to his regular dominant self following a brutal knee injury at the end of last season.
The most surprising performer, though, has been quarterback Christian Ponder. People thought the Vikings reached for Ponder in the first round with the No. 12 overall pick, but he has played very well in 2012 and has taken control of a franchise in desperate need of leadership under center. Minnesota ranks 26th in the league in passing yards per game, but Ponder boasts a 97.7 quarterback rating to go along with zero interceptions.
It remains to be seen whether or not the Vikings can continue their surprising start, but there is no question that teams must be wary of Minnesota's potential as a force in the NFC.
3. St. Louis Rams (2-2)
Not long ago, the NFC West was considered the worst division in all of football. Now, with the emergence of the San Francisco 49ers and the Seattle Seahawks, that generalization is being tested.
Enter the St. Louis Rams, who might be the most underrated team in all of football. A year ago, the Rams were awful. They finished 2-14 and fielded one of the statistically worst offenses in NFL history (in a year when offensive records were falling on nearly every play).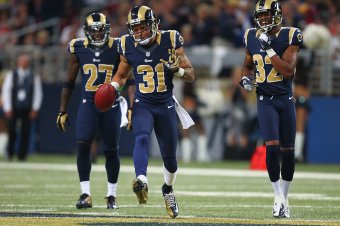 Dilip Vishwanat/Getty Images
So far in 2012, the Rams are an underwhelming 2-2, yet new head coach Jeff Fischer has installed a fresh mentality that has St. Louis looking totally different than it did a year ago. Additions on defense have made the Rams a more physical team, and Sam Bradford appears to be emerging from his puzzling sophomore slump. If the Rams could find a dependable No. 1 receiver or tight end, the sky could be the limit.
As it is, this team is built to win with defense. The NFC West as a whole is built that way, so the Rams should feel pretty good about their chances of competing for a division crown. Remember, the Rams traded for a boatload of draft picks after shipping their No. 2 overall pick to the Washington Redskins. In the next few years, St. Louis could be one of the better teams in the league if they are able to draft well.
4. San Diego Chargers (3-1)
The Chargers are the team that no one can ever get a handle on. They have all the talent in the world every year, but just can't seem to put it together. Who can forget 2010, when San Diego had the league's No. 1 rated offense and defense but failed to make the playoffs.
After a disappointing 2011, experts wrote San Diego off as old news. But through four weeks in 2012, the Chargers sit atop a weak AFC West at 3-1. Yes, their lone game against solid competition (Atlanta) ended in a blowout loss, but does it really matter? All the Chargers really need to do is make the playoffs and then hope to get lucky. At 3-1, it's entirely conceivable that San Diego could take control of the division sooner rather than later.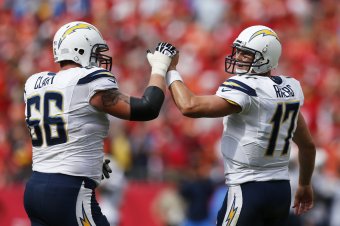 Joe Robbins/Getty Images
So write off the San Diego Chargers. They'll let you do it, because once you forget about them, they'll pounce. Philip Rivers and company are ready to surprise everyone and make a run in the playoffs and save Norv Turner's job...again.
5. Pittsburgh Steelers (1-2)
The Ravens are the sexy pick to win the AFC North this year, and that distinction is well-deserved. But don't forget about the pesky Steelers, who seem like they are always on the cusp of the NFL's elite year after year after year.
The Steelers are so consistent that they're almost boring. But that's exactly why they're flying under the radar: Pittsburgh is expected to be good every year, so why care? They'll get their 10 wins and make the playoffs.
Unfortunately, the Steelers have started off the year 1-2, cementing their position as the "team everyone has forgotten about because they finally decided to take a year off." Don't sleep on Pittsburgh. With an aging-but-still-solid defense and the perennially underrated Ben Roethlisberger under center, anything can happen.
Don't be surprised if the Steelers manage to win a few games and challenge the Ravens for the division crown. And be sure to tune in to the Ravens vs. Steelers games this year, because they are sure to be as nasty as ever.
Week 4 Power Rankings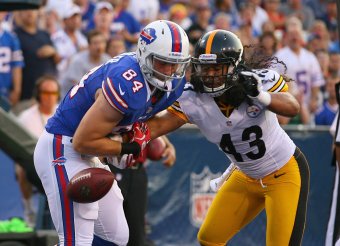 Rick Stewart/Getty Images
1. Houston Texans
2. Atlanta Falcons
3. San Francisco 49ers
4. Baltimore Ravens
5. New England Patriots
6. Green Bay Packers
7. Chicago Bears
8. Arizona Cardinals
9. Philadelphia Eagles
10. Cincinnati Bengals
11. New York Giants
12. Minnesota Vikings
13. San Diego Chargers
14. Denver Broncos
15. Seattle Seahawks
16. Pittsburgh Steelers
17. Washington Redskins
18. Dallas Cowboys
19. St. Louis Rams
20. Tampa Bay Buccaneers
21. Detroit Lions
22. Buffalo Bills
23. Miami Dolphins
24. Carolina Panthers
25. New York Jets
26. Tennessee Titans
27. Kansas City Chiefs
28. New Orleans Saints
29. Indianapolis Colts
30. Oakland Raiders
31. Jacksonville Jaguars
32. Cleveland Browns
This article is
What is the duplicate article?
Why is this article offensive?
Where is this article plagiarized from?
Why is this article poorly edited?