Matt Mitrione Explains Why He Turned Down Daniel Cormier Fight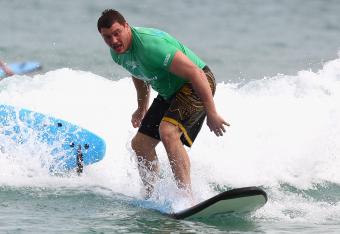 Ryan Pierse/Getty Images
This week, UFC heavyweight Matt Mitrione became the latest fighter to incur the wrath of Dana White, after he turned down a fight against Strikeforce heavyweight Daniel Cormier.
At the post-fight media scrum following the UFC on Fuel 5 event in Nottingham, England last Saturday, White said Mitrione's decision "makes me sick" (h/t Fighters Only).
And now, following the expected public smiting from his boss, "Meathead" has tried to explain himself.
Said Mitrione, in an interview with Bloody Elbow's Steph Daniels:
"It was an honor to get that call, and I would love to fight Daniel Cormier, but I'm just not ready right now. He has Olympic level wrestling, and although I have spent a great deal of time working on my wresting, I don't feel it would be my best fight back after such a long layoff. UFC worked hard to get me a fight this year, but my old opponent had visa issues and it caused additional time out of the cage. Wrestling is, by far, my weakest skill. I'm working hard on my wrestling, but it would be a huge weakness against me in a short notice fight against Cormier."
Strikeforce, owned by UFC parent company Zuffa, has been searching far and wide for an opponent for Cormier, who still has one fight left on his contract with the promotion.
He was slated to face Frank Mir in November, but Mir had to pull out due to an injury.
The revelation that Mitrione was then offered the fight came shortly after the UFC heavyweight called out light heavyweight Quinton "Rampage" Jackson.
Last week on the "MMA Hour," where Jackson was the special guest, Mitrione called in on the show specifically to challenge the popular light heavyweight.That call-out didn't go down well with the UFC president, either.
"Yeah, he wants to fight a guy who weighs 205, but doesn't want to fight the guy who's the real heavyweight, the legitimate guy who's ranked," said White in Nottingham. "And Mitrione's not getting any younger."
After White's harsh words, Mitrione has quickly backtracked on his challenge to Rampage Jackson, telling Daniels:
"I'm going to stay at a heavyweight. I was willing to come down in weight a little to fight Rampage because it seemed like a fun and exciting fight to me... but, I wasn't going to light heavyweight. I wanted Rampage to come up to heavyweight and was willing to fight him at 235."
Fighters refusing to take fights has become a hot topic for the UFC in recent months. Only in September, light heavyweight champion Jon Jones was roundly criticized for turning down a fight against Chael Sonnen, a possible replacement for the injured Dan Henderson. That decision caused the cancellation of UFC 151, the first time the promotion has had to do that in its history, and led to Jones being castigated throughout the world of MMA.
What's ironic is that chief among those casting stones at the light heavyweight champ was Mitrione himself, who said at the time, as champ, it was Jones' "duty" to fight whoever was put in front of him.
Khurram Aziz is a Featured Columnist for Bleacher Report. Follow him on Twitter: Follow @khurramaziz1981
This article is
What is the duplicate article?
Why is this article offensive?
Where is this article plagiarized from?
Why is this article poorly edited?