7 2012-13 NBA Rookies Who Must Use the D-League for Long-Term Success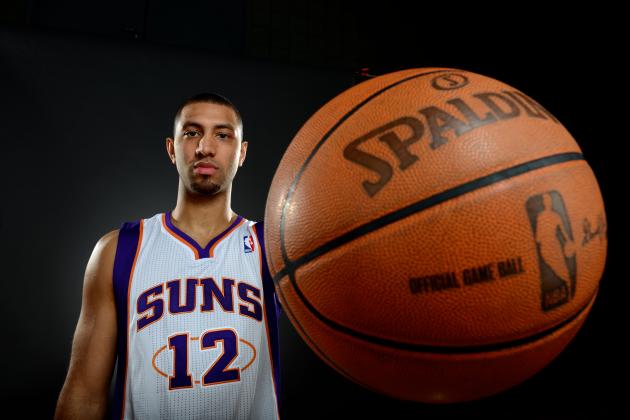 Mark J. Rebilas-US PRESSWIRE

We all remember Jeremy Lin breaking out last season, as the Harvard grad practically came out of nowhere to take the league by storm and become a household name. Though many were in awe of him due to his undrafted status, what most people don't know is that a lot of Lin's success can be attributed to his time in the NBA Development League, or D-League.
For those readers who are just getting into pro basketball, the D-League is for basketball what the minor leagues are for baseball, where rookies who aren't quite yet ready for the big show can fine-tune their skills in the necessary areas before being called back up to the professional ranks.
That all being said, some of the rookies from the 2012 draft still have a lot of work to do before they take their first step into an NBA regular season game. By spending time in the D-League, they can match themselves up with equally talented players before eventually improving to the point where they are on a new level and can compete with perennial All-Stars.
In doing so, they could prevent fans and critics from labeling them as busts just because they don't start producing top numbers immediately.
For a small handful of 2012-13 rookies, however, a trip to the D-League isn't at all a bump in the road on their paths to stardom. Rather, it is an absolute necessity.
Begin Slideshow

»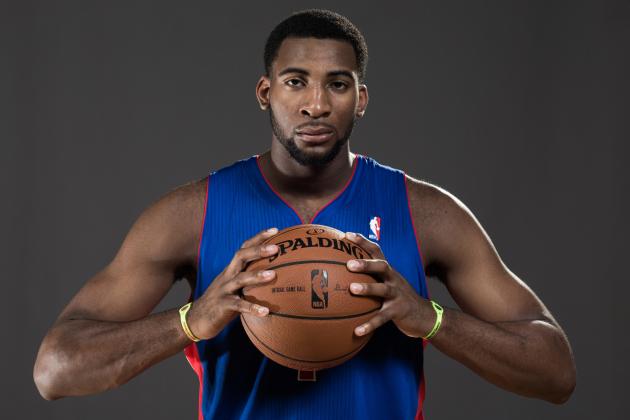 Nick Laham/Getty Images

At 6'10", 270 pounds, it's definitely clear that Drummond has an NBA body. On defense, he uses his large frame to be an excellent force under the basket as he pulls down rebounds and swats shots away. In five NBA Summer League games, the former UConn Husky averaged 7.4 points, 5.4 rebounds and two blocked shots per contest.
Yet, as a whole, Drummond still has a lot to learn before becoming an NBA regular. Save for working on is raw and (borderline nonexistent) offensive game, his overall athleticism needs to improve. While his size is a blessing, it is also a curse in that he moves so slowly on the court.
On top of that, when playing under the basket on both sides of the floor, Drummond seems to occasionally lose focus. He's still very young at 19 years old and has some time to work on his game, but it needs to happen sooner rather than later. If Detroit management rushes his development, they'll be setting themselves and the fans up for a grand disappointment.
In sending Drummond to the D-League, this could potentially be avoided.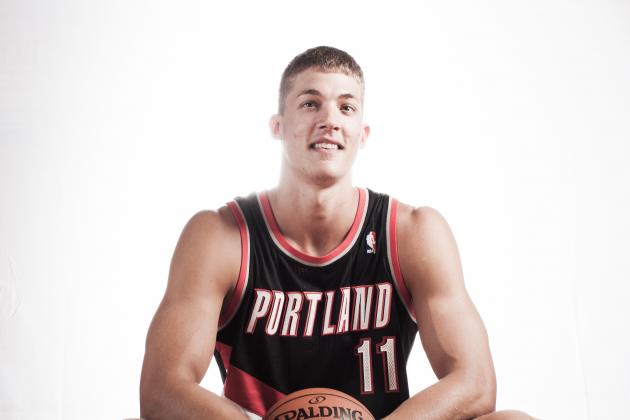 Nick Laham/Getty Images

Leonard may be what Portland needs in a center who has good size and can just dominate in the paint, but fans shouldn't get so excited about the former Fighting Illini just yet.
His height is great at 7'1", but his lanky, 245-pound frame could be a cause for concern. Nothing against Leonard, but he just seems a bit soft to immediately make an impact in the NBA.
His Summer League was decent, as he put up 10.5 points, 8.3 rebounds and 1.5 blocks over four games, but that was against players very much like him, still waiting to make a huge impact on the professional level. That said, they aren't exactly reliable numbers.
What needs to happen is for Leonard to go to the D-League and just log as many minutes as he can while also spending some time in the weight room. The key to Portland's success is reliability at center, and once Leonard packs on some muscle, he'll be able to provide that and more.
Should he succeed, he will be very much more Arvydas Sabonis and not another Shawn Bradley.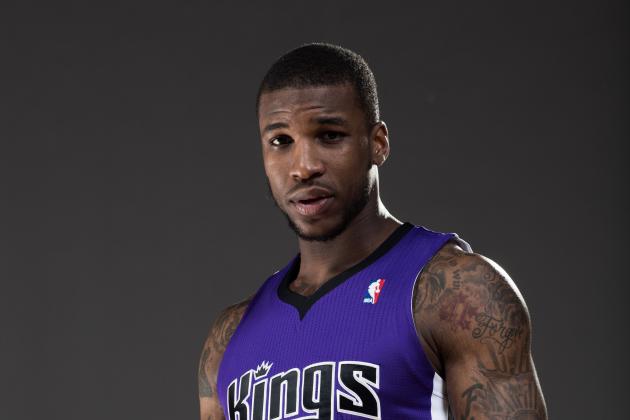 Nick Laham/Getty Images

In the Summer League, Robinson showed that he was able to be a force on defense, averaging 9.8 rebounds over five games. While his offense wasn't bad at 13 points a contest, his 34 percent shooting from the floor can be considered something of a red flag.
For someone who shot over 50 percent from the field in his final college season, one would think that he could put up a similar number in the NBA. Instead, the former Kansas Jayhawk seems to have taken a step back.
Fortunately for Robinson and the Sacramento fans, the problem appears to be simple. On top of having great size for rebounding at 6'10", 237 pounds, Robinson also has the ability to be a top producer in the scoring department and just needs to learn how to balance his skills instead of try to get everything right the first time.
With some time in the D-League to work on his shot selection, confidence and overall discipline, the man could very well become another Amar'e Stoudemire.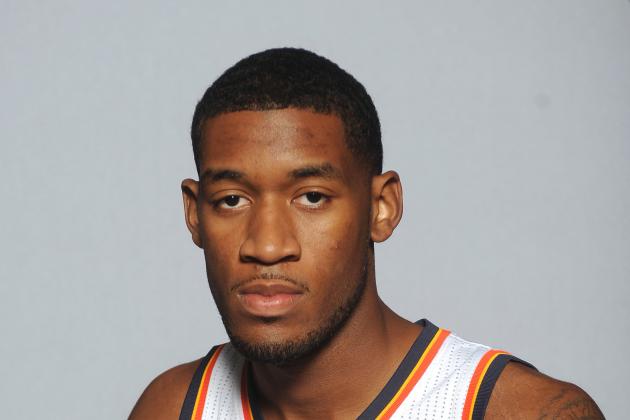 Mark D. Smith-US PRESSWIRE

Jones's 6'11", 235-pound frame gives him the look of a dominant NBA big man. The only problem is that he doesn't necessarily play like one.
In two Summer League games, he averaged just 12 points and six rebounds per game. Those numbers came close to those he put up at Baylor University last year, when he averaged 13.5 points and 7.6 rebounds.
Now, while it's nice to see that Jones is producing at the same level that he did in college, the man needs to do much more than that. While he appears completely in his element on offense, he seems less excited about playing defense. This is truly a shame because he has such good size that he is wasting by not making a 100 percent effort.
Thus, if his scoring is fine, why send Jones to the D-League? Well, to be perfectly honest, the former Baylor Bear is just too soft for the NBA right now. Once he learns to get his hands dirty under the basket and in driving the lane, then he could perhaps get the call.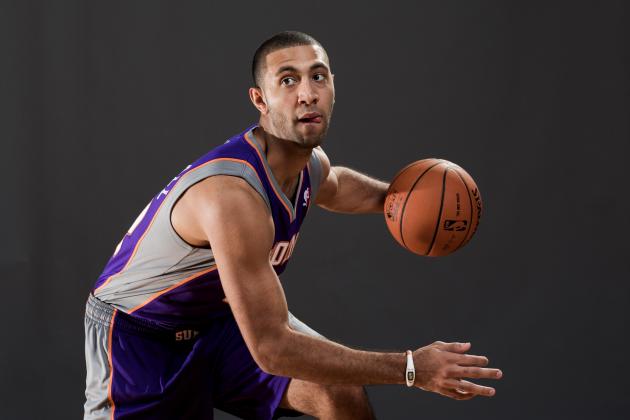 Nick Laham/Getty Images

Marshall has good size for a point guard at 6'4", 195 pounds, but his sophomore campaign at North Carolina hardly indicates that he should have entered the draft. He averaged just 8.1 points and 9.8 assists for the Tar Heels last season. The passing numbers are not bad by a long shot, but his offensive game still leaves a little something to be desired.
You see, the Suns play a fast-paced game highlighted by heavy use of the pick and roll, lots of three-point shooting and lots of quick passes dished off when the opposition may least expect it. Seeing as how Marshall is not used to this type of system yet, giving him immediate minutes as Goran Dragic's backup is a recipe for disaster.
Rather, team management should let him go to the D-League and work on his three-point shooting and overall offense. The more he can be like Steve Nash, the better.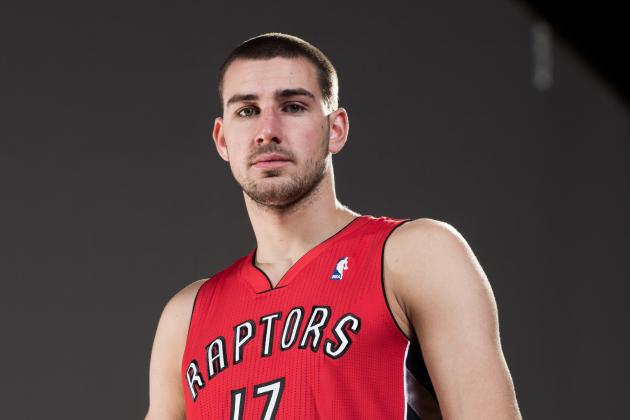 Nick Laham/Getty Images

I'm always highly skeptical of international prospects who get a lot of hype before playing one NBA game, and Valanciunas is no exception.
While the Raptors may be excited for him to finally bring a reliable type of dominance to the center position this coming season, the team will set itself up for failure by immediately shoving Valanciunas into the spotlight. He is still just 20 years old and has a lot left to learn about how to be successful in the NBA.
Not only does Valanciunas seem just a bit skinny at 6'11", 231 pounds, but he also struggled in the 2012 Olympics at London. Representing his home country of Lithuania, Valanciunas just looked lost on both ends of the court, not to mention overwhelmed at times, and he barely got any playing time.
That said, his D-League trip needs to have him just try and get in the game mentally. He's on Toronto to play defense and shut down the opposition, not put up a bunch of points night after night. Once he can fully focus on his rebounding and blocking and only get involved on offense when necessary, then he will prove to Toronto that he was worth the wait after being picked in 2011.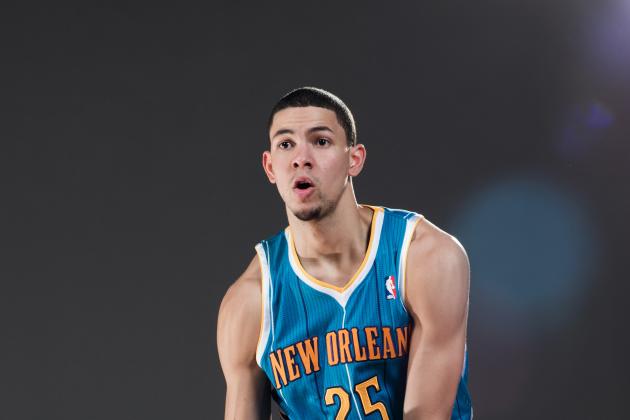 Nick Laham/Getty Images

Rivers has talent and some great genes, being the son of Boston Celtics coach Doc Rivers, but the fatal flaw in his game is that he thinks he is more talented than he actually is.
After just one season at Duke, one in which he averaged 15.5 points and appeared to be establishing himself as a top shooter, Rivers entered the draft and has been showcasing his cocky attitude ever since.
Of course, once he started playing in the Summer League, Rivers got his wakeup call. He averaged 10 points per contest over two games, but that wasn't the worst of it. Rivers shot a measly 21 percent from the field and just 12.5 percent from long range over that brief stretch.
Simply put, if the Hornets are serious about rebuilding, Rivers needs to be sent to the D-League immediately. He thinks he is more special than he actually is and on the Hornets, there is no room for that kind of behavior. Once he can pick his shots better and adjust his attitude, then he could very well be promoted.
If he doesn't, however, then he could very well be the biggest bust of the 2012 draft.