NFL: The 15 Craziest on-Pace Stats so Far in the 2012 Season
J. Meric/Getty Images

The NFL has become a more statistics-driven league in the past decade, as people have become fanatical about fantasy football and pay more attention to box scores today than ever before.
There have been a plethora of huge performances through the first four weeks of the NFL season, but if you are anything like me, looking at those small sample sizes and figuring out a 16-game pace is a fun activity.
With a quarter of the season in the books, it's easy to extrapolate data. Let's take a look at the 15 craziest full-season paces in the NFL thus far.
**All statistics and records found at Pro Football Reference**
Begin Slideshow

»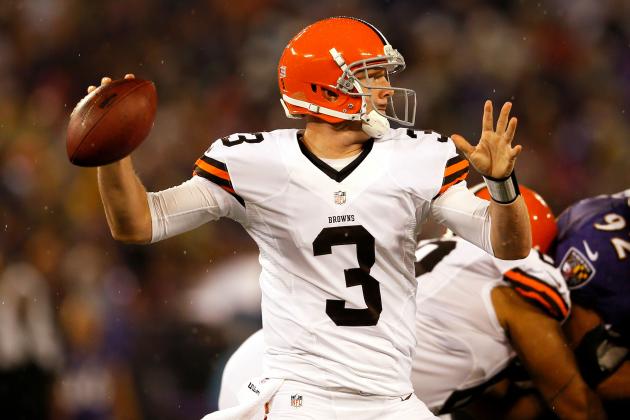 Rob Carr/Getty Images

Weeden has improved over the past few weeks, but he is still on pace for one of the worst rookie seasons by a quarterback in NFL history. His 16-game pace of 28 interceptions would tie Peyton Manning's rookie record.
The difference between Peyton Manning and Brandon Weeden's rookie year? Manning threw 26 touchdowns while Weeden is on pace to throw 12.
It is never a good thing when a rookie quarterback is throwing interceptions at such a horrid pace, but it's even worse when the rookie quarterback turns 29 years old in two weeks and sports the worst QBR in the NFL for an 0-4 franchise.
Weeden's Full 16-Game Pace: 360-of-668, 3,988 yards, 12 TD, 28 INT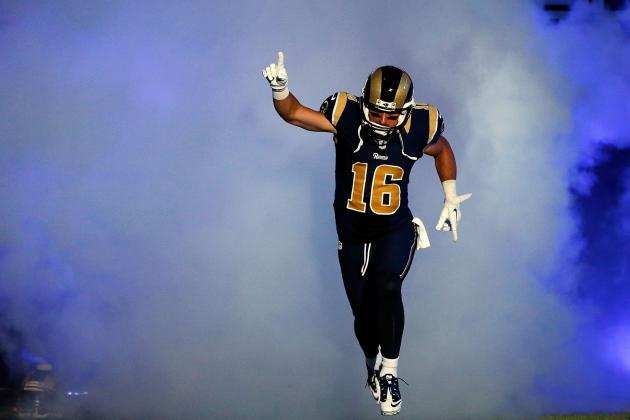 Jamie Squire/Getty Images

Did anybody see this coming? Amendola had 133 receptions for 1,060 yards in his first three seasons combined, yet his 16-game pace this season is for 124 receptions and 1,404 yards.
The fourth-year pro is Sam Bradford's favorite target and has been a great weapon on third down, already accounting for 18 first downs.
The only thing standing in Amendola's way of reaching this pace is injuries. He's missed 27 games over the past two years and the likelihood that he plays all 16 this year is rather slim.
Danny Amendola's Full 16-Game Pace: 124 receptions, 1,404 yards, 8 touchdowns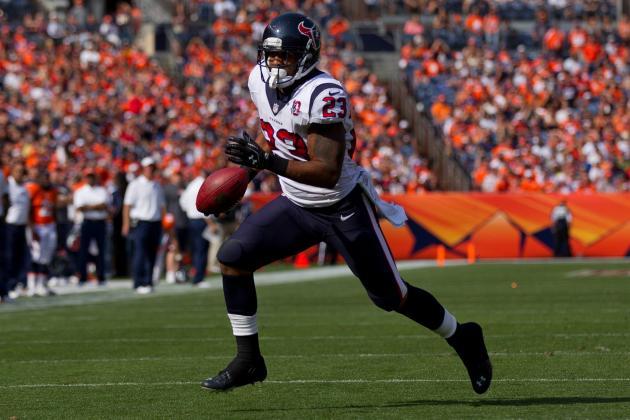 Justin Edmonds/Getty Images

The Texans sure are getting their money's worth out of their bell cow back. Foster's 16-game pace of 412 rushing attempts would be the second most in NFL history. The NFL record of 416 attempts was set by Larry Johnson in 2006 before his huge decline the following season.
Houston will likely rely on Ben Tate more as the season wears on to keep Foster fresh. But many expected them to take that approach early in the season as well.
If head coach Gary Kubiak cares about the future of their feature back, he should find a way to mix it up. Running backs who carry the ball over 400 times have a bad track record of future success as their bodies seem to wear down quickly.
Arian Foster's Full 16-Game Pace: 412 Attempts, 1,520 Yards, 16 Touchdowns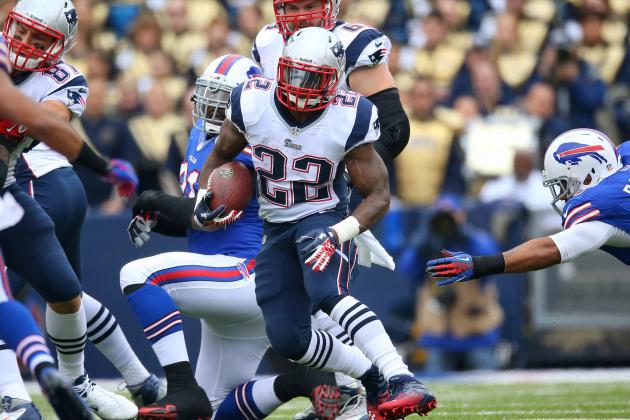 Tom Szczerbowski/Getty Images

Ridley has been a hot name amongst fantasy owners since the season started, but it's his ability to find the first-down marker, not the end zone, that should be the focus. His 16-game pace of 112 first down runs would be the most since at least 2002, according to ESPN's statistics history (2002 is as far back as their data goes).
He has 28 first down runs on only 74 attempts, meaning 37.8 percent of the time he gets the ball, it results in a first down for the Patriots.
Stevan Ridley's Full 16-Game Pace: 296 Attempts, 1,356 Yards, 12 Touchdowns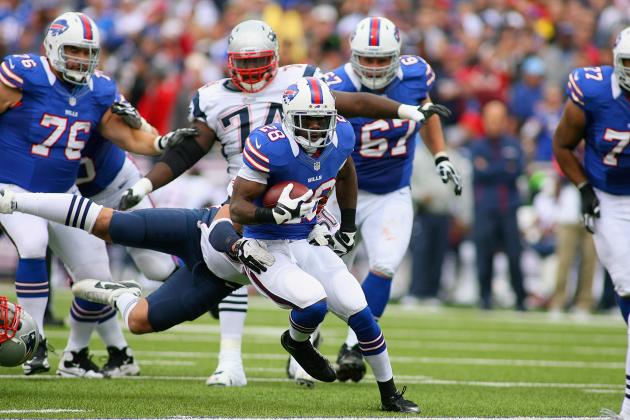 Rick Stewart/Getty Images

The most amazing thing about C.J. Spiller's breakout season so far is his ridiculous 8.3 yards-per-attempt with such a high volume of carries.
Spiller's current pace of 164 carries with an 8.3 yards-per-attempt would shatter the previous record for running backs with 150 or more carries. Jim Brown holds that record after running for 1,863 yards on only 291 carries, a 6.40 average. That's nearly a two-yard difference per run.
However, it's highly unlikely that Spiller will continue to put up these type of gaudy numbers. He's been nursing a fragile knee and the Bills seem intent on starting Fred Jackson over Spiller now that Jackson has come off injury.
C.J. Spiller's Full 16-Game Pace: 164 Attempts, 1,364 Yards, 12 Rushing Touchdowns
Kevin C. Cox/Getty Images

The Atlanta Falcons offense has been on fire to start the year, and their quarterback has been a big reason why.
Matt Ryan's 16-game pace of 44 TD and eight interceptions would only be the third season in NFL history where a QB has 44 or more TDs and single-digit interceptions, the others coming from Tom Brady in 2007 and Aaron Rodgers last year.
If Ryan continues at this pace, he will need to be entered into the "elite" discussion with the upper echelon of NFL quarterbacks.
Matt Ryan's Full 16-Game Pace: 408-of-588, 4,648 Yards, 44 Touchdowns, 8 Interceptions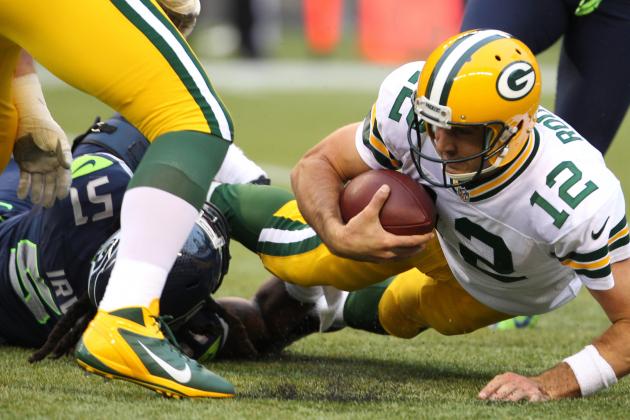 Kevin Casey/Getty Images

The Green Bay Packers can not allow Rodgers to be sacked 64 times this season. He will not make it out alive. The 64 sacks would be the fourth-most in NFL history.
In Week 3 against Seattle this year, Rodgers was sacked eight times in the first half. It appears as though the Packers have found a remedy for Rodgers' protection problems by using shorter drop steps and more quick-hit routes rather than looking downfield.
It also should be noted that the Packers have played three of the best defenses in football between San Francisco, Chicago and Seattle. It is rather unlikely that Rodgers will continue to be sacked at this pace.
Aaron Rodgers' Full 16-Game Pace: 436-of-624, 4,256 Yards, 28 TD, 12 INT, 64 Sacks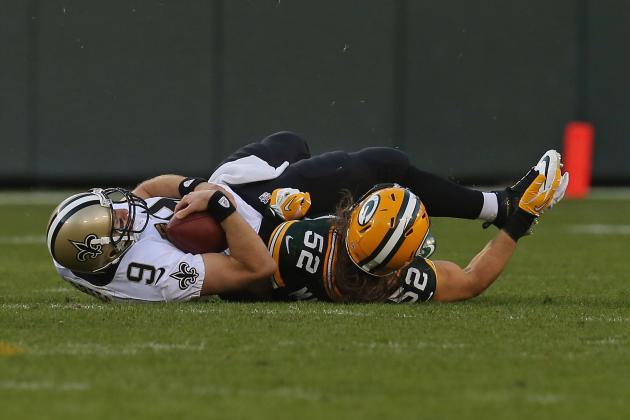 Jonathan Daniel/Getty Images

Coming off a down-year by his standards, many weren't sure whether or not Clay Matthews would return to be the dominant pass-rusher he showed in his first two seasons.
Those questions have been answered as Matthews has roared out of the gate with seven sacks in his first four games, a 16-game pace of 28 sacks. The 28 sacks would set a single-season NFL record. In fact, it would shatter it. The NFL record for sacks in a season is 22.5, set by Michael Strahan.
The Packers' additions of Nick Perry and Jerel Worthy has undoubtedly helped Matthews, who can no longer be double-teamed on every play. There's no reason why he shouldn't be able to approach the sack record as long as he stays healthy.
Clay Matthews' Full 16-Game Pace: 76 Tackles, 28 Sacks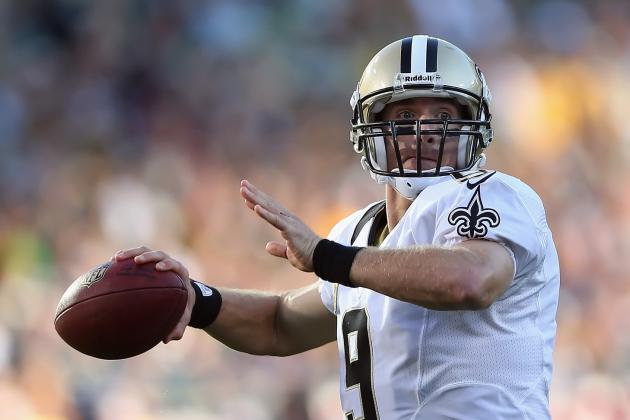 Jeff Gross/Getty Images

The Saints' best chance to win is when the ball is in Drew Brees' hands, but New Orleans can not be this predictable. Seven-hundred and sixty-four pass attempts would smash the previous NFL record of 691 set by Drew Bledsoe in 1994.
Unfortunately, this pace might continue as the Saints defense has been atrocious, forcing the offense into shootouts. The 0-4 Saints would rather play with a lead and be able to nurse the clock with their running game, but their defense has not shown the ability to stop anybody.
This shouldn't come as too big of a surprise. Drew Brees has led the NFL in pass attempts since the start of the 2008 season by a large margin with 2,655 attempts, 379 more than second-place Eli Manning.
Drew Brees' Full 16-Game Pace: 440-764, 5,400 Yards, 40 TD, 20 INT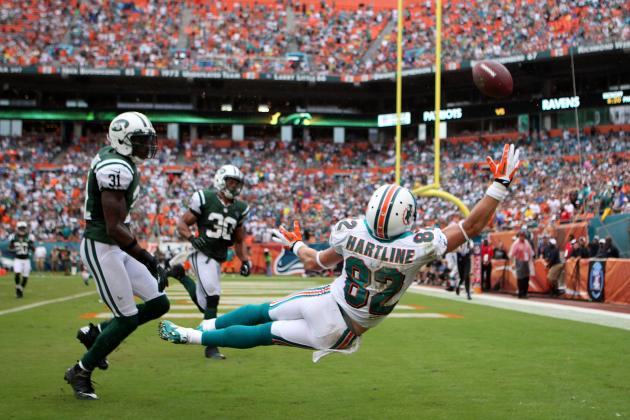 Marc Serota/Getty Images

Talk about a coming-out party. Hartline's 12-catch, 253-yard day on Sunday smashed a variety of Dolphins team records. In fact, it vaulted him to the top of the NFL receiving list in yardage.
It is unlikely that he will continue his current pace of 100 catches for 1,820 yards since his current statistics are inflated due to one breakout performance; however, he will remain a force to watch all year as Ryan Tannehill's top target.
Brian Hartline's Full 16-Game Pace: 100 Receptions, 1,820 Yards, 4 Touchdowns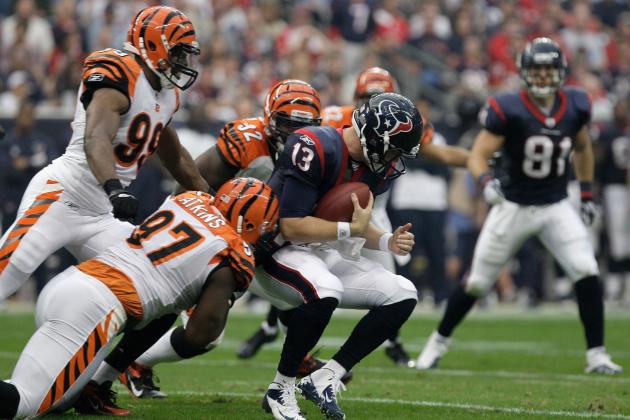 Thomas B. Shea/Getty Images

He may not have the most sacks in the league, but Geno Atkins' pace of 20 sacks is rather unbelievable.
It is much more difficult for defensive tackles to get sacks due to constant double-teams and having to push up the middle rather than having the ability to chase around the edge.
There have only been eight players in NFL history to record 20 sacks in a season and all are defensive ends or linebackers; nobody has ever done it from the defensive tackle position.
Geno Atkins' Full 16-Game Pace: 36 Tackles, 20 Sacks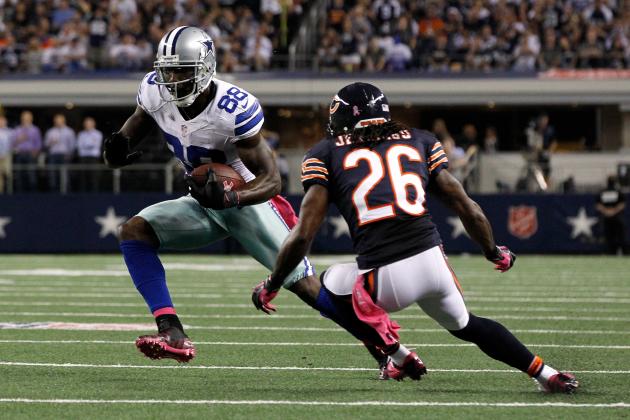 Tom Pennington/Getty Images

Jennings has been a flat out stud for the Bears this season, already doubling his career high in interceptions through four weeks.
Needless to say, his pace of 16 interceptions would set an NFL record and his 36 passes defended would easily lead the league.
He fits perfectly in the Bears' cover-2 scheme and looks like he's a shoe-in for the Pro Bowl.
Tim Jennings' Full 16-Game Pace: 64 Tackles, 16 Interceptions, 36 Passes Defended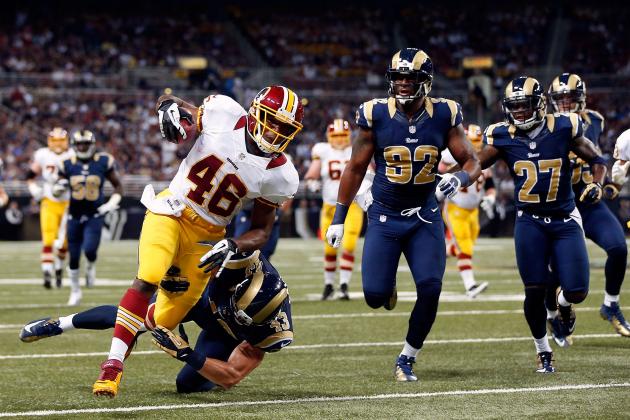 Jamie Squire/Getty Images

Alfred Morris' 16-game pace of 1,504 yards might be the biggest shock to NFL fans.
Those who followed the career of the former Florida Atlantic star know that he was a 'tweener who was too slow to be a full-time running back and too light to be a fullback.
In fact, Morris was a fullback replacement at the 2012 Senior Bowl.
Morris would be the first rookie running back to run for 1,500 yards since Clinton Portis in 2002 (who also ran for Mike Shanahan), and he'd also be the first player drafted out of the top 60 to run for 1,500 yards in his first season.
Not bad for a guy who entered training camp as the third running back on the Redskins' depth chart behind Roy Helu and Evan Royster.
Alfred Morris' Full 16-Game Pace: 328 Attempts, 1,504 Yards, 16 Touchdowns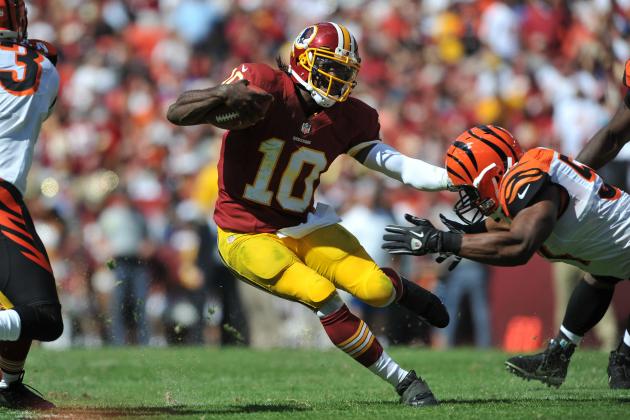 Larry French/Getty Images

Has there ever been a more impressive debut for a quarterback than what Robert Griffin III has shown over his first four games? Some may argue that Cam Newton's torrid start to his rookie year was more impressive, but they'd be wrong.
Griffin is not only throwing for a ton of yards, he's doing it with great efficiency. His 69.4 percent completion percentage is the highest of any player with more than 100 career pass attempts.
How crazy are his statistics thus far? How about this for a breakdown:
4,280 yards would be the most ever by a rookie
103.8 QB rating would be the highest ever by a rookie who started more than 10 games
69.4 percent completion percentage would be highest ever by a rookie
32 combined touchdowns would be second most by a rookie in NFL history
16 rushing touchdowns would be the most by a quarterback in NFL history
Would become the second QB since the AFL-NFL merger to run for 1,000 yards in a season
RG3's Full 16-Game Pace: 344-of-496, 4,280 yards, 16 TD, 4 INT, 156 Carries, 1,008 yards, 16 Rushing TD
Bob Levey/Getty Images

Watt has by far been the most impressive player in the NFL through the first four weeks of the season. He doesn't just look like a young Justin Smith; he looks like he's already better than Justin Smith ever was.
Watt's 16-game pace of 30 sacks is astounding, especially considering that he's playing defensive end in a 3-4 scheme. In a typical 3-4 scheme, the defensive end is not asked to do as much pass rushing but rather occupy blockers and set the edge for the linebackers.
Perhaps Watt's most unique skill is his innate ability to bat down passes at the line of scrimmage. With his long arms and 6'5" frame, Watt swats passes down before they can even get into the secondary.
It's unlikely Watt will continue on his current pace, as it would go down as the single greatest defensive season in NFL history, but fans should start watching Watt on a weekly basis as he has become the greatest defensive force in football.
J.J. Watt's Full 16-Game Pace: 80 Tackles, 30 Sacks, 20 Passes Defended