Denver Broncos: Rookie Progress Report Through First 4 Games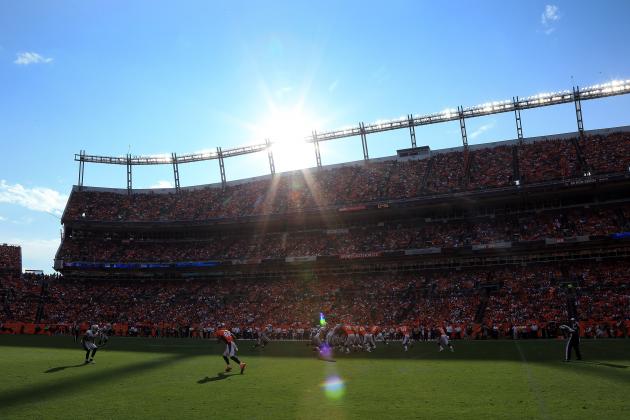 Doug Pensinger/Getty Images

We are now one quarter of the way through the regular season. Teams are starting to develop and the top players are starting to show why they are superstars.
The Denver Broncos still have some growing to do. Are they the team that demolished the Raiders in Week 4? Or are they the team that struggled to compete in Week 3 against the Texans? This team will be a work in progress throughout the season and we may not know the answer until the end of the season.
However, we are beginning to see the individuals who can play and who will be able to compete in this league.
The Denver Broncos selected seven rookies in the 2012 NFL Draft. So how has this class of 2012 done so far?
We know that the 2011 class was very good: Linebacker Von Miller won the Defensive Rookie of the Year award, safety Rahim Moore and offensive lineman Orlando Franklin are both starters, Quinton Carter, Julius Thomas, Nate Irving, and Virgil Green all remain on the team as contributors, even Mike Mohamed and Jeremy Beal both have roster spots.
So how does this rookie class stack up?
Begin Slideshow

»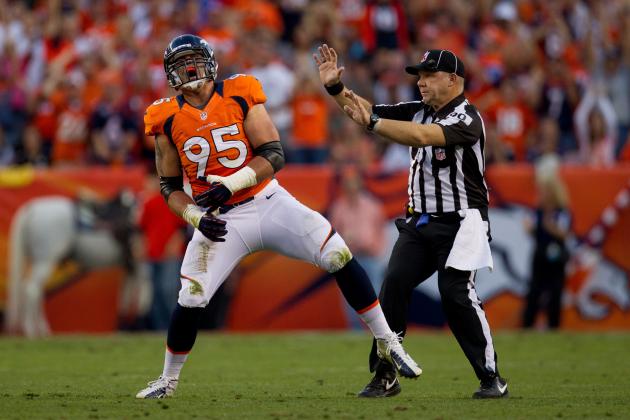 Justin Edmonds/Getty Images

Derek Wolfe came as a surprise to most when the Broncos selected him with the 36th pick. But the Broncos saw how hard Wolfe worked and thought he could contribute immediately.
Wolfe has promise.
He is a relentless player who has shown flashes of being a mainstay on the Denver defensive line. Thus far this season, Wolfe has 10 tackles and a sack.
At 6'5" and 300 pounds, he is remarkably agile and is seeing the majority of his time at defensive end, not tackle.
Of course, this does mean that the Broncos still need a tackle.
Overall Grade B-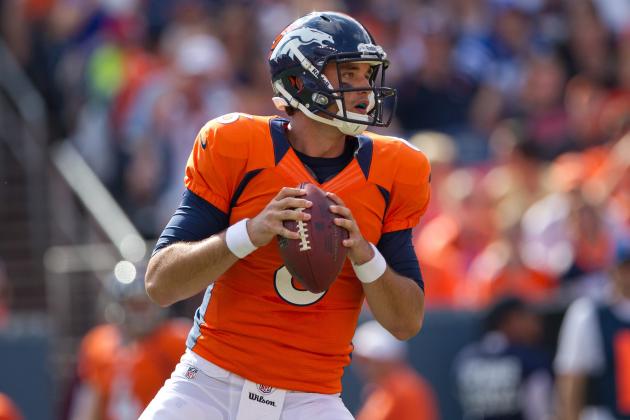 Justin Edmonds/Getty Images

The Broncos selected quarterback Brock Osweiler out of Arizona State with their second pick.
Bigger than the prototypical quarterback, Osweiler stands at 6'8" and is 240 pounds. Could he be the future post-Peyton Manning?
It's tough to say just yet.
Osweiler did manage to "beat out" veteran Caleb Hanie for the number two position on the quarterback depth chart; although one could argue that Hanie simply handed Osweiler the job with his poor production.
Osweiler has yet to take a meaningful snap in a regular season game.
His preseason statistics do not do much to garner attention. In four games, Brock was 16-for-33 for 139 yards with one touchdown and one interception. But hey, he was better than Hanie.
And let's be honest, he is a player that we do not want to see getting much time in the regular season.
Overall Grade C-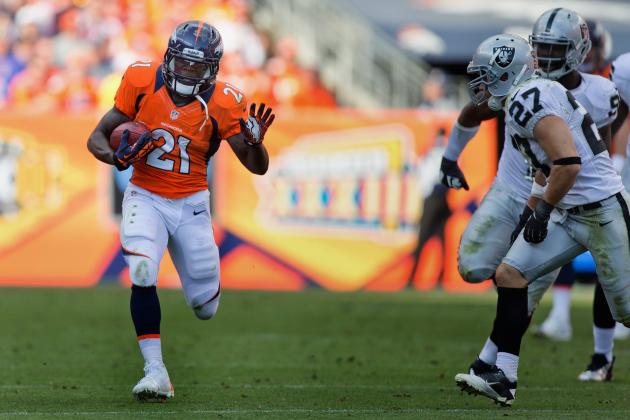 Justin Edmonds/Getty Images

Ronnie Hillman was injured for most of the preseason and is just now getting healthy.
The third round pick out of San Diego State is a back that is a threat when both running and catching the ball.
Inactive for the first two games of the regular season in favor of Knowshon Moreno, Hillman has been activated for the past two games and has been a contributor.
He has run the ball 12 times for 38 yards and has caught three passes for 33 yards. He should continue to get playing time and improving as the season wears on.
Overall Grade B-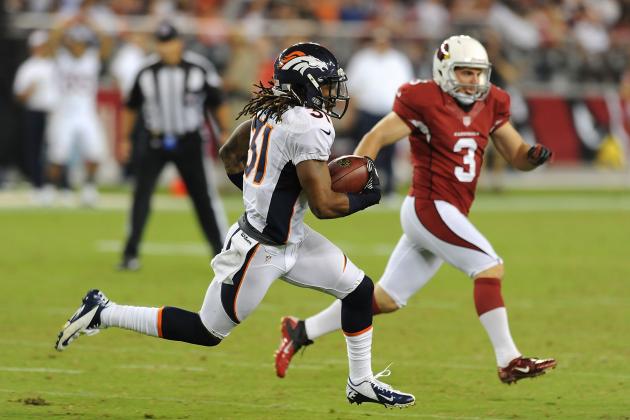 Norm Hall/Getty Images

Bolden is a player who has not received much playing time in the regular season, but is dangerous as a kick returner.
He demonstrated this during the preseason with his 103-yard kickoff return against Arizona in the final game.
So far in the regular season, Bolden has returned six kicks for 129 yards. That's good enough for a 21.5 average.
Bolden is a tenacious competitor and should continue to improve as a cornerback in the future.
His kick return skills will get him the nod for now.
Overall Grade C+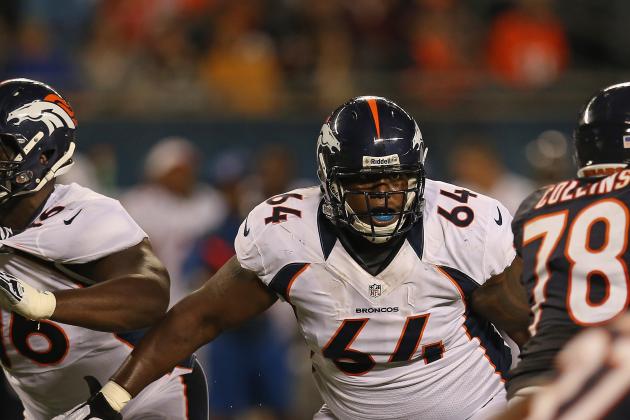 Jonathan Daniel/Getty Images

An early injury to Blake, following just the second game, makes this a tough grade.
The former Baylor Bear had shown enough to make the roster in the preseason.
Blake seems to be better suited as a guard than the center position that he played at Baylor.
After being inactive for the first two games, Blake was moved to the Reserved/Injured list with an injured thumb.
Overall Grade Incomplete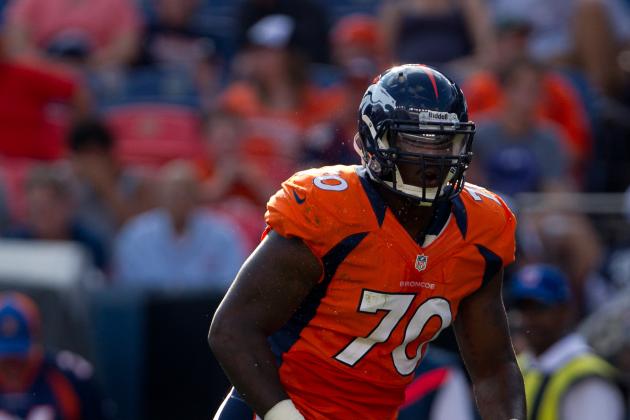 Justin Edmonds/Getty Images

The Broncos selected Malik Jackson out of Tennessee with their fifth round pick in 2012.
And while he didn't draw much attention, he was a pleasant surprise throughout training camp and the preseason.
Second to Wolfe, Jackson may have played the best of any rookie this preseason.
He has been active in three of the first four games so far, but Jackson hasn't gotten much playing time.
Still, for a fifth rounder to make the team and gain some experience in his first season is a plus.
Jackson could have a bright future in Denver.
Overall Grade D+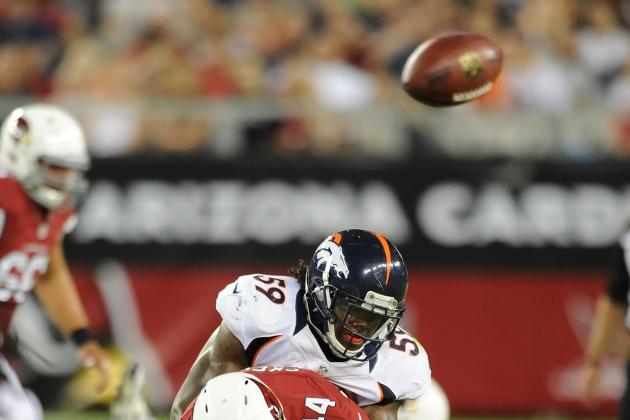 Norm Hall/Getty Images

With their final pick of the 2012 NFL Draft, the Broncos selected outside linebacker Danny Trevathan out of the University of Kentucky.
Slightly undersized, Trevathan showed the Broncos that his football intelligence could make up for any size limitations.
There are some players that have intangibles that you just can't measure. Trevathan may prove to be one of those types.
In the preseason games, Trevathan didn't get an abundance of playing time, but he made the most of it when he did.
Playing significant minutes against the Arizona Cardinals, he logged eight tackles, including one for a loss, and broke up a pass.
So far in the regular season, Trevathan hasn't seen much playing time, registering just one tackle.
He may be another player who will benefit in the future from being on the squad now.
Overall Grade D+