Power Ranking the Big 12 Quarterbacks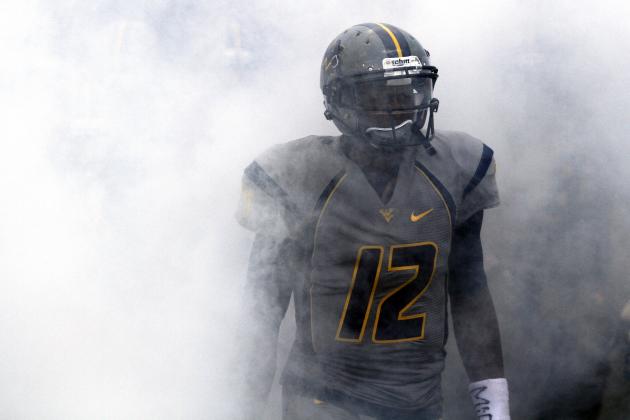 Justin K. Aller/Getty Images

The Big 12 has quickly become known as the conference with the most high-powered offenses in the nation. The team's might not have the speed of the SEC, the power of the Big 10 or the pro-style schemes of the PAC-12, but not many teams put up the points the Big 12 does.
This comes from the great quarterback play from virtually every team in the conference. Now, this makes it a little hard to rank the league's quarterbacks, especially the ones who fall in the middle of the pack, but I've never been one to back down from a challenge.
Make sure and let me know in the comments if you think I'm underrating a player or misplaced your favorite guy.
Begin Slideshow

»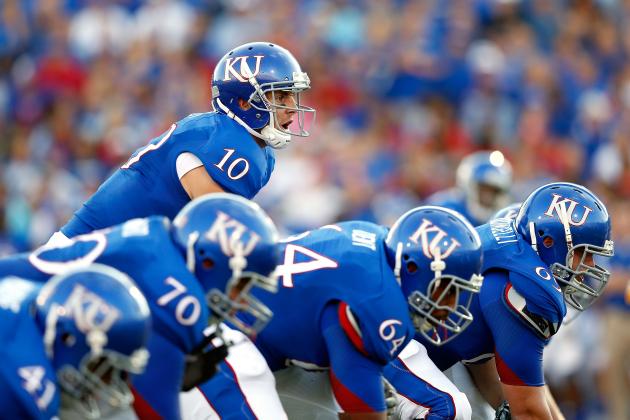 Jamie Squire/Getty Images

Season Stats: 48.1% completion rate, 763 yards, 2 TDs, 4 INTs, 96.7 QB rating
So far this season, the Kansas Jayhawks have been the worst team in the Big 12, and it's not even close.
To be fair to Dayne Crist, it's not like he has a ton of help on the offensive side of the ball, but he's still played poorly in almost every game.
He's yet to throw more touchdowns than interceptions in any game, and looking at his next few opponents (Kansas State, Oklahoma State, OU, Texas) it doesn't look like it will be getting better anytime soon.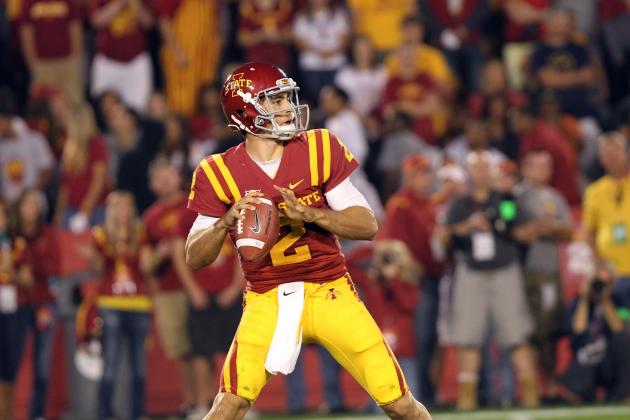 Reese Strickland-US PRESSWIRE

Season Stats: 66.9% completion rate, 882 total yards, 8 total TDs, 7 INTs, 127.3 QB rating
Steele Jantz had a couple of good games against Western Illinois and Tulsa, but has also put up two stinkers against Iowa and Texas Tech.
I'm putting more weight in the games against higher quality opponents when looking at Jantz's stock over the first month and that tells me that he's a lower-tier QB in the Big 12.
Much like Dayne Crist, as he moves into the meat of the conference schedule, look for Jantz's stats to plummet.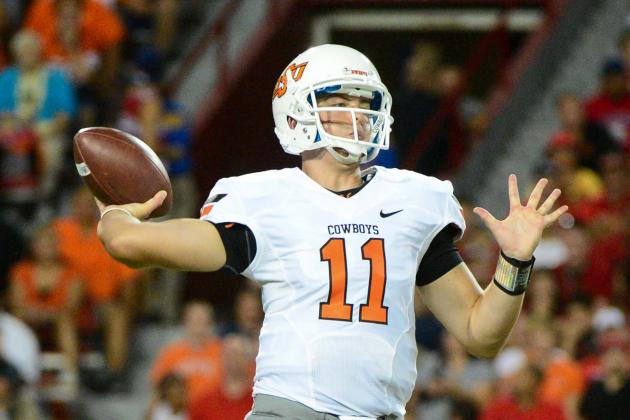 Matt Kartozian-US PRESSWIRE

Season Stats: 68% completion rate, 588 yards, 4 TDs, 3 INTs, 143.5 QB rating
Lunt is probably the hardest QB to judge in the Big 12 right now because he only has about five total quarters of action under his belt.
He looked very good against Savannah State, but he only played one quarter. Granted, he completed 11-of-11 passes for 129 yards in that quarter, but it doesn't really tell us much.
His first full game came on the road against the Arizona Wildcats. Lunt made some mistakes and threw the ball away three times, but a few of those picks weren't completely his fault. Add to that the fact that this was the true freshman signal caller's first road game, and you can understand why he struggled a little bit.
If he becomes the starting QB coming back, he's going to open some eyes around the country. He needs some time to develop, but all the raw tools are there for him to become a deadly pocket passer for the Cowboys.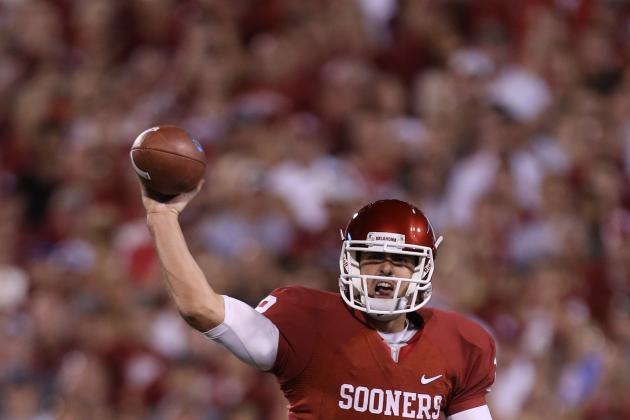 Matthew Emmons-US PRESSWIRE

Season Stats: 63.6% completion rate, 773 yards, 5 TDs, 2 INTs, 135.9 QB rating
Ever since Ryan Broyles went out last season, I've been thoroughly unimpressed by Landry Jones' play. He's been erratic at times and it's obvious that he doesn't really trust his teammates when he drops back to pass.
When he has the time and confidence to throw, Jones is one of the best passers in the nation. He can make all the plays you ask for, but he hasn't put the mental game together just yet.
Hopefully for OU fans, he can get it together after the bye week and become the Heisman contender he was made out to be before the season began.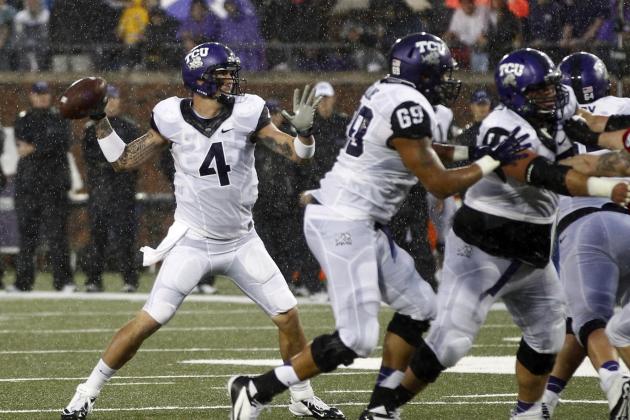 Jim Cowsert-US PRESSWIRE

Season Stats: 66% completion rate, 948 yards, 10 TDs, 1 INT, 180 QB rating
Pachall is a difficult guy to rate right now, simply because he's put up some gaudy stats, but hasn't played anybody.
Sure, he has 10 TDs to just a single interception; however, he only completed 38.7 percent of his passes against SMU.
That kind of production does not a star quarterback make. He's got to play much, much better if he plans to hang with teams like West Virginia and Texas.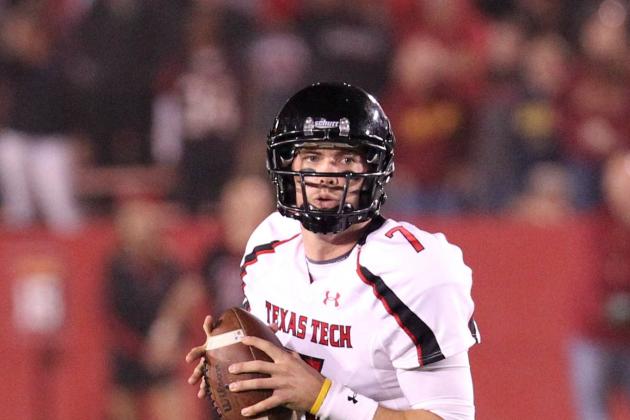 Reese Strickland-US PRESSWIRE

Season Stats: 71.4% completion rate, 1,189 yards, 15 TDs, 3 INTs, 169 QB rating
Seth Doege is kind of like Casey Pachall, minus the stinker against an inferior opponent.
Doege has played well and racked up huge numbers against Texas Tech's cupcake opponents, but we've yet to see how he plays against better competition.
The Iowa State game might've given us a glimpse of how good Doege will be against the Big 12. He threw three touchdowns to two interceptions, which leads me to think that his big numbers will take a drastic hit against elite conference competition.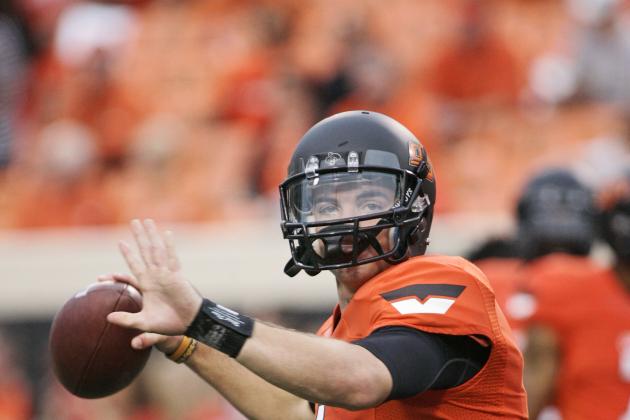 Brett Deering/Getty Images

Season Stats: 66.7% completion rate, 96 total yards, 9 total TDs, 2 INTs, 181.2 QB rating
For a long time, I had J.W. Walsh ranked above the next guy on this list because Walsh hasn't had the chance to play much, but has produced big-time numbers when he does play.
In addition, he had an excellent game against the Texas Longhorns outside of a few questionable throws; one of which got picked off.
However, I decided to drop Walsh down to the fifth spot because he doesn't have the numbers of the next guy and he wasn't even the team's starter coming into the season. Maybe he'll continue to turn heads in the Big 12, but for now Walsh is the fifth best QB in the conference.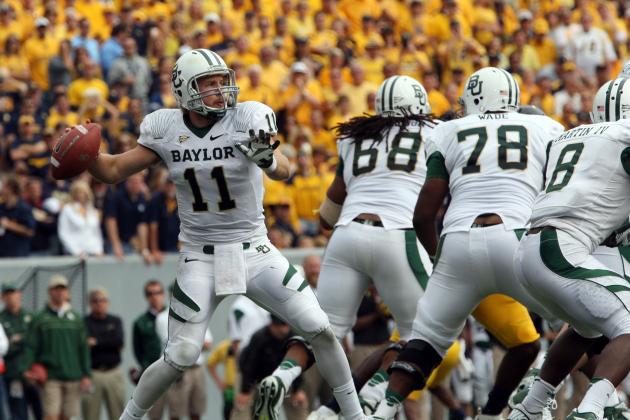 Rob Christy-US PRESSWIRE

Season Stats: 63.7% completion rate, 1,738 total yards, 17 total TDs, 5 INTs, 175.8 QB rating
Let's get it out of the way, Nick Florence was absolutely disgusting against West Virginia. He dropped close to 600 yards and had six total TDs, basically looking like the poor man's Robert Griffin III.
He did get outplayed in that game (more on that later), but that doesn't take away from his statistical dominance.
And it's not like he hasn't produced in his other three games this season. He's had at least 300 yards and three touchdowns in every game this season, and it doesn't look like he's slowing down. The only reason he's not higher is because of his lack of high-quality competition (minus West Virginia, of course).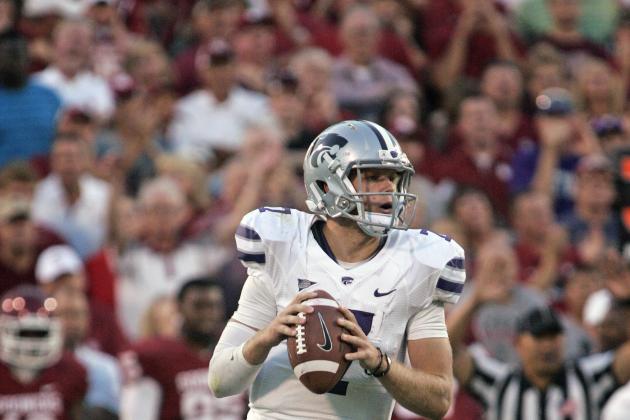 Brett Deering/Getty Images

Season Stats: 70% completion rate, 1,047 total yards, 10 total TDs, 2 INTs, 165.2 QB rating
Put aside the stats for a minute and look at the most important place in football—the win column.
Collin Klein is a winner and he's proved it in huge games twice this season. First, he absolutely crushed the Miami Hurricanes run defense with a three touchdown day in early September.
Then, he willed the Wildcats to a huge conference road win against the Oklahoma Sooners in Norman. Then you add in his stats and you have a guy that you can't keep out of the conference's top three quarterbacks.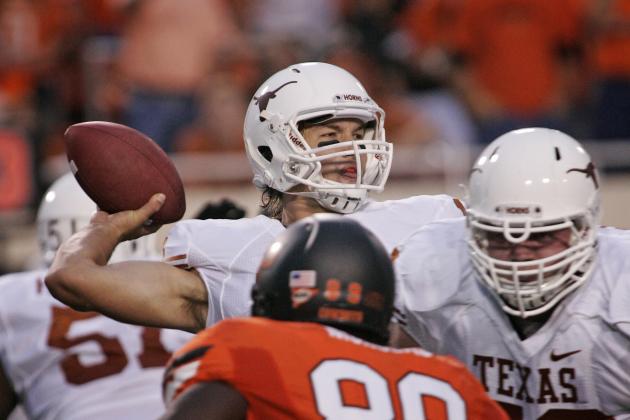 Brett Deering/Getty Images

Season Stats: 78% completion rate, 1,007 yards, 11 total TDs, 1 INT, 184 QB rating
I'll admit, I was one of the David Ash doubters coming into the season because of his lackluster play last year; how mistaken I was.
After seeing him go on the road to a hostile Stillwater crowd and surgically carve up the Oklahoma State Cowboy's defense, I can no longer doubt the young man.
I fully expect this guy to continue to impress everyone as the season moves along. He might not put up the numbers of our No. 1 guy, but he's going to give Texas a chance to win every game they play this year.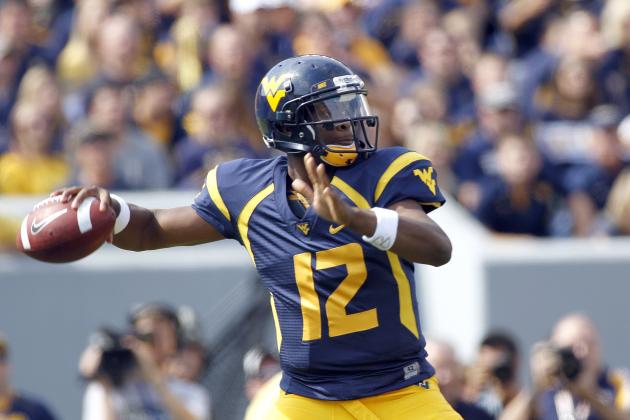 Justin K. Aller/Getty Images

Season Stats: 83.4% completion rate, 1,827 total yards, 21 total TDs, 0 INTs, 208.4 QB rating, 1 Heisman trophy candidacy

Hey, did you hear? Geno Smith just threw another touchdown.
Outplayed jokes aside, Smith has been THE player to watch throughout the first month of the season. He's completely dismantling every defense he plays and is on pace to throw for 5,184 yards and 60 touchdowns.
In case you're wondering, that would set the record for most TDs in a season; so, you know, pretty impressive.
The Heisman trophy is Smith's to lose and honestly, the only thing that will hold him back is WVU's defense. They're going to struggle against the Big 12's high-powered offenses and could cost Smith an all-important win.
Seriously, watch this guy play. He's must-see TV and you're doing yourself a disservice if you don't watch the Big 12's best passer before he heads to the big leagues.