The Top 5 Fantasy Football Waiver-Wire Adds at Every Position for NFL Week 5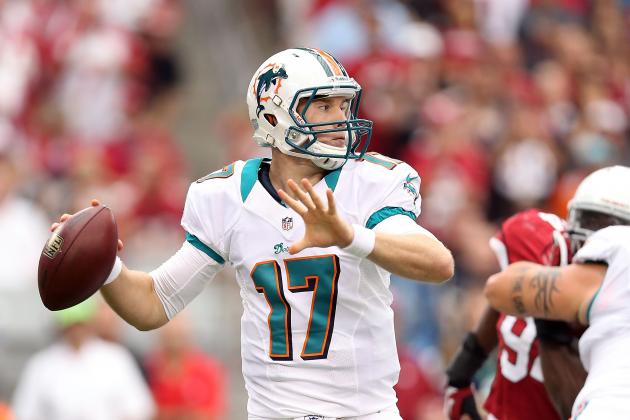 Christian Petersen/Getty Images

After a number of extremely impressive performances in NFL's Week 4 from players like Brian Hartline and Brandon Bolden, the waiver wire for Week 5 is filled with quality options. In fact, some of the waiver-wire additions for this week look like solid starters for the foreseeable future.
If you have a hole on your roster, or you're just looking to improve the overall depth of your team, here are the top five fantasy football waiver-wire adds at every position for Week 5.
Please note that any percentages used in this article come from Yahoo! Sports.
Begin Slideshow

»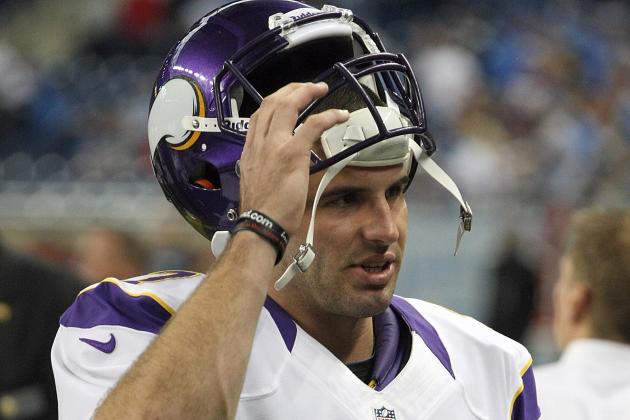 Leon Halip/Getty Images

1. Ryan Tannehill, Miami Dolphins
When you throw for more yards in a game than Dan Marino did in one game during his rookie season, things are looking pretty good.
Tannehill went off on the Arizona Cardinals to the tune of 431 yards and a touchdown. While his turnovers are still going to kill you some weeks, he has the potential to continue to have huge weeks in fantasy football.
He's only going to get better as the weeks pass, so pick him up now off the waiver wire while you still can.
2. Matt Hasselbeck, Tennessee Titans
This is only a temporary fix as Jake Locker is still the man for the Titans. However, until Locker heals from his latest shoulder injury, Hasselbeck is a good start at quarterback.
While the Titans will get a tough test from the Minnesota Vikings this week, they should still throw the ball plenty of times. This is especially true if Chris Johnson struggles to get anything going early in the game.
When Hasselbeck was starting last year for Tennessee he played quite well, so look for him to give you some points while filling in for Locker.
3. Christian Ponder, Minnesota Vikings
Despite Ponder throwing for only 111 yards against an awful Detroit Lions secondary, he is still worth picking up if available in your league. The truth is that the Vikings didn't need Ponder to be more than a game manager to beat Detroit.
There are two things to really like about Ponder moving forward. The first is that he hasn't thrown an interception in four games this year. The second is he has an elite red-zone target in tight end Kyle Rudolph.
Both of these reasons combined with the overall impressive play of Ponder are why he's a solid waiver-wire pickup for this week and moving forward.
4. Kevin Kolb, Arizona Cardinals
It is always going to be a little difficult to trust Kolb on your fantasy football team. However, his second-half performance against the Miami Dolphins showed that he is actually capable of putting up some huge numbers.
With the continued stellar play of Larry Fitzgerald and emergence of Andre Roberts, Kolb will be worth picking up until controversy re-appears when John Skelton returns from injury.
5. Josh Freeman, Tampa Bay Buccaneers
Freeman is owned in less than 50 percent of leagues, and while he hasn't been spectacular this season, things are starting to turn around.
Last week against the Washington Redskins, Freeman nearly threw for 300 yards and had one touchdown. If he can continue to put up similar numbers, he'll be a great No. 2 quarterback on most rosters.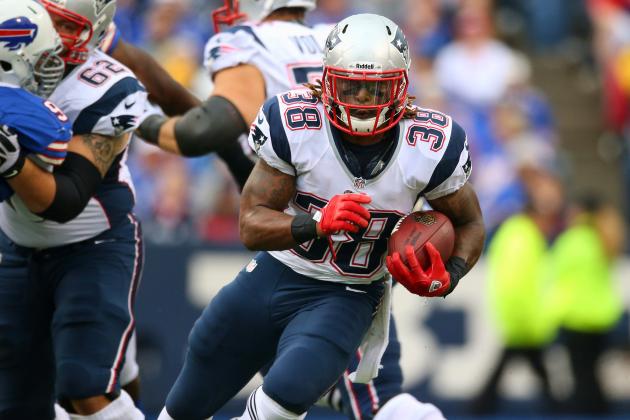 Tom Szczerbowski/Getty Images

1. Brandon Bolden, New England Patriots
It may be hard to trust any running back for the Patriots, but after Bolden's performance on Sunday, I simply can't see how he could not continue to get touches for New England.
He had 16 carries, 137 yards and a touchdown against the Buffalo Bills and was one of the highest scoring running backs in all of fantasy football. The big question is whether he can keep this type of production up on a consistent basis.
With bye weeks coming into full swing, Bolden is the best waiver-wire pickup at running back this week and should be starting if you're short a running back.
2. Jackie Battle, San Diego Chargers
The Chargers seem content to have a running-back-by-committee approach for the time being, and that makes Battle a must-have player on the waiver wire.
What makes Battle so valuable in fantasy football is his ability to be an impact player in both the run and pass game. Last week he had 19 total touches for 81 yards and a pair of touchdowns.
While he might not hit those numbers every week, he definitely has a spot in the Chargers offense moving forward. That fact alone makes him worth getting on your roster.
3. Ronnie Hillman, Denver Broncos
Hillman continues his climb up the Broncos' depth chart and has firmly established himself as the No. 2 back heading into Week 5.
He touched the ball 12 times last week, and that number should continue to increase as the weeks go by. He's a risky starting option, but if you are absolutely desperate for a possible home-run threat, Hillman is your guy.
4. Shaun Draughn, Kansas City Chiefs
There are two things to watch with Draughn if you're going to make a move to add him to your roster.
The first, and most important, is the health of Peyton Hillis. If he returns this week, Draughn won't be worth very much.
The second thing to watch is the play of rookie Cyrus Gray. Gray only touched the ball once last week, but if that number increases in the upcoming weeks, then it will take away from Draughn's productivity.
Now, if Hillis isn't healthy and Gray doesn't get touches, Draughn will be a solid flex option for your fantasy team.
5. Bilal Powell, New York Jets
As hard as it may be to rely on any Jets player on offense in fantasy football, Powell should begin to get more and more touches starting this week.
Shonn Greene continues to be absolutely awful, and there is little doubt that Powell is the more talented back. If you pick him up though, you may need to stash him on your bench until he proves to be a capable addition to your starting lineup.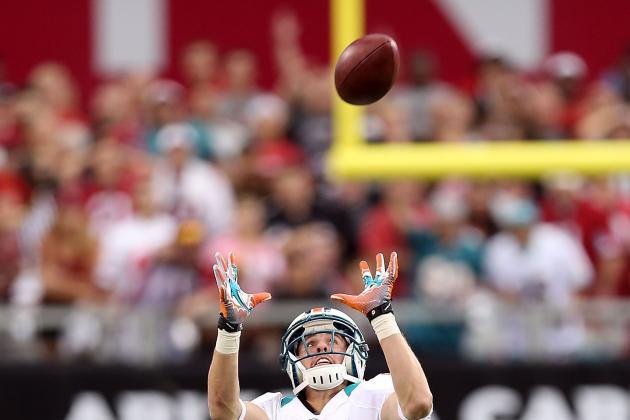 Christian Petersen/Getty Images

1. Brian Hartline, Miami Dolphins
If you didn't hear about Hartline's 253 yards and one touchdown on Sunday, you need to get out of the cave you've been living in.
Not only is Hartline the top waiver-wire pickup at receiver this week, but he should be the top priority regardless of position for every team. He's shown great chemistry with quarterback Ryan Tannehill and should continue to put up solid numbers.
2. Domenik Hixon, New York Giants
Until Hakeem Nicks returns from a foot and knee injury, both Hixon and Ramses Barden are worth picking up in your league.
While Barden was a stud waiver-wire addition last week, Hixon is the man to get this week. He had six receptions for 114 yards last week, and that should be a pretty consistent output as long as Nicks is sidelined.
3. T.Y. Hilton, Indianapolis Colts
With the Colts off in Week 4, many may have forgotten about the dynamic play of Hilton. He had four receptions for 113 yards and a touchdown in Week 3.
The Colts are committed to the pass, and Hilton should see an increased role in this offense moving forward. With his ability to break any play for a huge gain, he could be in for some monster weeks in fantasy football.
4. Davone Bess, Miami Dolphins
While Bess didn't quite have the week his teammate Hartline had in Week 4, he still had quite the week for Miami. His seven receptions and 123 yards showed that he's still a major option for Tannehill and the Dolphins.
As long as Tannehill continues to evenly spread the ball around, both Bess and Hartline are worth picking up this week.
5. James Jones, Green Bay Packers
The thing with Jones is that he'll have one incredible week and then be a complete dud for the next three weeks.
However, with Greg Jennings still recovering from a groin injury, Jones should continue to see an increased role for the Packers. He might not have another two-touchdown performance, but he'll be a solid flex option until Jennings returns.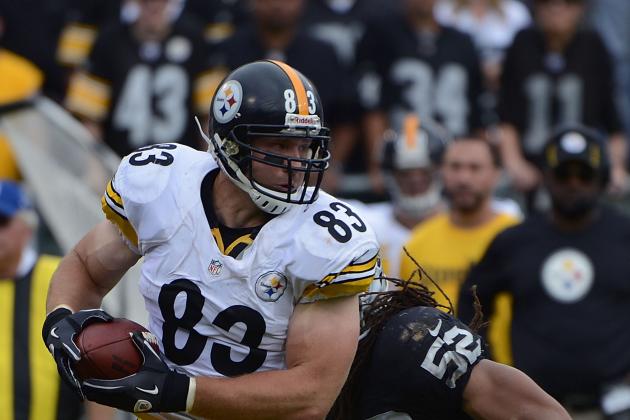 Thearon W. Henderson/Getty Images

1. Scott Chandler, Buffalo Bills
As long as the Bills defense continues to give up a half-century worth of points, Chandler is going to be a great option in fantasy football.
Against the New England Patriots, Chandler had two touchdowns and 62 receiving yards. Those should be pretty consistent numbers for the Bills tight end moving forward, and that is why he is the top waiver-wire addition at tight end this week.
2. Heath Miller, Pittsburgh Steelers
The Steelers are coming off a bye week, and that is good news for the aging Miller.
He's coming off a Week 3 performance in which he caught eight passes for 60 yards and two touchdowns. He now has four touchdowns on the season.
That number should continue to rise as Ben Roethlisberger will almost certainly continue to look his way. Look for Miller to have the best fantasy football season of his career this year.
3. Dwayne Allen, Indianapolis Colts
While fellow rookie Coby Fleener is still the top tight end on the depth chart in Indianapolis, Allen had a pretty good showing in Week 3. He only had five receptions and 35 yards, but he actually outperformed Fleener against the Jacksonville Jaguars.
With his athleticism, he could become a dynamic playmaker for the Colts and a dangerous weapon in fantasy football.
4. Orson Charles, Cincinnati Bengals
Yes, Charles only has three receptions for 35 yards on the season, but he continues to see more plays on the field for the Bengals.
Many expected Charles to become a new weapon for quarterback Andy Dalton, and it appears as if that is finally happening for the rookie. Grab him now, and stash him on your bench as his role increases because it might not be long before he is putting up big numbers in Cincinnati's offense.
5. Craig Stevens, Tennessee Titans
Jared Cook is still the man for the Titans, but Stevens has quietly recorded 87 yards and a touchdown in the past two weeks.
He's only worth picking up if you're completely desperate as he could very well end up doing nothing for a number of weeks this season. However, with the right matchup or if Cook gets injured, he could be quite the steal.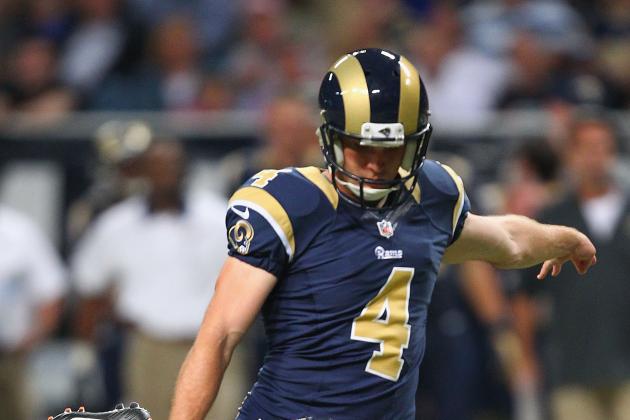 Dilip Vishwanat/Getty Images

1. Blair Walsh, Minnesota Vikings
Walsh has been one of the better kickers this season, and he plays for a team that has had some difficulties getting the ball in the end zone.
However, with a player like Percy Harvin giving the Vikings great field position time and time again, Walsh should get plenty of opportunities to put up points via field goals.
2. Greg Zuerlein, St. Louis Rams
One of the biggest surprises of the season has been the solid play of the Rams and their kicker Zuerlein.
He's yet to miss a field goal this year, connecting on all 12 of his attempts, including 3-for-3 from beyond 50 yards. With St. Louis struggling offensively in the red zone, Zuerlein should continue his already impressive season.
3. Shayne Graham, Houston Texans
How is Graham only owned in 16 percent of leagues right now?
The Texans have one of the better offenses in the league, so Graham will have no difficulties being a solid fantasy football kicker the rest of the year.
4. Mike Nugent, Cincinnati Bengals
The Bengals get the Miami Dolphins this week, which means that we could see plenty of points on the board.
If that happens, Nugent could end up being the top scoring kicker this week.
5. Billy Cundiff, Washington Redskins
While the Redskins will be completely overmatched against the Atlanta Falcons on Sunday, Robert Griffin III is dynamic enough to keep this game close.
This matchup has the makings of a shootout, and Cundiff could be in for a huge week if that happens.
Hannah Foslien/Getty Images

1. Minnesota Vikings
The Vikings have been surprisingly good this year on defense, and they have a pretty good matchup against the Tennessee Titans on Sunday.
With Jake Locker sidelined, the Titans could struggle to move the ball. Look for the Vikings to continue to play well on the defensive side of the ball and put up big numbers this week in fantasy football.
2. Cincinnati Bengals
Going up against a rookie quarterback is always a good thing for a defense in fantasy football.
While Ryan Tannehill has had some good weeks, he is also prone to turnovers. Look for the Bengals to bring plenty of pressure and force Tannehill to make some poor decisions, resulting in a good outing for the Bengals defense.
3. Carolina Panthers
Yes, Carolina has had one of the worst defenses this year, but this week it gets the Seattle Seahawks on the schedule.
Few teams have been as challenged on offense as Seattle and quarterback Russell Wilson, who continues to struggle with interceptions. Expect a low output for the third straight week from the Seahawks as the Panthers get back on the right track defensively.
4. St. Louis Rams
We're really looking at matchups when we get this deep into defenses on the waiver wire.
The Rams are home this week against the Arizona Cardinals. If Arizona plays like it did in the first half against the Miami Dolphins, then the St. Louis defense could have great week in fantasy football.
5. Tennessee Titans
As long as the Titans can play solid on special teams, they have a chance at completely shutting down the Minnesota Vikings offense.
They'll need to finally get pressure on the quarterback, but if they can do that, then it could be a low-scoring affair in Minnesota.