Miami vs. Notre Dame: Complete Game Preview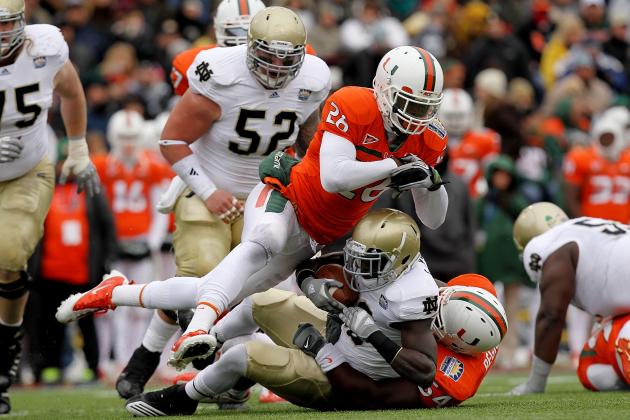 Ronald Martinez/Getty Images

The Fighting Irish of Notre Dame and the Hurricanes of Miami will renew a storied rivalry on Saturday evening at Chicago's Soldier Field.
The contest marks the first meeting between the two schools since the 2010 Sun Bowl, in which the Irish defeated a depleted Miami squad, 33-17. Also worth noting is that the matchup is the first during the regular season since Notre Dame defeated then 2nd-ranked Miami 29-20 in 1990.
Nearly 22 years later, it's time to preview the old "Catholics vs. Convicts" game.
Begin Slideshow

»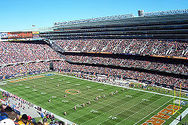 Who: Miami at Notre Dame
When: Saturday, 7:30 p.m. (EDT)
Where: Chicago, IL
Stadium: Soldier Field
TV: NBC
Radio: IMG Notre Dame Radio Network
Internet Stream: http://nbcsports.msnbc.com/id/38985841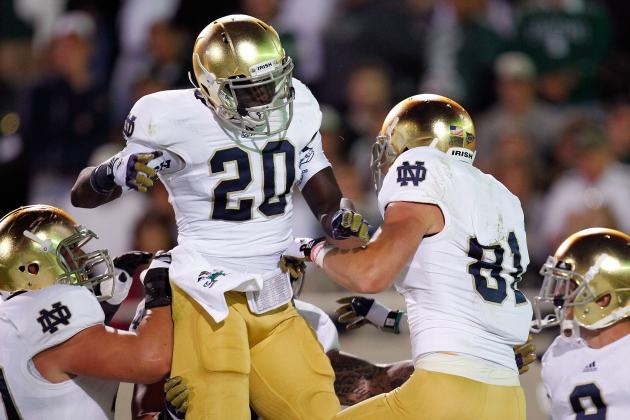 Gregory Shamus/Getty Images

Position—Starter, Backup
OFFENSE
QB—Everett Golson, Tommy Rees
RB—Theo Riddick, George Atkinson III
WR—TJ Jones, DaVaris Daniels
WR—Robby Toma, Davonte' Neal
WR—John Goodman, Daniel Smith
TE—Tyler Eifert, Ben Koyack
LT—Zack Martin, Ronnie Stanley
RT—Christian Lombard, Nick Martin
C—Braxston Cave, Mike Golic, Jr.
LG—Chris Watt, Conor Hanratty
RG—Mike Golic, Jr., Conor Hanratty
DEFENSE
DE—Kapron Lewis-Moore, Sheldon Day
DE—Stephon Tuitt, Tony Springmann
NG—Louis Nix III, Kona Schwenke
LB—Prince Shembo, Ishaq Williams
LB—Dan Fox, Carlo Calabrese
LB—Manti Te'o, Jarrett Grace
LB—Danny Spond, Ben Councell
CB—Bennett Jackson, Jalen Brown
CB—KeiVarae Russell, Josh Atkinson
FS—Zeke Motta, Nicky Baratti
SS—Matthias Farley, Chis Salvi
Joel Auerbach/Getty Images

Position—Starter, Backup
OFFENSE
QB—Stephen Morris, Ryan Williams
TB—Mike James, Duke Johnson
WR—Rashawn Scott, Herb Waters
WR—Allen Hurns, Davon Johnson
WR—Phillip Dorsett, Kendal Thompkins
TE—Dyron Dye, Clive Walford
LT—Ereck Flowers, Seantrel Henderson
RT—Malcolm Bunche, Hunter Wells
C—Shane McDermott, Jared Wheeler
LG—Brandon Linder, Danny Isidora
RG—Jon Feliciano, Jeremy Lewis
DEFENSE
DE—Anthony Chickillo, Jelani Hamilton
DE—Shayon Green, Tyriq McCord
DT—Darius Smith, Earl Moore
DT—Olsen Pierre, Corey King
LB—Eddie Johnson, Thurston Armbrister
LB—Tyrone Cornileus, Gionni Paul
LB—Denzel Perryman, James Gaines
CB—Brandon McGee, Antonio Howard
CB—Thomas Finnie, Ladarius Gunter
FS—Deon Bush, Kacy Rodgers
SS—A.J. Highsmith, Vaughn Telemague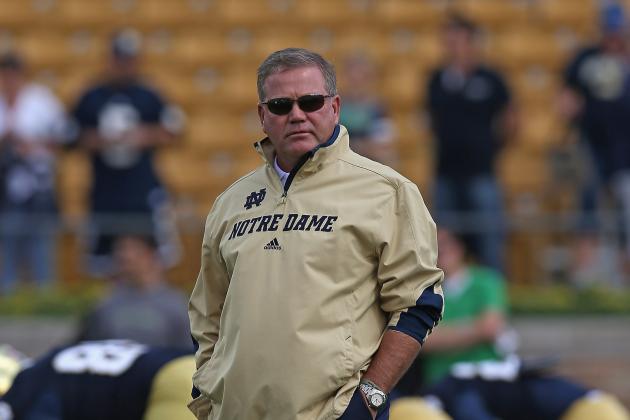 Jonathan Daniel/Getty Images

Last week, Notre Dame was on its lone bye of the season, following a 13-6 victory over Michigan two weeks ago.
During that time span, the juiciest piece of news has come from the injury front. Backup defensive end Chase Hounshell, who has yet to play a down for the Irish this season, will be undergoing shoulder surgery this week that will end his season.
In positive injury news, head coach Brian Kelly stated that the bye week was critical for recovery for those players who were nicked up following the win over Michigan.
Joel Auerbach/Getty Images

In another thrilling finish, the Miami Hurricanes defeated North Carolina State 44-37 on a 62-yard touchdown pass from Stephen Morris to Phillip Dorsett with 19 seconds remaining in regulation.
The victory placed second-year head coach Al Golden's squad into first place atop the ACC's Coastal Division.
Quarterback Stephen Morris, who started against Notre Dame in the 2010 Sun Bowl, passed for a school and ACC record 566 yards to go along with five touchdown strikes.
Despite the gaudy numbers from Morris, the Hurricane offense was proven to be one-dimensional, as the Hurricanes rushed for a grand total of 85 yards. The defense was also exposed yet again in the victory, allowing 664 total yards, making Saturday's matchup a can't miss opportunity for Notre Dame quarterback Everett Golson to seize control of the starting job.
For a full recap of Miami's victory over North Carolina State, click here.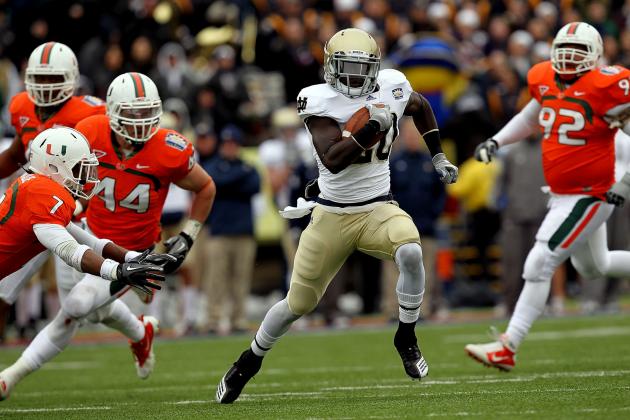 Ronald Martinez/Getty Images

A nationally televised game in prime time is always a proving ground for teams wishing to forcefully enter the forefront of college football's national discussion.
With a national ranking of ninth in the latest AP Poll, Notre Dame has already accomplished the feat, but Miami is anxiously awaiting its opportunity to do the same. And with a 4-1 record, a victory over Notre Dame would do the trick.
With looming major NCAA sanctions circling the Miami program like vultures over a carcass, beating a high-profile opponent such as Notre Dame in a unique setting would do wonders for the Hurricanes and head coach Al Golden.
A victory for Notre Dame won't carry that type of weight, although it presents an unmistakable opportunity for the offense to get back on track, after slogging through the Irish's 13-6 triumph over Michigan back on Sept. 22.
The underlying story of the game for Notre Dame will be whether or not Everett Golson will remain as starting quarterback this season, or if the coaching staff will lay its trust in former starter Tommy Rees.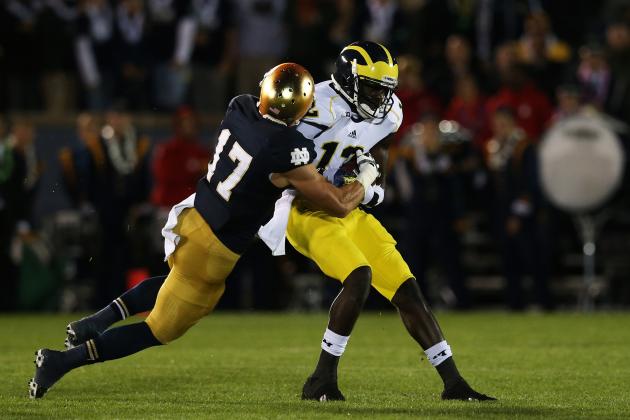 Jonathan Daniel/Getty Images

Key Player: Zeke Motta, S
This may come as somewhat of a surprising choice, but it makes sense due to the nature of Miami's offensive attack.
The Hurricanes are the best passing team Notre Dame will have seen to this point in the season. This will shape up to be the most significant test for the Irish secondary, which has played well without injured defensive backs Lo Wood and Jamoris Slaughter.
Motta is a crucial component to the success of the secondary, as he is responsible for reading the offense and getting his younger teammates—KeiVarae Russell, Matthias Farley, Elijah Shumate and Jalen Brown—into the correct alignments.
Motta's role as director of traffic will be highlighted on Saturday evening against a high-flying Miami passing attack that ranks ninth nationally at 328.4 yards per game.
Key Player: Stephen Morris, QB
Because Miami has one of the most porous defenses in college football—the Hurricanes defense ranks 114th nationally in total defense—the offense is forced to compensate by lighting up the scoreboard.
QB Stephen Morris isn't afforded the luxury of a strong running game, either, forcing him to throw the ball at least 40 times per game. Against the Wolfpack, Morris completed 26 of his 49 pass attempts, while the rushing attack offered a meager 2.7 yards per carry.
The 'Canes may average even less than that against Notre Dame's fearsome front seven, virtually forcing Morris to have a repeat performance at Soldier Field on Saturday.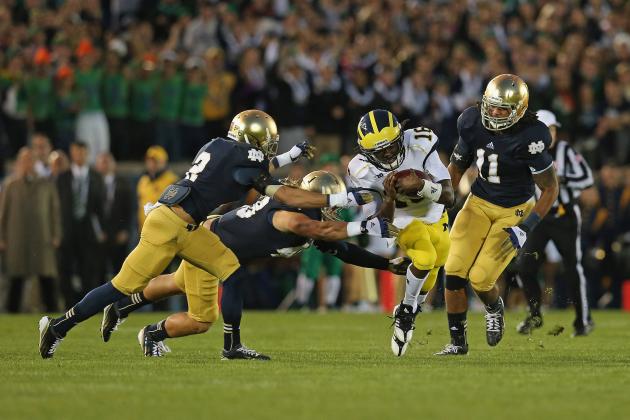 Jonathan Daniel/Getty Images

Notre Dame will win if the defense can contain the Miami passing attack, and if the offense can take advantage of an awfully weak Miami defense.
The Irish secondary will give up the underneath routes in an effort to take away the big plays over the top. That game plan will require sound tackling from Notre Dame's defensive backs, which hasn't been a strength thus far. Miami receivers Phillip Dorsett and Rashawn Scott are each explosive playmakers in space, so sound tackling is a must against the Hurricanes.
On the offensive side of the ball, Irish quarterback Everett Golson prove that he is a capable passer, especially against a Miami passing defense that currently allows an average of 269 yards per game. Should he struggle, the Hurricanes will have no problem selling out against the run.
If Golson struggles to move the ball through the air, Brian Kelly and offensive coordinator Chuck Martin may be forced to name Tommy Rees as the starter, but that's a conversation for a different day.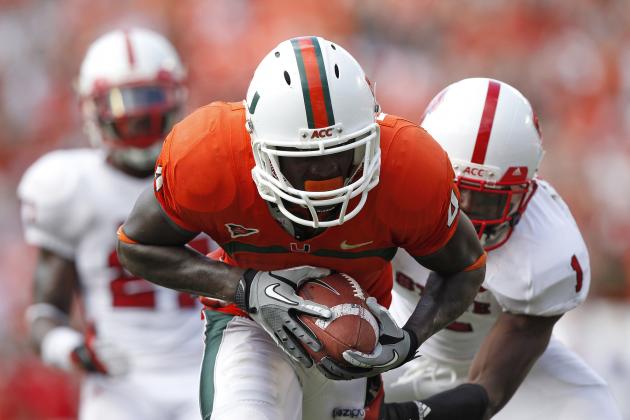 Joel Auerbach/Getty Images

Miami will win if it can pick apart a Notre Dame secondary that features three first-year starters. Despite being such a young unit, it has played well enough to earn national ranking of 19th in the category of passing defense.
However, that Irish secondary hasn't seen the likes of a passing offense such as Miami's through four games. The duel will make for must-watch television.
The Hurricanes will also be forced to outscore the Irish, as has been the case through Miami's first five games. Last week's 44-37 win over North Carolina State is a prime example. And considering that Notre Dame's offense has struggled to tack points on the board, the task doesn't appear to be as difficult as once thought.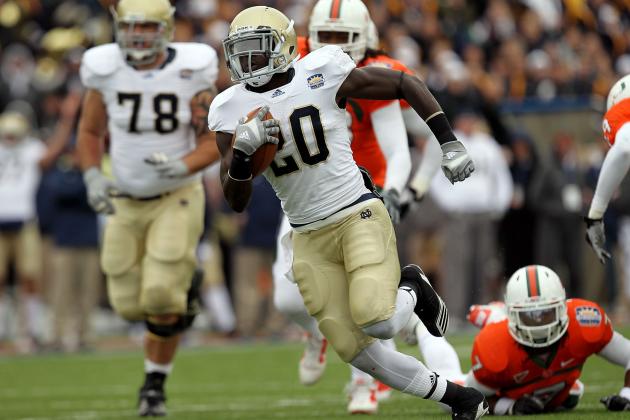 Ronald Martinez/Getty Images

In the fourth annual Shamrock Series game, the Irish will take on its opponent in a professional stadium, though the 2010 edition took place in a Major League ballpark (Yankee Stadium).
The Irish have won all four matchups, including last season's victory over Miami's ACC brother, Maryland.
This season, the show swings to Chicago's Soldier Field, where an already exposed Miami defense will be torched thanks to an excellent bounce-back performance from Everett Golson as well as a hay-day for the Irish ground game.
Notre Dame will move to 5-0, and may move up a few spots in the rankings if LSU is beaten by Florida, and if the Georgia-South Carolina tilt is a one-sided affair.
My Prediction: Notre Dame 35, Miami 17