Chicago Bears vs Dallas Cowboys: Live Score, Highlights & Analysis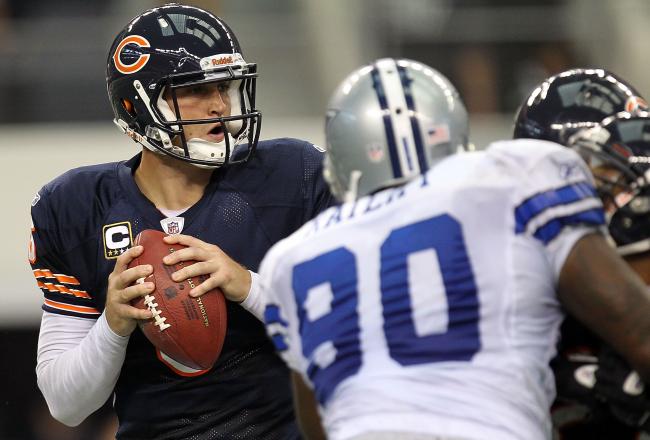 Ronald Martinez/Getty Images
Turnovers doomed the Cowboys from the start and it showed in the final score. Tony Romo tied a career high with five interceptions and the Bears took advantage of every single one of them.
With the loss, the Cowboys drop to 2-2 and the Bears improve to 3-1 to keep pace with the Vikings in the NFC North.
Final
Bears 34
Cowboys 18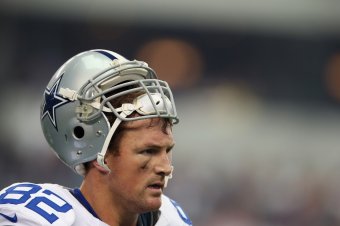 Ronald Martinez/Getty Images
That is pretty much the ball game, folks. That score from Orton to Witten was a formality.
Dallas will drop to 2-2 and heads into a bye week.
The Cowboys have issues and it starts up front with the offensive line. Their communication issues have been on full display for the past couple of weeks and hopefully it has bottomed out.
Dallas has to do something about their putrid running game as they averaged less than three yards per carry for the third straight week.
A lot going on for the Cowboys has they turn their attention to the Ravens.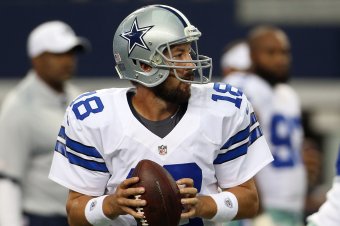 Ronald Martinez/Getty Images
3:04 4th Quarter
Kyle Orton has no entered the game for Romo.
Tomo's not physically hurt but I have to believe his pride is a little wounded. Dallas has a much-needed bye week next up and it should use that time to get healthy and get on the same page offensively.
An ode to Cowboys legend, Dandy Don Meredith, from comedian Damon Williams.
Turn out the liiiiiights the partys overrr

— Damon Williams (@DamonWilliam) October 2, 2012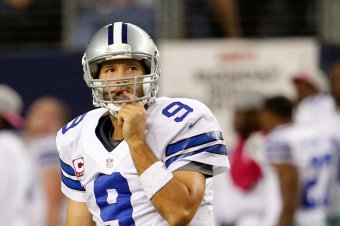 Tom Pennington/Getty Images
5:51 4th Quarter
Well...
Tony Romo has thrown five interceptions on the night and there is still over five minutes to go in the 4th quarter.
His last one was picked off by Bears safety Major Wright...again.
Chicago driving...
6:28 4th Quarter
So much for that vaunted Cowboys secondary.
Bears Brandon Marshall just basically walked in for a 31-yard touchdown.
The Cowboys blew their coverage on Marshall as he went in motion to the right, ran a crossing route and no Cowboy player was in within 10 yards of him.
Bears are now up 34-10.
Where do the Cowboys go from here as they will face the Ravens coming out of their bye week?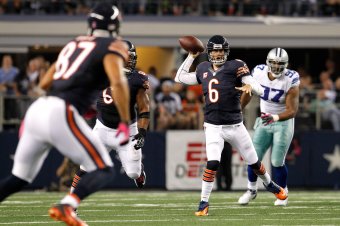 Tom Pennington/Getty Images
7:24 4th Quarter
Just a great night for the Bears all around.
Cutler found his tight end Kellen Davis down the field but it seemed that Cowboys corner Danny McCray knocked the ball away.
As the two were falling to the ground, Davis kept his concentration and was able to bobble the ball into his hands for a 25 yard gain.
Bears driving...again.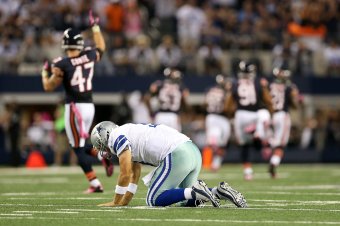 Ronald Martinez/Getty Images
8:30 4th Quarter
Romo just tossed his fourth interception of the night and it was all on him.
He thought that he found Miles Austin before D.J. Moore stepped in front of the ball for a pick.
Dallas had a decent drive going before turning the ball over again.
What else is left to say for them tonight?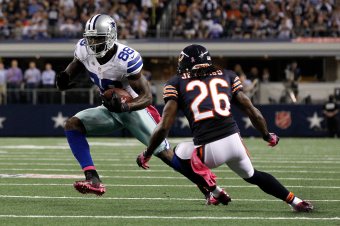 Tom Pennington/Getty Images
10:14 4th Quarter
Dez Bryant just dropped a potential touchdown.
Romo found Bryant deep after he gave a double move to Bears corner Charles Tillman.
Bryant let the ball slip right through his hands for his third drop of the night.
A horrible night by the Cowboys receivers.
Another side note...
Brandon Carr has been abused by Bears receiver Brandon Marshall.
Carr is familiar with Cutler and Marshall as he was a Chief when Cutler and Marshall played together in Denver.
So far, Marshall has six catches for 107 yards and no touchdowns.
Just a bad night for Carr and his crew.
Cowboys night, in a nutshell.
Chicago has taken over the game and bears fans have taken over the stadium

— Clarence Hill (@clarencehilljr) October 2, 2012
11:28 4th Quarter
The Bears are close to extending their lead as they have it near the Cowboys goaline.
Dallas is challenging the previous play if the ball was tipped or not, which would knock out the pass interference call that reset the Bears drive.
At this point, it seems that Dallas is gasping for air as the Bears have their foot on Dallas' neck.
Self inflicted wounds have doomed the Cowboys and a field or a touchdown here would put a nail in their coffins.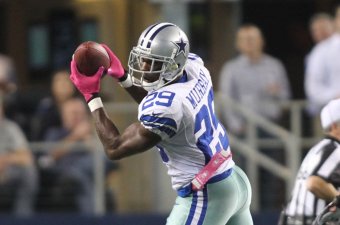 Tim Heitman-US PRESSWIRE
14:51 4th Quarter
Can the Cowboys make a comeback after such sloppy play through three quarters?
Turnovers have dogged Dallas all night as there have been miscommunication issues and mental errors.
Bears still have the ball and they are driving, looking for another score.
CALL OVERTURNED

Instead of it being 1st and ten for the Cowboys it is now 2nd and five for the Bears.
The ruling was that Jeffery's elbow was down and he still had control of the ball.
Chicago driving...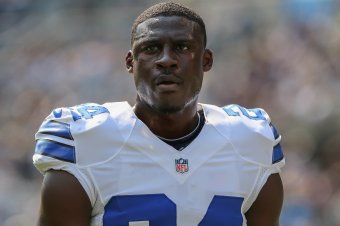 Otto Greule Jr/Getty Images
1:10 3rd Quarter
Well, well, well...
Cowboys rookie Morris Claiborne just ripped the ball out of Bears receiver Alshon Jeffery's hands.
Jeffery was trying to extend the play after catching the ball but Claiborne ripped the ball from him before his knees went down to the ground.
The play is under review but the Cowboys are hoping that it stands as a fumble.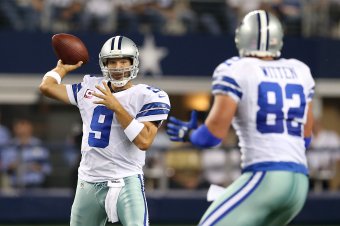 Ronald Martinez/Getty Images
Another side note...
Cowboys tight end Jason Witten has eight catches for 61 yards. I believe he has finally gotten over his case of the drops
4:29 3rd Quarter
After spending an innate amount of money on the offensive line this offseason, the Cowboys protection up front has been tepid at best.
Romo has been all over the field tonight because he's running from defenders and trying not to get his head knocked around.
Cowboys driving...
Is this one on Romo?
Line crumbled in front of him. Bernadeau is not good. But that's an example of a QB trying to do too much and making costly error.

— Dan Graziano (@espn_nfceast) October 2, 2012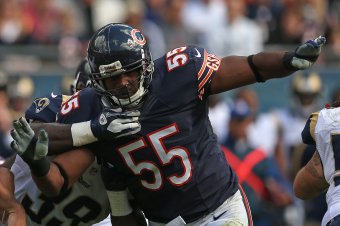 Jonathan Daniel/Getty Images
The Cowboys can't seem to do anything right tonight.
After causing a fumble on Jay Cutler and getting the ball back with decent field position, Bears lineman Henry Melton causes a fumble by knocking the ball out of Romo's hands on the next play.
Bears linebacker Lance Briggs grabs the ball and returns it for a 74 yard touchdown.
Bears are up 24-7.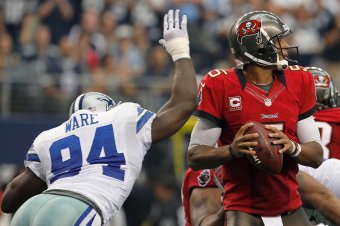 Tom Pennington/Getty Images
6:25 3rd Quarter
Turnover for turnover, eh?
DeMarcus Ware just got his second sack of the game as he strip sacked Jay Cutler and the Cowboys recovered.
Now, can the Cowboys receivers make up for that last drive?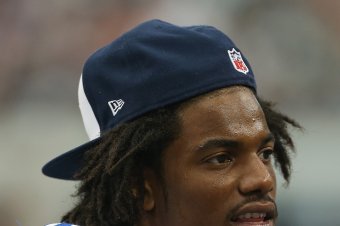 Ronald Martinez/Getty Images
Just as fast as good things happen, something bad counters it.
Romo just had his second interception of the game as he looked for slot receiver Kevin Ogletree deep in the red zone. The ball bounced off of Ogletree and it was picked off by Bears safety Major Wright.
Bears ball.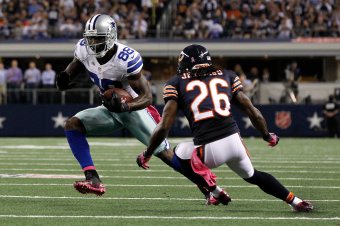 Tom Pennington/Getty Images
8:55 3rd Quarter
The Cowboys are driving. Dez Bryant has shown up and his having his best game of the season with six catches for 89 yards.
Dallas is threatening to score as Bryant is helping them move down the field.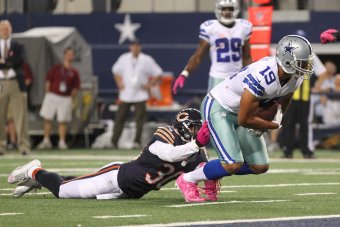 Tim Heitman-US PRESSWIRE
11:11 3rd Quarter
How will the Cowboys respond after giving up such a long touchdown pass to Hester?
The Cowboys are faced with a 3rd and medium still in Chicago territory. If Dallas is forced to punt for can't make anything out of this drive, the Cowboys will to make more adjustments to get their offense jump started.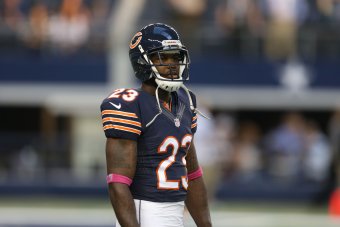 Matthew Emmons-US PRESSWIRE
TOUCHDOWN BEARS
Devin Hester just made Morris Claiborne look pretty silly.
Hester gave Claiborne a double move and smoked him out of his shoes. Cutler found a streaking Hester for a 34-yard touchdown and a potential 10-point lead over Dallas.
The play is being reviewed, as are all scoring plays in the NFL, so it may be overturned. Until then, Chicago has found a chink in the Cowboys' armor.
Should be a very good second half, according to Jon Gruden.
I'll echo his bravado as Dallas is only down by three. The touchdown too close out the second half was very important for the Cowboys, as they are down by three instead of seven.
The Cowboys defense has been playing well as Ware has a sack and Sean Lee is leading the team in tackles.
Should be a very good second half.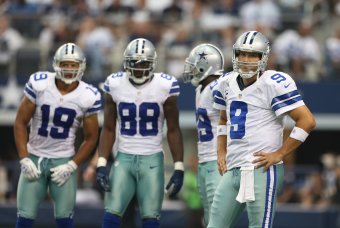 Matthew Emmons-US PRESSWIRE
TOUCHDOWN COWBOYS
Austin has come alive in the 2nd quarter. With just 14 seconds left in the 1st half, the Cowboys have scored a touchdown.
Nine plays for 80 yards as Romo was 8/9 on that drive. Romo has already thrown 21 passes this game, which lets you know where this is headed.
At any rate, he found Austin on a slant down the middle for a 10-yard touchdown pass.
The Cowboys offensive line didn't give him much protection, causing Romo to scramble. He was at his best when pressured and forced to improvise.
Bears 10
Cowboys 7
This article is
What is the duplicate article?
Why is this article offensive?
Where is this article plagiarized from?
Why is this article poorly edited?

Chicago Bears: Like this team?