Why New Orleans Saints Fans Should Still Have Hope, Even at 0-4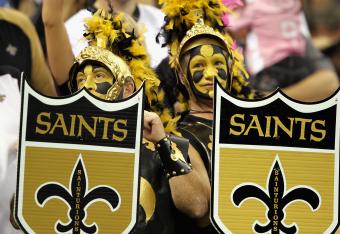 Jamie Squire/Getty Images
The New Orleans Saints aren't entirely done just yet.
Yes, being 0-4 is not pretty, and the defense has been anything but impressive. Still, for as much damage as the Saints took throughout the 2012 offseason, the regular season could be a lot worse.
There's also a small glimmer of light regarding an 0-4 record. In 1992 the San Diego Chargers began the same way and managed to finish 11-5, win the AFC West and last until the Divisional Round of the postseason.
One major difference between those Bolts and these Saints, however, is offense. That season, San Diego scored just 29 points through its first four games. So, at least New Orleans has proven the ability to get in the end zone and help its defense.
How will the Saints' regular season finish?
With all that said, let's check out why Saints fans should remain positive despite the rough start.
NFC South is Weak By Comparison
Despite the Atlanta Falcons being 4-0, the NFC South is not the most competitive division right now. Obviously the Saints having yet to win still hurts the division, but the Carolina Panthers and Tampa Bay Buccaneers aren't much better.
Each of those teams sit at 1-3 and compared to the rest of the NFL, the NFC South is arguably the worst division overall. And although that doesn't bode well for the division when playing non-divisional opponents, it helps the Saints more than at first glance.
For one, New Orleans has three winnable games left in Tampa Bay twice and Carolina at home.
Plus, upsets are possible, and if the offense is clicking the Saints can take one from Atlanta. The Falcons' defense is opportunistic, but also vulnerable against the run and capable of allowing many passing yards.
Divisional games are never guaranteed, and it's because the teams know one another so well. With Brees under center, the Saints still have an explosive attack and the NFC South defenses still must prove consistency from week-to-week.
Drew Brees and the Passing Offense
This is all New Orleans has going for its football team right now.
Interestingly enough, Brees and the Saints' offense are emphatically one-dimensional with the ground game averaging just 80.8 yards per week (ranked No. 26). From a reliability standpoint, though, New Orleans has averaged 4.3 yards per carry as well.
Therefore, as long as Brees and the passing attack never slow down, the running game will catch on sooner than later. Currently, Brees has thrown for 1,350 yards and 10 touchdowns to five picks. So, moving the chains and scoring points is one area Saints fans need not worry about.
Averaging 27.5 points per contest, this kind of production will account for at least five to six wins. All that's left is for the defense to step it up.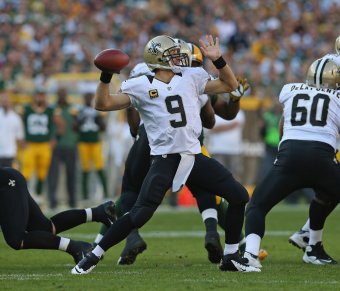 Jonathan Daniel/Getty Images
Close Calls Instead Of Blowouts
The good news about the Saints' defense is that there's literally nowhere else to go but up.
Allowing an average of 463.3 total yards and 32.5 points per game thus far, it's nearly impossible to be any worse. Because of Brees and the offense, however, the Saints have yet to lose in blowout fashion.
All four losses combine to 20 points, and it's not like New Orleans is getting smashed from the start. In other words, the high-scoring affairs are not a product of Brees collecting yards in garbage time. The Saints are playing well throughout each game; the end result just hasn't been in their favor.
For any team that's struggling, the very least fans can ask for is competitiveness.
New Orleans is doing that because the Saints are a bad pass interference call in Week 1, Panthers' pick six in Week 2, Jamaal Charles 91-yard touchdown run in Week 3 and a missed field goal in Week 4 from being 4-0.
The 2012 Saints are not your typical 0-4 team, and ironically New Orleans lines up against the Chargers in Week 5. Perhaps the 20-year omen of the '92 Bolts plays a factor next week and the torch will be passed.
Follow John Rozum on Twitter.

This article is
What is the duplicate article?
Why is this article offensive?
Where is this article plagiarized from?
Why is this article poorly edited?

New Orleans Saints: Like this team?