Week 6 College Football Conference Power Rankings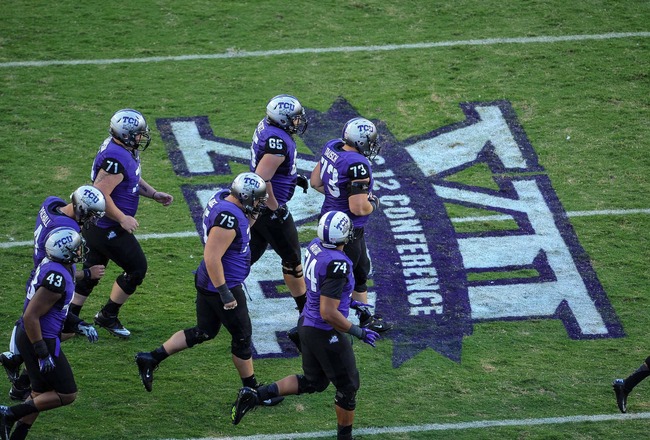 Jerome Miron-US PRESSWIRE
Can things get much worse for the B1G?
Is there more to the Pac-12 than Oregon this season? Is the Big 12 as deep as any conference in the country, including the SEC?
Can someone help poor C-USA out of the basement?
After five full weeks of football, it's time again to shake up the conference power rankings. Some conferences have earned a promotion after some solid football this season.
Others are already looking forward to basketball season.
So, where do the conferences stand after five weeks of football? Read on.
No. 12: Conference USA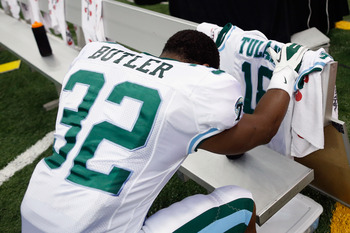 Chris Graythen/Getty Images
If the Big Ten thinks that it has problems, at least it's not C-USA.
This conference still has four teams (Memphis, Southern Miss, UAB and Tulane) that have yet to win a game in 2012.
Yikes.
Tulsa looks halfway decent, but overall the conference has a record of 15-38.
And remember, this is one of the main conferences that the Big East is raiding for stability.
No. 11: Mid-American Conference
Andrew Weber-US PRESSWIRE
Ohio, one of only three undefeated teams from a non-AQ conference, almost got beat by UMass last week.
0-5 UMass!
Toledo and NIU may make some noise within the conference, but it doesn't look like the MAC is going to make too many national waves this season. Beating B1G teams doesn't seem to count for much this season.
No. 9: Sun Belt Conference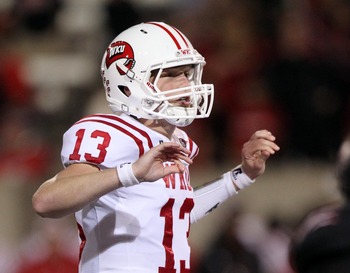 Nelson Chenault-US PRESSWIRE
Congratulations, Sun Belt! You get to move up a spot from last week as Middle Tennessee State took down Georgia Tech of the ACC.
Personally, I think that this should be one of the more interesting conference races in the FBS. Louisiana-Lafayette, Louisiana-Monroe, Western Kentucky and now Middle Tennessee State should all have a good chance at coming away with the conference crown.
BCS buster they're not, but this conference sure is rising from the bottom.
No. 9: Mountain West Conference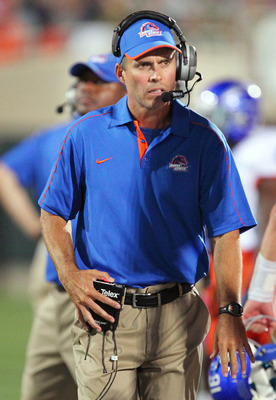 Mike Carter-US PRESSWIRE
Chris Petersen can't be happy with his team after it got a scare from New Mexico.
The Lobos scored 29 points on the Broncos in the second half, but Boise State held on for the win and remained ranked in the Coaches Poll, but only just.
And I'd watch out for Nevada. It's no BCS buster, but the Wolf Pack are a solid team that will probably make the Top 25 by the end of the year.
Nothing else to see here, folks.
No. 8: Western Athletic Conference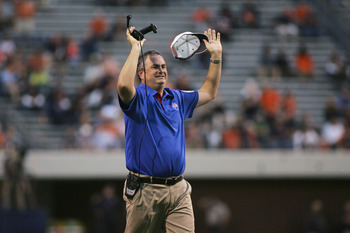 Peter Casey-US PRESSWIRE
Looking at the WAC play right now, it's hard to believe that this conference isn't going to be around next season.
Louisiana Tech may be the next BCS buster, as it averages 52.0 points per game. Texas-San Antonio also remains unbeaten, although its only two wins over FBS competition are against New Mexico State and South Alabama.
Utah State has a chance at claiming the title of best team in the state of Utah if it can beat BYU at LaVell Edwards Stadium next week.
In fact, really the only team for which things seem to be going wrong is poor 0-5 Idaho.
No. 7: FBS Independents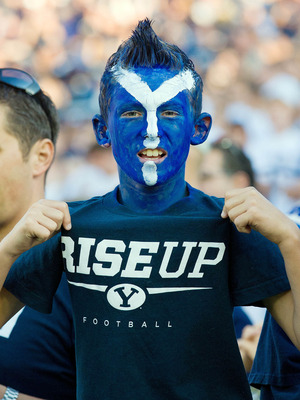 Russ Isabella-US PRESSWIRE
BYU bounced back nicely after two tough losses against Utah and Boise State, but then again, Hawaii looks downright dreadful.
Notre Dame, however, still appears legit. The Fighting Irish already passed some good tests against Michigan and Michigan State, but now Miami (Fla.) looks like an interesting challenge for the revamped Irish.
Army and Navy? Well, there once was a time that these two programs were good at football...
No. 6: Big Ten Conference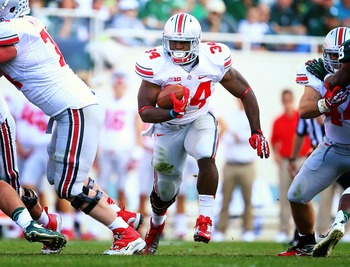 Mike Carter-US PRESSWIRE
After another subpar performance from the Big Ten, it's time to demote them to the worst AQ conference.
Yes, that means even lower than the so-called "Big Least."
Sure, Ohio State is good. In fact, it may run the table. But the actions of Terrelle Pryor et al. and Jim Tressel's cover-up will keep the Buckeyes out of the postseason and championship contention.
But really, can you name one legitimate top-20 program out of the B1G other than Ohio State?
Nebraska may be close, but the only other B1G team ranked right now is Northwestern.
No. 5: Big East Conference
Chuck Cook -US PRESSWIRE
Don't look now, but the Big East has two ranked teams in the AP and three in the Coaches Poll.
Louisville, Cincinnati and Rutgers all remain unbeaten through five weeks of football. Are any of those national title contenders?
Well...no.
Still, it's been a while since the conference has performed this well. I mean, Pitt and Cincinnati beat Virginia Tech, Rutgers beat Arkansas despite giving up over 300 yards receiving to a single player, and Louisville has wins over Kentucky and North Carolina.
Not marquee wins for sure, but good ones for a conference that traditionally struggles against its fellow AQ conferences.
No. 4: Atlantic Coast Conference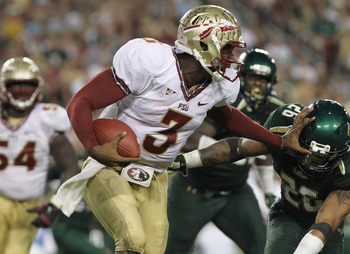 Kim Klement-US PRESSWIRE
Florida State's still looking like a national championship contender, while Clemson and Miami are contenders for a BCS bid.
After that, things drop off rather quickly.
Virginia Tech is in trouble after dropping games against Pitt and Cincinnati. Georgia Tech just lost to Middle Tennessee State.
But here's a surprise: Duke is 4-1.
No. 3: Pacific-12 Conference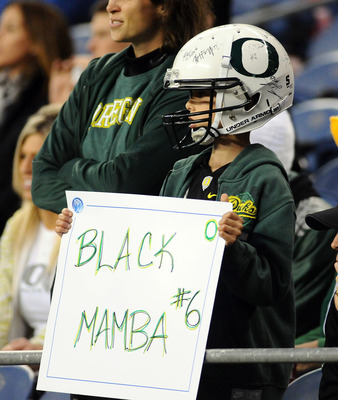 James Snook-US PRESSWIRE
Back in Pete Carroll's day, the Pac-10 was USC plus nine other teams.
More and more this season, the Pac-12 is looking like the state of Oregon plus 10 other teams, although the Beavers got quite the scare from Arizona this week.
Washington's win over Stanford showed just how inflated that No. 8 ranking turned out to be. Although the Pac-12 has some good nonconference wins like UCLA over Nebraska and Arizona over Oklahoma State, the rest of the Pac-12 is looking more and more mediocre as the season goes on.
But boy, do the Ducks look good!
No. 2: Big 12 Conference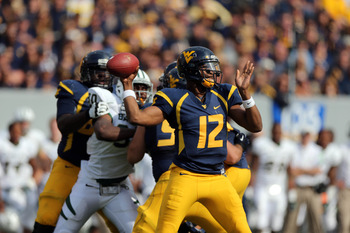 Rob Christy-US PRESSWIRE
OK, to those who have been giving me a hard time for putting the Pac-12 over the Big 12 the past few weeks, I have just one thing to say:
I've seen the light.
I'm still not completely sold on all of the Big 12's undefeated teams, but the West Virginia offense is downright terrifying. Texas looks like it's back on track after beating Oklahoma State at Stillwater, Kansas State remains impressive, and TCU just might make some noise in its first year in the conference.
I would have liked for the Big 12 to have played better nonconference competition, but it is what it is.
And really, Kansas is the only truly bad team in the conference.
No. 1: Southeastern Conference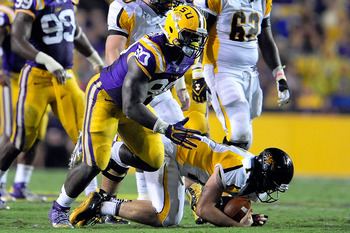 Stacy Revere/Getty Images
Despite some sloppy play from some of the conference's top schools, the SEC remains on top.
Yes, I'm talking to you, LSU.
Despite the Tigers' struggles against FCS Towson, no conference has a better nonconference resume than the SEC. Alabama still appears to be by far the best team in the nation, and the SEC East has finally developed some depth.
We'll see just how much the East has improved as LSU travels to The Swamp this week.
Keep Reading