LSU vs. Florida: 3 Ways Tigers Can Outplay the Gators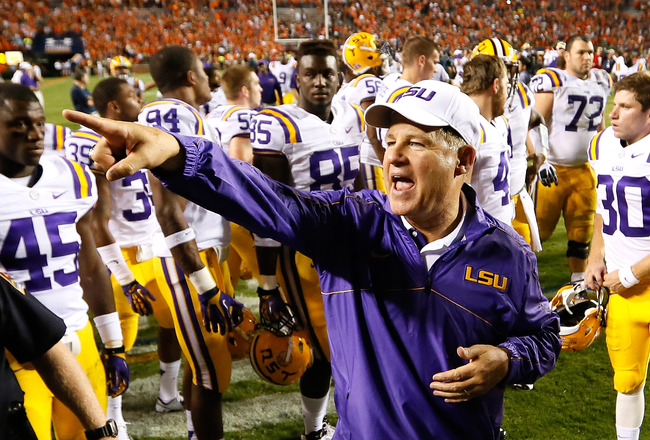 Les Miles has been here before
Kevin C. Cox/Getty Images
College football's game of the week has the No. 4 LSU Tigers travelling to the No. 10 Florida Gators.
It's premature, but it looks like LSU will be able to do enough to stay undefeated.
The Tigers are 5-0, winning by an average of 26.2 points per game. Their marathon-like numbers were only truly tested against the Auburn Tigers, but LSU was still able to pull out a 12-10 victory on the road.
Florida's competition level has been higher than LSU's, but the Gators have been able to get off to an unbeaten start of 4-0. One of their more impressive wins includes a 37-20 victory over the then No. 23 ranked Tennessee Volunteers.
Saturday's SEC game has major implications for the season as both teams are still in the hunt for the BCS National Championship.
Sure, it's a heated SEC game, but if the Tigers play how they are supposed to, then there really isn't much that the Gators can do to stop them.
Here are three ways that LSU can end up outplaying the Florida Gators.
Florida Will Struggle To Put Points on the Board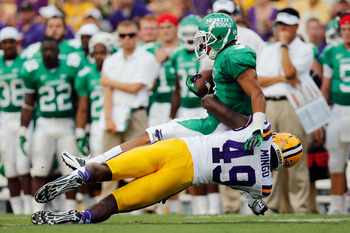 Barkevious Mingo is a force at defensive end
Chris Graythen/Getty Images
The Tigers haven't always been able to put the ball in the end zone with any kind of regularity, but their defense has been known for being elite.
This year's team is holding opposing squads to 12.6 points per game. That's good enough to be ranked as the No. 9 team in the country.
LSU hasn't played anybody that puts up huge numbers, but holding teams to low point totals is important regardless.
If you take a look back on the history between the Gators and Tigers, you would find that Florida has had some trouble scoring against LSU.
In their last three games against each other, Florida has averaged only 17.7 points whereas LSU has averaged 24.3 points.
The advantage clearly goes to the Tigers here.
Playing like a No. 1 defense will be crucial toward helping the Tigers outplay the Gators.
Don't just look for it to happen on Saturday. Expect it.
Les Miles Has a Unique Ability to Win, Even When He Isn't Supposed To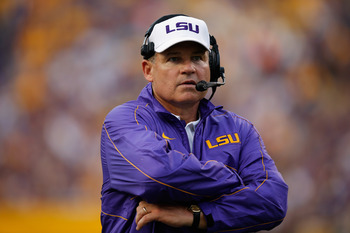 Les Miles finds a way to get the job done
Chris Graythen/Getty Images
Regardless of whether you like him or hate him, Les Miles almost always finds a way to get it done.
Well, at least he does in the regular season.
Good news for LSU is that this isn't a bowl game, so they need to be confident in every word that Miles ends up saying.
Last year's NCAA Coach of the Year has gotten off to a relatively bumpy start as his team hasn't had the prettiest of wins.
The good news is that he's aware that his team hasn't played well.
Greenfieldreporter.com released a story by the Associated Press that has Miles' thoughts on his team's recent performance:
"We need to play better," Miles said on Monday. "We need to be consistent with our culture. We had uncharacteristic turnovers. I'm glad we're getting them out early. We can't afford them as we go forward.

"Our defense played like they are expected to play in spots (against Towson). But, we unexpectedly gave up a grind-out drive at the back end of the game. I am not happy with the penalties. This team understands how to play and the culture in our building. I suspect they will play well against Florida."
Miles understands how talented his team is and should make the proper adjustments for Florida.
Again, it's still season play so Tiger fans should be excited about how LSU responds to their coach.
Kenny Hilliard Will Run over Anybody That Tries To Get in His Way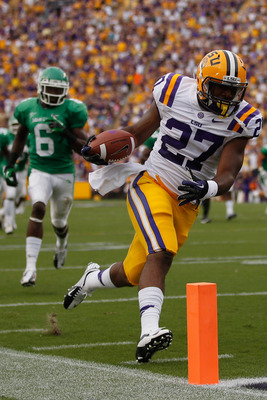 Hilliard has the ability to rush for a lot of yards on few carries
Chris Graythen/Getty Images
Consistently getting beat up in the ground game is one of the most demoralizing feelings in football.
Sorry Florida fans, you're about to experience the sensation at full force.
LSU's Kenny Hilliard is a 5'11", 225-lb bruiser that is usually the one dealing the punishment on anybody looking to tackle him.
Hunter Paniagua, writer for The Advocate, was able to interview Hilliard about his season and more importantly, about his size:
"Hilliard shed weight to drop to about 225 pounds. He called that the perfect size, and said the 240-pound Hilliard wouldn't have outrun those defenders.

"I'm not dropping any lower than that," Hilliard said. "I was at 220, and I felt like I was light and I didn't really like it. Around 225 is perfect."

That weight allows him to keep the power that gave Hilliard his fame. It's the kind of power that countless opponents have experienced first-hand."
Through four games, his 6.9 yards per carry prove that he is a force at running back and one that Florida will need to key in on.
Unfortunately for the Gators, they can key in on Hilliard as much as they want, but they're not going to unlock the recipe on how to stop him.
In the end, he'll be an important player for the Tigers as they look to outplay Florida.
Keep Reading

LSU Football: Like this team?