15 NHL Players That Will Never Win a Stanley Cup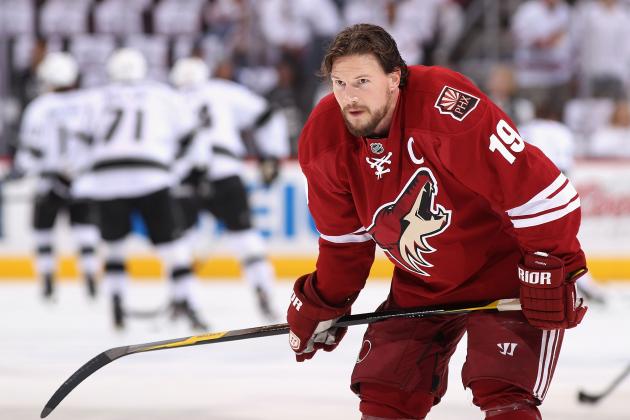 Christian Petersen/Getty Images

The Stanley Cup is the hardest trophy to win in pro sports and unfortunately for many NHL veterans and players stuck on bad teams, they will never get an opportunity to lift this 35-pound masterpiece.
Let's look at 15 players who will retire from the NHL without experiencing the joy that comes from winning the best trophy in sports.
Begin Slideshow

»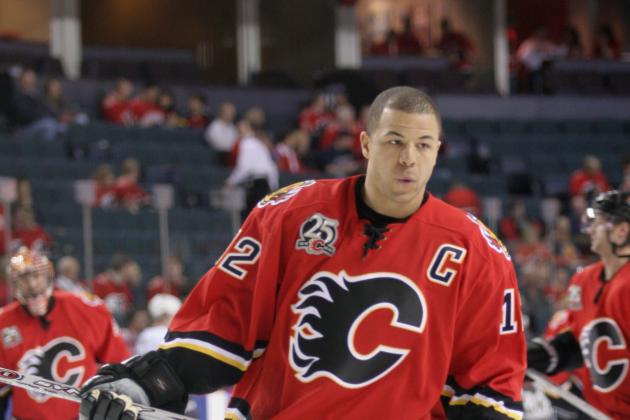 Tim Smith/Getty Images

It would be a surprise to many Calgary Flames fans if star forward Jarome Iginla left the team to win a Stanley Cup instead of finishing his great career with the only NHL he's ever played for.
It's possible that he could be traded before his contract expires, but given how loyal he's been in his career, Iginla could certainly decide not to leave a fan base that loves him.
If he chooses to remain with the Flames until retirement, it's highly unlikely that he will win a championship, but the lack of a Stanley Cup title wouldn't hurt his Hall of Fame resume.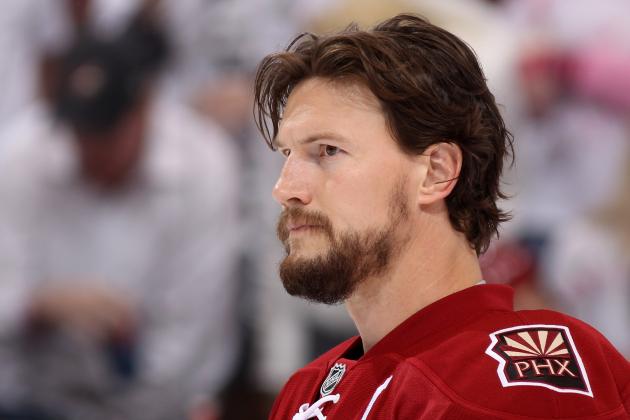 Christian Petersen/Getty Images

When Shane Doan signed a new four-year contract with the Phoenix Coyotes earlier this month, he passed up an opportunity to sign with a contending team and win a Stanley Cup.
Doan has been with the Coyotes organization going back to its days in Winnipeg and last season's run to the Western Conference Finals was the furthest he had been in the playoffs in his entire career.
The Coyotes aren't talented enough to win the Stanley Cup with their current roster, but if the team is sold in the near future, which is entirely possible, the new owner(s) would likely invest a lot more money into adding players to the team via free agency and trades.
In that scenario, Doan would have a better chance at winning a championship before he retires.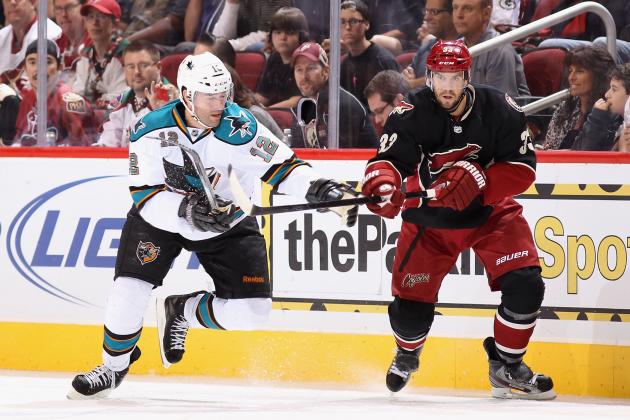 Christian Petersen/Getty Images

San Jose Sharks forwards Patrick Marleau and Joe Thornton are in a similar situation. Both of them are aging veterans and don't have much of a shot to win the Stanley Cup in San Jose.
Marleau, 33, didn't help himself or his team last year by finishing the playoffs with zero points, but in the Sharks' two previous playoff runs, he scored 26 points in 32 games.
If Marleau wants to win the Stanley Cup, he will probably have to leave San Jose. He has two years left on his current contract with the Sharks.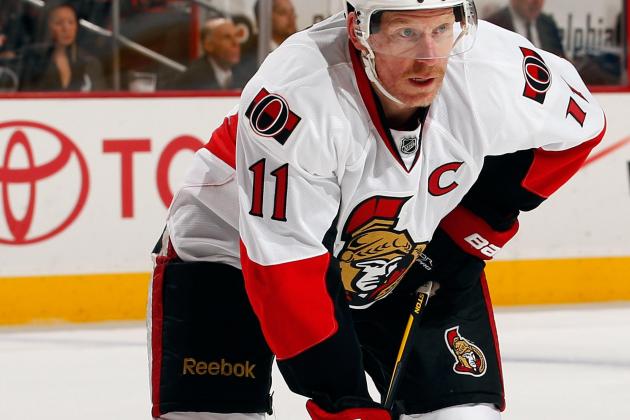 Rob Carr/Getty Images

Ottawa Senators captain Daniel Alfredsson is still capable of being a productive offensive player, but the 39-year old veteran is running out of time to win the Stanley Cup.
His best chance to win the Stanley Cup came during the 2006-07 season when his Senators lost to the Anaheim Ducks in a five-game Cup Final series.
Alfredsson hasn't been past the first round of the playoffs since that season. Even though the Senators surprisingly made the playoffs last year, the team isn't good enough to win a championship in the one or two more years he has left in his career.
Alfredsson is one of the most loyal players in the league, and after being in Ottawa since the 1995-96 season, there's no chance that he leaves the Senators to chase a Stanley Cup title.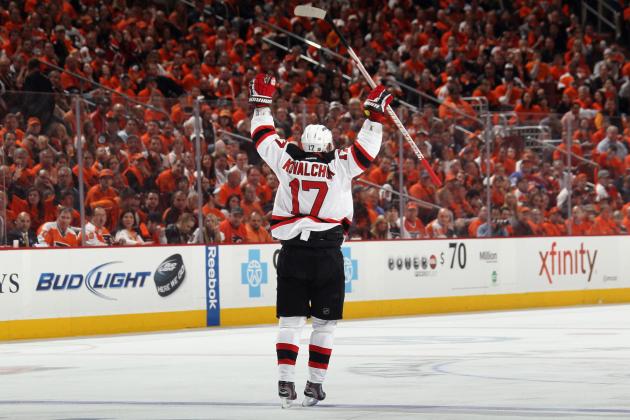 Bruce Bennett/Getty Images

Ilya Kovalchuk is probably going to be with the New Jersey Devils for the rest of his career unless another team is interested in acquiring him toward the end of his current contract, which won''t expire until 2025.
His best chance to win a Stanley Cup might have been last year, when the Devils lost to the Los Angeles Kings in a six-game Cup Final series.
When veteran goaltender Martin Brodeur retires, Kovalchuk's chances to win the Stanley Cup in New Jersey will decrease significantly.
He needs more quality players around him to get back to the Stanley Cup Final.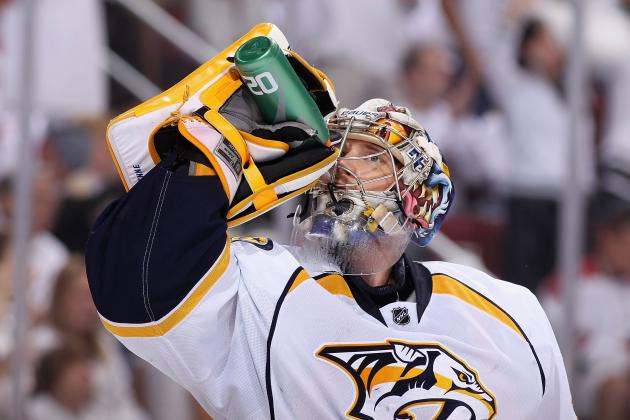 Christian Petersen/Getty Images

Nashville Predators goaltender Pekka Rinne is one of the best players in the NHL. Although he should enjoy plenty more individual success during the rest of his career, his team is unlikely to make many more deep playoff runs anytime soon.
The Predators took a step back this summer after failing to bolster their offensive depth and re-sign star defenseman Ryan Suter, so the team is going to need historic seasons from Rinne to make a real run toward a championship.
Rinne's new seven-year contract extension with the Predators will begin this season. At age 29, if he finishes his career in Nashville, it's unlikely that Rinne wins a Stanley Cup.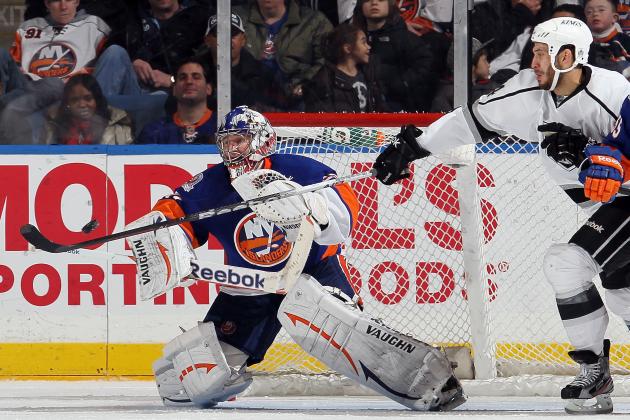 Jim McIsaac/Getty Images

Evgeni Nabokov's best chance to win a Stanley Cup probably came in his days with the San Jose Sharks, but since he rarely played well during those playoff runs, it's unlikely that he gets a starting job with a championship contender moving forward unless an injury creates a need for a team.
After spending the 2010-11 season in the KHL, Nabokov returned to North America last year to play for the New York Islanders.
The 37-year-old veteran signed a one-year contract with the team for the 2012-13 season, and needs a great year to impress Stanley Cup contenders that might need a starting goaltender or a backup.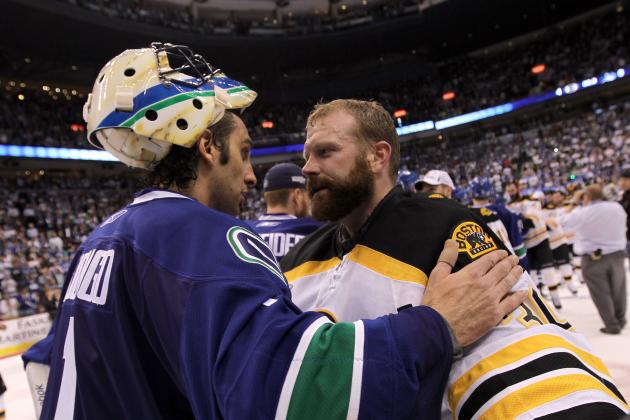 Bruce Bennett/Getty Images

Roberto Luongo might have an opportunity to win a Stanley Cup this season as Corey Schneider's backup with the Vancouver Canucks, but if he's traded to a team such as the Toronto Maple Leafs or Florida Panthers, it's unlikely that the veteran goaltender will ever win a championship.
Luongo will be under an immense amount of pressure wherever he goes because of his impressive talent, huge contract and past playoff failures.
Unless he wins a championship with the Canucks in the near future, Luongo probably won't win a Stanley Cup title in his career.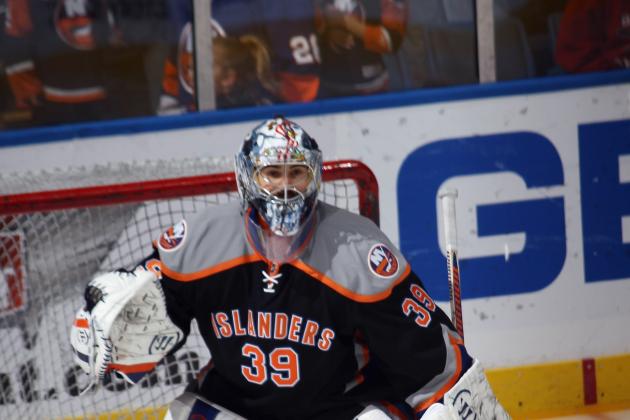 Bruce Bennett/Getty Images

Rick DiPietro is under contract with the New York Islanders until the summer of 2021 and includes a good-sized salary cap hit of $4.5 million.
DiPietro isn't going to win a Stanley Cup with the Islanders anytime soon, even if he can overcome his injury issues and get on the ice consistently. The franchise isn't anywhere close to having enough talent to compete for a Stanley Cup.
His only hope to get a championship ring is if he signs with another team or is traded from the Islanders. However, the chances of that happening are very slim since his contract is so massive for a player that has averaged 11.75 games played over the last four seasons.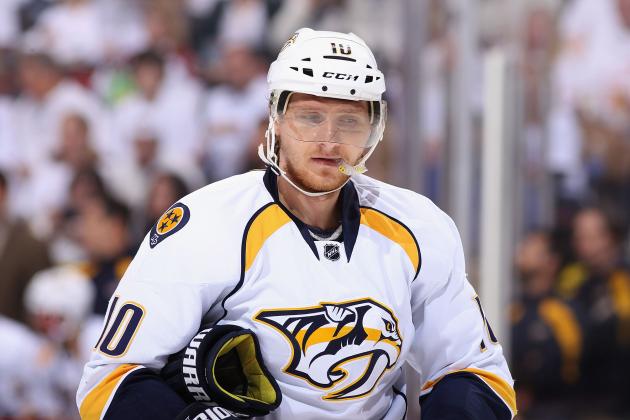 Christian Petersen/Getty Images

Martin Erat is 31 years old and has spent his entire career with the Nashville Predators. He is an underrated forward who doesn't get much national recognition, but he has scored 50 or more points in five of the last six NHL seasons.
Just like his teammate Pekka Rinne, Erat doesn't have much hope of winning a Stanley Cup with the Predators.
He has three more years left on his current contract with a salary cap hit of $4.5 million and it would be surprising if Erat wins a championship in Nashville.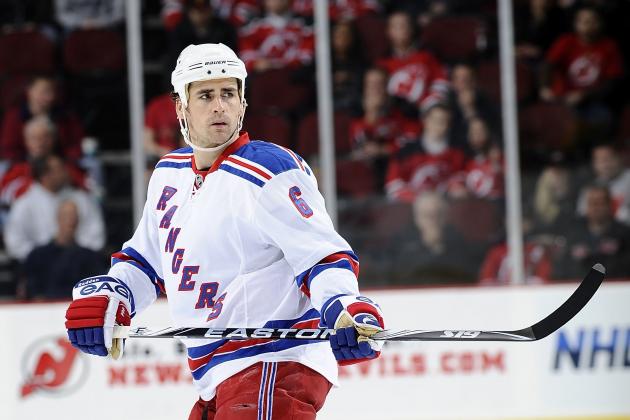 Jeff Zelevansky/Getty Images

Wade Redden's six-year, $39 million contract that he signed with the New York Rangers in the summer of 2008 was one of the worst free agent deals in recent memory.
Redden has been playing in the AHL for the Connecticut Whale over the last two years because the Rangers don't want to have his $6.5 million cap hit hurting their financial flexibility when he isn't capable of producing like a high-priced defenseman.
Redden is 35 years old and probably won't play in the NHL until his contract expires because no team will take on a player with his kind of cap hit.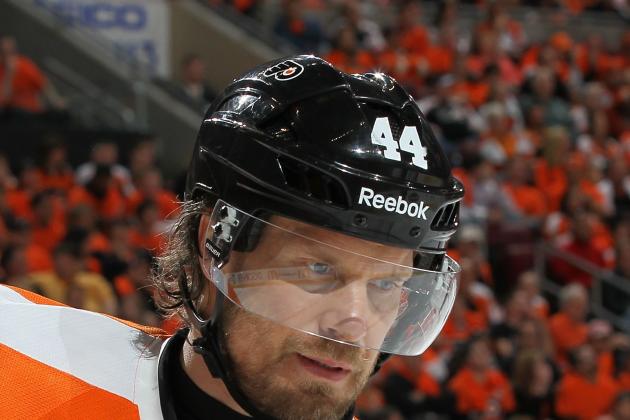 Jim McIsaac/Getty Images

Kimmo Timonen spent several seasons with the Nashville Predators before joining the Philadelphia Flyers for the 2007-08 season and has become one of the team's most dependable defensemen at both ends of the ice.
Timonen, 37, came close to winning a championship in 2010 when the Flyers lost to the Chicago Blackhawks in a six-game Stanley Cup Final series.
The Flyers are still a talented team, but aren't likely to win the Stanley Cup this season. It wouldn't be surprising if Timonen retires when his current contract expires next summer.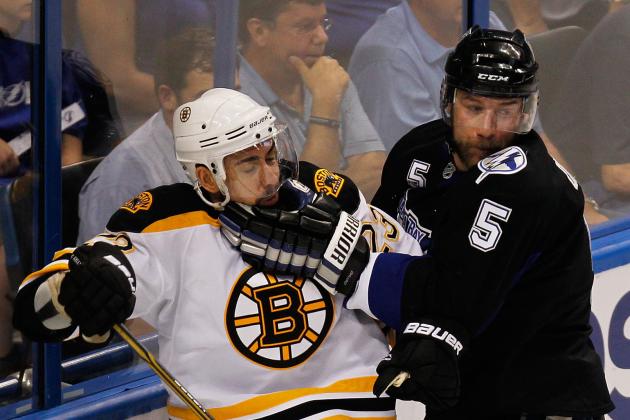 Eliot J. Schechter/Getty Images

Mattias Ohlund spent over 10 seasons with the Vancouver Canucks before signing with the Tampa Bay Lightning as a free agent before the 2009-10 season.
The veteran defenseman probably won't win a Stanley Cup with the Lightning since the team doesn't have enough defensive depth to win a championship. Goaltending is also a problem for Tampa Bay.
Ohlund, 36, has enjoyed a very successful career, but unfortunately, it will probably end without a Stanley Cup title.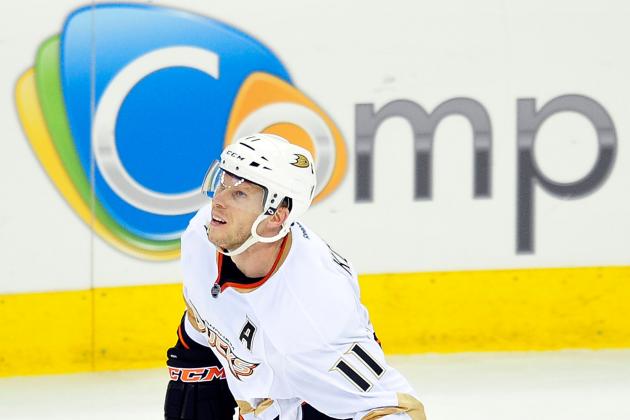 Grant Halverson/Getty Images

After a long and productive career with the Montreal Canadiens, veteran forward Saku Koivu has spent three seasons with the Anaheim Ducks.
Koivu is 37 years old, and while he's still a productive offensive player, it's unlikely that he finishes his career with a Stanley Cup title because the Ducks aren't even a playoff contender right now.
It wouldn't surprising if Koivu retires after next season, or leaves the game this winter if a lockout wipes out the 2012-13 season.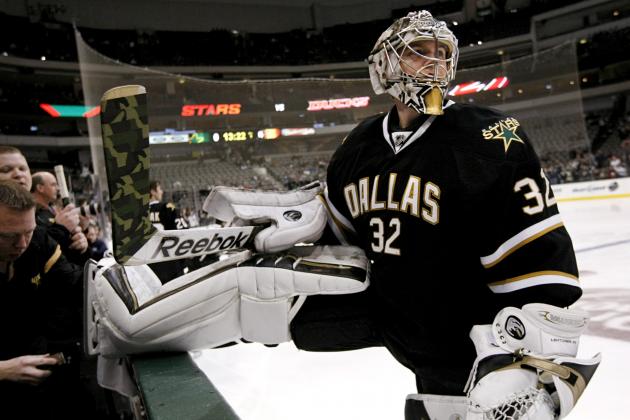 Brandon Wade/Getty Images

Dallas Stars goaltender Kari Lehtonen won 32 games last season, but his team failed to reach the playoffs for the fourth straight year.
Lehtonen, 28, is entering the prime of his career and will begin a five-year contract extensions worth $29.5 million starting in the 2013-14 season.
The Stars aren't a championship contender, and probably won't be for some time, so Lehtonen likely isn't going to win a Stanley Cup in Dallas.