WWE Raw Live Results: Reaction and Analysis for October 1, 2012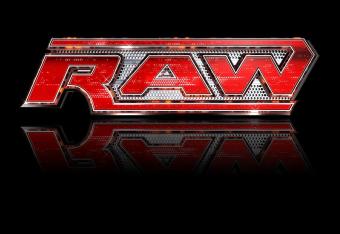 wallpapers-wwe.com

October is here, fall is in full swing and it is time for another three-hour Monday Night Raw.
This is the liveblog for Raw on October 1, 2012, where we cover all the action as it happens live on television.
This week's show should be interesting, as it will show us how WWE intends to use John Cena following his recent elbow surgery.
CM Punk's altercation with Ryback at the conclusion of last week's show certainly shook things up in WWE, and we should see some kind of follow-up to that tonight.
Booker T announced a tournament on SmackDown to see who will face Daniel Bryan and Kane at Hell in a Cell, so we could see another of the remaining first-round matches tonight.
Speaking of Kane and Daniel Bryan, last week we saw the two in a diner doing a little role-playing therapy with Dr. Shelby.
WWE has been on a roll with these outside-the-ring segments with Kane and Bryan, so let's hope we don't see a downslide in quality tonight.
We encourage readers to engage in comments and debate during the show. It usually gets pretty spirited, so if you are not a member of Bleacher Report, make sure to sign up so you can join in on the fun.
Bookmark this page and come back tonight when the show goes live for all the exciting WWE action.
Notice how the botches have been edited out.
After the match Bryan and Kane yell at each other again as Cole signs off for Raw.
What a hot and cold show that was. Most of the matches were way too short and we saw Ryback really take a setback with failing to lift Tensai after doing it last week.
The Ryback/Punk angle seems to be building to something, but a Ryback title win is very unlikely. It is way too early and he is way too green.
AJ's coach added nothing to the show and AJ as special ref for the final match added nothing as well.
The best part of the night was Sheamus vs. Sandow. Damien Sandow looked great against the champion by using a lot of old-school hold and being very aggressive.
Hopefully WWE gets back to their recent high level of shows next week.
Thanks for joining me for the B/R Raw blog and feel free to keep the conversation going in the comments section below.
Team Hell No vs. Ziggler and Punk Part 2
We return to see Ziggler holding a sleeper on Kane. Kane backs him into the corner to get him off. Ziggler hits a big dropkick for a one count.
Ziggler pie-faces Bryan but he turns into a shot from Kane, who tags in Bryan. Kane whips Bryan into Ziggler for a near fall.
Kane tags back in and Bryan holds Dolph while Kane hits the low dropkick for a near fall. Vickie is screaching at Punk as Ziggler hits the jumping DDT.
Punk tags in and hits the high knee. He hits a second high knee but Kane pushes him off the bulldog attempt and hits a sidewalk slam for a near fall.
Kane goes up top and hits the diving clothesline. Bryan tags in and goes to the top but Punk meets him with a kick to the gut when he jumps off the ropes.
AJ counts as Punk holds Bryan in the corner with his foot. Bryan does his flip in the corner followed by a flying clothesline.
Bryan hits a bunch of kicks but misses the last one. Punk returns the favor with a roundhouse the head for a near fall.
Ziggler tags in and hits a picture-perfect dropkick to send Bryan outside the ring. He follows Bryan and throws him into the barricade.
Ziggler runs him into the barricade again and the second time looked and sounded really nasty. He rolls Bryan in for a near fall.
I am a little shocked AJ hasn't had more impact as ref.
Punk tags in and tries to go to the top but he gets crotched by Bryan. Bryan hits a double-underhook suplex from the top before locking in the No Lock to Punk.
Punk's foot reaches the ropes and Heyman forces AJ to call for the break. AJ sees Heyman pushing the rope and she boots him from ringside.
Vickie gets on the apron and AJ boots her as well. Punk and Bryan struggle to get up and Ziggler bails on Punk with Vickie.
Punk gets a big running dropkick from Bryan before a Chokeslam from Kane for the pin and the win.
Winners: Kane and Daniel Bryan
Team Hell No vs. Ziggler and Punk Part 1
I like Ziggler's new "I am going to steal the show and your girlfriend" shirt.
It looks like AJ is going to be the special ref for this match. Kane and Ziggler start off and Kane easily takes him down with a shoulder block.
Kane gets a one count on Ziggler before teasing a tag with Bryan. Ziggler avoids Kane in the corner but Kane is able to clothesline Ziggler out of the ring as we head to commercial...again.
Alberto Del Rio vs. Kofi Part 2
After the worst scheduled commercial break ever we see Ricky doing commentary in Spanish while Del Rio is holding Kofi in an abdominal stretch.
Ricardo mentions how it is three on one with Little Jimmy in there too. Kofi breaks free and comes back with some big shots and a drop kick.
Kofi hits the Boom Drop as Ricky freaks out. Kofi sets up for Trouble in Paradise but Del Rio avoids it. Ricky keeps saying Kofi is cheating when he isn't. Del Rio lays in with kicks to Kofi before locking the Cross Arm Breaker on.
Kofi has to tap and Del Rio wins as Ricky celebrates on commentary.
Winner: Alberto Del Rio
Ricky on commentary was the best part of that match.
AJ's coach is telling her about admitting when she is wrong. AJ ends up saying the coach should be the guest ref.
Ha. JR's mic bleeds through for a second and we hear him say "Why don't you do the reveal" to someone.
Daniel Bryan is out after the backstage segment for the main event.
Alberto Del Rio vs. Kofi Kingston Part 1
Del Rio hits a kick and a snap suplex right off the bat for a one count. Kofi leapfrogs a bit before hitting an elbow to Del Rio.
He sends Del Rio off the ramp and then he springboards out onto Del Rio.
Seriously?! What was that, thirty seconds between commercials?
Del Rio is out after the break and he drops his scarf getting out of the car. He refuses to pick it back up for some reason.
We see some footage from after SmackDown where Del Rio attacked Orton following his match with Big Show.
Kofi is out next with R-Truth and Little Jimmy and Ricardo Rodriguez is joining commentary.
Ross leaves the ring and walks up the ramp as Punk keeps mocking him from the ring. Ryback's music hits and he comes out and walks up to JR. They walk back to the ring together.
Heyman bails as Ryback gets in the ring and invites JR back in. Ryback stares at Punk, who looks like he doesn't know what to do.
The crowd chants Feed Me More as Punk slowly leaves the ring. It looks like his strategy is "Live to fight another day."
Punk holds up the title as he retreats up the ramp. Cole puts over the main event before we go to commercial.
It looks like the couple of botches Ryback had earlier will not derail whatever this is between him and Punk.
Michael Cole is in the ring after the break to do the JR appreciation night segment. He really puts over JR as he brings him into the ring.
Jim Ross went all the way to the back just so he could do a proper entrance. Hilarious.
Right as JR goes to speak CM Punk's music hits and he comes out to ruin the fun. Called it earlier.
Punk takes the mic from Cole and mocks the JR appreciation night. Punk says the truth is that he respects the hell out of him and he is a hell of an announcer.
This segues into Punk talking about the lack of respect he has been shown. Punk says because he respects JR they are going to teach the crowd a lesson.
He wants JR to say he is the best in the world. JR says he is happy Punk did not come out to make a fool out of him.
He can't say Punk is the best and it really gets Punk down. Punk asks what is going to happen if he treats him the way he treated Foley.
Punk brings up Austin specifically as not being there to help him, which means he might just be here. Punk says he owns 316 now because that is how long his title has lasted.
Heyman is still holding up the WWE title as Punk yells at JR to say he is the best in the world. JR stands his ground and doesn't say it.
He says he has called some of the best main events in the world with some of the best wrestlers and those men earned the title best in the world.
Punk takes off JR's hat and steps on it to some big heat from the crowd. Punk mocks the OKC Thunder and gets some huge heat.
Punk basically says he is going to beat up Jim Ross right now. Ross goes to leave and Punk stops him. He gets nasty as he runs down JR and tells him to leave the arena and not commentate anymore tonight.
More updates to come.
Sheamus vs. Sandow Part 2
Rhodes helps distract Sheamus so Sandow can get the advantage outide the ring. Sandow gets a near fall and then locks in a cross-face.
Sandow buries a knee to the gut of Sheamus. Rhodes is off commentary now and watching from ringside. Sandow hits the side Russian leg sweep followed by the Latin elbow I don't know how to spell.
Sandow keeps control as he grounds Sheamus. JR puts over Sandow's competitiveness as he gets a near fall on Sheamus.
Sandow locks in a headscissors to Sheamus to add to the list of classic holds he has used in this match. I like how Ross and Cole are mentioning how Sandow is using a lot of moves we don't see too much anymore.
Sandow takes Sheamus off the top ropes with big right hand to put him on the mat. Sandow is really looking impressive against the champ tonight as he and Sheamus slug it out a bit.
Sheamus eventually hits a back suplex to get some breathing room. Sheamus goes to work but Sandow ends up dropping him on the top rope.
Sandow hits a flipping neckbreaker for a near fall. Sandow is looking like a main event player in this match in what I can only assume is a test for how he might do in the upper-card.
The bridge of Sheamus' nose is busted open. Sheamus pulls himself onto the top rope and hits a diving shoulder block for another near fall. The crowd is really into the match.
Sandow avoids the Brogue Kick and tries to climb out of the ring. Sheamus lifts him up and hits the Irish Hand Grenades.
Rhodes tries to attack and Sheamus rolls him in the ring. Sheamus hits both men with one Brogue Kick as they get up near each other.
Sheamus gets the pin and the win even though Rhodes was in the ring and a DQ should have been called.
Winner: Sheamus
The ending was a bit over the top but I really enjoyed that match.
Sheamus vs. Damien Sandow Part 1
The World Champion gets a jobber entrance. Hilarious. Damien Sandow is out to make Sheamus put on some pants.
I like this team of Rhodes and Sandow. I want them to be singles stars but they do have a certain chemistry that makes it work.
Rhodes joins commentary as the bell rings and the two lock up. Sheamus backs Sandow into the corner. Sandow tries to keep the ref between him and Sheamus like the great heel that he is.
Sandow gets Sheamus into an armbar but Sheaus reverses it into his own. Sandow kicks Sheamus in the gut and then takes him down with a headlock take down.
Sheamus knocks Sandow down with a shoulder block and then he blocks a hip toss and grabs Sandow's beard which sends Sandow out of the ring to regroup as we head to commercial.
Wow. A match long enough for a commercial in the middle.
We see some pictures of JBL at the top of Mount Kilimanjaro, which Cole pronounces kind of strangely.
Santino is in the ring for a match against Heath Slater, who has Jinder Mahal and Drew McIntyre.
Santino vs. Heath Slater
The two lock up after an odd pose-off. I like the exchange of shoulder blocks between them. Slater follows up with an elbow and some celebrating.
Santino throws Slater but Slater hits a big kick for a near fall.
Just so you know, Jim Ross knows what Guitar Hero is.
Santino gets up a boot when Slater dives off the ropes and this allows Santino to go to work with his routine of signature moves.
Slater pulls out the Cobra sleeve and he hits it but Mahal and D-Mac come in and cause a DQ before he can get the pin.
Winner: Santino by DQ
The three men attack Santino and Slater counts off as D-Mac hits the Future Shock DDT. Slater grabs a mic and talks about their new stable.
Mac has a cast on his hand. All three men say their catchphrases and then Slater's music hits and they act like they just won something.
AJ is backstage with her coach and she runs into Wade Barrett, who tells her she is doing a terrible job as GM because he never knows what she is thinking.
Barrett walks off and AJ looks at her coach and says she thinks he is intimidated. I really don't know where this is going with the whole coach thing.
Eve vs. Beth Phoenix
I find it funny that Beth is rumored to be leaving and all of a sudden we are seeing her on TV all of the time.
We see some videos of Eve manipulating everyone before the bell rings and Beth yells at Eve for accusing her of attacking Kaitlyn.
Eve tries to get a handshake and Beth grabs her but she pulls her in and lays into Eve with mounted punches.
Eve avoids Beth in the corner and Beth hits the ring post to take herself out of the ring. Eve pounces on Beth outside the ring and runs her into the apron ribs first.
The ref is counting as Eve gets back in the ring. Beth makes it back in at 9 and Eve looks pissed. I think this is the same ref who messed up Punk's match.
Beth gets control again but Eve goes to the ropes and pretends to be hurt. She ends up hitting her neckbreaker for the pin and the win.
Winner: Eve
I gotta give it up. Eve looked very heelish and intense despite the match being short.
After the break we get Justin Roberts thanking everyone in the crowd as a part of the partnership with Susan G. Komen.
Eve is out next for a match which is bound to make it five quick matches in a row.
Sandow and Rhodes are backstage and they talk about their team name.
HAHAHAHAHAHAHAHA. Sandow rips Sheamus for not wearing a suit or pants. Is someone from WWE reading my blog and stealing my ideas and lines?
Tensai vs. Ryback
Tensai is in the ring and out comes Ryback after the break. These two faced off on SmackDown and Ryback got him up for the finisher in a pretty impressive show of strength.
The bell rings and the two lock up. Ryback gets hits with a shoulder block and he pops up right away with a smile on his face.
These two are going back and forth until Ryback hits a big scoop powerslam on Tensai. He tries for a belly to belly but settles for a huge clothesline instead.
Ryback calls for his finisher but he can't get him up on the first try. The second try fails as well and he has to end it with a clothesline instead.
Winner: Ryback
I bet Vince is so pissed off right now. That was supposed to put Ryback over and it made him look stupid. Cesaro comes out of tonight being the only person to hit an impressive move on a big superstar.
At least some of the crowd is still chanting with Ryback.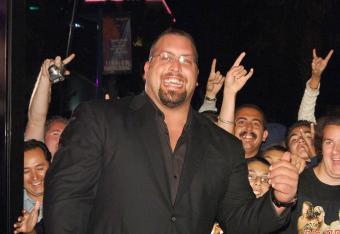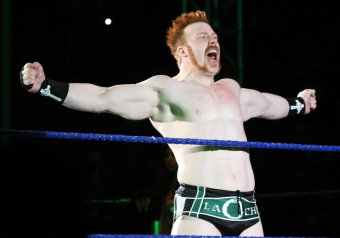 Gallo Images/Getty Images
Booker hands it off to Show to start things off. Show thanks Booker at first, but then he change shis tune and says this debate is ridiculous.
He says he will walk into HIAC and win the title and there is nothing left to discuss. His honesty gets a mixed reaction.
Sheamus introduces himself to us for some reason. He gets a cheap pop by mentioning the name of the city they are in.
He asks Big Show not to rip his leg off because he needs it to kick his teeth in. Booker reads a tweet from some guy asking what each person thinks is the most challenging part about their opponent.
This is going to be painful if Booker is just reading tweets.
Sheamus makes some breath and body odor jokes about Big Show and Show gets pissed off. He says he smells fantastic.
Show gets some cheers from his speech. Booker reads another tweet and he calls the WMD the KO even though it says it right on the screen.
I love how Big Show calls it a WMD KO to help him out. Show says his move is more powerful and Sheamus couldn't even kick him in the head.
Show and Sheamus get into it and Show's podium breaks after he simply leans on it. Classic.
Sheamus asks for a tout. It is from Sheamus in a Rey Mysterio mask asking how it feels to know his head is going to get kicked off.
I am really trying not to hate this, but WWE is not making this easy for me.
Big Show says he only has so much patience and Sheamus asks how it felt to lose to Bryan in 45 seconds only to watch him lose it in 18 seconds.
They drop their mics and Show takes off his jacket. They square off but Show just leaves the ring instead of trying to fight. Pointless.
WWE also had to go and make my prediction about this ending in a brawl not happen.
Ryback is shown backstage as we head to commercial.
Booker T is out after the break for the debate. The ring is made up with podiums for Sheamus and Big Show.
Booker talks about how this will be Sheamus and Show's first match. Is that true? It sounds wrong.
Big Show is out first for the debate in a suit. He smiles as we watch a replay of him knocking Orton out on SD.
Sheamus is out next and he has his trunks ans t-shirt on. Looks like he is not taking this debate too seriously. PUT SOME PANTS ON!!!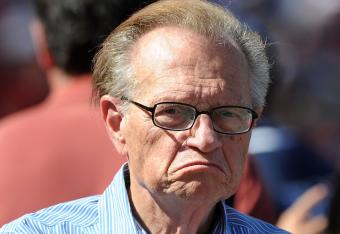 Zack Ryder vs. Miz
Ryder is in the ring when we return and Miz is out next. I wonder if this is the next IC title feud or if Ryback will come out at some point.
We see that Skeletor is the social media ambassador for the evening. Oops, I mean Larry King.
I respect the guy, but that picture they used is doing him no favors.
The bells rings and they lock up with Miz getting a shoulder block for the take down. Ryder comes back with a flapjack but he runs into a boot from Miz in the corner.
Miz slows things down and gets Ryder in a headlock. Ryder fights up but gets a knee to the gut. Ryder slams Miz's face on the mat and follows up with an elbow in the corner.
He sets up for the Broski boot and hits it for a near fall. Ryder goes for the Rough Ryder but Miz catches him and powerbombs him into the corner.
When Ryder gets up get eats the mat after a skull-crushing finale. Miz gets the win in another quick match.
Winner: Miz
Booker is shown walking backstage as we head to commercial.
Brodus Clay vs. Antonio Cesaro
Clay is already in the ring when we return from break and the US Champion makes his way out. I want to see him try to throw Clay in the air for the big uppercut. It would be hilarious.
JR puts Cesaro over as the bell rings. Clay gets Cesaro in the corner and pounds on him before throwing him across the ring.
Cesaro drops Clay's neck over the top rope but Clay takes him down with a headbutt. The camera was in a really bad spot for a springboard elbow.
WHOA!!! Cesaro just hit the Neutralizer on Clay for the win. That was really impressive. He looked like he might drop Clay on his head for a second.
Winner: Antonio Cesaro
That was seriously an awesome thing to witness. Cesaro's power is being played up the right way.
Backstage we see some guy with AJ and she says he is her coach. AJ talks to Kaitlyn about it and she asks about their friendship.
AJ makes a heartfelt plea for forgiveness before bursting into laughter and saying she is not sorry at all for how she treated Kaitlyn.
Tonight is Jim Ross appreciation night. Solid money on CM Punk ruining things to talk about how he deserves his own appreciation night.
Rey/Cara vs. Colons Part 2
We return to see fast exchanges between Epico and Sin Cara. The Colons double-team Cara for a bit before he hits a headscissors on Primo to get some room.
Rey gets the hot tag and takes it to Primo with signatures leading to a near fall after a big roundhouse.
Rey and Cara team up on the Colons with a series of high flying moves before Rey hits a double 619 to get the pin and the win.
Winners: Rey and Sin Cara
PTP applaud from the ramp.
I don't like those half masks anymore. They get annoying to look at but it was a cool idea for one night.
Rey Mysterio and Sin Cara vs. Primo and Epico Part 1
We return to see both teams in the ring and Epico and Primo start off with a few quick near falls. Sin Car hits a springboard elbow early but Epico doesn't stay down.
Primo gets the tag as Rosa dances around on the outside distracting everyone. Sin Cara hits a big hurricanrana followed by his top-rope arm-drag.
Mysterio gets the tag and they double-team Primo and Epico. All of a sudden Prim Time Player's music hits and they comes out and sit on top of the ramp to watch the match.
They are wearing some nice suits. I like how WWE superstars are wearing real clothes more often when not in a wrestling segment. It makes it look less like the backstage area is a just a bunch of dudes in their underwear.
We head to commercial with PTP scouting the match.
Kane talks about what a good kisser AJ is before getting into a screaming match with Bryan over who is the tag team champions. AJ gets upset and screams stop it over and over.
She says this is her show and she is the GM, probation or not.
Surpise surprise. She makes the tag match I just predicted in the last update. Call me Nostradoctor.
Michael Cole plugs a debate between Sheamus and Big Show for later before we see Rey Mysterio and Sin Cara backstage with new masks which have half from each person's mask attached to the other. It is kind of cool actually.
Here is another prediction I won't be the only one to make. Sheamus and Big Show will end the debate in a fight.
Heyman says AJ never said no to the proposal, but he also says AJ violated some rule when she slapped him. He reads out a memo saying she is never allowed to lay her hands on anyone ever again.
She can go about ten minutes before she hauls off on someone, so I guess this is how they get AJ out of the GM position.
Heyman proposes that he be the new GM of Raw. Vickie comes out with Dolph Ziggler and says she is a bigger victim of AJ than Heyman.
Vickie shows a clip from two months ago where AJ attacked her. I didn't know WWE's memory went back that far.
I really hope Punk and Ziggler wrestle later. Vickie and Heyman have some back and forth until Ziggler tries to step in and make peace. He pitches Vickie and Heyman teaming up and running the show together.
I love how Heyman thinks his name should come first.
AJ's music hits and she comes skipping out to the ring. She says she is on probation. Punk says "good."
She said she figured the Board would have made an exception for her hitting Heyman so now she has a coach to help her as GM.
Daniel Bryan's music hits and out he comes. Bryan yells at the crowd to stop chanting so he can apologize for something.
Bryan says he is sorry because it is obvious that the mental issues AJ suffers are due to him dumping her. Bryan twisting his beard while saying he is a hell of a catch is hilarious.
He yells that he is handsome and has a great beard. I can't stop laughing right now. He yells that he is the tag team champions before Kane's music and pyro hit.
The ring is getting a little crowded. I bet this turns into a tag match for later between the champs and Ziggler and Punk.
This article is
What is the duplicate article?
Why is this article offensive?
Where is this article plagiarized from?
Why is this article poorly edited?