Pac-12 Football: 2012 Conference Surprises Highlighted by Oregon State and UCLA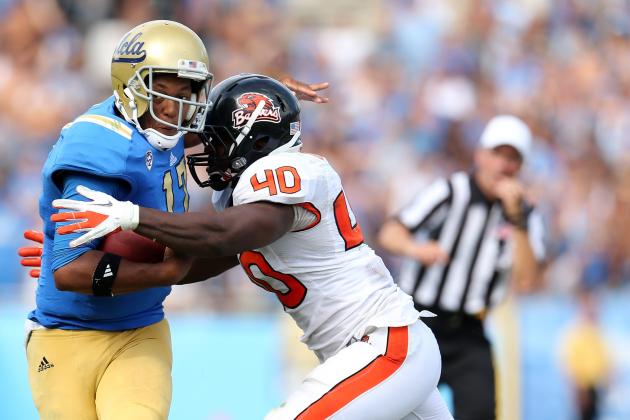 Stephen Dunn/Getty Images
Oregon State and UCLA clashed on September 22nd. Both teams have been the top surprises in the Pac-12 so far in 2012
The Pac-12 Conference 2012 football season began with arguably the highest expectations in recent memory. New coaches, renovated facilities, USC returning to bowl eligibility, teams ranked in the preseason Top 10 and a new television network all fueled visions of success on every campus.
Of course, with such expectations there are also surprises, and keeping in mind that not all surprises in life are good, here is my list of the top seven to date.
Begin Slideshow

»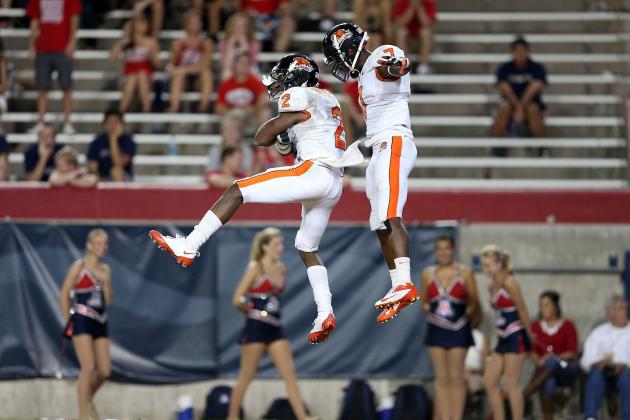 Christian Petersen/Getty Images

Coming off back-to-back losing seasons, including a 3-9 record last year, I doubt the Beavers were projected to be undefeated and ranked in the Top 25 at this point in the season, ahead of teams like Oklahoma, Clemson and Nebraska.
Nor have their wins been of the "cupcake" variety, beginning with a victory over Wisconsin at home, followed by two conference road wins at UCLA and Arizona. They lead the conference in Red Zone offense…Yes, even better than Oregon and USC.
The Civil War this year between Oregon and Oregon State could determine the Northern Division Champion.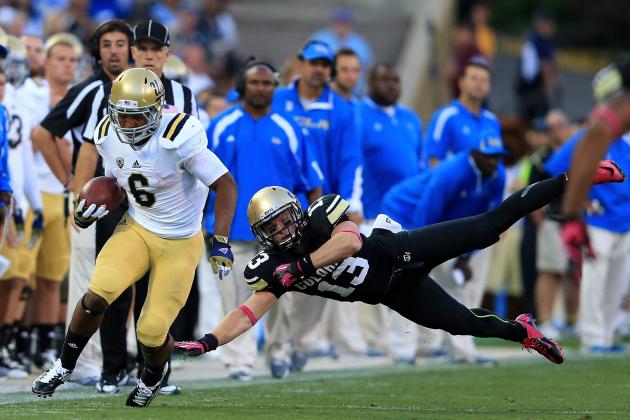 Doug Pensinger/Getty Images

UCLA might have been a candidate for the biggest surprise had they not lost to Oregon State at home.
One of the biggest surprises occurred near the start of training camp, when new head coach Jim Mora named redshirt freshman Brett Hundley as the starting quarterback over seniors Kevin Prince and Richard Brehaut.
To date, it appears to have been a good decision as Hundley is currently ranked No. 3 in both passing efficiency and total offense in the conference.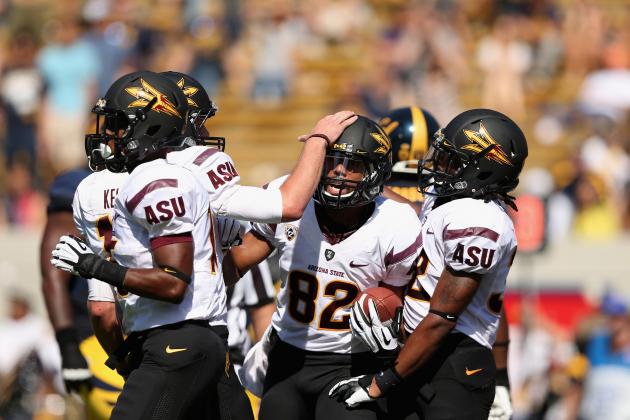 Ezra Shaw/Getty Images

One of four teams with a new coach (Todd Graham), the Sun Devils are the only undefeated team in the Southern Division in terms of conference games.
Graham instituted a complete change in both the offensive and defensive schemes held by his predecessor, Dennis Erickson. Only a narrow, four-point loss to Missouri on the road has prevented ASU from being undefeated. The Sun Devils seem more than capable of challenging USC for the Southern Division Championship.
On November 10th, USC will host ASU—a week after the Trojans host Oregon.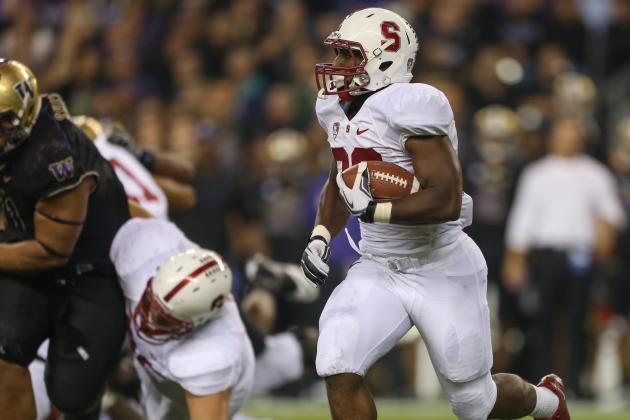 Otto Greule Jr/Getty Images

Stanford is one of four teams in the Northern Division with a winning record including a victory over USC. In a conference full of hyper-offenses and against the belief held by many that Stanford would crumble in the post-Andrew Luck era, they continue to prove success can still be achieved "the good old-fashioned way"—with power running and physical line play.
As Stanford closed in on its victory over USC, the television camera showed some of their students holding a banner which read: "Luck had nothing to do with it!"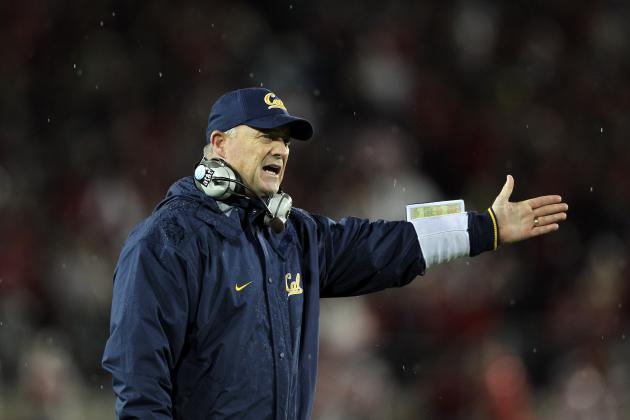 Ezra Shaw/Getty Images

My only "negative" surprise: Jeff Tedford is second only to Mike Riley at Oregon State in terms of head coach seniority in the Pac-12. The season began with much fanfare over a completely renovated stadium and athletic facilities. The Bears are now alone at the bottom of the Northern Division with only a victory over Southern Utah. The schedule did them no favors with back-to-back road games at Ohio State and USC, but this past weekend, they lost to ASU at home.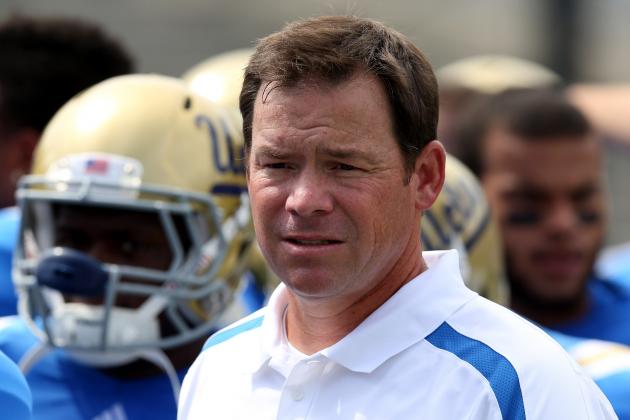 Stephen Dunn/Getty Images

When 25 percent of the teams in a conference change head coaches in the offseason, there is always hope, but proceed with caution in terms of predicting success.
Mike Leach, Rich Rodriguez, Todd Graham and Jim Mora have a wide range of experiences—i.e., Leach was out of football for a few years after his departure from Texas Tech, and Mora has been in the NFL for 25 years! So far, they have a combined record of 13-7 from taking over teams in which they inherited more players than they recruited.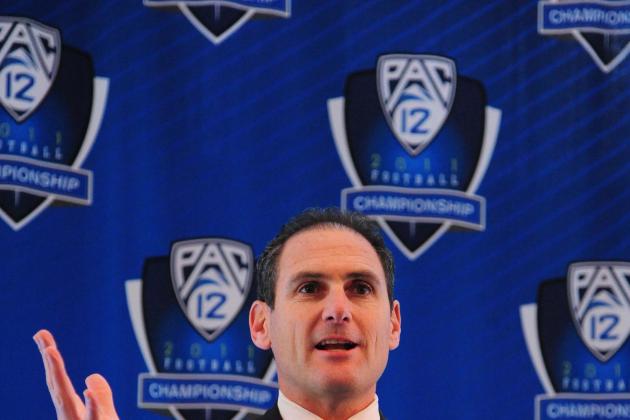 Kyle Terada-US PRESSWIRE

One of numerous endeavors by Commissioner Larry Scott to grow the brand name of the conference.
It is not a football network but rather a network for all conference sports, yet it is no coincidence the launch came in time for the start of football season! Former UCLA head coach Rick Neuheisel, who of course is very familiar with many of the players and coaches, was a great selection for in-studio analysis.