NCAA: Auburn Football Recruiting: Ranking the Top 10 Tiger Commitments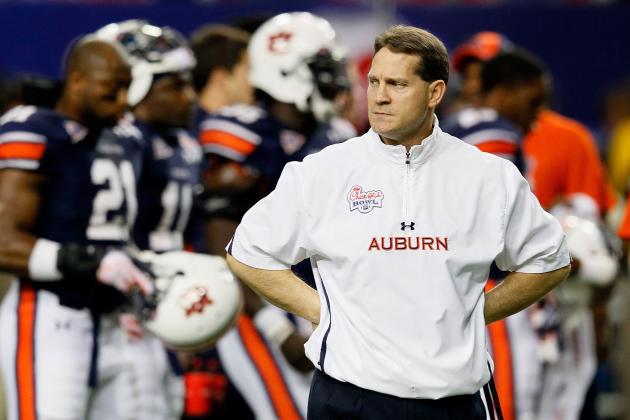 Kevin C. Cox/Getty Images

Since Gene Chizik arrived on The Plains in December of 2008, the Auburn Tigers have done a great job on the recruiting trail. Normally viewed as a little brother to Alabama, Auburn has become one of the best and consistent recruiting programs in college football today.
Chizik has landed some amazing classes during his tenure and lead Tiger and this year's class could be another Top 10 finish. This read will examine the top-10 commitments Chizik's Tigers have coming in.
There is a lot of talent in this 2013 Auburn recruiting class, and we'll look at the Top Ten players in the group. Let's take a look at who they are!
Begin Slideshow

»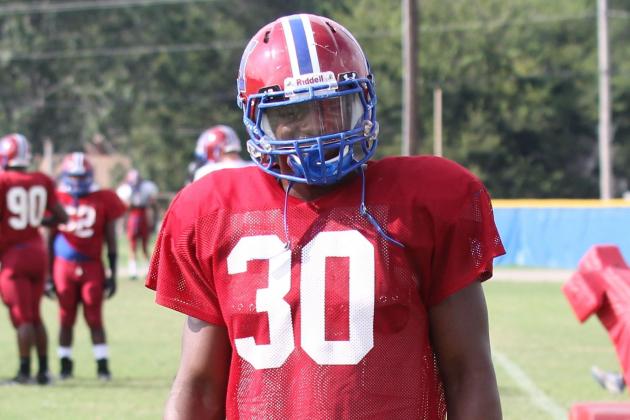 247Sports.com
Cameron Toney is from the Huntsville part of Alabama and stands 6'2", 225 pounds. He is a linebacker that can play in the middle or on the outside thanks to great quickness and speed.
Toney is quick to read and react, and will surge into a hole to fill it vs. the run. He is solid to strike a blocker and shed them, allowing himself to be free to make plays.
With his solid athleticism, Toney can drop back in coverage and be a factor as a zone defender.
He could fit well as an outside 'backer at Auburn.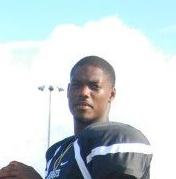 247Sports.com
From Florida, Lemond Johnson plays mainly quarterback right now but likely will be a receiver at Auburn.
He does have some film of him playing on the perimeter, and there, he shows a natural large catch radius.
Johnson has good buildup speed and athleticism to avoid defenders to stay close to his route line.
He can snatch the ball out of the air and use running back-like instincts and strength to break tackles after the catch.
Once Johnson hones in his route running ability, he should be a solid SEC receiver.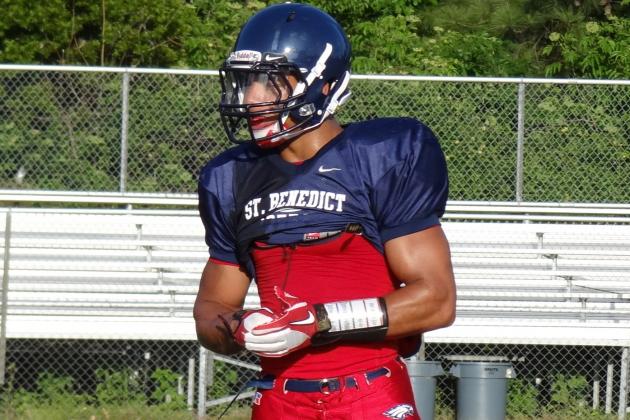 247Sports.com
Immediately, when you see Jordan Wilkins, you like his size at about 6'2" and close to 205 pounds. He is a big back that can run like a shifty guy when needed.
Wilkins can surge through holes with a good burst and challenges tacklers in run alleys.
He can either use good short area elusiveness or power to break tackles and is capable of getting big yards in chunks.
I don't see a big time second gear from Wilkins, but he does have a solid "1.5" gear to skate around the field on such a large body.
Wilkins is a very decisive runner and has the potential to be a starter at Auburn.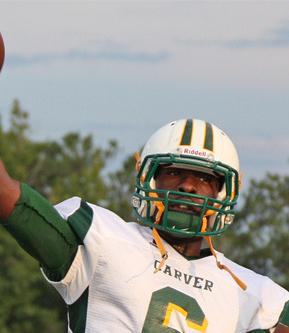 247Sports.com
Jeremy Johnson is a 6'5", 215 pound field general with a high ceiling.
He needs to refine his mechanics but he flashes great ability.
With his great size, Johnson shows a high release point that sees the ball comes out smoothly.
He is very decisive in his reads and does a good job of staying poised, as his offense is a hurry up no-huddle attack.
Johnson has excellent arm strength and can make great throws on the run.
His accuracy and ball placement skills appear to be solid and once his mechanics improve, Auburn could really have something here.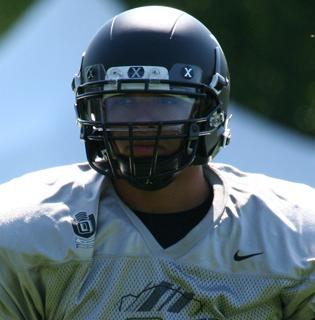 247Sports.com
Tashawn Bower is coming to Auburn from NJ and will excel at stopping the run.
A 6'5", 245 pound edge defender, Bower can stack blocks and set the edges with ease.
He shows good power at the point of attack and can read blocking schemes well. Bower can press a blocker off of him with strength, clean himself up and make stops coming at him.
He shows solid pursuit speed and is more of a power pass rusher than a speed guy. I like him as a strong side defensive end to anchor down in the run game due to his strong upper body.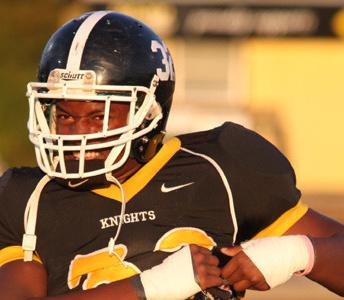 Scout.com
Johnson has the strength and toughness to be a great inside linebacker in college. He's 6'1", 225 pounds and is from Georgia.
Johnson has excellent read and react quickness, showing natural instincts to find the football and make thumping tackles. He doesn't back down from blockers, showing the strength to stack blocks with solid take-on technique.
Johnson is at his best vs. the run, especially on the inside.
He's not a great coverage 'backer, so on third downs he'll probably be best suited to be used as the blitzing 'backer.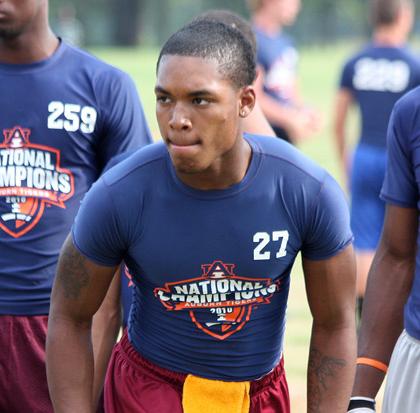 247Sports.com
Robinson is not the fastest, most explosive, or the receiver with most sudden ability in the country. He won't wow you with big time speed and homerun plays.
All he'll do is catch everything you throw his way and make reception after reception.
They said the same things about Chris Carter as they do with Robinson, especially his lack of deep speed.
But look for this guy to control the passing game with intermediate routes, deceptive quickness and excellent ability to catch the football in crowds.
Robinson will work over the middle and shows some strength after the catch as a runner.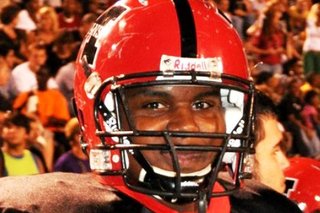 247Sports.com
Dee Liner is a 6'3", 275 pound defensive lineman that can play either end or tackle. He has great snap quickness off-the-ball and can really get upfield in a hurry.
Liner is very athletic for a defensive trench player, showing great range, change of direction ability and pursuit quickness.
His strength is also good, as Liner can play big at the point of attack and anchor vs. an offensive lineman.
With so much athleticism and quickness, look for Liner to be used both as an end and tackle by Brian Van Gorder.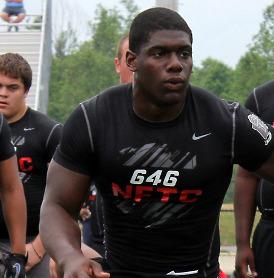 247Sports.com
Carl Lawson is from Georgia and stands 6'2", 255 pounds. He has the potential to develop into a complete defensive end at Auburn, defending both the run and pass.
Lawson has a quick surge at the snap and can quickly read and react to the play. He has good strength to stack a block to set the edge as a run defender and the range to make tackles in space. Lawson also can hawk down a runner from the backside if he has to.
As a pass rusher, Lawson has great speed and bend ability when attacking the passer. He shows active and quick hands to combat blockers and a great burst to finish for sacks.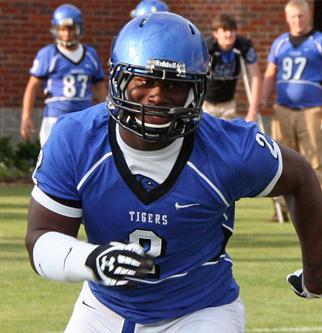 247Sports.com
Reuben Foster has all the tools to be a flat-out superstar at Auburn. He is from Georgia but plays at Auburn High School in Alabama.
At 6'2" and over 245 pounds, Foster has the first step quickness, ball location vision, instincts, speed and range to make tackle after tackle. He will step up to fill a gap and challenges big offensive lineman at the point of attack,
Foster can strike with force to shed a blocker or use quickness to move around them and can thump a ball carrier good.
He has the athleticism and speed to develop into a solid zone coverage pass defender in time and could be a plug and play recruit.
Edwin Weathersby has worked in scouting/player personnel departments for three professional football teams, including the New York Giants, Cleveland Browns and the Las Vegas Gladiators of the Arena League. He spent a year evaluating prep prospects & writing specific recruiting and scouting content articles for Student Sports Football (now ESPN Rise-HS). A syndicated scout and writer, he's also contributed to WeAreSC.com, GatorBait.net and Diamonds in the Rough Inc., a College Football and NFL Draft magazine.