NFL Week 5 Picks: 5 Games That Will Go Down to the Wire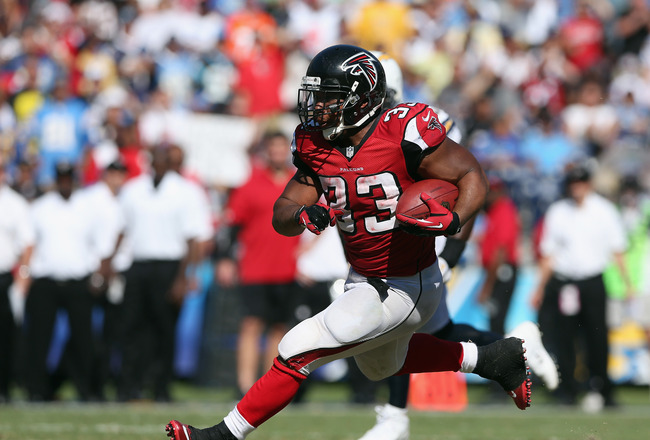 Michael Turner is on his way to his fifth straight 1,000-plus-yard season.
Jeff Gross/Getty Images
This week there are a handful of games that should go down to the wire. I've chosen to key in on five of those games and provide predictions, as I think they could be swing picks for those in weekly pools.
Accordingly, two of the five games I've gone with upsets, though none of these games are likely to be lopsided victories.
With so many overtime games already, we're looking at another week that could provide a lot of excitement. The Dolphins have dropped games in overtime in each of the last two weeks, and will be facing a tough Bengals squad that should push this one down to wire again.
In fact, the Dolphins game has the biggest point spread of these five games at only five points on Bookmaker. The other four games are predicted to be decided by a field goal or less.
Atlanta Falcons at Washington Redskins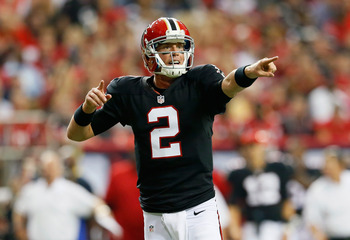 Matt Ryan is bolstered by an excellent receiving corps.
Kevin C. Cox/Getty Images
Michael Turner has been running the ball well, as usual. He's rushed for over 1,000 yards in the last four seasons and is on pace to do so again this year. He's a strong back with a lot of power and is good at breaking tackles, which will give Washington's weak linebackers all kinds of problems.
Expect Turner to rush for over 100 yards against this Redskins squad.
Julio Jones and Roddy White have been posing all kinds of problems for secondaries on the outside. White has 27 receptions on the year with three touchdowns and is averaging 103.3 yards per game. Jones has 16 receptions on the year and three touchdowns as well, but he has roughly half the yardage of White.
In addition to the strong play of these two wide receivers, Tony Gonzalez is having a pretty solid season, as well, with 265 total yards so far and three touchdowns. Matt Ryan has some good options.
Washington has weak defense and they've given up the second most passing yards this season with 326.3 per game. That doesn't bode well since Atlanta is strong in the air when it's not riding Turner.
Prediction: Atlanta wins a big one on the road.
Miami Dolphins at Cincinnati Bengals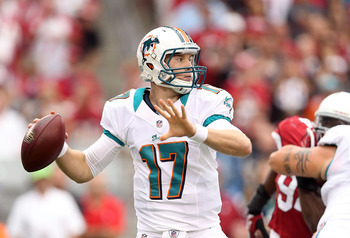 Ryan Tannehill is still finding his way in the NFL.
Christian Petersen/Getty Images
Andy Dalton in his second year is commanding the offense well after having a pretty solid rookie season last year in 2011. Dalton takes hits well due to his 6'2" 220-pound frame and is a pretty good athlete with a good eye for wide receivers.
A.J. Green has taken full advantage of Dalton's strength, with 27 receptions on the year for 428 yards and three touchdowns. The Bengals passing will give Miami fits, as Miami ranks near the bottom in opponents passing yards, giving up 297.8 per game.
Dolphins rookie quarterback Ryan Tannehill hasn't progressed quite as quickly as fans hoped he would. He has an awful QB rating of 66.4 and has thrown three times as many interceptions as he has touchdowns (6:2).
The Bengals have a good enough pass defense (17th rated) to frustrate Tennehill, and if this game really does come down to the wire, the Dolphins will likely lose again, as they've lost two overtime games in a row now.
Prediction: Cincinnati wins and hands the Dolphins yet another close loss.
Seattle Seahawks at Carolina Panthers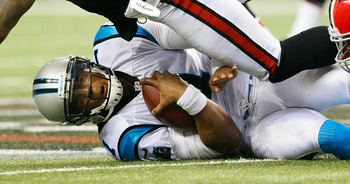 Cam Newton may find himself going down a good bit against Seattle.
Kevin C. Cox/Getty Images
The Seahawks have the 11th-best passing defense and the second-best rush defense. They've allowed only 62.8 rushing yards per game and that should slow down Cam Newton when he tries to run.
To that point, Newton having a sophomore slump of sorts for the Panthers. His performance against the Giants in Week 3 was awful, as he threw three interceptions while falling to produce any passing touchdowns (he did rush for one). Newton still has a long ways to go before he can join the true class of elite quarterbacks in the NFL.
Prediction: Seattle upsets the Panthers.
Philadelphia Eagles at Pittsburgh Steelers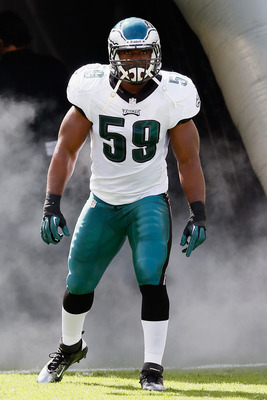 DeMeco Ryans has been a beast and is third on the team in tackles.
Rob Carr/Getty Images
The Pittsburgh Steelers are coming off a bye, so they'll have to get back in the groove this week against a tough Eagles team that has been playing rock-solid defense. The Eagles have the eighth-best pass defense in the league (206.8 yards allowed per game) and the 12th-best rush defense (91.5 yards allowed per game).
DeMeco Ryans, Kurt Coleman and Nate Allen have all been wreaking havoc defensively, and Coleman has a team-high 27 tackles (21 solo) and two interceptions already. Rookie linebacker Mychal Kendricks has been impressive thus far, too.
Philadelphia's strong defense should be enough to propel it to an upset victory.
Offensively, it helps that are getting running back LeSean "Shady" McCoy more involved, as it has opened up the passing game. McCoy had only 13 carries in Week 3, but came back last week against the Giants to rush for a season high 123 yards on 23 carries. McCoy's performance made life easier on Michael Vick, who threw 19-of-30 for 241 yards in the two-point victory over the Giants.
Prediction: Philadelphia upsets the Steelers on the road.
Arizona Cardinals at Saint Louis Rams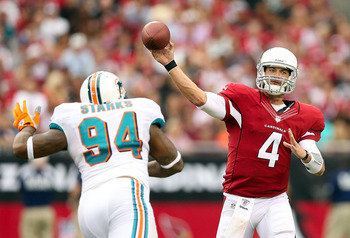 Kevin Kolb has helped the Cardinals start out 4-0 in 2012.
Christian Petersen/Getty Images
The 4-0 Cardinals are winning on the strength of their defense. They've allowed no more than 21 points this year, and that was an OT victory over the Dolphins last week.
Daryl Washington has 30 solo tackles and three sacks so far, while Paris Lenon has 24 solo tackles and two sacks. That tandem, in addition to the strong play of safeties Kerry Rhodes and Adrian Wilson, should enable the Cardinals to hold the Rams under three touchdowns as they have all other opponents.
Kevin Kolb has been outperforming expectations since reclaiming his job. He's posted a QB rating of 97.6, but he's was especially impressive in the win over Philadelphia, when he threw 17-of-24 (70.8 percent completion ratio) for 222 yards, while throwing two touchdowns and no interceptions.
Arizona will win as they are favored to if Kolb continues to perform at the level he has the first four weeks of the season.
Prediction: Arizona wins, despite having to trek all the way to St. Louis to play the Rams at home.
Keep Reading