La Liga Game-by-Game Review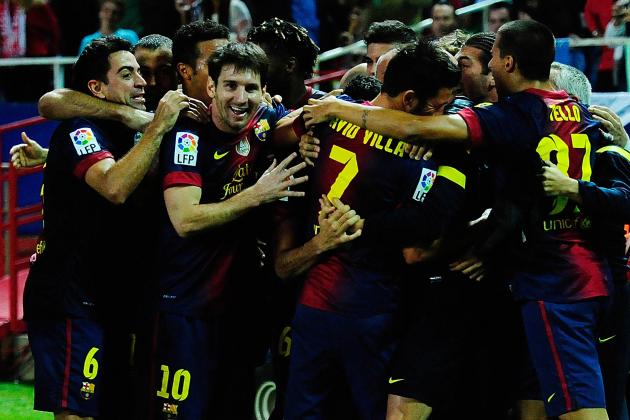 Gonzalo Arroyo Moreno/Getty Images

This weekend's round of La Liga fixtures should be defined by Barcelona's late, late comeback at the Estadio Ramon Sanchez Pizjuan against Sevilla. It was another shock result in a season that has so far offered up plenty of surprises and talking points.
Real Madrid are back among the goals and recorded their third league win of the season. City Rivals Atletico Madrid are still undefeated, along with Barcelona, and are finding ways to win without their star striker.
In addition, Malaga are proving to be a fantastic outfit to watch away from the big two. Manuel Pellegrini has found plenty of goals and inspiration in his side, all of which stems from Isco's dazzling displays. Another win and another team who are undefeated this season.
Begin Slideshow

»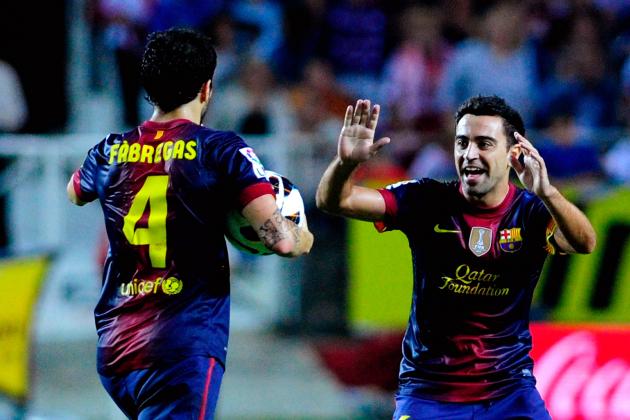 Gonzalo Arroyo Moreno/Getty Images

Sevilla 2-3 Barcelona
Sevilla were the team in-form and looking the more likely to come away with a victory or at least a point. What does that tell you about the current La Liga season when Barcelona were sitting at the top of the league heading into this game?
Two excellent goals from Piotr Trachowski and Alvaro Negredo put the home team up 2-0 and looking good for another win against one of the big two. It was Trachowski's goal that won the game for Sevilla when they played Real Madrid earlier in the season.
Perhaps it should have been more, especially considering Barcelona were fielding two midfielders in the centre-back positions. Tito Vilanova can talk-up Alex Song's ability and versatility all he wants, but having him at centre-back just doesn't work for Barcelona.
But David Villa grabbed all three points for the visiting side following two goals from Cesc Fabregas. How many times will we readdress Villa's importance to this Barcelona team and his instincts and calm under pressure in and around the penalty area?
A deserved win for Barcelona? That one could go either way as Sevilla put in an excellent performance. But this was certainly a plus for La Liga as a whole and an indicator that the other teams can stand up to the bigger powers of Real Madrid and Barcelona.
Real Sociedad 2-0 Athletic Bilbao
No real surprise that Real Sociedad won this battle between the two Basque clubs. Athletic Bilbao simply have too many internal problems.
Fernando Llorente didn't start again and the team are really lacking any identity without either him or Javi Martinez. It's no real news to suggest that this is not the Bilbao of last season, but they really do need to find a way to get points this season.
Considering his relationship with Marcelo Bielsa, there's a possibility that Llorente could be out the door as soon as January.
But Sociedad were always likely to win. Antoine Griezmann is operating in a new central role this season, starting out as a central midfielder, but playing this game as often the most advanced forward.
And it was the Frenchman who put Sociedad into the lead in the second half with a well-placed shot. Carlos Vela ensured Sociedad would take all three points when he converted his penalty 10-minutes later.
It would have been more were it not for Gorka Iraizoz. Bilbao are just not getting it done at either end of the pitch.
Malaga 4-0 Real Betis
Circumstances are slightly different when comparing Malaga this season to Levante of last season. Levante really had no business topping the La Liga table in the manner they did last year, but Malaga should be winning hearts and admirers with their heroic performances in all competitions.
Here's the thing: Real Betis have played well this season too. At the very least, they had a couple of goals in them for this game at La Rosaleda. But it's just another impressive clean sheet for Manuel Pellegrini and his extraordinary group of players.
Isco is once again giving us a good indicator as to why he's the leading young Spaniard in La Liga at the moment. He's warranted a place above Iker Muniain as the best of the next generation through his recent performances and the way he's taken this club up the table.
The scoring opened with Joaquin converting from the penalty spot against his old team. Javier Saviola also added soon after and Isco made it four a couple of minutes after an own goal from Antonio Amaya.
Ruben Castro might have given Betis some hope in the game, but Malaga were having none of it and only looked to consolidate all three points for themselves.
Malaga have been nothing short of magnificent all season. The new Villarreal?
Valencia 2-0 Zaragoza
Sofiane Feghouli was both the hero and the villain as he grabbed the winning goal for Valencia but also saw red later in the second half.
Valencia are still suffering the loss of both Sergio Canales and Ever Banega, but they were able to welcome Fernando Gago back into the side.
This 2-0 win at home was exactly what Valencia needed following only a single win in the league up until this weekend. New signing Jonathan Viera added to Feghouli's 12-minute opener with his goal just after the hour mark.
Jonas hit the bar for the home side 10-minutes after the break, a response to the visitors also crashing a shot off the upright just prior.
There was certainly a threat from Zaragoza in this game, but Valencia had their goalkeeper to thank for keeping the clean sheet and guaranteeing the three points.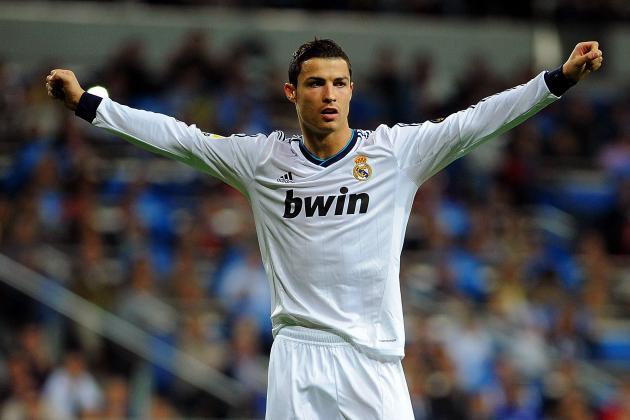 Gonzalo Arroyo Moreno/Getty Images

Real Madrid 5-1 Deportivo
It would be easy to just chalk this one off as another routine win for Real Madrid. High scoring, goals from different areas of the pitch and no great controversy either on the pitch or from the dugout.
But it's never that easy with Real Madrid, especially considering their recent form.
This was must-win for Jose Mourinho and his team. It was a match that needed to be as convincing as it would have been last season. Mourinho's celebration for Cristiano Ronaldo's goal against Manchester City was fantastic, but did he really want to go through all that again?
The knives certainly would have been out had Real struggled in this game, even if they did manage to scrape a lucky win. The sun would have been shining in Barcelona, too.
The Catalans had fought back and grabbed all three points against Sevilla, a real show of their character and determination till the end. Meanwhile, Real were desperately clutching to whatever they could get their hands on at home.
Those would have been the headlines no one in Madrid wanted to see.
But it was a win that takes Mourinho and his team one step closer to the height of their powers of last season. They weren't always convincing against Deportivo but they could count on their star players to deliver.
A hat trick from Ronaldo, two of which came from the penalty spot, added to Angel Di Maria and Pepe's goals. Riki put Deportivo ahead after 15-minutes, but Real weren't to be put down by that. It was an early goal that gave the home team plenty of time to recover.
Espanyol 0-1 Atletico Madrid
Atletico Madrid would be without Radamel Falcao for the first time in the league this season. The striker was ruled out with a thigh injury.
But even though this game didn't deliver the handful of goals we're used to seeing from Atletico this season, it gave us another insight into Diego Simeone's side and their ability to grind out all three points.
It would have been easy to assume Espanyol would be in for a real thrashing at the hands of the best attacking side so far this season. The Catalan side have been comfortably the worst team in La Liga and Falcao would certainly have put them to the sword had he featured.
But it was a game where both sides had chances. However, Raul Garcia converted a very good Juanfran cross to give the visitors the win.
Adrian Lopez had a good chance to put the game beyond doubt late in the game, but he wasted his chance. Soon after, Espanyol went up the other end and had an opportunity to level the tie and take a point.
But this was just another game that proved that Espanyol are truly a team who are all over the place. Simeone's team, on the other hand, proved that they can find alternatives to victory that doesn't consist of Falcao grabbing the headlines.
Valladolid 6-1 Rayo
Oscar Gonzalez played a hand in four of Valladolid's six goals in their thrashing of Rayo.
The midfielder got onto the score sheet and assisted in two others on the day. Manucho also grabbed two goals for himself in a game that could have seen many more goals from the home side.
Rayo are persisting with a three-man back line, something which offered Valladolid plenty of space on the flanks. The home side were clearly in no mood to throw away the three points that were on offer in this match.
Rayo opened the scoring through Alejandro Dominguez very early on, but that was it for the visitors. Two goals in three minutes opened the floodgates and the scoring and opportunities for more goals didn't end until the final whistle.
Granada 2-1 Celta Vigo
Granada had only managed two points in the season up until this past weekend. But the home side grabbed all three points through two goals inside the opening 20-minutes.
Iago Aspas pulled one back for Celta soon after Gabriel Torje's goal for the hosts. Park Chu Young was also denied by Granada's keeper Tono with just a handful of minutes left.
It was really a game that Celta could have gotten more from and Park's late effort wasn't the only opportunity to take a point home.
But Tono was in the mood and denied the visitors the chance to level or even take the three points. Granada were stubborn against Barcelona last week and the same mentality saw them through to the win this weekend.
Osasuna 4-0 Levante
Osasuna got their first win of the season with a 4-0 win over a poor Levante side at home.
It was four second half goals that gave the home side the win and a total of four points to take them up to 18th in the league table.
Three of Osasuna's goals came in a late flurry inside the last 10-minutes of the game.
Osasuna have really not been great this season. They usually make life difficult for the big teams when they visit Pamplona, but this was a side who were rock bottom of the league and needed a lift.