10 of the Worst Dives in Football History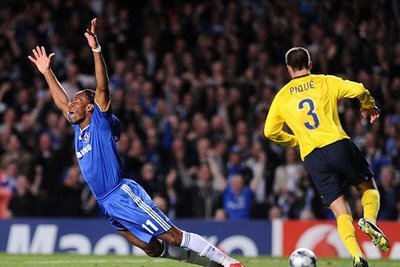 Image courtesy of utusanlfc.blogspot.com
If there's one thing that frustrates football fans, players and managers alike, it's a blatant dive.
Sometimes a pacy player's momentum can cause him to hit the deck, but I wouldn't say that's a dive.
I've managed to find ten of the worst dives in football history, so stick with me through this list.
Begin Slideshow

»
This is one of the worst and most unintentionally funny dives I've ever seen.
Brazilian star Rivaldo gets hit in the knee with the ball and goes down holding his face.
To make things even worse, the Turkish player gets sent off for it.
Watch the video closely and tell me whether or not there's any contact between Arsenal's Bacary Sagna and Blackburn's Morten Gamst Pedersen?
What make this the worst kind of cheating is the fact he's about five yards ahead of the defender, then he's got the cheek to look over his shoulder before taking a tumble.
An absolute joke.
I was, and am, a massive Didier Drogba fan.
His pace, power, strength and ability saw him wreak havoc in England when he played for Chelsea, but one thing that made him stand out even more was how easily he seemed to get "knocked over."
For a man of his size to go down as easily as he did was embarrassing.
If you need proof, watch this video from last season's Champions League encounter with Napoli.
Poor Andy Carroll.
Nothing's seemed to go right for him since moving to Liverpool.
When he went back to Tyneside this year, instead of rounding the keeper to score, he rounds the keeper, takes a tumble and falls over the ball on his way down.
Dear oh dear.
I've seen some awful dives in my time, but Alberto Gilardino's dive against Celtic in the Champions League is up there with the worst.
He bursts past the defender, goes wide of the goal and throws himself to the deck.
In front of 60,000 people and a worldwide television audience of millions.
Not the smartest decision he's ever made.
In the last couple of years, Man Utd's Danny Welbeck has emerged as one of England's brightest prospects.
However, the tumble he took earlier this season against Wigan was a blatant dive.
Fair play, he's anticipated contact from the Wigan keeper. However, there was little, if any, contact with the striker to make him crash to the deck like this.
When he was at the old Rangers (who don't exist anymore), Kyle Lafferty was a polarising figure.
Some of his own fans didn't even like him, which should tell its own story.
This ridiculous dive against Aberdeen, where he just barely touches heads with Aberdeen's Charlie Mulgrew, ended up getting the Aberdeen player sent off.
If he knew that would happen, Mulgrew should've given him something to really hit the deck for.
Sergio Busquets is one of a number of talented players who feel the need to undermine their skill by diving.
His ability as a player can't be questioned, but his integrity can be.
In this incident against Manchester United, he actually tugs Nani's shirt to get past him, then dives to try to win a free kick.
Cristiano Ronaldo is one of the best-known, talented and expensive footballers of all time.
His skills have excited fans around the world for almost ten years now, but some of his behaviour on the pitch needs to be addressed.
This video shows Ronaldo attempting to get another player disciplined by the referee, claiming he's been elbowed/punched in the face.
The truth of the matter is the defender's arm was almost across Ronaldo's chest, but he goes down holding his face?
Come on Cristiano, poor show old boy!
Finishing off the list of the worst dives in football is referee Paul Alcock.
He sent off Paolo di Canio in the mid-'90s for an incident during a Premier League game between Sheffield Wednesday and Arsenal.
After showing di Canio a red card, the Italian pushed the referee away, but I don't think it was anywhere near hard enough to knock him over.
Shame on you referee. You should've booked yourself for that one.