UFC on FX 5: Info and Predictions for Browne vs. Bigfoot Silva Main Card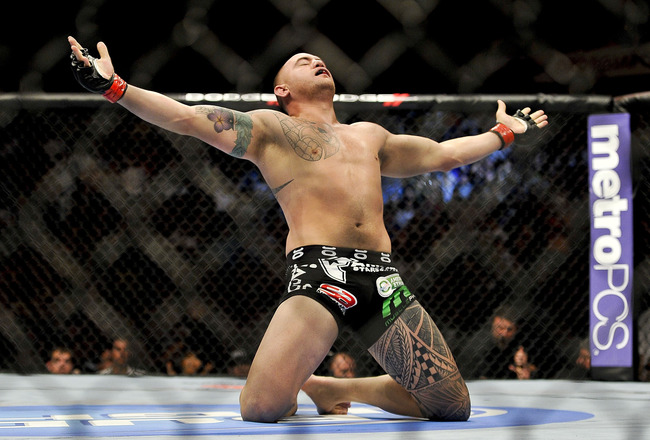 Paul Abell-US PRESSWIRE
Undefeated in 14 professional fights, Travis Browne is climbing toward the top of the heavyweight division.
So it comes as no surprise to see the 30-year-old Browne preparing for his first ever UFC main event bout, against Antonio "Bigfoot" Silva.
With a win over the Strikeforce veteran, Browne would open the door to a whole new level of competition.
The last time he had an opportunity like the one he will have on Friday night, Browne fought to a lackluster draw against Cheick Kongo. It will take a much better performance against Silva for Browne to earn a bout with one of the heavyweight division's elite fighters.
In addition to the heavyweight main event, the UFC on FX 5 main card features a number of other fighters who are closing in on title shots.
Let's take a look at each of the four main card bouts that will be televised on FX on Friday night.
Justin Edwards vs. Josh Neer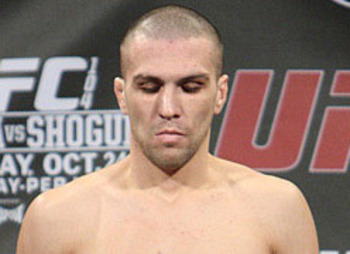 Scott Peterson/MMAWeekly.com
Following an appearance on The Ultimate Fighter, Justin Edwards has had trouble getting things going inside the Octagon.
Edwards has only been able to secure one win in his three appearances, and he hasn't been involved in the most exciting bouts, so his job could be in jeopardy soon.
Conversely, almost every Josh Neer fight is a Fight of the Night candidate, so he may be able to bring out a more entertaining version of Edwards. Neer is coming off of his first loss in his current stint with the UFC—a knockout at the hands of Mike Pyle.
Edwards is most skilled when working from the top position, but in every other area, he would likely be out-classed by the scrappy and well-rounded Neer.
Even if Edwards does get this fight to the ground, he'll have to deal with the tricky guard of Neer, who has 12 submission wins.
Prediction
Neer defeats Edwards by decision.
John Dodson vs. Jussier da Silva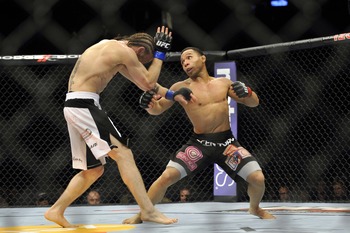 Joe Camporeale-US PRESSWIRE
The Ultimate Fighter has not produced a UFC champion since Rashad Evans beat Forrest Griffin in December 2008.
However, with a win over Jussier da Silva at UFC on FX 5, John Dodson could become the reality show's next hope for proving to be a legitimate pipeline for title contenders.
Though former Shooto champion da Silva will only be making his UFC debut on Friday, his matchup with Dodson will likely determine the first ever flyweight title challenger in UFC history.
The winner is expected to meet 125-pound champion Demetrious Johnson in early 2013.
With half of his wins coming via submission, da Silva is an expert grappler, but he doesn't have the athleticism to deal with Dodson in the striking department.
With the takedown defense to keep this fight standing, Dodson should take one step closer to joining Evans, Griffin and Matt Serra in the history books.
Prediction
Dodson defeats da Silva by decision.
Jake Ellenberger vs. Jay Hieron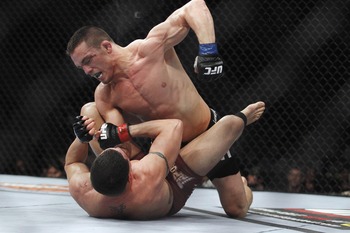 Matt Ryerson-US PRESSWIRE
Jake Ellenberger recently had a six-fight winning streak ripped away from him in a loss to Martin Kampmann. It appeared Ellenberger would extend his winning streak to seven early on, but Kampmann came back from being rocked to score an outstanding knockout victory.
A title shot now much further out of reach, Ellenberger has been scheduled for a rematch with Jay Hieron, who will be making his UFC debut shortly after a controversial loss to Bellator champion Ben Askren.
In their initial meeting in June 2006, Hieron bested Ellenberger in a decision.
At that time, Ellenberger was a relatively unknown commodity. The Nebraskan has evolved as a fighter since his first fight with Hieron, and it will show on Friday night.
Expect Ellenberger to make a statement that he is still an elite welterweight, by avenging his loss to Hieron with an early stoppage.
Prediction
Ellenberger defeats Hieron by first-round technical knockout.
Travis Browne vs. Antonio Silva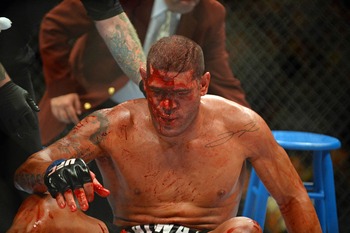 Ron Chenoy-US PRESSWIRE
With nine knockout wins in 14 fights, Travis Browne faces almost no threat from Antonio Silva when standing. As long as he can avoid being caught under his larger opponent, this is a matchup that should launch Browne into the next level of heavyweight talent.
Browne is quick enough to avoid being tied up by the lumbering Silva and skilled enough to finish this fight quickly with a spectacular knockout.
The only way Silva avoids a third-straight loss in this bout is to clinch with Browne or take this fight to the ground.
Though, he'll have to eat a punch or two in trying to do so, and I don't have enough faith in Silva's chin to believe he can take Browne's best shots.
Prediction
Browne defeats Silva by first-round knockout.
Keep Reading