Heisman Watch: Has Geno Smith Already Won?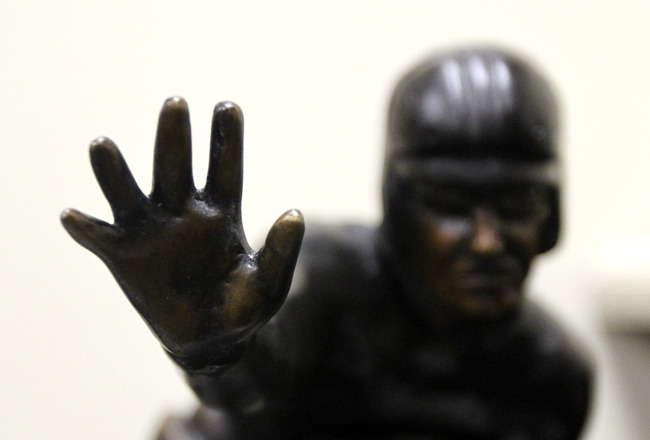 Kevin Jairaj-US PRESSWIRE
After what happened in Morgantown on Saturday, it's clear that we have a front-runner in the race for the Heisman Trophy. But after him, there really isn't anybody standing out. Can anybody possibly catch "Geno-Cide" at this point? Who moved up and who moved down after this weekends games? Does a bye week kill Collin Klein's momentum? Let's find out!
Nolan Vasan: NFL Draft Geek
@NFLDraftGeek
1) Geno Smith: QB West Virginia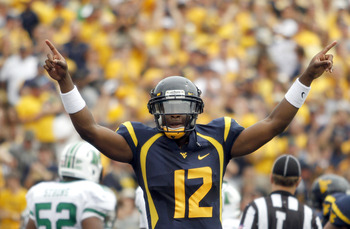 Justin K. Aller/Getty Images
Last Week: 45/51 656 yards 8 TD's vs Baylor (70-63) Next Week: @ Texas
We throw around the term "video game numbers" loosely, but 45/51 656 yards and 8 TDs in a Big 12 Game is in a whole different dimension.
We all knew that Smith was going to put up huge numbers against a garbage Baylor defense, but what amazed me was just how good Smith was knowing that to win this game, he was going to have to score on every drive. He was surgical throughout and really, he played a perfect game. The yards and TDs are great, but possibly the most telling was the completion percentage, 88 percent. When you throw 51 times, that's flat-out awesome.
It will be very interesting to see how Smith will do against Texas on the road at night this week. Kansas State, TCU and Oklahoma also remain on the schedule, and they'll all put up far more resistance than Baylor. It's not over yet.
2) Collin Klein: QB Kansas State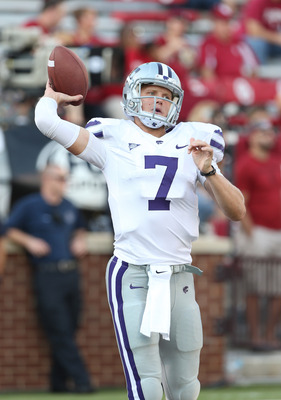 Matthew Emmons-US PRESSWIRE
Last Week: Bye. Next Week: vs Kansas
Bye weeks can go one of two ways. The best situation is that if you're not playing, the guys ahead of you stumble so then you're in a great spot. But you could also encounter a situation like this weekend, where the guy ahead of you goes off and you don't have anything to show.
Collin Klein is coming off a big win against Oklahoma, but the game that Geno Smith had while Klein wasn't playing really puts some distance between the two. However, Klein will get back into the mix next week against instate rival Kansas. Plus, Klein still has an opportunity to go head-to-head with Smith. That will be a fun one to watch.
3) E.J Manuel: QB Florida State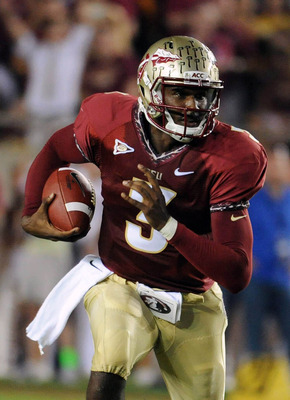 Melina Vastola-US PRESSWIRE
Last Week: 19/26 242 yards 1 TD at South Florida (30-17) Next Week: @ NC State
It wasn't anything spectacular, but Florida State survived a scare in their first road game of the season and pulled out the win. Manuel threw for 242 yards, but he didn't make many mistakes. Most importantly, he got the win.
Manuel isn't exactly right there battling with Geno Smith at the moment, but as long as he keeps the Seminoles winning and puts up some good numbers, he'll be a finalist in the end. Plus, you never know what could happen with Smith.
4) Aaron Murray: QB Georgia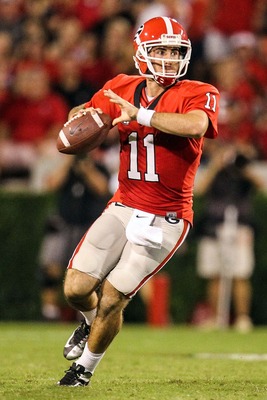 Daniel Shirey-US PRESSWIRE
Last Week: 19/25 278 yards 2 TDs 1 INT vs Tennessee (51-44) Next Week: @ South Carolina
If it wasn't for the play of Aaron Murray, we could be talking about how Tennessee is still a contender for the SEC West Title. But we aren't, because Murray was huge for the Bulldogs in their win.
Murray threw for 278 yards, which isn't Geno Smith-esque, but it's what Georgia needed to stay perfect on the season. Georgia has talent with two star freshman RBs, but they don't have any A.J Green type WRs anymore. That doesn't matter to Murray, who continues to distribute the ball to a lot of different receivers.
Right now, Murray is just one of several players who are hanging around in the race. However, No. 4 Georgia, and No. 5 South Carolina have a showdown of mammoth proportions this week, and it obviously is huge for Murray's Heisman chances as well.
5) Matt Barkley: QB USC
Kirby Lee-US PRESSWIRE
Last Week: Bye. Next Week: @ Utah
It's safe to say that Matt Barkley hasn't lived up to the high expectations he had going into this season. Barkley hasn't been awful, but many people thought he'd have an Andrew Luck-type of year. Against Stanford, he really made some big mistakes towards the end of the game, while against inferior competition, he was nothing more than "solid".
What Barkley still has going for him in this race is the fact that other than Geno Smith, nobody else is dazzling the nation. Add the fact that USC still has big games against Oregon, Notre Dame and UCLA left, and big games could really shoot his stock in the right direction.
Others to Watch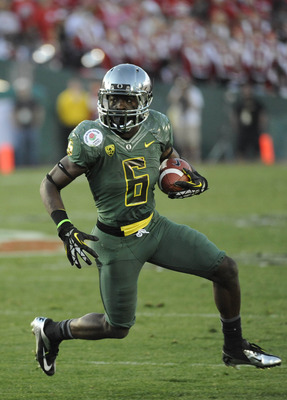 Richard Mackson-US PRESSWIRE
6) De'Anthony Thomas: RB/KR Oregon
7) Braxton Miller: QB Ohio State
8) Manti Te'o: LB Notre Dame
Keep Reading