First Quarter Report Card Grades for Every NFL Team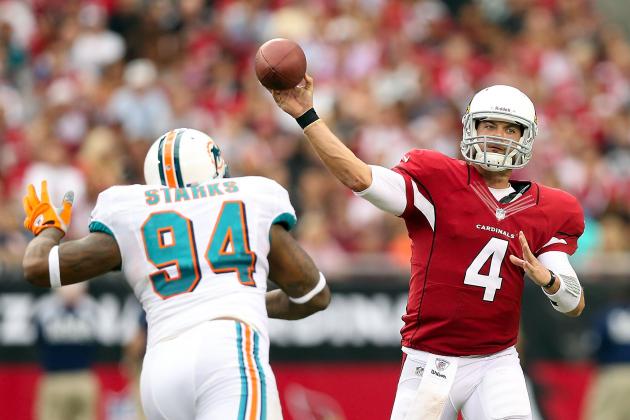 Christian Petersen/Getty Images

The dreaded first-quarter report card is being sent home today with NFL teams. Be sure to have your parents sign and return it by Friday.
Some of us were good students, and we didn't sweat the prospect of handing mom and dad our report cards. Others of us weren't, and report-card time made for a rough night at the dinner table. For the 32 NFL teams, that day is today.
Each team is graded based not only on its record, but on overall performance and how well it has lived up to expectations through the first four weeks of the season as well. Just like back in elementary school, the grades don't reflect what will happen this season, but what has.
Begin Slideshow

»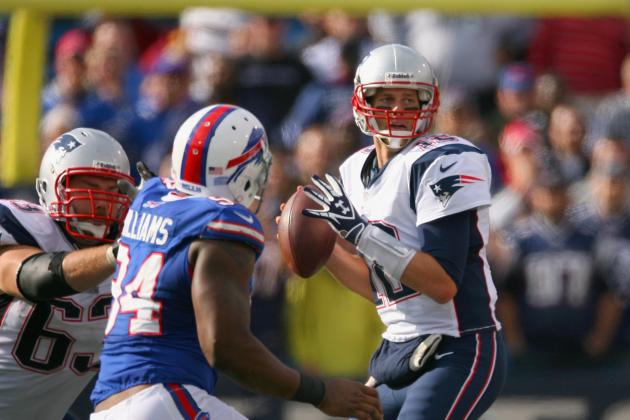 Rick Stewart/Getty Images

Buffalo Bills: C
There were some who thought the Buffalo Bills would ride a strong defense to the playoffs. So far, that's not looking likely. The Bills are very much in the mix with a 2-2 record, but the play of the defense has been disappointing. Instead, it's the offense leading the way thus far. The Bills haven't exceeded expectations, but they aren't bottoming out, either.
Miami Dolphins: B
Rookie quarterback Ryan Tannehill and running back Reggie Bush deserve a ton of credit for how competitive the Miami Dolphins have been this season. Tannehill, in terms of development, is playing at a level he should have reached two years from now. Bush is running hard and showing breakaway speed. The Dolphins are playing much better than anyone expected, even if the record (1-3) doesn't show it.
New England Patriots: B-
When the Patriots were sitting at 1-2, it would have been easy to say the team was failing this season. A blowout win over the Buffalo Bills offers some redemption, but the Patriots aren't out of the woods just yet. This is a team with Super Bowl expectations, and the play of the secondary isn't giving anyone confidence. New England hasn't failed, but it is far from exceptional.
New York Jets: C-
Grading the Jets depends on what your expectations were. Nationally, many thought the Jets would be a 9-7 team with a dominant defense. That's not going to happen. Their 2-2 record isn't bad, but losing Darrelle Revis kills any chance of a comeback. Losing Santonio Holmes from an already dreadful offense will put the nail in the coffin.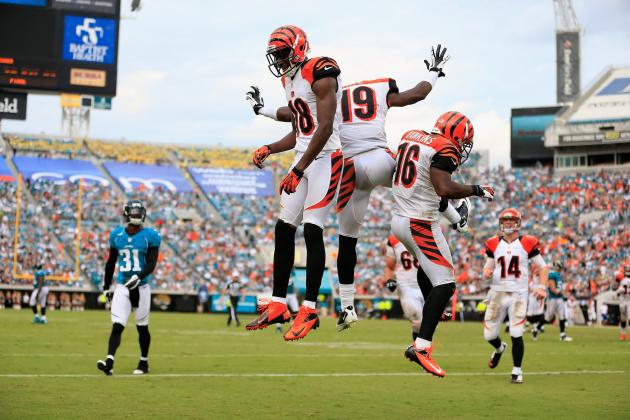 Chris Trotman/Getty Images

Baltimore Ravens: B+
New year, same story. The Baltimore Ravens are a model franchise from top to bottom, and that trickles down to a confident team. John Harbaugh's squad is one bad fourth quarter against Philadelphia away from an undefeated record. As the AFC reshuffles its power structure, the Ravens remain one of the most dominant teams in the conference.
Cincinnati Bengals: B+
There weren't many sharing my preseason enthusiasm, but the Cincinnati Bengals have made believers of many. With an offense that's able to score in a hurry, the Bengals will remain competitive. Through four games, they are sitting at 3-1 and look like a playoff team once again.
Cleveland Browns: D
The Browns are still searching for their first win, but there have been bright spots this season. Trent Richardson is the real deal at running back and the defense is playing stout ball. With a better offense, the Browns could be 3-1 today.
Pittsburgh Steelers: C-
A 1-2 record at the quarter mark shouldn't be a big surprise, but it's more so how the Steelers are losing. This is a team I predicted would go 8-8, and so far, that looks spot on. The defense has struggled without James Harrison and Troy Polamalu, and the offense has become one-dimensional. These are not the 2011 Steelers, that's for sure.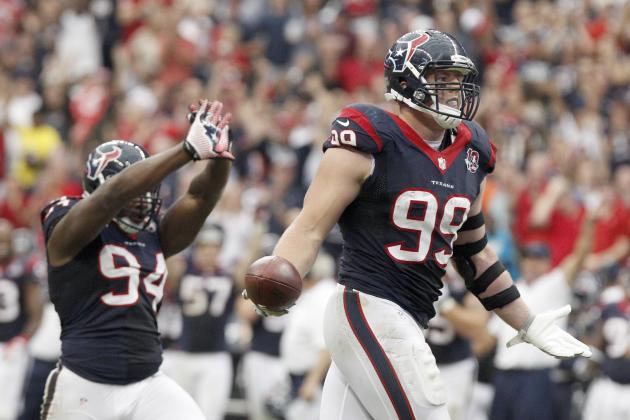 Thomas B. Shea/Getty Images

Houston Texans: A+
As the lone undefeated team in the AFC, the Houston Texans are clearly the class of the conference. With a dominant defense and a balanced offense, the Texans have been efficient and methodical through four games. You won't find a better team in the NFL currently.
Indianapolis Colts: C
The Colts are right where they should be after four weeks. The offense is learning as it grows, with the emphasis being on developing rookies Andrew Luck, Dwayne Allen and Coby Fleener. The defense is hard-hitting, if not overmatched at times. Hopes weren't very high for the 2012 season, but a 1-2 record after four weeks is just right.
Jacksonville Jaguars: D+
Optimists saw a 7-9 type season for the Jaguars. With the way they are playing right now, getting to seven wins would require an amazing effort. Blaine Gabbert has improved, but going from horrible to bad isn't enough. This is a team lacking the core talent to win ball games.
Tennessee Titans: D
Our own Josh Zerkle liked the Titans as a surprise AFC South champ, so optimism was high to start the season. The team hasn't lived up to that, and some of that blame goes to injuries. Jake Locker and Kenny Britt have been affected, and Chris Johnson has decided to play smart in just 25 percent of the games thus far. At 1-3, the Titans are well behind expectations.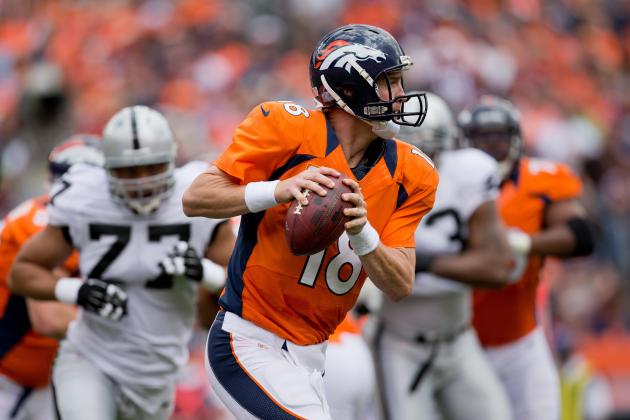 Justin Edmonds/Getty Images

Denver Broncos: B
The Peyton Manning hype train may have padded expectations for the Broncos, but sitting at 2-2 and very much alive in the AFC West is just fine for now. Manning has improved each week, and as his arm strength comes back, the offense will take off. Through four weeks, the Broncos are playing slightly better than we expected.
Kansas City Chiefs: D-
Talk about a letdown. Our preseason pick as AFC West champs, the Chiefs are losing by choosing to simply hand the football to the opposition as much as possible. Turnovers are killing this team, and such a correctable issue kills their Week 4 grade.
Oakland Raiders: C-
The Raiders have managed to win the one game we were sure they wouldn't (vs. Pittsburgh). With a 1-3 record, Oakland isn't dead in the water, but the surprise has been the ineptness of the defense. Carson Palmer and the offense are getting better, but it's the defense that has us uninspired.
San Diego Chargers: B+
Norv Turner's teams don't historically get off to fast starts, which makes San Diego's 3-1 record a bit of a shock. The Chargers are winning with solid defense and timely offensive outbursts, but they've played teams with a combined record of 7-9.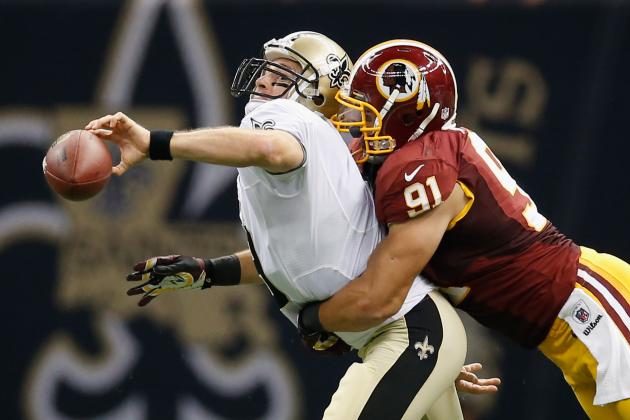 Chris Graythen/Getty Images

Dallas Cowboys: C+
There are the good Dallas Cowboys, seen in Week 1 and Week 3. The bad Cowboys also show up, though, especially Week 2 in Seattle and Week 4 at home. This is a team with the talent to win, and their 2-2 record doesn't reflect the talent on the field. The Cowboys' record isn't bad, but the Week 4 loss will be tough to come back from.
New York Giants: C
Losing two games within the division wasn't the best way to start the year, and with a 2-2 record, the defending Super Bowl champions are tied for last place in their division. The Giants haven't under-performed, but they are failing to close out games, and that's haunting their record right now.
Philadelphia Eagles: A-
When you are 3-1 but have been outscored by 17 points, a decent amount of luck is in play. The Eagles have won three times in the fourth quarter, and in the first three games, they overcame Michael Vick turnovers to survive. This isn't a great team, but it is a winning team.

Washington Redskins: B-
Robert Griffin III has been as good as advertised, and Ryan Kerrigan has developed nicely in year two. The Washington Redskins' two wins were impressive enough, and even their two losses were close games. A few lucky breaks, and this team could be 4-0.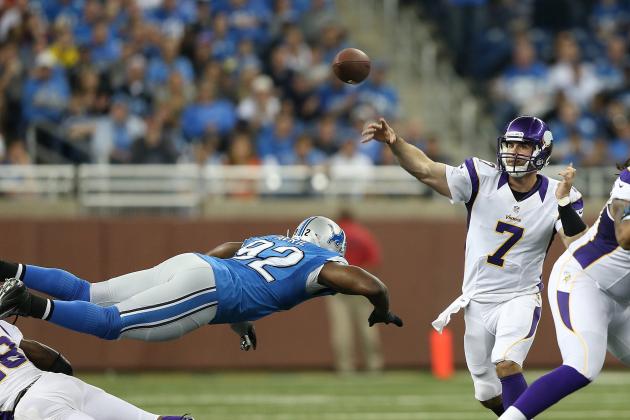 Leon Halip/Getty Images

Chicago Bears: B-
The meltdown against the Green Bay Packers notwithstanding, the Chicago Bears have been pretty good. Jay Cutler is making Jay Cutler-like mistakes, but the offensive line has been little more than a speed bump for opposing defenses. The Bears have talent, but their play doesn't always reflect that.
Detroit Lions: D
A playoff team in 2011, the Detroit Lions look so unlike themselves this season. At 1-3 in a very tough division, Detroit is slowly falling back from the pack. Matthew Stafford hasn't been able to direct the offense with a pass rush constantly in his face, and if the Lions can't throw the ball, they can't win.
Green Bay Packers: C+
The replacement refs were to blame for one loss, but the Packers were still dominated in Week 1 by the San Francisco 49ers. Their near-miss in Week 4 is still fresh in our memory as well. The talent is there, but through the first four weeks, the Packers are merely surviving each week.
Minnesota Vikings: A+
Guess who is in first place on October 1. The Vikings, at 3-1, are the leader heading into Week 5. Their win over the San Francisco 49ers is looking more and more like the real deal and less like a fluky trap game. Minnesota has well outplayed the expectations.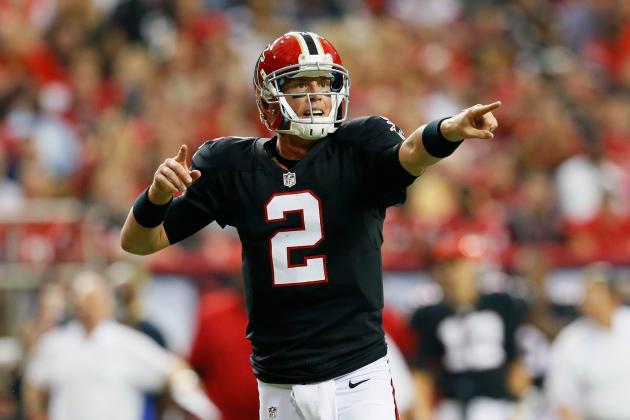 Kevin C. Cox/Getty Images

Atlanta Falcons: A+
It's hard to argue against perfection. The Atlanta Falcons are 4-0 and look like a team of destiny. Matt Ryan is playing his best football under new coordinator Dirk Koetter, and Mike Nolan's defense is playing very well despite losing its best player in Brent Grimes. Perfect record, perfect grade.
Carolina Panthers: D+
You can't blame the Panthers' 1-3 start all on Cam Newton, but many will try. The truth is, the entire team hasn't played well. The run game has been nonexistent at times, the defense is struggling to tackle, and the rest of the league is keying on Newton. The Panthers are well below expectations, but the blame has to be shared.
New Orleans Saints: F-
If you had the Saints starting 0-4, I'd like to buy you a trip to Las Vegas. No one saw this coming, even with the warning signs in place. No Sean Payton, no Joe Vitt, a holdout by Drew Brees. This shouldn't be a surprise, but it is because of the talent on the roster. The Saints' 0-4 start has to go down as the most disappointing storyline from the first quarter of games.
Tampa Bay Buccaneers: C-
What did we expect here? The Buccaneers are a very young team, especially on defense, and that generally leads to frustrating losses and inspiring wins. The team is still making too many mistakes on offense, especially Josh Freeman, but they aren't far from where we all expected them to be.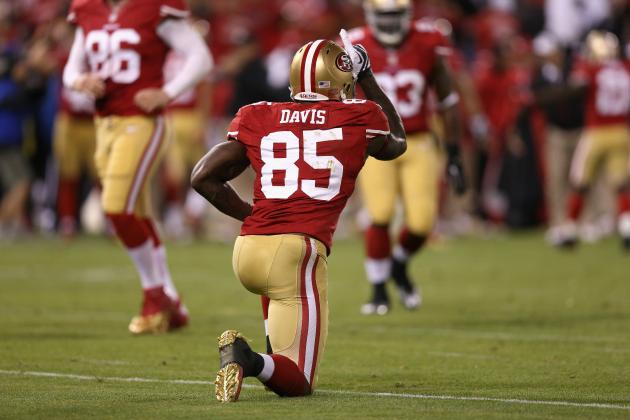 Ezra Shaw/Getty Images

Arizona Cardinals: A+
Improbable? Yes. The Arizona Cardinals are 4-0, winning in impressive fashion each week. With a dominant defense and an offense that is scoring points and surviving mistakes, the Cardinals might not get much national respect, but only one thing matters, and that's their record.

San Francisco 49ers: A-
The 49ers are 3-1 at the quarter mark, but their 34-0 beat-down of the New York Jets was the most dominant performance of the first four weeks of play. There is no doubting the 49ers are an elite team, and their first four games proved that.

Seattle Seahawks: C-
One week, they are winning against the Green Bay Packers on a Hail Mary, the next losing to the St. Louis Rams with rookie Russell Wilson throwing three interceptions. The 2012 Seahawks have been up and down, but with Marshawn Lynch and a damn good defense, more was expected at this point in time. This is a team being held back by its offense.
St. Louis Rams: B-
Jeff Fisher has done an amazing job with the Rams, and their 2-2 record is an indicator of that. Sam Bradford is playing like a franchise quarterback again, and the St. Louis defense has been very good early on. Fans in St. Louis can't complain with how well their team is playing.