2013 NFL Mock Draft: Complete 1st Round Predictions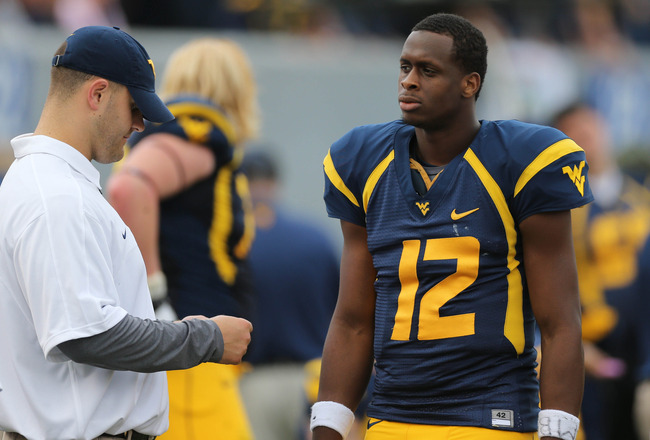 Rob Christy-US PRESSWIRE
The 2013 mock drafts will be fluid for the next few months, with collegiate stars like Geno Smith thoroughly impressing the masses each weekend and others falling short of expectations.
After the first four weeks of the NFL season, we've started to get a feeling as to what every team needs as they build toward the future.
1. Cleveland Browns: Sam Montgomery, DE, LSU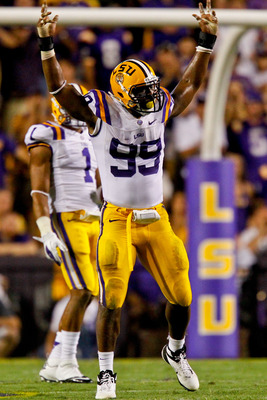 Derick E. Hingle-US PRESSWIRE
The Browns have one good defensive end in Jabaal Sheard. They need another if they want to emerge from the AFC North cellar.
Sam Montgomery is the best all-around defensive end in the draft, and Cleveland can't pass up a talent like him.
It's that simple.
2. Oakland Raiders: Geno Smith, QB, West Virginia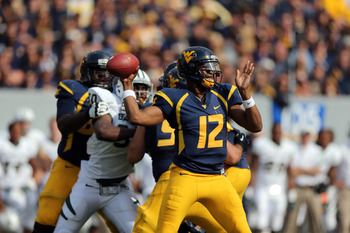 Rob Christy-US PRESSWIRE
After a ridiculous six-touchdown performance, coupled with recently disappointing efforts from Matt Barkley and Logan Thomas, Geno Smith is the consensus top quarterback in the land.
There is no future with Carson Palmer under center for the Raiders.
This one's easy.
3. Tennessee Titans: David Amerson, CB, North Carolina State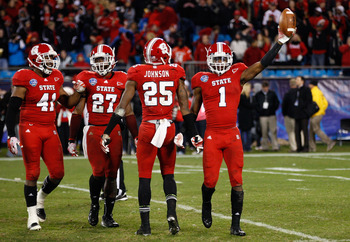 Streeter Lecka/Getty Images
Amerson hasn't been as impressive in 2012 as he was last year when he intercepted 13 passes.
But at 6'2'' and nearly 200 pounds, he's an intimidating cover corner with clearly polished ball-hawking skills.
Currently, the Titans have allowed an average of 285 yards through the air.
They get their new Cortland Finnegan in David Amerson.
4. Jacksonville Jaguars: Dee Milliner, CB, Alabama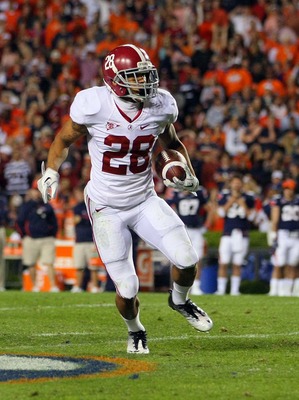 Marvin Gentry-US PRESSWIRE
Alabama has become an NFL factory, and Milliner is the next lockdown cornerback to emerge from a star-studded Crimson Tide team.
At 6'1'' and 198 pounds, he has good size and has been dominant playing against solid SEC competition.
The Jaguars have shown signs of improvement on offense, but the secondary needs skilled players in a division with Matt Schaub and Andrew Luck.
5. Tampa Bay Buccaneers: Jarvis Jones, OLB, Georgia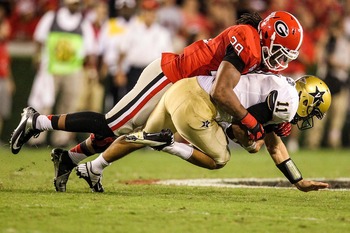 Daniel Shirey-US PRESSWIRE
Jones is a tenacious edge-rusher, probably the purest pass-rusher in the 2013 class.
Greg Schiano is trying to bring a defensive culture to Tampa Bay, and the Georgia standout will add another youthful piece to a young Buccaneers defense.
In the NFC South, it's impossible to have too many pass-rushers.
6. Indianpolis Colts: Keenan Allen, WR, California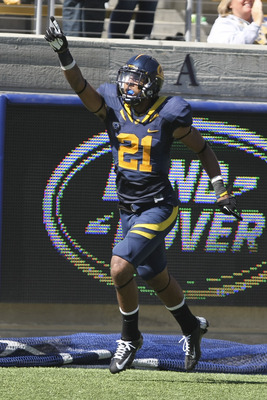 Kelley L Cox-US PRESSWIRE
Coby Fleener fell into the Colts' lap in the 2012 draft, and Reggie Wayne has been a go-to target for Andrew Luck to start his rookie season, but it's time to get a true No. 1 receiver.
Allen can learn from Wayne early in his career, and the 6'3'', 210-pound star has all the talent to emerge as an elite receiver as a professional.
7. Kansas City Chiefs: Matt Barkley, QB, USC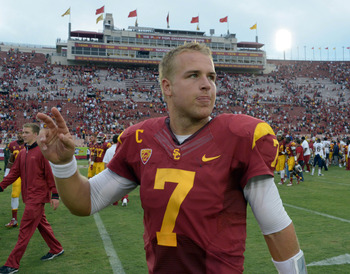 Kirby Lee-US PRESSWIRE
Matt Cassel isn't the future in Kansas City.
I have to give Scott Pioli credit for showing faith in the guy that played admirably when Tom Brady went down in 2008, but Cassel simply isn't the answer.
Barkley has regressed early in the 2012 season, but he has loads of upside and vast collegiate experience.
8. Miami Dolphins: Justin Hunter, WR, Tennessee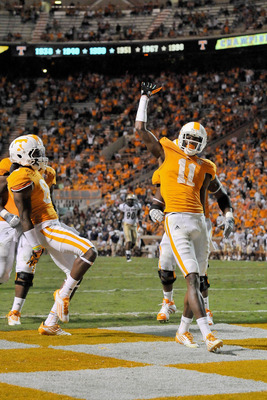 Jim Brown-US PRESSWIRE
Ryan Tannehill exploded for over 400 yards against a good Arizona Cardinals defense in Week 4, and the Dolphins could have a reliable receiver in the future in Brian Hartline.
But Hartline isn't a true No. 1, and Tannehill clearly needs more offensive talent.
Hunter is a big-play threat and a huge target at 6'4''—ideal for what Miami needs.
9. St. Louis Rams: Robert Woods, WR, USC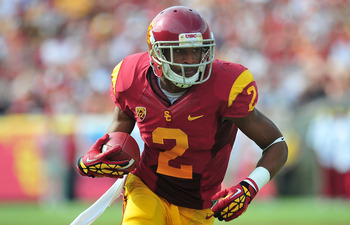 Gary A. Vasquez-US PRESSWIRE
The Rams are 2-2, and have played much sounder football with Jeff Fisher running the show in St. Louis.
Sam Bradford looks to be building off his marvelous 2010 rookie campaign, but he too needs more offensive weapons out wide.
Danny Amendola is the pesky slot receiver who'll always be a go-to, chain-moving target, but Robert Woods is a huge play waiting to happen every time he's on the field.
10. New York Jets: Manti Te'o, LB, Notre Dame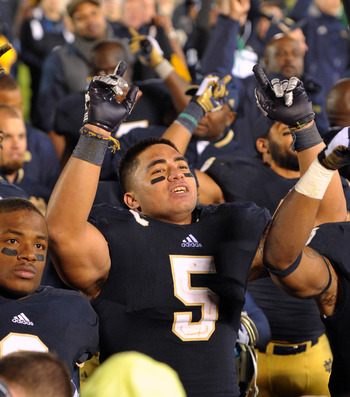 Matt Cashore-US PRESSWIRE
The Jets defense has underwhelmed in 2012, allowing nearly 173 yards on the ground per game this season. Bart Scott is simply not the player he once was.
It's time for the Jets to look for his replacement to position next to David Harris in the middle of the 3-4 defense.
Te'o's the guy.
11. St. Louis Rams (from Washington Redskins): Star Lotulelei, DT, Utah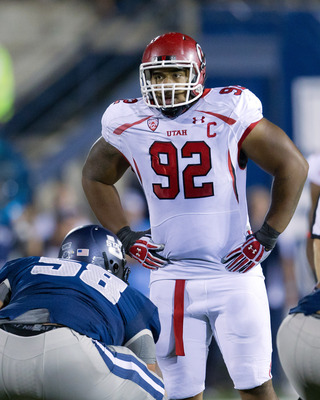 Russ Isabella-US PRESSWIRE
The Rams drafted Michael Brockers in the first round of the 2012 draft, and they look to add another bulky interior defensive lineman in 2013 with Lotulelei.
He's an immovable force at 6'3'' and 320 pounds.
The Utah standout along with Brockers will be the Rams' defensive anchors for the next decade.
12. Detroit Lions: Bjoern Werner, DE, Florida State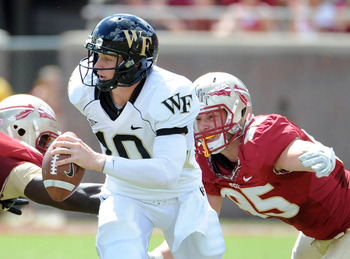 Melina Vastola-US PRESSWIRE
The Lions haven't been as dynamic on offense in 2012 as they were in 2011, but the defense is still the team's most glaring liability.
Wener is a physical pass-rusher that'll be the eventual replacement for Kyle Vanden Bosch, who turns 34 in November.
The FSU star is 6'4'' an 255 pounds and already has 6.5 sacks this season.
13. New Orleans Saints: Johnathan Hankins, DT, Ohio State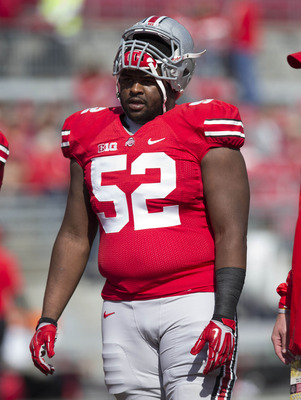 Greg Bartram-US PRESSWIRE
The Saints defense is downright humiliating, especially when it comes to stopping the run. They're surrendering more than 185 yards on the ground and have allowed nearly 33 points per game.
Hankins is a penetrating defensive end that will plug the middle for a New Orleans defensive unit in a desperate situation.
14. Seattle Seahawks: Luke Joeckel, OT, Texas A&M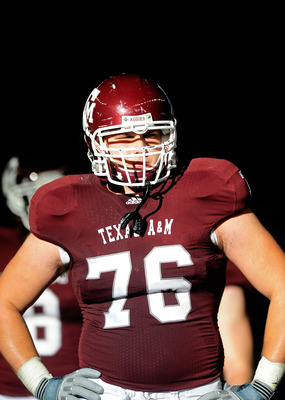 Mark J. Rebilas-US PRESSWIRE
The Seahawks have their franchise left tackle in Russell Okung, but they could use a solid right tackle to protect Russell Wilson as he matures into a viable starter and also help Marshawn Lynch in the running game.
Joeckel is the best offensive tackle in the 2013 class.
A safe pick for Seattle.
15. Buffalo Bills: Logan Thomas, QB, Virginia Tech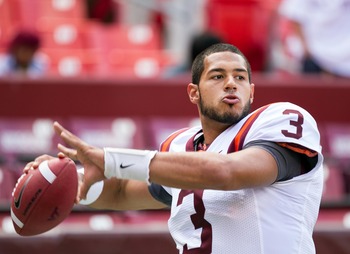 Paul Frederiksen-US PRESSWIRE
The Buffalo Bills will be in purgatory as long as Ryan Fitzpatrick is the team's quarterback. His inconsistent ways and weak arm simply can't cut it in the NFL.
Bills fans, welcome Logan Thomas, the 6'6'' monster QB with a rocket arm.
He's relatively raw, but Buffalo will open its arms to the most talented QB to play for the Bills since Jim Kelly.
16. Minnesota Vikings: Terrence Williams, WR, Baylor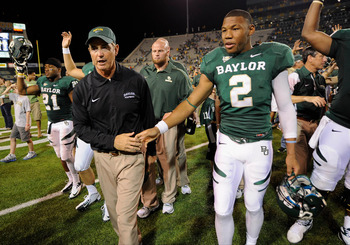 Jerome Miron-US PRESSWIRE
Williams is a menacing burner at 6'2'' and 205 pounds with 4.4 speed.
This may be appear to be a reach for the Vikings, but the organization must do whatever it can to make life easier for Christian Ponder.
Here, they hope to get their No. 1 receiver of the future.
17. Arizona Cardinals: Taylor Lewan, OT, Michigan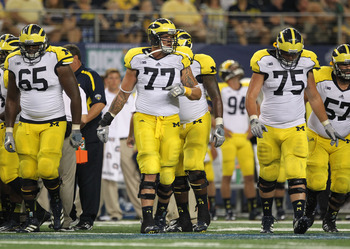 Matthew Emmons-US PRESSWIRE
The Cardinals are sitting pretty at 4-0 atop the NFC West, but they still have offensive line deficiencies.
Lewan is a long and lean offensive tackle that will thrive against smaller speed rushers at the next level.
An intelligent pick for a team that is in dire need of offensive line talent.
18. Chicago Bears: Chance Warmack, OL, Alabama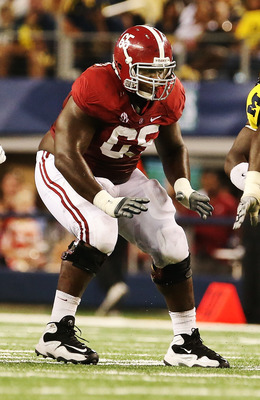 Kevin Jairaj-US PRESSWIRE
The Chicago Bears have dealt with offensive line issues on many occasions during the Jay Cutler era.
They selected Gabe Carimi to play offensive tackle, but Warmack will solidify the interior of the line in front of Cutler and Matt Forte.
Not a sexy pick, but don't be shocked if there's some shuffling on the line after this season, especially if J'Marcus Webb continues to struggle.
Chicago will be happy to add this bulldozer.
19. Carolina Panthers: Jonathan Banks, CB, Mississippi State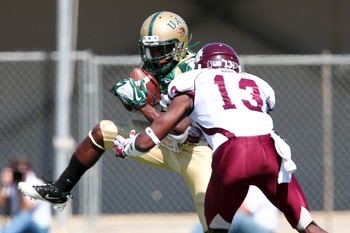 Marvin Gentry-US PRESSWIRE
The Panthers need to help Cam Newton by adding more talent to the defense.
Chris Gamble is one of the most underrated corners in the game, but he can't do it himself.
Banks is 6'1'' and will likely have to cover guys like Roddy White and Mike Williams in the future. A necessary piece to Carolina's rebuilding project.
20. Pittsburgh Steelers: C.J. Mosley, OLB, Alabama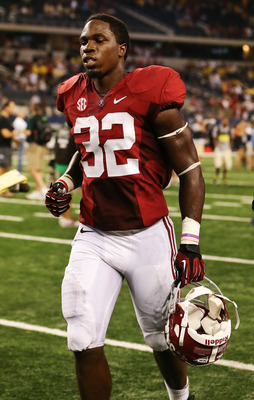 Kevin Jairaj-US PRESSWIRE
The Steelers don't rebuild, they reload on defense.
With 34-year-old James Harrison battling an injury to his knee, the versatile Mosley is the perfect selection here for Dick Lebeau's defensive unit.
21. Philadelphia Eagles: Barrett Jones, OL, Alabama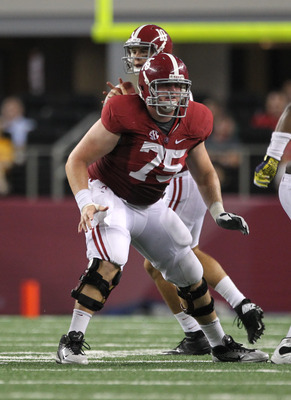 Matthew Emmons-US PRESSWIRE
The Eagles can't afford to let Michael Vick continue to be hit as often as he is.
Yes, he scrambles frequently, but the offensive line needs to be fortified.
Jones is a heady offensive lineman who can essentially play all the positions. He's the type of guy every coach would love to have on his team.
22. Cincinnati Bengals: T.J. McDonald, S, USC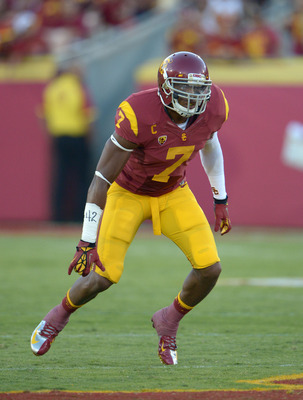 Kirby Lee-US PRESSWIRE
The Bengals need help in their secondary, and the head-hunting Taylor Mays is nothing more than that—a head-hunter.
McDonald, like Mays, is an intimidating safety at 6'2'' and 210 pounds, but he's a much more all-around player.
Ideal for Mike Zimmer's athletic defense.
23. Dallas Cowboys: Jackson Jeffcoat, OLB, Texas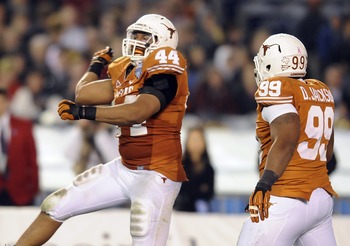 Christopher Hanewinckel-US PRESSWIRE
The Cowboys are pretty solid all the way down their roster, but in planning for the future, Jackson Jeffcoat is an intelligent selection.
He can be groomed under DeMarcus Ware and Anthony Spencer to be the next downhill pass-rusher in Big D.
24. Denver Broncos: Eric Reid, S, LSU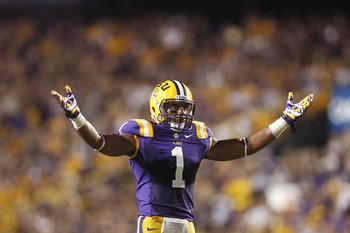 Crystal Logiudice-US PRESSWIRE
Denver's safety position is in need of an upgrade. Rahim Moore has underwhelmed as a second-round pick, and Mike Adams was a stop-gap acquisition.
Reid is the consensus top safety in the class with range and fine playmaking ability.
The right choice for John Elway.
25. New York Giants: D.J. Fluker, OT, Alabama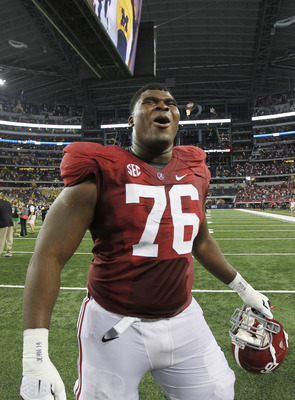 Tim Heitman-US PRESSWIRE
When Eli Manning's pressured, bad things can happen.
When he's protected, there aren't many quarterbacks better in the NFL.
Fluker is a huge man at 6'6'' and 335 pounds, and he'd bring some youth to an established but aging offensive line.
26. San Diego Chargers: Alex Okafor, DE, Texas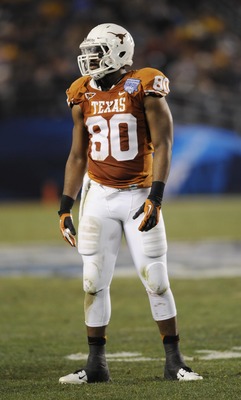 Christopher Hanewinckel-US PRESS
Melvin Ingram fell to the Chargers in the 2012 draft, and with Okafor from Texas, they get Ingram's pass-rushing complement.
The AFC West is seemingly up for grabs every year, but Peyton Manning signed a five-year contract in Denver and there will likely be a talented rookie in Oakland at the start of the 2013 campaign.
Okafor's a low-risk option for San Diego and a potential Shaun Phillips replacement.
27. Atlanta Falcons: Marcus Lattimore, RB, South Carolina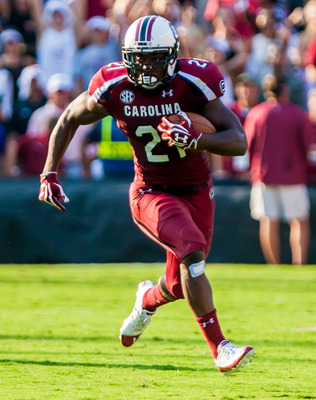 Jeff Blake-US PRESSWIRE
Michael Turner has rebounded nicely after a bad start to the 2012 season, but it's time for the Falcons to look for the guy who'll take his starting job in the future.
Lattimore is a hard runner, but he's deceptively quick and agile with home-run hitting ability.
With Julio Jones and Lattimore, the Falcons have their offensive cornerstones in place.
28. New England Patriots: John Jenkins, NT, Georgia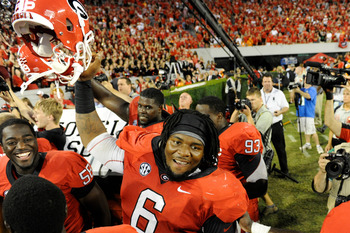 Dale Zanine-US PRESSWIRE
Vince Wilfork is still a disruptive force on the interior of the Patriots defensive line, but he will be 31 years old in November.
Jenkins is the man that closely resembles the massive nose tackle in the 2013 draft.
He's 6'3'' and nearly 360 pounds of sheer mass.
Perfect for New England.
29. Green Bay Packers: Kenny Vaccaro, S, Texas
Christopher Hanewinckel-US PRESS
Charles Woodson has made a nice transition to the safety position, but he is at the twilight of his career.
With Woodson there to mentor him, Vaccaro can learn the safety position from a professional, which could lead to fine career for the Texas Longhorns star.
30. Baltimore Ravens: Chase Thomas, OLB, Stanford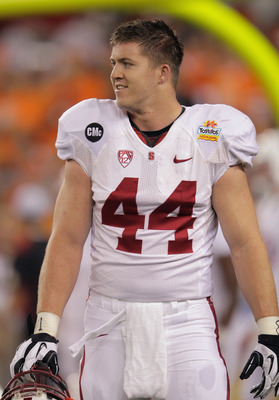 Doug Pensinger/Getty Images
The Baltimore Ravens defense isn't what it once was, and many of its key players are past their prime.
Terrell Suggs could return from an Achilles tendon injury this season, but he'll be 30 years old in the middle of October.
Thomas is a deceptively smooth athlete who goes hard on every play and can win with sheer power at the point of attack.
31. San Francisco 49ers: Tyler Eifert, TE, Notre Dame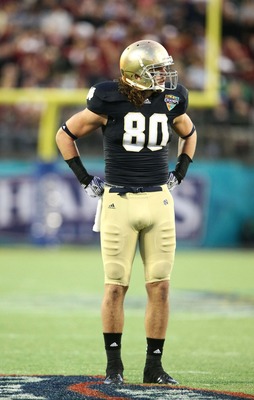 Douglas Jones-US PRESSWIRE
The 49ers have Vernon Davis as their go-to tight end option, but Eifert adds another dimension to their impressive efficient attack.
At 6'6'', he's a huge target and has strong hands.
Imagine Eifert and Davis in on San Francisco's patented jumbo sets.
32. Houston Texans: DeAndre Hopkins, WR, Clemson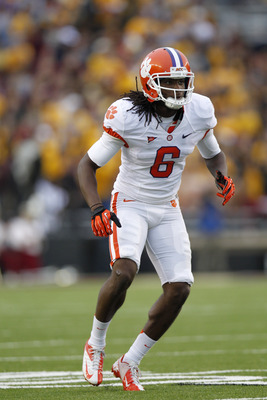 Greg M. Cooper-US PRESSWIRE
The Texans are the most complete team in football, but they could use more offensive firepower on the outside.
The 6'1'', 200-pound Hopkins has 42 catches and six touchdowns in five games for the Tigers and will be a welcomed addition to Matt Schaub's attack.
Keep Reading